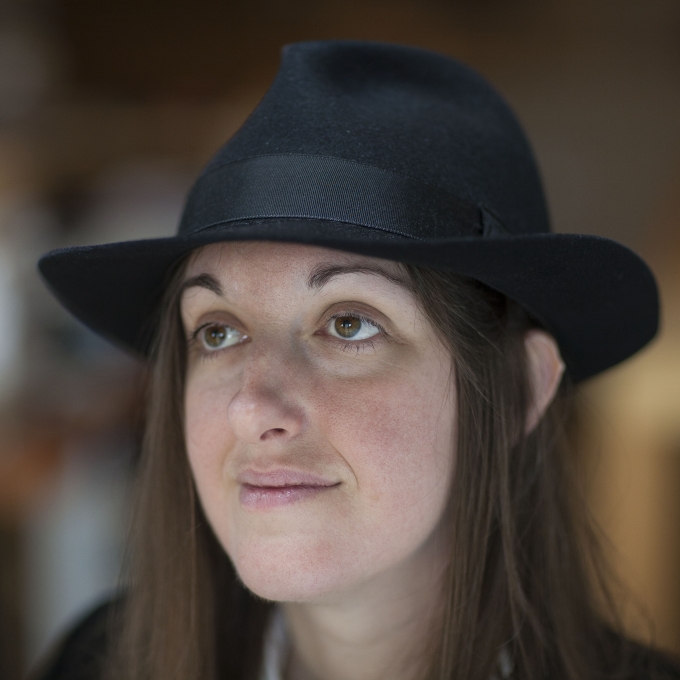 Frances Hardinge
Publishers:
Biography
Frances Hardinge was born in Kent. She enjoyed a bookish childhood in an isolated old house on a hilltop in the country. She read English at Oxford then worked as a technical author for a computer software company.
Her first fantasy novel for children, Fly By Night (2005), set in an alternative 17th century, won the Branford Boase Award for outstanding debut novel. Its more comical sequel, Twilight Robbery (2011), again with lead characters teenage runaway Mosca Mye and charlatan poet Eponymous Clent, was shortlisted for the Guardian Children's Fiction Prize.
Gullstruck Island (2009), featuring thirteen year old Arilou who has the power to detach her senses from her body, was chosen as one of Time magazine's '100 Best Young Adult Books of All Time'.
Cuckoo Song (2014), a fast paced fantasy set in a parallel 1923 in which antagonistic sisters have to enter the dangerous realm of the Underbelly to rescue family members, was shortlisted for the 2015 CILIP Carnegie Medal.
At the 2015 Costa Book of the Year Awards she won the children's book of the year award as well the overall prize for her novel The Lie Tree. Ingeniously infusing a Victorian era crime murder mystery with fantasy elements, its teenage heroine Faith finds herself also grappling with the Darwinian struggle between science and religion. A Skinful of Shadows was published in 2017.
Frances Hardinge lived for some years in Oxford and now resides in West London. Her books are published in many languages around the world.
Critical perspective
After she had won the 2015 Costa Book of the Year Award for The Lie Tree, an interviewer remarked to Frances Hardinge that not only was it the first children's book to win the prestigious award since Philip Pullman's The Amber Spyglass in 2001 but both books showed 'a willingness to tackle complex moral issues and make them accessible to children'. Hardinge replied that 'first and foremost, I tell stories', however, she continued, 'I tend to assume that young readers can understand quite a lot, so… some of my stories have included things that are actually quite dark'. She admitted also, 'my books tend to be a bit of an odd mix' and 'I can't quite control the impulse to fiddle and make things more odd'.
In The Lie Tree, these dark things include the death by presumed suicide of its teenage heroine Faith's father, the Reverend Erasmus Sunderly. As the book is set in the Victorian 1860s, this carries the threat of her family's destitution if such a verdict is reached by the local coroner. There's the threatened unravelling of the deceased's reputation as a distinguished figure of archaeology in the age of Darwin, risking a daughter's loss of faith in him as a father, as well as in religion. Other dark practices feature too, notably the morbid fashion for taking post-mortem photographs, especially of children (Faith has lost five brothers, so is highly protective of young Howard) and her unwise attendance at the rural blood sport 'ratting' - setting terriers against sacks of rats. Most darkly gothic of all is the mysterious Lie Tree itself, growing at an alarming rate on a diet of damp darkness and whispered lies, yielding hallucinogenic fruits that may – or may not – reveal hidden truths. An engrossing mix of fantasy and pyschological plausibility, the novel performs such an act of imaginative persuasion that supernatural phenomena are readily acceptable by readers. The fabulous is beautifully balanced by scenes of all-too-human actions, some mean-spirited or amusing, as when a dismissed servant turns the locals against Faith's family - and is in turn terrified by apparently ghostly activity.
Hardinge has characterized her writing as emerging out of a bookish childhood, her favourites being Victorian novelists from Wilkie Collins to Lewis Carroll, as well as Kipling's Just So Stories, Richard Adams' Watership Down; and even the intricately plotted murder mystery films of Alfred Hitchcock. She also loved the zany humour in Douglas Adams, the fantastic conceptions in Terry Pratchett. These diverse influences seem to account for the ways that Hardinge's fictions typically combine genres, notably fantasy with the historical novel. There is an entertainingly 'odd mix': comically convoluted plots, weirdly-named characters, fantastic alternative realms, madcap chases and reversals of fortune, dialogue full of puns, amusing asides and extravagant oaths. Set alongside these comic devices, however, are serious dilemmas for teenage characters (usually young girls) regarding family, their future lives and bodies. Faith, for example, resents that 'girls were not supposed to be hungry… and their minds were supposed to be satisfied with a slim diet too'.   
The comedy is more prominent in earlier books, notably Fly By Night (2005) and its sequel Twilight Robbery (2011), both masterclasses in amusing oddities. This is an alternative 17th Century England called The Fractured Realm. Its alphabetical chapters go from 'A is for Arson' (orphan Mosca Mye escaping her awful Uncle's household by burning down his windmill) via 'M is for Murder' (a Hitchcockian scene of the farcical disposal of a corpse into a river) to 'R is for Redemption' (in which Mosca somehow gets covered in illegal printing). Her companions in a succession of close scrapes are wordy charlatan poet Eponymous Clent, and her beloved goose Saracen. As they travel the Fractured Realm, Mosca has to survive amidst the warring Guilds and Radical factions, discover whose daughter she is, realising that 'words were dangerous when loosed'.    
In Twilight Robbery, even more convoluted in plot, characters themselves spend much time and energy plotting, only to be confounded by even more ingenious plotters. Ever impecunious, Mosca and Clent find themselves trapped in the strange city of Toll-By-Day, which is twinned with its sinister nocturnal opposite, Toll-By-Night. They become involved in hair-raising schemes, firstly to kidnap the mayor's beautiful daughter Beamabeth (a memorable package of charm and menace), and then to rescue her – assisted and impeded as ever by Saracen.  
Hardinge has commented that she is 'fascinated by questions of identity'. The heroine of Cuckoo Song (2014) exemplifies this, being confused as to who or what she really is; at first she's called Triss, then Not-Triss, and latterly Trista, unraveling layers of memory as the action unfolds. She remembers being a sickly child ever since the death of her brother Sebastian during the First World War, yet is at odds with both her parents and a younger sister who denounces her as a 'fake'. She's subject to a terrible hunger, enough to eat a doll – starts to weep cobwebs and to unravel herself. The terrifying world of the Underbelly is the realm of The Architect, whom Trista must confront in a race against time. By doing so, she discovers her own true identity among 'the in-between folk', an acceptance of the uncertainties of life, and that 'All was perhaps'.
Frances Hardinge has been hailed as the best new writer of fantasy fiction for children since Diana Wynne Jones. Her books are astonishingly inventive, and highly entertaining. Indeed at times there's so much happening that reading them is somewhat like being Not-Triss: 'Her mind sparked and spun relentlessly like a Catherine Wheel, trying to come up with stories that would save her'. The Lie Tree has spectacularly transcended the Young Adults genre in its seriousness, psychological insight into teenage relations with parents, Hitchcockian atmosphere of menace, and convincing ensemble of Victorian characters confronting evidence they are disturbed by. This author is already a restless maestro of fantasy fiction whose next book, whatever world it conjurs up, will be eagerly awaited by readers of all ages. 
Jules Smith, 2017                      
Bibliography
2017
A Skinful of Shadows