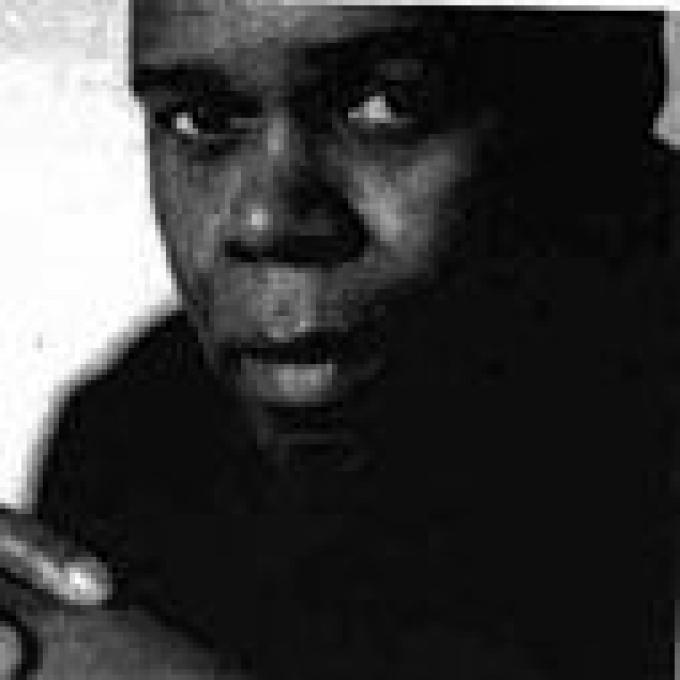 Biography
Writer and broadcaster Ferdinand Dennis was born in 1956 in Jamaica.
He read sociology at Leicester University and studied for a Masters degree at Birkbeck College, London University. A former Robert Kennedy research fellow, he has lectured in Nigeria, and has presented a series called Journey Round My People for BBC Radio 4, as well as a television programme about Africa for Channel 4. He has also worked for the magazines Front Lines and City Limits and has had short stories published in a variety of magazines and anthologies.
He is the author of two travelogues: Behind the Frontlines: Journey into Afro-Britain (1988);and Back to Africa: A Journey (1992), and has also published three novels: The Sleepless Summer (1989); The Last Blues Dance (1996); and Duppy Conqueror (1998).
Critical perspective
Ferdinand Dennis's writing has clear affiliations with both African and African American traditions.
In his book Back to Africa (1992), he visits Cameroon, Ghana, Guinea, Leone, Liberia, Nigeria and Senegal, recording the contemporary lives of the people and places he encounters, and recollecting his own African Caribbean heritage (Dennis was born in Jamaica). A review in the New York Times described the televised version of Back to Africa in 1993 as follows:
'Mr. Dennis, a sociologist who was born in Jamaica and grew up in London, makes a pleasant companion as he bargains with taxi drivers, talks with an American student at Ahmadu Bello University, takes a boat down the Niger River, meets a politician and a king and reflects on the relevance of it all to himself. He is too honest to pretend that he is making dramatic connections with an ancestral past, but without such connections the trip does not have much punch. Still, he earns an Emmy nomination for never using the word "roots."'
Certainly Dennis' work conveys a genuine honesty. Less convincing here is the view that without the ancestral connections his story lacks 'punch'. As the evasion of 'roots' suggests, Dennis' choice of book title is ironic (the back to Africa movement was inspired by Marcus Garvery in the US and encouraged citizens of African descent to return to ancestral Africa). Perhaps as a result of his Caribbean background (a region probably marked more than any other by movements and migration), Dennis is a writer ultimately more concerned with routes than roots. This is foregrounded in  much of his fictional work, notably his most recent and ambitious novel to date, Duppy Conqueror (1998), a novel which moves from 1930s Jamaica to postwar London and Liverpool, to Africa. Similarly, Dennis' non-fiction centres on journeying rather than arrival, from Behind the Frontlines: Journey into Afro-Britain (1988) to Voices of the Crossing: The Impact of Britain on Writers from Asia, the Caribbean and Africa (2000).
In Behind the Frontlines, Dennis describes a personal journey through six English and Welsh cities. The book went on to win the Martin Luther King Memorial Prize. In Voices of the Crossing, a co-edited collection (with Naseem Khan), Britain is remembered through the diasporic imaginations of some of its most significant writers and residents, including Mulk Raj Anand, G.V. Desani, David Dabydeen, James Berry and E.A. Markham. The collection also contains a candid and moving autobiographical essay by Dennis. In it Dennis traces his arrival in England at the age of eight, the traumatic breakdown of his parents' marriage, his formative years in education and his gradual emergence as a reader and writer. Taking us from the 1960s to the 1990s, Dennis' personal journey is all the more poignant because it covers, and in many ways embodies, the decades of the rise and fall of politicised black culture in Britain. During his A-levels at a college in Kings Cross in the 1970s, Dennis recalls:
'… I listened to speakers like Darcus Howe, Cecil Gutzmore, John La Rose and saw Linton Kwesi Johnson in performance … We held intense and lengthy discussion on 'the black experience', swapped books like Black Power by Stokely Carmichael, Seize the Time by Bobby Seale and the Autobiography of Malcom X, Black Skin, White Masks and The Wretched of the Earth by Frantz Fanon …'
But later in life, during the 1980s and 1990s, Dennis comes to the realization that Black is a negative, artificially oppositional label which concealed the complexity of his identity: 'I had to rediscover and assert my Jamacianess but qualify it with references to my London upbringing. I began to take pride in the diversity of my past, the cultural journeys I had made, which enabled me to mourn the death of John Lennon one Christmas and Bob Marley six months later…'. Dennis' growing sense of his own plural identity does not just feed his scepticism about notions of a monolithic black culture, it also fuels his frustration with an equally exclusive white Britishness. Reviewing the British blockbuster, Notting Hill, for the Guardian newspaper in 1999, Dennis records his disappointment at the silences of the film, and its 'mono-cultural, mono-racial' rendering of London. He goes on to offer a personal recollection of Notting Hill that gives a glimpse of the area in all its glorious and contradictory heterogeneity:
'Many of the most significant moments of my youth happened in the hallowed few hundred yards between Portobello Road and Notting Hill Gate. I watched my first riot from the Westway flyover; during that carnival a voluptuous Caribbean woman rebuked me for being too English because I could not dance in the streets; the pub where I met a girl who blessed me with a summer of love and then disappeared on the autumn breeze; the secondhand record store where I worked for two summers and was introduced to Keith Jarrett's Koln concert by a gentle, bearded hippy.'
Dennis fictionalises Notting Hill in his first novel, The Sleepless Summer (1989). Here we get a very different, ambivalent vision of the area from Richard Curtis's film as protagonist Colin wanders restlessly through the summer caught between youth and maturity, between black and white worlds. When Colin is befriended by Ziggy and Max, who are building a project called the 'Black House' in Ladbroke Grove, Colin begins to question his 'white' ambitions.
In the same Guardian essay quoted above, Dennis goes on to note there are more cosmopolitan areas of London than Notting Hill such as Hackney, but that Hackney's poverty excludes it from the camera's lens. It is to this vicinity that Dennis turns in his second novel, The Last Blues Dance (1996). The Last Blues Dance tells the story of Jamaican-born Boswell Anderson, a retired poker player and, for 15 years, the proprietor of the Caribbean Sunset Café. Boswell – Bosy to his friends – is down on his luck. The Sunset has seen better days: the crowded blues dances it once hosted no longer take place, and the café stands largely empty, its former patrons having either returned to the West Indies or dispersed across London. The deluge with which the novel opens suggests something of Boswell's current state of mind:
'Somewhere in the east, towards Hackney Marshes, a drum roll of thunder issued from the sky. Seconds later the rain started. Despite the foreboding darkness and apocalyptic rumbling, only a miserable drizzle fell. He remained at the window until a fine mist shrouded the street. The light turned blue-grey: the city weeping.'
When he is invited to take part in a big poker game, Boswell sees an opportunity to change things for the better. Like all of Dennis' fiction to date, The Last Blues Dance, juxtaposes loss and longing with the possibility of redemption and rebirth.
Dr James Procter, 2008
Bibliography
2000
Voices of the Crossing: The Impact of Britain on Writers from Asia, the Caribbean and Africa
1996
The Last Blues Dance
1992
Back to Africa: A Journey
1989
The Sleepless Summer
1988
Behind the Frontlines: Journey into Afro-Britain