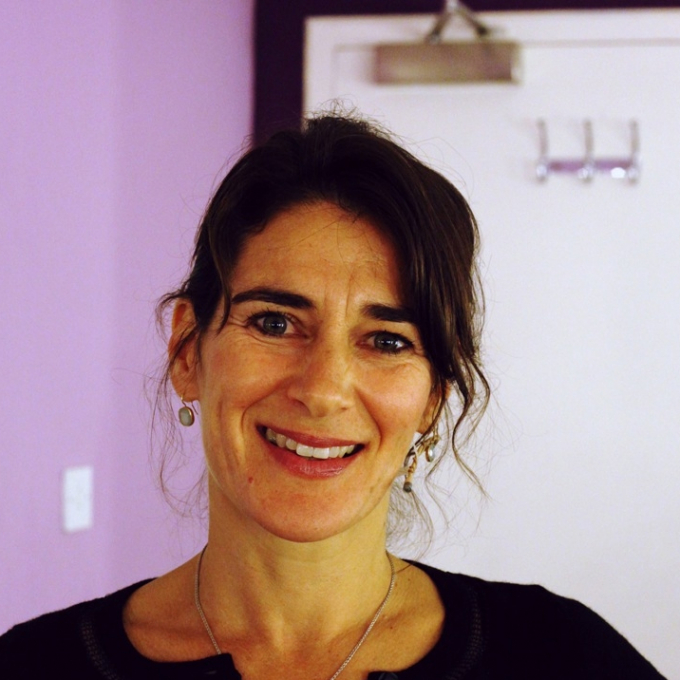 Biography
Esther Freud was born in London in 1963, one of the daughters of the painter Lucian Freud. As a young child she travelled through Morocco with her mother and sister, returning to England aged six where she attended a Rudolf Steiner school i n Sussex. In 1979 she moved to London to study Drama, going on to work as an actress, both in theatre and television.
Her first novel Hideous Kinky, was published in 1992 and was shortlisted for the John Llewellyn Rhys Prize and made into a film starring Kate Winslet. In 1993, after the publication of her second novel, Peerless Flats, she was named by Granta as one of the Best of Young Novelists under 40.
She has since written seven novels, including The Sea House, Love Falls, Lucky Break and most recently Mr Mac & Me, with the architect Charles Rennie Mackintosh as the main character. She also writes stories, articles and travel pieces for newspapers and magazines, and teaches creative writing, in her own local group and at the Faber Academy.
She lives in London with her husband, the actor David Morrissey, and their three children.
Critical perspective
Esther Freud is a novelist much admired for her absorbing stories of family relationships, children and lovers, as well as for the wealth of sensuous details that she brings to the storytelling.
Love and its passionate intensity, childhood insecurities and the enduring connections between people over time; all these elements contribute to the wide appeal of her books. Underlying these are the psychological insights that one might expect from a member of the distinguished Freud dynasty; indeed, she draws to some extent upon her German-Jewish family's enforced migration to England. She mixes her light and dark emotional colours well. Alongside some solidly well-to-do characters there are also bohemians, frequently actors or artists, who appear in her stories to offer contrasting views of what constitutes success or failure in human lives.
The easiest generalisation to make about her novels is that they often revolve around the experiences and perceptions of children or young people. Her first and still best-known novel Hideous Kinky (1992), for instance, gives us the lightly satirical viewpoint of a very young girl on her hippy mother's love affairs and search for spiritual wisdoms in 1960s Morocco: '"Oh Mum, please" … I was prepared to beg, "Please don't be a Sufi"'. Separated from her father and suffering from nightmares about 'The Black Hand', her anxieties increase when their money runs out and her sister is taken ill. But the story is also a delightful immersion in the exoticism of a foreign culture, full of humorous touches and quirky characters.
Gaglow (1997) is more deeply felt and structurally more complex in bringing together two narrative strands. One is contemporary, as pregnant actress Sarah agrees to pose for her painter father. The other is set in First World War East Germany, revealing the story of what happened to her ancestral family the Belgards.
The latter's long-confiscated house and estate, the Gaglow of the title, has been re-discovered and actress Sarah becomes fascinated by the possibility of its restoration to them. She is equally interested in piecing together the painful personal and historical events affecting her family, especially her now-senile grandmother Eva – whom she most resembles. Long-suppressed secrets are uncovered and Sarah comes to a new understanding of her Jewish identity. Then there's her on-off relationship with her boyfriend and their baby; giving birth, she feels 'a great storm of love welled up between us'.
The Sea House (2003) also examines the fate of German-Jewish exiles affected by the tides of history, though essentially a love story extending over decades. Again it's a novel with two strands. Artist Max Meyer arrives in the Suffolk village of Steerborough during the Summer of 1953, to paint pictures as therapy following the death of his sister. Introduced to architect Klaus Lehmann, the shyly awkward Max becomes sexually involved with his wife. Years later, Lily comes to the village and starts to read Lehmann's letters, moves into the 'Sea House' and becomes fascinated by the love triangle and its consequences, as well as what happened during the great floods of November 1953. She recognizes her own sense of being 'like a misunderstood child', which is common to a number of Freud's characters.
There's a more emotionally raw scenario in The Wild (2000), featuring 9-year-old Tess, her brother and their mother - infatuated with a handsome charismatic schoolteacher whose household in the countryside they go to stay in. Things are destined to go horribly wrong for them. One might say pre-destined, as there are obvious signals: the teacher directs Oedipus as the school play ('the modern version') and bloodthirsty Norse myths appear in Tess's lessons. Acts of sudden violence occur and the book becomes distinctly creepy.
A certain violent sexual trauma happens in Love Falls (2007) but the setting in an Italian Summer is more apparently idyllic. The leading character Lara is 17, 'the daughter of a Buddhist and an atheist Jew'. Taken away from her modest London life on a holiday visit with her academic father whom she hardly knows, they encounter the dangerous glamour of wealthy aristocrats the Willoughbys at their 'hilltop empire' Cecconoro.
Amongst the latter is the son and heir Kip, to whom Lara forms an attachment, despite doubts arising in her mind about whether they could be siblings. In the strongly sexual atmosphere developing around her, there are other predatory men – and women - around too. A visit to a local waterfall results in an injury to her father, and then his lifelong friend Caroline becomes ill – just as an ancient horse race, 'The Palio', is due to be run in Siena. Love, sex, death and family secrets; all these elements are choreographed beautifully. The reader returns from this holiday, as does Lara, with a new sense of perspective on life.
Esther Freud's knowledge of the theatre as both actor and writer no doubt informed the background of her latest novel, Lucky Break (2011). This is an ensemble piece with no predominant character, following a number of aspiring drama students from their first day at Drama Arts through the ups and downs of rejections, successes, love affairs and careers over more than a decade from 1992. The most sympathetic is Nell, initially 'insecure and dumpy', who blossoms eventually into theatrical success.
The most cynically ambitious is Dan, who tries to cope with a growing family and the temptations of his profession, as he attempts to make it in America. 'Was it possible to be a great actor', he asks himself, 'and still be loyal to your wife'? And the beautiful Charlie is disillusioned after early film success and takes up a newly acquired talent for healing. Lighter in tone than most of Freud's novels, its qualities of sympathy and empathy engage us – as always.
Dr Jules Smith, 2013
Awards
1998
Jewish Quarterly Literary Prize for Fiction
1993
Granta Best of Young British Novelist
1992
Mail on Sunday/John Llewellyn Rhys Prize
Author statement
'Writing fiction, which is what I love to do, is like losing yourself in a secret world. I write every morning and if for some reason I am not able to get to my desk, I feel restless and uneasy. I used to be more impatient, always dreaming of the day when I'd finish a book, but as my life has become busier I value the slow unfolding of a novel that might take several years to write.'