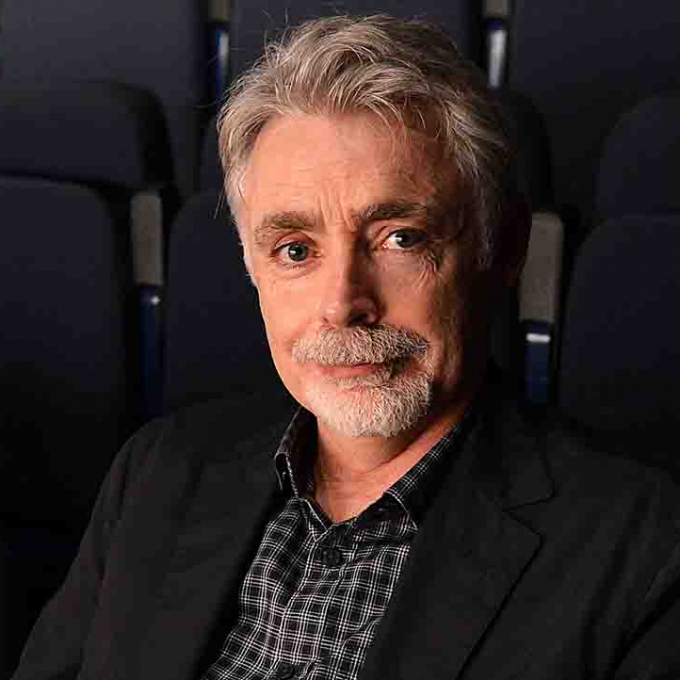 Biography
Eoin Colfer was born in Wexford, on the south east coast of Ireland, in 1965.
He studied in Dublin, returning to Wexford to teach primary school children. He spent four years in Saudi Arabia, Tunisia and Italy, and wrote a children's book, Benny and Omar (1998), drawing on these experiences. Its sequel, Benny and Babe, was published in 1999 and shortlisted for the 2000 Bisto Book of the Year Award. He then wrote a further children's novel, The Wish List, and a series of books for children aged 6-8 years: Going Potty (1999); Ed's Funny Feet (2000); and Ed's Bed (2001).
He used his love of Irish history and legend in the writing of Artemis Fowl (2001), its eponymous hero being a 12 year old criminal mastermind from North Dublin who holds a leprechaun to ransom. This book was followed by two others in the series: Artemis Fowl: The Arctic Incident (2002); and Artemis Fowl: The Eternity Code (2003). The fourth and fifth books in the Artemis series are Artemis Fowl: The Opal Deception (2005), and Artemis Fowl: The Lost Colony (2006).
A film about Artemis is currently being developed.
Eoin Colfer has also written a series of books for younger children, about brothers Will and Marty: The Legend of Spud Murphy (2004); The Legend of Captain Crow's Teeth (2006); and The Legend of the Worst Boy in the World (2007). His other children's novels include a scifi thriller, The Supernaturalist (2004), and Half Moon Investigations (2006), the story of 12-year-old Fletcher Moon, the youngest qualified private detective in the world.
Recent books are a sixth in the Artemis Fowl series: Artemis Fowl: The Time Paradox (2008); and a novel, Airman (2008). Also in 2008, Eoin Colfer was commissioned to write a new Hitchhiker's Guide to the Galaxy novel, the sixth in the series of books by the late Douglas Adams. This was published in 2009, entitled And Another Thing.
In 2011, he wrote his first adult crime novel, Plugged, and Artemis Fowl:The Atlantic Complex, the seventh book in the Artemis Fowl series, was published. In 2014 his illustrated children's book Imaginary Fred, illustrated by Oliver Jeffers, was published, which won The Specsavers Ireland Children's Book of the Year Junior Award. 
Eoin Colfer was Laureate na nÓg, ambassador for Children's literature, from 2014 to 2016, which led to the publication of Once Upon A Place, a collection of eleven new short stories and six new poems by Ireland's top children's writers. 
Critical perspective
Eoin Colfer is usually applauded for his dynamic characters, fast-moving plots and highly original imagination. His novels are refreshingly different and always abundant with inventive humour, even those that tackle death and other serious topics.
Colfer's first novel was Benny and Omar (1998). The author channelled a lot of his own feelings and experiences into his first protagonist. Benny, like Colfer, moves from Ireland to Tunisia, though Benny's move occurs in childhood, whereas Colfer lived abroad as an adult. Colfer particularly wanted to emphasise the comforts and luxuries that Westerners take for granted, and did this by depicting the emerging relationship between Benny, who must adapt to an alien environment, and a local boy, Omar, who is orphaned and homeless. Despite the cultural divide, a delightful friendship ensues.
Benny and Omar explores a diversity of issues: family conflict, particularly sibling rivalry; racism and cultural differences; poverty; bereavement and mental health issues. Nonetheless, the story is both thought-provoking and hilariously funny. In Ireland, Benny struggles to cope with his feelings towards his younger brother: 'George traipsed into the room. He was, of course, immaculately dressed …. Sometimes [Benny] found it difficult to both sneer at his brother's clothes and feel envy - at the same time. It took real effort'. Yet in Tunisia he realises that 'people here didn't have childhoods. They hadn't the luxury of playing, or making mistakes, or sulking'.
Benny and Omar was quickly followed by a sequel, Benny and Babe, in 1999. Benny is now back in Ireland, and has been sent to the country during his holidays. In Benny's friendship with Babe, Colfer explores the divide between boys and girls and town and country. Benny and Babe was extremely popular in Ireland, knocking J.K. Rowling from the top of the bestseller list.
Colfer took a different direction in 2000 with the publication of The Wish List, which reads like a streetwise, teenage version of the classic film, It's A Wonderful Life. 15-year-old Meg has been thrown out by her stepfather following her mother's death, and finds herself leading a troubled existence. A bungled robbery results in Meg's death and she finds herself suspended between Heaven and Hell: her life's tally of good and bad deeds are equal, and she is thus sent back to Earth in order to tip the balance one way or the other. Her ticket to Heaven, and her mother, depends upon fulfilling the 'Wish List' of the pensioner she robbed. As in all Colfer's work, serious issues are addressed with delightful and inventive humour, and this novel represents his first exploration into fantasy, though much of it is set in the ordinary world.
Colfer's early novels were well-received, but it was the publication of Artemis Fowl in 2001, followed by several sequels, which brought phenomenal success (the first novel in the series prompted a ferocious bidding war, which was eventually won by Puffin). Colfer describes Artemis Fowl as 'Die Hard with fairies' and his influences are diverse: elements of Sherlock Holmes, The Simpsons and Batman comics combine with Colfer's deep-rooted knowledge of Irish mythology and folktales. The result, like the work of Colfer's hero, Terry Pratchett, is a modern, technological version of the fairytale.
Artemis, a 12-year-old criminal genius, is an anti-hero who was inspired by the arrogant rich children Colfer used to teach in Saudi Arabia. During the writing process, Artemis evolved from a two-dimensional figure into a complex and fascinating character whom readers could both love and hate:
'When I started to write I had no intentions of making Artemis the central character; he was just the bad guy Holly was up against and that was it. My real anxiety was whether readers would want to go on reading about someone they were meant to hate. But then parts of myself started to go in, and he developed a conscience and it became a very interesting book to write.' (The Times, 10 January 2005).
Artemis' sparring partner, Holly Short, is also a dynamic figure, easily able to match the anti-hero's sarcasm. Colfer's depiction of sassy-mouthed fairies with a bad attitude is often considered to be particularly modern. However, as the author explains, the fairies of Celtic legend were no angels. As a teenager who was not good at sport, or successful with girls, Colfer spent a lot of time tracing drawings of Celtic fairies:
'It would more generally be a girl thing …. But I was into fairies with axes; I was never into them flitting round the garden. Because the fairies of Irish mythology are not like that at all, they are very warlike. Always up for a fight.'
(Dina Rabinovitch, The Guardian, 29 June 2005).
Thus Colfer's feisty fairies are far more authentic and legendary than the more well-known Disney-type. What makes them modern, however, is that their 'magic powers' actually come from advanced technology, for their intelligence and ingenuity in this area is far superior to that of ordinary people (the 'Mud People').
Inevitably, there has been some criticism of Colfer's work: the Artemis Fowl series has been banned in evangelical schools in the USA (along with Philip Pullman and J.K. Rowling) for supposedly being anti-Christian. Others have objected to the depiction of violence and to Artemis' cold, unfeeling character. Yet, as Amanda Craig points out, Colfer displays the same 'sense of family dynamics' as Roddy Doyle and 'shows Artemis' arrogance as lonely and pitiable' (The Times, cited above). It is also clear that Artemis is certainly not free to act with impunity: his actions bring consequences, often to someone he is close to, and readers are therefore encouraged to contemplate right and wrong.
Colfer is still adding to his series about Artemis, but continues to produce other novels. The Supernaturalist was published in 2004, and is a worthy successor to Artemis Fowl. Set in the third millennium in a metropolis controlled by satellites, it tells the story of Cosmo Hill, a teenage orphan who escapes from the Clarissa Frayne Institute for Parentally Challenged Boys and meets a group of children ('The Supernaturalists') whose mission is to destroy the life-sucking supernatural creatures of which Cosmo almost becomes a victim. A work of science-fiction, rather than fantasy, it is a futuristic take on the classic orphan story that has been described by various reviewers as a cross between The Matrix and Oliver Twist. Nonetheless it has all the usual eccentric Colfer humour.
2006 saw the publication of Half Moon Investigations, the story of 12-year-old private investigator, Fletcher Moon. The character has obvious similarities with Artemis Fowl, though the novel does not have a science-fiction or fantasy setting. Colfer has now published his fifth novel about Artemis, Artemis Fowl: The Lost Colony (2006), and he intends to write one more.
Elizabeth O'Reilly, 2007
Bibliography
2015
W.A.R.P. The Forever Man
2014
W.A.R.P. The Hangman's Revolution
2014
Artemis Fowl: The Opal Deception Graphic Novel
2013
W.A.R.P. The Reluctant Assassin
2013
Artemis Fowl: The Eternity Code The Graphic Novel
2012
The Supernaturalist: The Graphic Novel
2012
Artemis Fowl: The Last Guardian
2010
Artemis Fowl: The Atlantis Complex
2008
Artemis Fowl: The Time Paradox
2007
The Legend of the Worst Boy in the World
2007
Artemis Fowl: The Graphic Novel
2006
Artemis Fowl: The Lost Colony
2006
Half Moon Investigations
2006
The Legend of Captain Crow's Teeth
2005
Artemis Fowl: The Opal Deception
2004
The Legend of Spud Murphy
2003
Artemis Fowl: The Eternity Code
2002
Artemis Fowl: The Arctic Incident
Awards
2010
Independent Booksellers' Book Prize
2010
Irish Book of the Decade (Bord Gáis Energy Irish Book Awards)
2009
Bisto Book of the Year Award
2008
Dublin Airport Authority Irish Children's Book of the Year
2004
German Children's Book of the Year
2003
Bisto Book of the Year Award
2003
Irish World Literature Award
2003
Red House Children's Book Award
2002
WH Smith People's Choice Award
2001
British Book Awards Children's Book of the Year
2001
Whitbread Children's Book Award
2000
Bisto Book of the Year Award