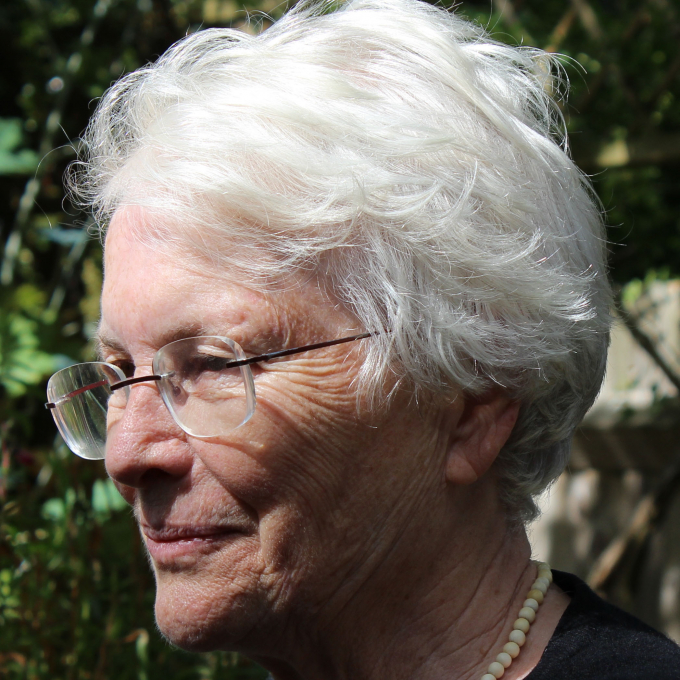 Elizabeth Laird
Publishers:
Agents:
Biography
Elizabeth Laird was born in New Zealand of Scottish parents, but grew up in London.
Before studying French and German at university, she taught at a girls' school in Malaysia. During her twenties she lived and worked in Ethiopia, teaching and travelling, and was a disc jockey on a late night music show, broadcasting to Africa and India.
She met her husband, David McDowall, on a plane in India. They married in 1975, and lived first in Baghdad, where David was working for the British Council. Later, David's work with the UN took them to Beirut (during the civil war). They were eventually evacuated to Vienna, where their second son was born. They now live in London.
Elizabeth Laird has written many readers and background books on Britain in simplified English, as well as picture books for younger readers. During the 1990s she travelled round Ethiopia collecting folk stories from traditional storytellers, and the British Council produced them in a series of readers for Ethiopian schools. A selection for a wider audience was published as When The World Began: Stories Collected in Ethiopia (2000). 
She is best known, however, for her fiction for children and young adults. Novels include Red Sky in the Morning (1988), about a disabled child; Kiss the Dust (1991), about Kurdish asylum seekers in Iraq; Secret Friends (1996); Jay (1997), which has a drug theme; and  Jake's Tower (2001), in which a boy has to cope with a violent stepfather. The Garbage King (2003) is set in Addis Ababa, and is about Ethiopian street children. A Little Piece of Ground (2003) is set in Ramallah, Palestine, from the point of view of boys caught up in the intifada. Secrets of the Fearless (2006) is a historical adventure story set against the backdrop of Nelson's navy. Crusade (2007), was shortlisted for the 2007 Costa Children's Book Award.
Her most recent books include The Witching Hour (2009); The Ogress and the Snake: And Other Stories from Somalia (2009); The Betrayal of Maggie Blair (2011); The Prince who Walked with Lions (2012); The Fastest Boy in the World (2014), shortlisted for the Carnegie Medal in 2015; and Song of the Dolphin Boy (2018).
Elizabeth Laird's books have been translated into 15 languages.
Critical perspective
Elizabeth Laird has spent her adult life experiencing many different cultures: she has spent periods of time living and working in Malaysia, Ethiopia, India, Iraq, Lebanon and Palestine.
These experiences have deeply influenced her writing, and many of her books for children and young adults are set in the countries she has visited, while others depict immigrant families adapting to life in Britain. She also writes about child abuse, illness and death, war, terrorism and homelessness, often basing her stories on topical current events.
However, as she says herself (see 'Author Statement', below), her main focus is to explore emotional and psychological issues, and thus the settings and topical issues are secondary to this. As such, each of her stories contains vivid and well-rounded characters and universal themes with which child readers growing up in more 'ordinary' circumstances can easily identify.
Some of Laird's early works are re-tellings of traditional Ethiopian stories. The Miracle Child: A Story From Ethiopia (1985) tells the life story of Takla Haymanot, a 13th-century Ethiopian saint, while The Road to Bethlehem: An Ethiopian Nativity re-tells the Ethiopian version of the story of Jesus' birth. One of Laird's more recent works, When the World Began: Stories Collected in Ethiopia (2000), is a collection of traditional folk stories told directly to Laird by the people she visited in remote parts of Ethiopia. Her re-telling of the stories echoes the simple, straightforward style of Ethiopian folklore, in which excessive 'wordiness' and elaboration is avoided.
Laird's first novel for older children and teens was Red Sky in the Morning (1988), published in the US as Loving Ben. It is the first-person narrative of 12-year-old Anna, who helps to care for her hydrocephalic baby brother, Ben, who eventually dies. It was inspired by Laird's own personal experiences - her younger brother was born when she was three, and died four years later. Red Sky in the Morning, like most of Laird's subsequent novels, explores moral ambiguities and complexities, and does not present anything in black and white. In particular, Anna and her family must deal with their conflicting emotions - when Ben dies, they experience both intense grief and feelings of relief. Red Sky in the Morning was immediately critically acclaimed, and continues to appear on many school syllabuses.
Kiss the Dust (1991) is also the story of a 12-year-old girl who, like Anna, is experiencing her own adolescent dilemmas within the context of more traumatic events. Tara Khan is a Kurdish girl, growing up in Iraq, who is forced to flee with her family, first to Iran and eventually to Britain. Laird spent a year researching this novel, which has been compared with Ann Holm's I Am David, and it has been praised for its vivid and heart-rending depiction of the experiences of Kurdish refugees, bringing to life the acute suffering that exists behind political events. Secret Friends (1996) also addresses immigration, featuring a young girl and her family who have recently arrived in the UK. As always, Laird combines specific events and settings with universal themes: within the context of an immigration story, Secret Friends explores bullying, peer pressure and the need to belong.
Another extremely topical novel is A Little Piece of Ground (2003), which has proved to be Laird's most controversial work. Written with the help of Palestinian author Sonia Nimr, it is a tale of Palestinian children suffering under Israeli occupation: the 'little piece of ground' refers implicitly to the Palestinian's hope for their own territory, and explicitly to 12-year-old Karim's search for a place to play football with his friends, after Israeli tanks have destroyed the local playing fields. The bookseller Kidsbooks launched an unsuccessful campaign to persuade the publisher, Macmillan, not to go ahead with publication, and other Jewish groups have voiced strong opinion. However, others have praised Laird's courage in tackling such a delicate subject and depicting the struggles of ordinary families whose lives have been devastated by the conflict. One of Laird's greatest supporters has been Michael Morpurgo, who was the Children's Laureate at the time the novel was published. Morpurgo wrote the introduction to A Little Piece of Ground:
'No one but Elizabeth Laird could have written this book. She has lived in the Middle East. She knows it, feels it, loves it, grieves for it and hopes for it. Read A Little Piece of Ground and we know what it is to feel oppressed, to feel fear every day […] We are apt to see events in Palestine and Israel as television drama; violent and repetitive. But in this book we are taken in Ramallah, we live there, no longer mere observers, but involved as we should be […] A fine book, and a daring book.'
The Garbage King, also published in 2003, is equally topical but less controversial, depicting the painful struggles of Ethiopian street children. Laird interviewed homeless Ethiopian children as part of her research, and the novel includes an 'Afterword' discussing these real children and their experiences, along with a message from one of them, imploring others not to run away. The novel's two central characters have both come from very different backgrounds: Mamo is a poverty-stricken orphan whose basic physical survival is under threat, while Dani is from an affluent background, but struggles with an oppressive father who derides his son for his weak academic performance and lack of 'manliness'. While Mamo escapes from slavery, Dani runs away from his father, and the two boys meet and form a friendship. From there, they join a gang of street children led by Million, a tough, streetwise boy who teaches them to beg and find food. Mamo and Dani, like most of Laird's protagonists, are survivors who mature through their difficult experiences and discover their own strength, both physically and emotionally. The novel has received some criticism for its neat happy ending: Mamo eventually finds his sister, while Dani is reunited with his parents. Nonetheless The Garbage King presents a rich and vivid depiction of Ethiopian life, along with a multi-layered perspective which shows the sufferings of both the privileged and the underprivileged, and avoids a simplistic one-sided view.
Laird often explores these unlikely friendships in which children and teenagers from vastly different backgrounds come to understand each other, and often in the process come to understand themselves as well. Paradise End (2004), like The Garbage King, features two children from vastly different social backgrounds as it follows the emotional development of working-class Carly. As she begins to realise that her new wealthy friend is emotionally deprived and terribly damaged, she simultaneously learns to appreciate the emotional richness of her own family. Laird skilfully avoids sentimentality, for Carly's family are far from perfect - Carly simply begins to understand that the trials of sibling rivalry and frustrated desires are just everyday troubles within the context of a loving family.
In Crusade (2007), Laird enacts a similar theme with two boys from different religious faiths and vastly different cultural backgrounds. It is a historical novel, set during the third crusade in the 12th century, which reflects today's conflicts between Islam and the Western world and depicts Muslim culture sympathetically. Salim is a Muslim boy apprenticed to Saladin's personal doctor, while Adam is an English serf who has joined up to serve his local knight and consequently finds himself travelling to the Middle East. Both boys hold strong prejudices about each other's culture, but they gradually learn to reconsider their views. Like most of Laird's novels, Crusade is pervaded by moral perplexity. Just as The Garbage King and Paradise End demonstrate the way in which different social classes each have their sufferings to contend with, Crusade shows clearly that it is never a clear-cut case of 'good' versus 'bad' -- there is always both good and bad on all sides.
Elizabeth O'Reilly, 2008
Bibliography
2018
Song of the Dolphin Boy
2014
The Fastest Boy in the World
2012
The Prince who Walked with Lions
2011
The Betrayal of Maggie Blair
2009
The Ogress and the Snake: And Other Stories from Somalia
2008
A Fistful of Pearls and Other Tales from Iraq
2006
Oranges in No Man's Land
2005
Secrets of the Fearless
2003
A Little Piece of Ground
2000
When the World Began: Stories Collected in Ethiopia
2000
The Three Little Pigs: Goldilocks and the Three Bears
2000
The Little Red Hen: The Tortoise and the Hare
2000
The Great Big Enormous Turnip
2000
Jack and the Beanstalk: The Princess and the Pea
1999
Eddy and the Movie Star
1999
Karen and the Artist
1999
King of the Supermarket
Awards
2008
Carnegie Medal (shortlist)
2007
Costa Children's Book Award (shortlist)
2004
Blue Peter Book Award: The Book I Couldn't Put Down
2004
Hampshire Book Award
2004
Scottish Arts Council Children's Book of the Year Award
2004
Stockport Children's Book Award
2003
Carnegie Medal (shortlist)
2001
Carnegie Medal (shortlist)
1998
Lancashire County Library Children's Book of the Year Award
1996
Carnegie Medal (shortlist)
1994
Nestlé Smarties Young Judges Award
1992
Dutch Royal Geographical Society Glass Globe Award
1992
Red House Children's Book Award
1992
Sheffield Children's Book Award
1989
Carnegie Medal (Highly Commended)
Author statement
Like most writers, I write because I can't help it. Ideas for stories and novels form in my mind and demand to be written down. Since I was a child, I have written endless diaries and letters, and my study is crammed with half-finished manuscripts that will never see the light. A glance through the subject matter of my novels might lead one to suppose that I deliberately choose to focus on issues such as war, street children, disability or child abuse. This is not really the case. My starting point is themes such as courage, endurance, forgiveness and love. The 'issues' are the settings in which these ideas can be explored. It is true, however, that the years I have spent abroad have inspired the books I set in Kurdistan, Ethiopia and Palestine.