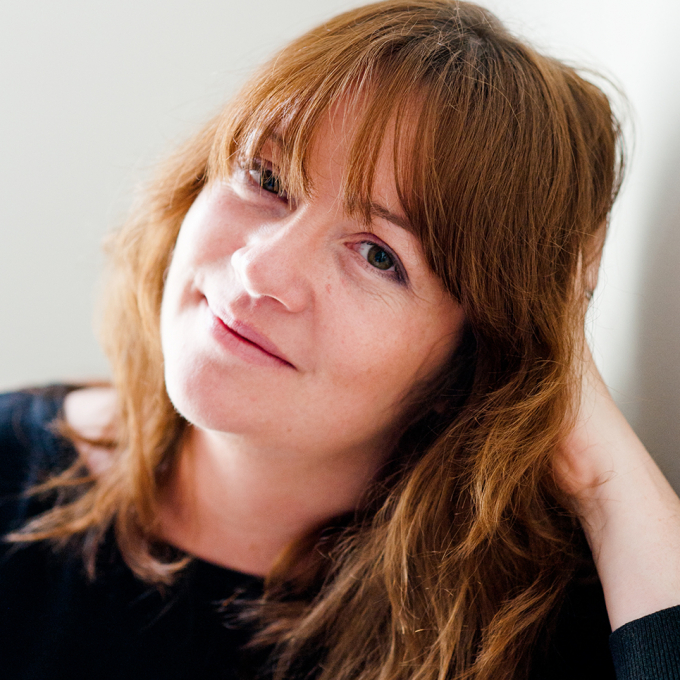 Biography
Eimear McBride was born in Liverpool in 1976 to Irish parents. The family moved back to Ireland when she was three. She spent her childhood in Tubbercurry, Sligo, and Mayo. Then, at the age of 17, she moved to London to begin her studies at The Drama Centre.
McBride wrote her first novel, A Girl Is a Half-formed Thing, in just six months, but it took nine years to get it published. Galley Beggar Press of Norwich eventually published it in 2013. A Girl Is a Half-formed Thing won the inaugural 2013 Goldsmiths Prize and the 2014 Baileys Women's Prize for Fiction, amongst others. 
McBride now lives in Norwich with her husband and daughter. Her second novel, The Lesser Bohemians (2016), won the James Tait Black Memorial Prize, and was shortlisted for the Goldsmiths Prize and the RSL Encore Award.
Critical perspective
Irish writer Eimear McBride stunned critics with her debut novel A Girl is a Half Formed Thing in 2012, an account of a young woman's complex relationship with her family, told in startlingly unconventional prose.
Critics on both sides of the Atlantic were quick to praise it as a bold and daring debut. Anne Enright called McBride a "genius"; Joshua Cohen in the New York Times thought it "a future classic", and James Wood in the New Yorker hailed it as a "blazingly original novel … fuelled by fractured, adventurous language and raw emotion."  This acclaim, combined with the underdog story of McBride's decade long search for a publisher, led to one the most celebrated literary debuts of recent years.
In a prominent Guardian review, John Sutherland claimed that McBride's prose was so startling that it "doesn't fit any terms we use to categorise writing." And there are certainly some terms and labels that she is careful to avoid. One of these is the prevailing mode of social realism that she refers to as "heavyweight middlebrow," and which dominates much of the literary prize world and creative writing culture. Unlike many novelist peers, McBride is interested less in transparent social depictions, and more in the effects of layers of language. In part, she puts this down to her non-traditional route, to becoming a writer, observing that:
"I think if I'd gone to university or done a creative writing course I probably would have had a very different attitude to language. Having an acting background, you're less reverent about it and more aware of how people speak, and also of the different things that go on inside people. It was the only way I knew how to create a character so it made sense." (Guardian, 2012)
This attention to the qualities of verbal interiority - what James Wood calls her "bent language - puts her in the linguistically effervescent company reserved for recent experimenters like Patrick McCabe, Ali Smith and Peter Carey. And it has helped distinguish her as a unique stylist".
The second label she is loathe to embrace is that of an 'Irish writer'. On the level of theme, the classic topics and modes are certainly all there: '"You know, being Irish," she has said, "oh God, sex, death, religion, shame, here it all is."' But just as important, on the level of style, there is what some have seen as a recognizably Irish commitment to stream-of-consciousness wordplay. Many have drawn comparisons between McBride' novel and the James Joyce of the early parts of A Portrait of the Artist or Molly's closing monologue in Ulysses. Indeed, she has spoken of the moment, when she was in her mid-twenties, that she first encountered that forbidding novel, which made her realize that, "everything I have written before is rubbish, and today is the beginning of something else". As a result, Joshua Cohen, writing in the New York Times to become one of several to place her as what he called "the latest in that illustrious line of Irish typographical reformers," that stretches through Samuel Beckett to Edna O'Brien.
However, McBride's own sense of where she fits in is more international: "No. I'd like to set up my stall up as a European writer … I probably belong in the diaspora set because I only have clarity from a distance." And it is perhaps this sense of a global Modernist lineage, taking in William Faulkner and Milan Kundera, that most helped shape her radical first novel.
A Girl is a Half Formed Thing was recounted by the "girl" of he title, opening when she is two years old. All the characters remain unnamed, and the narrative seems to float free of specific time. As the story begins to dwell on family violence, sexuality and the ongoing trauma of her brother's brain tumour and stunted mental development, the tone is often dark. But McBride's language and wit manage to make a potentially grim tale read like bleak comedy.
The key quality of the book, of course, was the distinctive narrative style. Here are some samples of that language in action, from near the beginning of the novel:
Get up from that bed. Come on we're late. Ah Mammy. It'll do you no harm Madam to show the Lord you care. But I feel sick at mass. None of that please. There's no fresh air in there. Get you your shoes on we haven't got time for this.
Grannies rap their hearts. I know that from hot mass when they say Jesus's name. My feet hurt, knees hurt on the kneeler where someone's foot left shoe dirt there—sorry will you let me through. All the people up and down saying Christ has died Christ has risen Christ will come again. Mammy I can't see the altar. Lift me up til my legs go dead.
It's a dangerous place for smacking mass. Any trying to run up the aisle. Get back here. Climbing through the seats ahead. Sorry. Sit down. Sucking tissues or getting under the pew. That's a good thump in the back.
This is prose that needs to be heard to be understood, and which isn't always comfortable to process or to comprehend. There are no quotation marks, commas or transitions between speakers; language appears shattered and interrupted; words change their meanings and spelling sometimes reverses. Through a distinctive and sometimes tough-going stream of consciousness, McBride's prose simulates the visceral and confused sense of perception that is both fragmentary and incomplete.
Commenting on her process, McBride notes that
'I was interested to see how far it was possible to push word order and structure while still remaining comprehensible and – more importantly – engaging. Specific to the writing of Girl was the positioning of the narrative voice and I knew to achieve that effect I would have to make the language work in a different way.'
Having found English "a pretty blunt tool most of the time," McBride also discovered that her study of other languages "offered plenty of ideas about alternative options to straightforward, grammatical writing." To critics such as Sutherland, part of the pleasure of the result was what we might call its phenomenological quality. "Our inner language is blunt instrumentation, not inarticulate but unarticulated" he noted in his review of the book, concluding that "McBride makes her epistemological point with a prose that hovers just this side of sub-verbal." (Guardian, 2013)
To even some of the novel's champions, however, the "point" made by this style proved almost too intense, ultimately more admirable than enjoyable. "If every book was as intense as this", wrote Adam Mars-Jones in the London Review of Books, "reading literature would be even more of a minority pursuit than it is already." Similarly, Wood's New Yorker tribute found her prose "doubly difficult: hard to follow and hard to bear." As Enright acknowledged in the Guardian "there are moments when you long for the style to settle down, or evolve," but she crucially concluded that "If this kind of thing bores or frightens you, then there are many other wonderful books out there for you to enjoy. The adventurous reader, however, will find that they have a real book on their hands, a live one, a book that is not like any other"
The novel proved a great critical success, carrying away the Kerry Group Irish Novel of the Year, the Goldsmiths Prize, the Desmond Elliott Prize, the Baileys Women's Prize for Fiction, and the Geoffrey Faber Memorial Prize. It has established McBride as one of the most acclaimed débutantes in recent British literary fiction. And has critics fascinated by what she will do next, particularly with experiments in language – the ideal condition of which, she has said, is "completely experiential, completely gut-reactive … English needs to be made to pick up its feet and move". (The White Review, interview 2014)
Dr Tom Wright