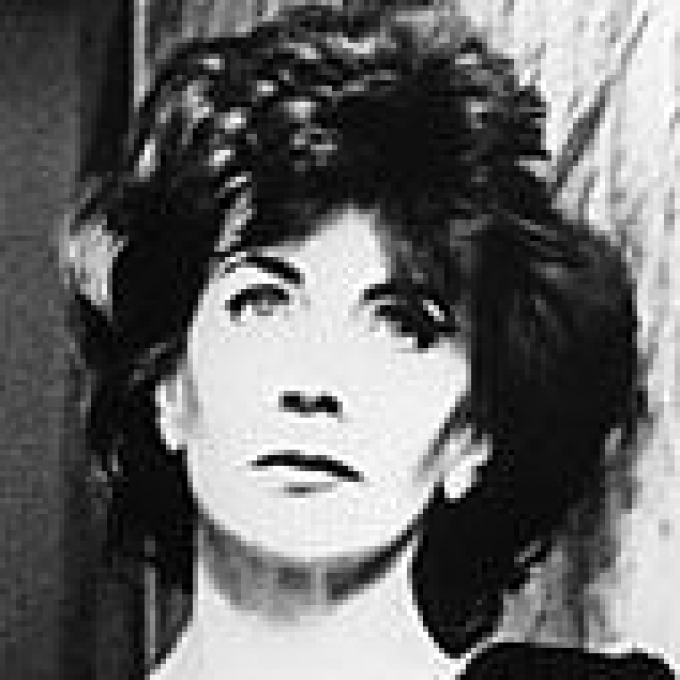 Biography
Irish novelist and short-story writer Edna O'Brien was born on 15 December 1930 in Tuamgraney, County Clare, Ireland.
She was educated at the Convent of Mercy in Loughrea, County Galway, and at the Pharmaceutical College of Ireland. She married the writer Ernest Gébler (later separated) and moved to London in 1959. One son is the writer Carlo Gébler, and the other the architect, Sasha Gébler. She read manuscripts for the publishers Hutchinson in London and was commissioned by them to write her first novel, The Country Girls (1960), the first book in a trilogy of novels (with The Lonely Girl in 1962 and Girls in Their Married Bliss in 1964) about two young convent-educated Irish girls who rebel against their upbringing and run away to Dublin and London. Her frank treatment of sexuality in these and subsequent novels brought her into conflict with the Catholic Church, and these and several other novels were banned by the Irish Censorship Board.

Her other novels include A Pagan Place (1970), the story of a young girl growing up in rural Ireland, winner of the Yorkshire Post Book of the Year Award; Zee & Co, filmed as X, Y & Zee starring Elizabeth Taylor in 1972; Johnny I Hardly Knew You (1977), a story of love, murder and revenge; and, more recently, Time and Tide (1992), winner of a Writers' Guild Award (Best Fiction), the story of a young wife who faces a personal crisis when she leaves her husband and is forced to fight for the custody of her two sons.

She is also the author of a trilogy of novels about modern Ireland: House of Splendid Isolation (1994), in which she writes about Irish nationalism and sectarian violence; Down by the River (1996), based on the true story of a young Irish rape victim forced to travel to England for a legal abortion; and Wild Decembers (1999), recently filmed by RTĒ and about a farmer, Joseph Brennan, and his sister, Breege, living in an isolated rural community. In the Forest (2002), is based on the true story of a disturbed and abused young man who murdered a young mother, her infant son and a Catholic priest in the west of Ireland in the early 1990s.
She has received several literary awards, among them the Los Angeles Times Book Prize (Fiction) in 1990 for Lantern Slides, a collection of short stories set primarily in Ireland. Other collections of short stories include The Love Object (1968), Mrs Reinhardt and Other Stories (1978) and A Scandalous Woman (1974). She also wrote Mother Ireland (1976), a travelogue with photographs by Fergus Bourke, and a biography of James Joyce, published in 1999.
She is also the author of several plays. Virginia (1981), based on the life and writings of Virginia Woolf, was performed at the Haymarket Theatre, London and Public Theater, New York; Flesh and Blood at the Almeida Theatre, London; and Triptych at the Magic Theatre, San Fransisco and Southwark Playhouse, London. Haunted premeried at The Royal Exchange Theatre, Manchester in 2009.
Edna O'Brien's most recent books are the novel The Light of Evening (2006) and Byron in Love (2009). She is a member of Aosdána, an Irish organisation founded to promote the arts, and adjunct professor of English Literature at University College, Dublin. She is also an honorary member of the American Academy of Letters.
Critical perspective
The main themes in Edna O'Brien's fiction are Ireland and women.
Like James Joyce, whose work greatly inspired O'Brien, she has lived most of her adult life outside Ireland, exploring her home country from a more detached perspective. O'Brien's most well-known and acclaimed work is her Country Girls trilogy – The Country Girls (1960), The Lonely Girl (1962; re-published as The Girl With Green Eyes, 1964) and Girls in Their Married Bliss (1964) – in which two rural Catholic girls rebel against the expectations of family and society. These and several subsequent novels were extremely controversial and initially banned in Ireland, due mainly to O'Brien's explicit treatment of sexuality, but also to her critique of rural Irish Catholic morality. In particular, her emphasis – in these and later works – is on the oppressive, restrictive and often hypocritical expectations to which women were subjected, and the conflict and disillusionment involved in male-female relationships. Despite the humour that pervades the early work, O'Brien's fiction is often quite bleak and despairing regarding the possibility of female characters attaining emotional fulfilment and happiness. These characters are often naive, immature and dependent on men – they gradually realise the importance of independence and emotional self-sufficiency, but struggle to free themselves from the Irish Catholic mores that are deeply rooted in their psychological make-up. O'Brien is acclaimed particularly for her authentic rendering of the intense emotional lives of her female characters, conveyed through sensuous and lyrical prose which poignantly evokes their emotional agonies.
The Country Girls trilogy was a groundbreaking literary work, for all the same reasons that it caused a storm of controversy. The trilogy takes as its subject matter, and thus gives credibility to, the inner lives of young Irish women and their rebellion against the Irish Catholic roles to which they were expected to conform, including a bold and unabashed depiction of their first sexual experiences. The protagonists are Kate and Baba, childhood friends from rural Catholic Ireland, whose story progresses gradually from naive hopes and romantic fairytale notions of love to eventual despair and devastation. Although the story is tragic, O'Brien combines its serious poignancy with ironic humour. In the first novel, The Country Girls, Kate and Baba escape their rural environment and stifling families by moving to Dublin, only to be brutally disillusioned by the reality of sexual and romantic relationships. In Lonely Girl / The Girl With Green Eyes, they move to London, while the ironic title of Girls in Their Married Bliss satirises the romantic ideals they grew up with, ending on a note of despair.
O'Brien's next few novels, including August is a Wicked Month (1965), Johnny I Hardly Knew You (1977) and The High Road (1988) continue to offer detailed and evocative psychological portraits of women whose romantic ideals meet with disillusionment. A Pagan Place (1970) tells the story of a young girl growing up in rural Ireland who is seduced by a priest. It makes bold and effective use of a second-person narrative, which adds to the novel's dark, disturbing tone. Terence Dawson comments on the development of O'Brien's fiction, particularly her use of more experimental narrative techniques. Her use of humour, 'so intrinsic to the early work, is gradually replaced by sharp and sometimes acid observations', but even more noticeable is 'the progress from the "realism" of the trilogy to the introverted monologues, reminiscences and reconstructions of her later work' (Contemporary Novelists, ed. Henderson, 1991).
Time and Tide (1992) features Nell Steadman, a woman from rural Ireland who is now living in London and undergoing a painful divorce. Having felt oppressed and overpowered, firstly by her family and then by her husband, Nell is now struggling to free herself emotionally, while simultaneously undertaking a heart-rending custody battle for her two sons. Time and Tide evokes the raw and acute emotions of separation and of motherhood, offering a bleak picture of Nell's increasing isolation and confusion. This novel, which does not have the humour of the earlier works, received mixed reviews, with some critics and readers finding Nell weak and self-pitying rather than a sympathetic heroine.
O'Brien's recent fiction broadens its focus and engages more actively with contemporary social and political issues. The next three novels – House of Splendid Isolation (1994), Down By the River (1996) and Wild Decembers (1999) – are often grouped together as a trilogy that addresses various different aspects of modern Ireland. House of Splendid Isolation explores the complexities of The Troubles, featuring an elderly widow, living alone in a farmhouse, who develops an unlikely friendship with an IRA terrorist who holds her hostage in her own home as he hides from the law. As the two characters recount their life stories, and each finds in the other a sympathetic ear, O'Brien's narrative skilfully sympathises with both sides of Ireland's troubled history. Down By the River addresses one of Ireland's modern controversies – that of abortion – while Wild Decembers has a rural West Country setting, depicting conflict between tradition and modernity through the story of Joseph, a traditional villager, his sister Breege, and Mick, an outsider who moves to the village. O'Brien alludes to wider issues in Irish society by poignantly showing the way in which tragedy is caused by Joseph's fierce attachment to the past and rigid inability to compromise.
In the Forest (2002), which is based on a true story, caused controversy. It fictionalises the horrific 1994 murder in rural Ireland of a young mother, her three-year-old son and a Catholic priest, and many critics and readers felt that the event was too recent and traumatic to be used as fictional material. Nonetheless, it is a sophisticated novel, exploring the disturbed mind of the murderer and the sequence of abusive experiences that triggered his psychotic state. And herein lies the controversy, for although the novel does not absolve the killer of responsibility, it does examine the complexity of factors involved, placing him within the context of a society that contributed to his psychological destruction. As O'Brien herself comments: 'Ostensibly it's about a triple murder in a forest, but I believe that the novelist is the psychic and moral historian of his or her society' (The Observer, 28 April 2002).
The Light of Evening (2006) returns to more familiar O'Brien territory, that of the loves, losses and disappointments of Irish women. It is framed around a strained mother-daughter relationship: Dilly lies dying in a rural Catholic hospital, awaiting a visit from her estranged daughter Eleanora. In a story that combines a first-person narrative of Dilly's memories, and a third-person account of Eleanora's rebellion and move to London, O'Brien captures the conflicting, ambivalent feelings between mothers and daughters, particularly the way in which dutiful Dilly simultaneously envies and disapproves of her daughter's life: 'Such is the wrath of the mothers, such is the cry of the mothers, such is the lamentation of the mothers.'
O'Brien has also been acclaimed for her non-fiction work. Mother Ireland (1976) is a collection of essays, partly autobiographical, which complement the fiction in offering insights into Irish culture and society. She has also written about some of her literary forebears and influences, including a play, Virginia (first staged in 1980), inspired by Virginia Woolf, and two works about James Joyce: a portrait of his marriage (1981) and a biography (1999). O'Brien has described her first reading of Joyce as her first 'Damascene experience' of literature (The Observer, 28 April 2002), and her own work, with its emphasis on the emotional life of ordinary individuals, has sometimes invited comparisons with Joyce's. More recently, she has written another literary biography, Byron in Love (2009).
Elizabeth O'Reilly, 2010
Bibliography
2006
The Light of Evening
1994
House of Splendid Isolation
1990
Lantern Slides: Short Stories
1987
The Country Girls Trilogy
1986
Tales for the Telling: Irish Folk and Fairy Stories
1985
A Fanatic Heart: Selected Stories
1979
Some Irish Loving: a Selection
1978
Mrs Reinhardt and Other Stories
1977
Johnny I Hardly Knew You
1974
A Scandalous Woman: Stories
1969
The Lotte Berk Book of Exercises
1965
August is a Wicked Month
1964
Girls in Their Married Bliss
1964
Girl with Green Eyes
Awards
2010
Irish Book of the Decade (Bord Gáis Energy Irish Book Awards)
2009
Bob Hughes Lifetime Achievement Award in Irish Literature
2006
Ulysses Medal (University College Dublin)
2001
Irish PEN Lifetime Achievement Award
1995
European Prize for Literature (European Association for the Arts)
1993
Writers' Guild Award (Best Fiction)
1991
Premio Grinzane Cavour (Italy)
1990
Los Angeles Times Book Prize (Fiction)
1970
Yorkshire Post Book Award (Book of the Year)