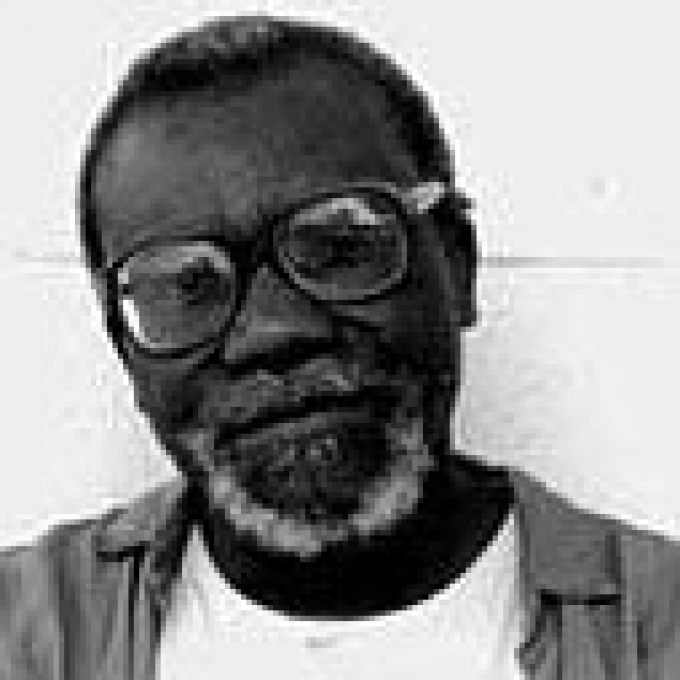 Biography
Poet, novelist and short-story writer E.A. Markham was born on the Caribbean island of Montserrat in 1939 and lived mainly in Britain from 1956.
He was educated at St David's University College, Lampeter, where he studied English and Philosophy and did research at the University of East Anglia and London. After lecturing at Kilburn Polytechnic (1968-70), he directed the Caribbean Theatre Workshop in the Eastern Caribbean (1970-71), then lectured at the Abraham Moss Centre in Manchester (1976-8). From 1983 to 1985, Markham worked as a media co-ordinator for the Enga Provincial Government in Papua New Guinea, followed by two years as editor for the magazine Artrage from 1985 to 1987.

E. A. Markham held a number of writing fellowships, including Writer in Residence at Hull College of Higher Education (1978-9) and at the University of Ulster (1988-91). Until 2005 he was Professor of Creative Writing at Sheffield Hallam University, where he directed the Hallam Literature Festival, and edited the magazine Sheffield Thursday, becoming Professor Emeritus.

His poetry collections include Human Rites: Selected Poems 1970-1982 (1984), Living In Disguise (1986) and Towards the End of a Century (1989). His latest books of poetry are Misapprehensions (1995) and A Rough Climate (2002), shortlisted for the T. S. Eliot Prize. He is the author of several collections of stories, including: Something Unusual (1986); Ten Stories (1994); and Taking the Drawing Room Through Customs: Selected Stories 1970-2000 (2002. His memoir, A Papua New Guinea Sojourn: More Pleasures of Exile (1998), is an account of his time in New Guinea. He also edited Hinterland (1989), a collection of Caribbean poetry, and The Penguin Book of Caribbean Short Stories (1996). A Festschrift for E. A. Markham, edited by Freda Volans and Tracey O'Rourke, was published in 1999.
A collection of short stories, At Home with Miss Vanesa, was published in 2006, and a work of non-fiction, Against the Grain: a 1950s Memoir, in 2007. In 1997 he was awarded the Certificate of Honour by the Government of Montserrat.
E. A. Markham died in Paris in March 2008.
Critical perspective
Living in Disguise (1986) is the title of one of E.A. Markham's poetry collections, however it is a title that would apply equally well to his work as a whole. For much of the 1970s and 1980s, Markham masked his identity by employing two main personae: Paul St. Vincent and Sally Goodman. (See The Selected Poems of Paul St. Vincent and Sally Goodman, 2003, for a comprehensive selection of these poems.) At the time these 'poets' took on a life of their own, and Markham has spoken since of how in many ways they seemed to outstrip the success of 'Markham' their creator! Paul St. Vincent, is a working class Antiguan who came to live in South London at the age of eight. Sally Goodman, on the other hand, is white, feminist, Welsh and middle-class: an Embassy child educated in Europe. Markham uses these two personae in different ways. On the one hand they are employed in order to allow Markham, the bourgeois poet, to vicariously pursue feminist and black working-class identities at a key historical moment in their development. On the other hand, they allowed him to raise questions around the reception of black and feminist poetry of the time, which he felt was being narrowly defined in terms of a political agenda that fetishised, authentic, 'right on' subjects. As fellow poet Sean O'Brien put it, 'Markham is tireless in his resistance to orthodoxy, whether artistic, cultural or political. He speaks as he finds, in multiple, unpredictable voices.'

One of the most successful characters to appear in Paul St Vincent's poetry goes by the name of Lambchops, a figure who, in Markham's words, is a 'hero of the folk'. His much-anthologised poem, 'A Mugger's Game' employs Lambchops to evoke some of the archetypal black experiences of the 1970s:

'Chase him down the alley
put him behind bars

in a basement and charge him rent'

With its allusions to sub-standard housing, mugging and police brutality, 'A Mugger's Game' at first appears to be a typical piece about the criminalisation of Caribbean culture in Britain. However Markham's poetry of this period is distinct from the more overtly 'political' protest poetry of writers like Linton Kwesi Johnson. There is also the issue of trickery and play at stake in 'A Mugger's Game' (as the pun of the title suggests), which Markham associates with Anancy, the trickster figure of African and Caribbean mythology. As Markham argues 'Lambchops looks as if he is running away; what he is actually trying to do is to draw the policeman out so you can see what is going on in his head. That's an Anancy pose'.

Of course, when he was not using various personae, Markham, himself, was a poet, dramatist, short story writer,editor and critic of considerable talents. Although much of his writing appears 'abstract' and is difficult to situate within a black British literary tradition (Markham preferred the label West Indian to black British), much of his work also reveals firm attachments to the local physical landscape, whether it is that of Wales, Ireland and France or Montserrat and the Caribbean. Many of Markham's poems journey between these different landscapes and Letter from Ulster and the Hugo Poems (1993) draws together Northern Ireland and Montserrat in order to create imagined and actual correspondences between the two. Meanwhile, edited collections like Markham's Hugo Versus Montserrat (1989) and the Hugo poems, written after the devastating hurricane hit Montserrat, reveal a strong sense of social and political commitment to 'home'.

However, home was not simply 'away' for Markham, a writer who worked as a professor at Sheffield Hallam University for many years, who edited Sheffield Thursday magazine and who published a campus novel called Marking Time (1999). Markham's role as a teacher and editor played an important part in the British higher education system and collections like Hinterland (1989) (a selection of Caribbean and black British poetry) and The Penguin Book of Caribbean Stories (1996) are regularly set on university courses up and down the country. In A Rough Climate (2002), Markham offers an excellent introduction to 'Markham' in a collection that opens with the year 2000, but which contains recollections of the writer's arrival in England in the 1950s and which moves deftly between Montserrat and Britain, between George Lamming's couch and the Caves of Castine. More recently, Markham produced an extended memoir of his early years in London, Against the Grain (2007). Documenting his family's relative wealth in Montserrat, his early desire to be a pop star, and his realization that the new family home in Maida Vale was next door to a key figure in the British Union of Fascists, Against the Grain is both a valuable contribution to the cultural history of the 1950s and to some of the formative influences on Markham.

Markham was also a short story writer of considerable talent, and his short fiction much anthologized. In his interconnected collection of tales, Meet Me in Mozambique (2005), the reader moves between Africa, Europe, and the Caribbean. Here we discover fresh personae (and a mode of narration familiar to those who know Markham the poet) in stories that are by turns comic and grave. A broader appreciation of Markham's contribution to Caribbean short fiction can be gained by looking at his excellent 300-page volume, Taking the Drawing Room Through Customs: Selected Short Stories 1970-2000. Jeremy Poynting has said of this collection that it is 'perhaps the most experimental Caribbean user of the short story, constantly playing with the reader's expectations, but in the most genial and engaging ways. His range is wide, from the more conventional narratives of stories such as "A Short History of Employment in Britain", to the metafictional "A Place for Simon", and the magical realist "Digging".' 2008 sees the publication of Markham's new and selected poems, Looking Out, Looking In, and it is hoped this retrospective gathering of the poems and short stories will lead to a reappraisal of this original but relatively neglected artist.

Dr James Procter, 2008
Bibliography
2008
Looking Out, Looking In: New and Selected Poems
2007
Against the Grain: a 1950s Memoir
2006
At Home with Miss Vanesa
2005
Meet Me in Mozambique
2002
Taking the Drawing Room Through Customs: Selected Stories 1970-2000
1999
A Festschrift for E. A. Markham/edited by Freda Volans and Tracey O'Rourke
1998
A Papua New Guinea Sojourn: More Pleasures of Exile
1996
The Penguin Book of Caribbean Short Stories
1993
Letter from Ulster and the Hugo Poems
1989
Hugo versus Montserrat
1989
Towards the End of a Century
1986
Lambchops in Papua New Guinea
1984
Human Rites: Selected Poems 1970-1982
1982
Love, Politics and Food
1976
Lambchops In Disguise
1973
Merely a Matter of Colour
Awards
1997
Certificate of Honour (Government of Montserrat)
1980
C. Day Lewis Fellowship
Author statement
'[Why do you write?] The short answer to this might be expected to reveal something of the writer's circumstances at the time the question is posed; though being encouraged to reflect on it might lead one to a sort of discovery which, though personal, need not be entirely circumstantial. So I am a little bit uneasy with the answers that come to mind - that one would, perhaps, like to emulate others of the past who managed to write well; or that one wants to leave some record of one's own life's experience, both the visible and the inner worlds, to show the life (and actions) made some sort of sense. This harmonizing of self might seem seductive enough to other people to want to make connection with their own lives, and to situate both yours and theirs more firmly into a general human community.

But this is to put a spin on it: for at the same time, you (you rather than one, a better fit here) - you labour under the delusion that there is something distinctive about you, and that this distinctiveness is a quality that others could find some empathy with, and so not hold your separateness against you. That separateness, which you variously attribute to a special relationship with the language, to becoming conscious at a particular historical moment, to the challenge of trying to make the writing articulate other aspects of the life, is like a stubborn thumbprint which might help to prove, when you are no longer around, that you existed.

But maybe this is still too removed from what usually happens: that at some point in the past perhaps difficult to locate, you give yourself permission to write; that other factors - partners, friends, extended family and the economic and political climate - allow you the space to do this and to publish. Then you're a writer (vulgar notion, I know); but now you have something to defend, you have some sort of constituency to hold you to account. At that point you become perhaps less subtle in your articulation of what you do. You talk less about finding ways of giving structure, shape and sound to sensations that might be nebulous but nevertheless contribute to your nightmares as well as to moments of consolation; and you talk more, perhaps, of finding your voice(s), of reconciling inner and outer selves, and in turn connecting that with something larger, contextualizing your experience. You talk of your responsibility for speaking, not for others, but on their behalf, for like you, they have been (or are in danger of becoming) misrepresented: you are part of the regime that answers back. But is this becoming a little reactive? It's always good to take a break for reflection when you start thinking and talking of yourself as if you need to be defended. The reality is one is usually neither so grand nor so terrible (though some writers are pretty terrible).

Why do I write? Because I am curious about my own life in a way that I don't expect others to be, and writing about it seems a relatively harmless form of self-promotion. More respectably, I am fascinated by my inherited language (indeed, by the notion of language) and would like to add my inflections to its larger meaning: I'm fascinated by the privilege - which seems to me in in no way schizophrenic - of being a voice somewhat different from others and at the same time one that strangers can adopt as familiar; and I write because writing helps me to discover and reveal things about myself that I would prefer, in polite company, not to have revealed. This last bit might be poor-man's therapy. But the act of writing could just mature into being a transferable skill - something learnt there helping you to revise other aspects of your life. And it's fun, you know, this form of self-use, when it doesn't slide and gel into abuse. So, it's always useful to remind yourself that the music of words when strung together by the right sort of composer, is one of the joys of living. Perhaps I'm talking about a dimension of reading now, as much as about writing. So let's say that's one of the reasons I write; because I like to read.'