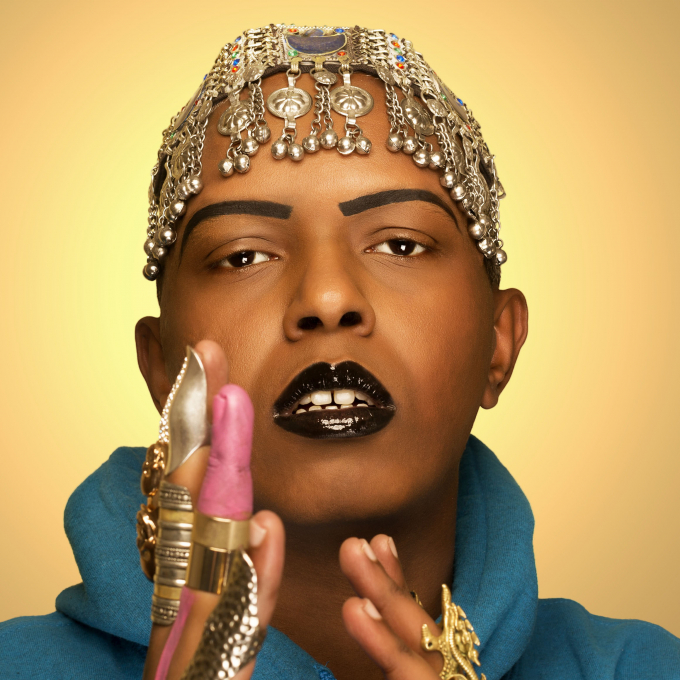 Biography
Diriye Osman was born in Somalia in 1983 and raised in Kenya and London.
He is a short story writer, essayist, critic and visual artist, born in Somalia in 1983, and raised in Kenya and London.
Osman's writing has appeared in 'The Guardian', 'Time Out', 'The Huffington Post', 'Vice', 'Attitude', 'Prospect', 'Poetry Review', 'AfroPunk', 'Kwani?', 'Jungle Jim', 'Under The Influence' and 'SCARF Magazine'.
His critically-acclaimed debut 'Fairytales For Lost Children' (Team Angelica Press) won the 2014 Polari First Book Prize and was named one of the best books of the year by 'The Guardian'.
Critical perspective
Diriye Osman is a Somali born writer, raised in Nairobi and London. His debut collection of short stories, Fairytales for Lost Children (2013) combined exploration of the world of exiled Somalis with frank treatment of transgressive LGBT sexuality.
Osman's work to date might be summed up with reference to the simple powerful message at the heart of one of his essays: "It's a beautiful thing to be young, gay and African."
His commitment to this vision has seen him make waves in both African writing and global LGBT literature.  At a time when homosexuality is still illegal in most of Africa, and barely features in contemporary African fiction, his work is unique. In sensual and erotic tales, Osman has explored the joys and wrenching inner conflicts of young gay Somalis whose identities are shaped as much by their sexualities as their cultural origins.
As a result of tackling such risky themes, Osman has been much praised as an important and brave new voice. "Osman is a courageous writer but he is also an original one" wrote Bernadine Evaristo in the Independent in 2013 "At a time when African writing is on the rise, Osman stands above the crowd."
The last decade has certainly seen a remarkable rise in the presence of African writing on the British literary scene. In a 2011 piece in the Telegraph entitled "All Hail the African Renaissance", Ellah Allfrey celebrated the new rush of "stories come from Africans whose homes span the globe: as these writers migrate, occasionally repatriate and lay claim to their patches in a shape-shifting global village, a tribe of readers and critics grows along with them, passing on information, reading-lists and reviews in what is one of the most exciting literary movements of our century."
Within this 'African Renaissance', one could place him alongside important established and rising figures such as Kenya's Binyavanga Wainaina, Nigeria's Helon Habila and Gambia's Biram Mboob.  But Allfrey reserved particular excitement for Osman: "East Africa. South London. Queer. Displaced. Mentally Ill. My excitement over Osman and his writing comes, in part, out of delight at the impossibility of categorisation. Where would you shelve him in the bookstore?" It is a confusion that his writings encourage. But it is also a question that his message of universal human self-empowerment seems to make irrelevant.
In a prominent 2014 essay entitled 'To Be Young, Gay and African', he made clear the importance that fiction writing had to his personal journey:
I arrived at this point of self-acceptance by doing what came best to me, what generations of the Somali community have always done in order to sustain themselves when crisis kicked off, I told stories … I wrote these stories down and compiled them into a collection of short fiction called Fairytales For Lost Children. These stories follow young, gay Somalis on the cultural and social periphery of both their adopted homelands of Nairobi and London as well as their motherland, Somalia. These characters experience a wide spectrum of dilemmas whether it is mental illness, civil war, immigration or complicated family histories. But they still hold on to their sense of humanity and optimism without the need for apology or victimhood. (Huffington Post, 2014)
After being published over a number of years in various venues, these stories were finally collected in 2014. Taken together, Fairytales amounted to an eloquent plea for readers to revisit their assumptions about Africa and its diaspora.
Osman's is a conscious fusion of international traditions, drawing upon a range of influences including Junot Diaz, Edwidge Danticat, Lorrie Moore, Nuruddin Farah and Chinua Achebe. In Fairytales, elements of these writers are mixed with the "endlessly fascinating culture" and "rich seam of history" of his Somali origins. The resulting fusion forged a cosmopolitan LGBT stance reminiscent of important predecessors such as the African-American gay literary icon James Baldwin.
Several key themes dominate Fairytales for lost Children. Most immediate are the classic exile tropes of loss of homeland and competing identities. These are given added power by the conflicts between sexual desires, family and religious belief. For example, the story "Shoga", set in Nairobi, narrates the tale of a teenager (""I was 17 and I specialised in two things: weed and sex.") who becomes lovers with his grandmother's servant, a refugee from Burundi. When his grandmother finds out, she sacks the servant and cuts off her grandson: "We became two strangers bound by blood and bad history." In a similar vein, the "Tell the Sun not to Shine" narrates the story of a young Muslim who attends Peckham Mosque only to recognises the imam, now married with wife and child as a former lover from back in Nairobi.
He also explores mental illness in a number of the pieces. "Earthling", first published in 2008, is a short story about a young lesbian recently released from a psychiatric unit. The tale "Pavilion" centres on a "six-foot" Somali transvestite working in a "mental clink".  In one of his most powerful pieces, the essayistic "Your Silence Will Not Protect You", Osman's young protagonist struggles battles with voices in his head, "shouting homophobic slurs".
Most central of all is Osman's key concern with the potential of "self-creation":  "I'm fascinated by individuals who fashion their own identities out of makeshift materials," he told the 'Africa is a Country' website in 2014 "who improvise with what's to hand. I come from a large family filled with fully realized individuals. However, everybody has their own role and everybody fits into the mosaic. I always felt out of place within the context of that mosaic, that predetermined pattern."
Critics and fellow writers have praised the unique viewpoint that Osman's writings give voice to. Celebrated American cartoonist and LGBT activist Alison Bechdel praised his success at creating for his characters "a warm place which is both real and imaginary, in which they find political, sexual, and ultimately psychic liberation" (Team Angelica, 2013). Magnus Taylor of New Internationalist has hailed Osman as "a startlingly original voice."Bernardine Evaristo, writing in The Independent in 2013, praised him as a courageous and original writer, remarking that his language is "crafted with all the concision and riches of poetry." Fairytales went on to the win the 2014 Polari Prize.
But most important to Osman was the response he has received from ordinary readers across the globe:
When I published [Fairytales] I received emails from young LGBT men and women from Somalia, Kenya, Nigeria and Uganda telling me how much the stories meant to them, and how they felt a sense of solace knowing that I was telling these narratives without shame or fear. Shame and fear are the most potent weapons in the homophobe's arsenal. If one rejects the notion that one has to be ashamed of being gay or lesbian, then half the battle is won. ('To Be Young, Gay and African', Huffington Post, 2014)
Osman is currently planning to build on the success of his first collection with a novel that follows the next logical step in the journey of self-creation. If Fairytales was about the route to liberty, this new work will be "about what happens when one finds freedom. After all, freedom isn't freedom unless you do something with it." And it is certain that his work will continue to challenge categories and continue his cultural "battle" against shame and fear.