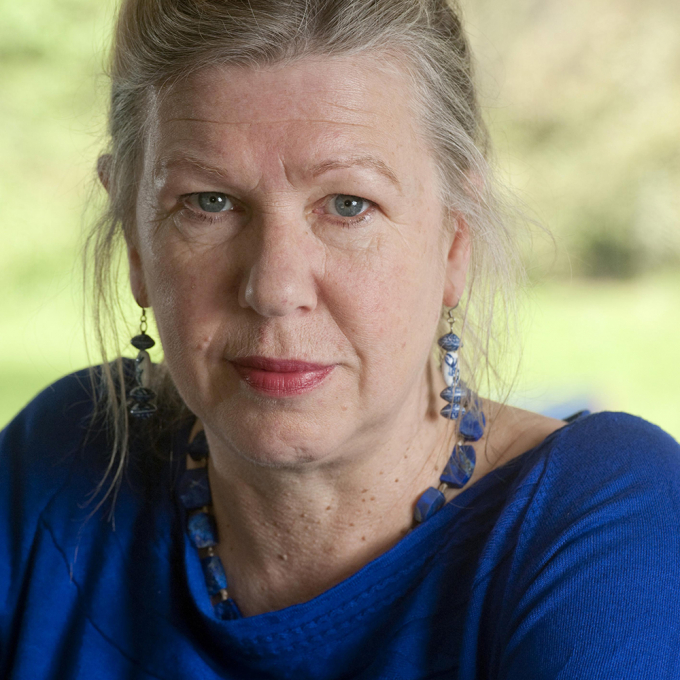 Biography
Dilys Rose was born in Glasgow in 1954 and took a degree at Edinburgh University.
She has held three Creative Writing Fellowships: at Castlemilk Libraries (1991-3); at Mid/East Lothian Libraries (1995-8); and, since 2001, at Edinburgh University.

She is the author of four collections of short stories: Our Lady of the Pickpockets (1989); Red Tides (1993); War Dolls (1998); and Lord of Illusions (2005). Her Selected Stories was published in 2005. She has also published four collections of poetry: Madame Doubtfire's Dilemma (1989); Lure (2003); When I Wear My Leopard Hat (1997); and Bodywork (2007).  
She has also been involved in collaboration with musicians and visual artists, most recently with composer Stephen Deazley on Fatal Attraction.
Her first novel, The Pest Maiden, was published in 1999. Her more recent work includes Twinset (2008), a collaboration with Karen Knight, and illustrated by Laurie Hastings and Polly Thelwall; Pelmanism (2014); and Unspeakable (2017), a historical novel exploring the real-life case of a Scottish student who was hanged for blasphemy.

Dilys Rose lives in Edinburgh.
Critical perspective
Edinburgh-based poet and prose writer Dilys Rose is renowned for her masterly short stories, which have brought comparisons with Katherine Mansfield.
Their characters often engage us with their wry humorous voices, only to tell tales of not-so-quiet desperation. A fine example of this ability to be at once amusing and poignant is 'See You in Shangri-La', from her 2005 collection Lord of Illusions, in which a veteran stage magician reminisces about his career for the last time - before his impending suicide ('my last trick'). His monologue is, however, jaunty, as when telling his partner the cheeky story of how he came to ditch his previous girlfriend. He gives the impression that, after a lifetime of making people believe in his illusions, he is finally telling the truth: 'now's the time to open up my box of tricks, display it from every angle so you'll see I've nothing to hide'.
Her second collection is War Dolls (1998). These stories are more serious in their situations, sometimes brutal. In 'Rope', a teenage boy is humiliated by his father's insistence on him learning to control a pair of 'muscle-bound, rock-skulled dogs with boiled red eyes and drooling jaws'. A different kind of emotional tyranny is observed in the relationship between Belle, a fading Blues singer, and her exploitative manager, for whom 'happiness is no more than relief from pain' ('A Living Legend'). Certain tales proceed from chance encounters, whose exchanges reveal inner pain. 'After the Gun', for instance, brings together a woman sheltering from the rain with a man whose face, we learn, has been disfigured after a suicide attempt. Their conversation steers haltingly around this, until near the end: 'His mouth twists into a hideous approximation of a smile. – You want to know about this?'
'A Natural Condition' concerns a heavily pregnant woman meeting 'a big kid' at a swimming pool: '- What is it? He was eyeing the bump like some kind of poisonous toadstool'. They meet again while waiting for a bus, then he shows just how troubled he is, an incident shocking in its casualness. In 'Why Do the Hands Not Weep?', powerful emotion underpins the awkward conversation about 'life after death' between a businessman and the woman he insists on buying a drink for. It turns out that he is mourning his son, killed when a stag hit his car. The story ends thus: 'Kurt's fingers are laced together like a cradle, or a net in which he has landed too heavy a catch'.
Rose's first novel, The Pest Maiden (1999), is a black comedy about illness and the small tragedies of miscommunication between people, in 'dreich' Edinburgh during the winter 'flu season. Its 'sick-heart hero' Russell Fairley is unwell, and even worse, his ex-girlfriend told their intimate details to her new lover, a novelist whose book Eating Passionfruit in Bed holds him up to ridicule. Fairley's attempts at 'vengeance' include a farcically unsuccessful attempt to disrupt a bookshop reading. When he rescues a colleague from a cold store at the blood processing plant where he works, he temporarily becomes a hero – and is used by the company to deflect unwelcome publicity. As he tentatively starts a relationship with Filipina Muriel - and her unruly dog - Fairley is 'trying not to think about what might have hitched a ride in his arteries'.
Rose's poems have attracted praise from poets as formally diverse as Douglas Dunn and Edwin Morgan. The latter's playful experimentalism can be discerned in a 'Surrealist Shopping List', as well as the several "sound poems" within Lure (2003). A good example is 'Windsong', which zig-zags across the page to echo the names of seven winds, such as the Harmattan, Mistral, and the Sirocco: 'si si si siro / si si si siro / rocco si rocco rocco si iro'. But most of the poems characteristically tell bittersweet life stories, as in 'Recording the Last Castrato'. Others give us voices, including a frustrated movie understudy and a model on a chilly beach nursing a hangover: 'Mercy me, my head! Spitting and rattling / like a stockpot of bones on the boil' ('Cool with Local Thunderstorms'). Then there's the quietly ironic tones of 'Saint Wilgefortis aka Uncumber', who evaded matrimony, though not martyrdom, by growing a miraculous beard: 'visitors who marvel at the chapel's baroque glories / have even, on occasion, mistaken me for Our Lord'.
Her volume Bodywork (2007) won the McCash prize, following her UNESCO fellowship in Australia, whose landscapes are reflected in certain lines: 'Cork trees, charred / by the last bush fire, japanned on a red silk sky' ('Doll's Head'). Most poems are in themed sequences about the body and its conditions. Hildegard of Bingen's migraines inspire her music ('the feathered breath of angels'), while 'Kelly's Bump' is 'Proof she's been there, done that, is now / a woman amongst girls'. 'The Tatooed Leg of Queen Vaekehu, Queen of the Marquesas' is set 'After dinner on board the Casco'. This sardonic vignette of 'a cannibal queen', based on R.L. Stevenson's In the South Seas, shows her 'white-gowned and gracious' while 'Her hosts bite back / the questions bubbling on their tongues'. By contrast, 'The Remains' is written in Scots, concerning a man hanged for incest who was dissected at the Surgeons Hall, Edinburgh in 1702. It's strangely moving, even sympathetic, about 'Yir sins o turpitude or poverty'.
The stories in Lord of Illusions are among her very best. The title story, one of several featuring gay men, depicts a jockey's routine on the day of a race meeting. He is 'hallucinating food', driven to win the last race by fantasizing about his lover Han – who runs a Chinese restaurant. Workers and their complaints appear regularly, as with the uneasy comedy of 'The Shape of her Head', the cross-purposes chatter of young hairdresser Kerry with a client. The latter is planning a divorce, the other contemplating the future with her fianceé. There are cynically pointed exchanges too between Xavier, Juan Carlos and Elisabeta, 'Pornographers at Lunch' who ask a waiter to settle their squabble about the 'hot' images on their laptop.
The narrator of 'Camille' is also 'observing the intoxicating effect of desire, thirsty eyes drinking in her cool, liquid curves'. As this monologue develops towards its perversely funny conclusion, we realize that he's a gallery attendant whose 'enduring love' is a Rodin sculpture. However, 'The Absence of Light' shows Dilys Rose to be a writer able to judge the effects of tragedy very finely. Two women meet onboard a train, their talk about depression being interrupted by the discovery of the mangled body of a man on the track. When the train eventually re-starts, they are 'glad simply to be alive. But it was a cautious gladness over which the shadow of sodden woods would always fall'.
Dr Jules Smith, 2010
Bibliography
1997
When I Wear My Leopard Hat: Poems for Young Children
1989
Madame Doubtfire's Dilemma
1989
Our Lady of the Pickpockets
Awards
2006
McCash Prize in Scots Poetry
1998
Society of Authors Travel Award
1997
Robert Louis Stevenson Memorial Award
1994
McVitie's Prize for Scottish Writer of the Year
1994
Saltire Society Scottish Book of the Year Award
1993
Scottish Arts Council Book Award
1991
Macallan/Scotland on Sunday Short Story Competition