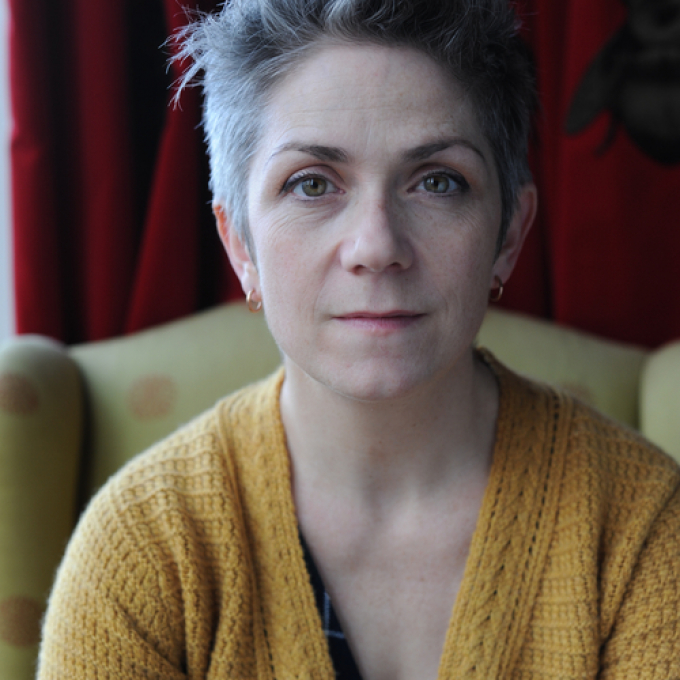 Denise Mina
Publishers:
Agents:
The Sayle Literary Agency
Biography
After a peripatetic childhood in Glasgow, Paris, London, Invergordon, Bergen and Perth, Denise Mina left school early. Working in a number of dead end jobs, all of them badly, before studying at night school to get into Glasgow University Law School. 
Denise went on to study for a PhD at Strathclyde, misusing her student grant to write her first novel. This was Garnethill, published in 1998, which won the Crime Writers Association John Creasy Dagger for Best First Crime Novel.
She has now published 12 novels and also writes short stories, plays and graphic novels.
In 2014 she was inducted into the Crime Writers' Association Hall of Fame.
Denise presents TV and radio programmes as well as regularly appearing in the media, and has made a film about her own family.
She regularly appears at literary festivals in the UK and abroad, leads masterclasses on writing and was a judge for the Bailey's Prize for Women's Fiction 2014.
Critical perspective
In Denise Mina's Glasgow-based crime thrillers, the city is far more than a backdrop to the characters and action; rather, it's a menacing, almost Gothic realm of threat.
In Sanctum (2002), for example, 'The city glowered, every dark corner and deep shadow became a moist and needy mouth waiting to swallow the careless'. Indeed, the prospect of violence appears ever-present, whether from alcoholism or the activities of gangsters. Her envisioning of working-class Glasgow can seem unremittingly grim, with its low-life pubs, derelict housing estates, 'heroin plague' and endemic domestic violence. The obvious comparison is with Ian Rankin's Edinburgh, whose use of specific locations in his 'Rebus' crime series surely inspired Mina's. But, while hers is also a brilliantly choreographed fiction of police pursuing criminals, the focus is much more on victims (usually vulnerable women) and their wretched lives. There are other contrasts: her books are far more outspoken, often using vernacular Scottish expressions. They are harrowing at times, graphic in depicting mental illness, sexual abuse and extreme violence.
Ameliorating all this, Mina brings out compassion and dry wit in creating a totally believable world of mental patients and therapists, survivors' groups, therapists and police, in which issues of trust and authority are fully explored. Harshness is also lightened by her command of brutally funny Glaswegian speech and numerous exotic similes. And, above all, by observing warm female solidarity amongst aggressive or downtrodden women. In the 'Garnethill Trilogy', which made Mina's reputation, her detective is Maureen O'Donnell, a worker at Glasgow Women's Shelter, driven by her own knowledge of what it is to be an abused victim. Constantly drowning her inner anger in whiskey, she nevertheless proves resourceful, tenacious and bloody-minded in dealing with what life throws at her. Investigating murders and taking up women's cases as her own, she remains haunted by flashbacks and the bitterness she feels towards her family (except her supportive druggy brother Liam). She is aided by her best friend Leslie, her on-off Asian boyfriend Vik, and by the occasional sympathetic policeman.
As Garnethill (1998) opens, Maureen emerges from a night of heavy drinking to a nightmarish trauma: she finds the corpse of her therapist lover Douglas, tied to a chair and horribly knife-slashed and mutilated. As the obvious suspect, Maureen spends much of the book trying to convince the police and friends of her innocence. Meanwhile, she uncovers a past series of sadistic rapes of female patients at a mental hospital and eventually confronts the real killer. The book's most memorable scenes take place in low-life pubs such as The Clansman, where 'hard men jostled with cardboard gangsters'.
In Exile (2000), the starting point is the discovery in the Thames of the body of a woman from Glasgow, who may have been used as a drug courier. When the woman's hapless husband is arrested on
The impending trial of the accused killer from Garnethill drives the action in Resolution (2001), inevitably bringing him and Maureen together. There is indeed a sense of resolution, as Maureen at last comes to terms with her past victim status, concluding 'that mantle was the negation of all the wonder in life'.
Sanctum is a more conventional work, somewhat in the manner of Minette Waters. This psychological thriller is presented in the form of a 'True Crime' story, the details of which have been acquired from the hard drive of a second-hand computer by Mina herself. The narrator informs us that 'motive is the most slippery of truths'. Layers of deception are uncovered surrounding the conviction of a female psychiatrist for the sadistic murder of a serial killer. The detective is her husband, whose relationship with the woman he is trying to save changes, the more he finds out about her. Meanwhile, the attractions of their Spanish au pair begin to obsess him: 'her bum looks like two jumbo plums quivering in a silk hanky'.
Mina's next series of Glasgow-themed crime novels feature female journalist Paddy Meehan. In The Field of Blood (2005) she has recently started work on the Scottish Daily News, and turns investigator when two boys are suspected after a young child goes missing. The Dead Hour (2006) finds her on the night shift at the paper, accompanying the police to a domestic disturbance. When the abused woman is found dead the next day, once again Meehan finds herself plunged into the dark side of Glasgow to seek the truth. Perhaps the best novel in the series is The Last Breath (2007), which begins with the abduction and shooting of ex-war correspondent Terry Patterson, a former boyfriend of Meehan's. She, by now a featured columnist on the paper, suspects an IRA connection to the killing but has to battle her editor to allow her to pursue this lead. During a pivotal interview over a drink with a menacing IRA man in Irish bar The Shammy, they find surprising common ground, 'each seeing the frightened Catholic child in the other'. From then on, however, the tension and danger is racked up as Meehan gets closer to the assassin and arranges a meeting. Meanwhile, she has to cope with Terry's funeral as well as her own fraught relationships, especially with her family.
Still Midnight (2009), Mina's latest book, features as its leading character – at last - a policewoman, Detective Sergeant Alex Morrow. As with Maureen O'Donnell and Paddy Meehan, however, she is a combative victim-heroine, past traumas and relationship difficulties intruding upon her investigations. She is still dealing with depression and grief over the death of her baby five months previously. Moreover, 'the skill of spotting lies had given Morrow a jaundiced view of the world'. The plot revolves around the clumsy kidnapping of an Asian shopkeeper from his home and the seemingly inexplicable demand by the gang for a two million pound ransom. As Morrow and her colleague Grant Bannerman proceed with the case, her doubts about the family's story increase as they close in on the incompetent gang. There is again an Irish dimension: a post-Troubles 'flood of redundant weapons' coming into Glasgow and the arrival in the city of a sinister ex-paramilitary figure ('belly like a plain-clothed Santa') to oversee the money drop for the ransom. Underpinning her accomplished handling of plot and desperate characters, Denise Mina's books reflect upon Glaswegian realities: its ethnic and cultural mix, sectarian conflicts, poverty and social deprivation. She makes the crime thriller format address themes of family, female friendship, justice and revenge. She does so with Glaswegian wit and slices of horror – in ways that readers find hard to forget.
Dr Jules Smith, 2010
Bibliography
2012/13
The Girl with the Dragon Tattoo
2011
The End of the Wasp Season
2010
A Sickness in the Family
2007
A Drunk Woman Looks at the Thistle
2007
Hellblazer: The Red Right Hand
2006
Hellblazer: Empathy is the Enemy
Awards
2013
Finnish Certificate of Honour for Foreign Mystery Writing
2013
Theakstons Old Peculier Crime Novel of the Year
2012
Theakstons Old Peculier Crime Novel of the Year
2012
Crimefest eDunnit Award, Best Crime eBook
2011
The Golden Crow Bar (Swedish Best Crime Novel in Translation)
2011
The Martin Beck Award
2011
Los Angeles Times Book Prize (US)
2010
Crime Writers' Association Gold Dagger Award
2008
Crime Writers' Association Dagger in the Library Award
2000
Scotland on Sunday/Glenfiddich Spirit of Scotland Award
2000
Crime Writers' Association Best Story
1998
Crime Writers' Association John Creasey Memorial Dagger
1998
Crime Writers' Association Macallan Short Story Dagger