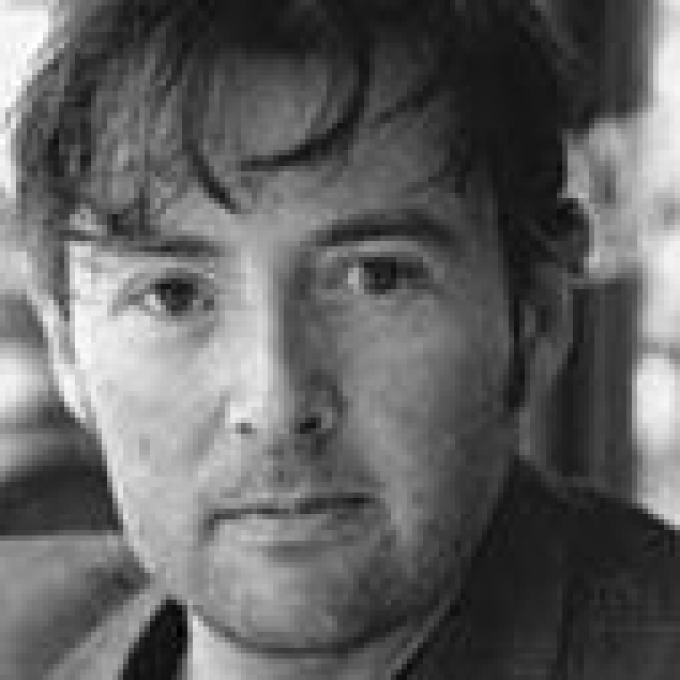 Biography
DBC Pierre was born in 1961 in Reynella, Australia. He was brought up in Mexico and the UK, and now lives in Ireland.
He has worked previously as a designer and an internationally published cartoonist, but is now devoting himself to writing. His debut novel, Vernon God Little (2003) - a dark satire set in the aftermath of a Texas high school massacre - was the winner of the 2003 Man Booker Prize for Fiction. 
His second novel, Ludmila's Broken English, was published in 2006. He has since published Lights Out in Wonderland (2010); Breakfast with the Borgias (2014); as well as Petit Mal (2013), a selection of short fiction and non-fiction; and Release the Bats (2016), which explores the art and process of storytelling.
Critical perspective
Vernon God Little (2003), DBC Pierre's first novel, begins in the aftermath of a high-school massacre and 15-year-old Vernon Gregory Little, the eponymous hero and first-person narrator is helping the police with their investigation.
He goes on to recount his nightmarish, Kafkaesque experience (as he is later accused, charged and found guilty of murder) with the tone and insight that mostly befits his age and outsider status.  What tends to pass for normal in the 21st century is described in grotesque terms as Vernon's fate is manipulated by the media and justice system. This use of exaggeration and caricature to criticise the greed inherent in a capitalist society also colours Pierre's second novel, Ludmila's Broken English (2006), which has previously conjoined twins, Gordon-Marie (who is also known as Bunny) and Blair Heath, as two of its main characters.
The accusations aimed against Vernon are preposterous and Pierre combines elements of farce with recognisable tropes, such as the influence of the media in clouding perceptions and the materialist underpinning of Vernon's culture, to guide the plot. The story focuses on small-town small-minded living and avoids being too separated from its targets – the media and materialism – by using the unbelievable but well-known narrative of a school pupil murdering his class mates.
The mundane yet tortuous relationship between teenager and parent is also always on Vernon's mind as he describes his mother as turning the knife when she embarrasses him or makes him feel guilty: 'Between you and me, it's like she planted a knife in my back when I was born, and now every fucken noise she makes just gives it a turn. It cuts even deeper now that my daddy ain't around to share the pain.' The readers are given the cue that he is maturing when with the help of a psychiatrist he begins to see this knife turning as the working of his conscience. Because of this growth, which is both understated and comic, this becomes a contemporary Bildungsroman. This maturation also allows the narrative to move from the flippant to a more poignant tone that culminates in Chapter 21 when the events of the day of the massacre are finally recounted.  
In James Woods' review of Vernon God Little in the London Review of Books (20 November, 2003), he ends by asking for a quieter account of reality: 'Ever since Philip Roth made his famous statement about how American reality out-fictionalises the fictional, the debate has not been about verisimilitude. Or rather, since cartoonishness characterises a great deal of American reality, it is fair to say that cartoonishness in fiction is now only a copy of American reality, not a bright invention. Cartoonishness is the new verisimilitude. So one wants less verisimilitude from DBC Pierre, not more. One wants him to tell us something we don't know, not to trumpet the noisily known. But there are no pianissimos among all this brass'. Conversely, it may be argued that it is through the use of out-fictionalising the fictional that the extremes of greed and violence are given the grotesque depiction that they require. A less vibrant view of a massacre and its fallout (as with Jodi Picoult's Nineteen Minutes) would make the extraordinary banal.
Ludmila's Broken English is only similar to Vernon God Little in that this also gives a slanted version of reality. It is set in the near but unspecified future and is divided into three main sections. The first nineteen chapters, which span all of section one and most of section two, alternate between the Heath twins in England and Ludmila in the Caucasus. The three come together finally after Blair sees Ludmila on a website for Russian brides and the brothers travel to find her. It is not until the final section, when the narrative returns to England, that the title becomes more relevant beyond Ludmila's failure to speak excellent English.
This work touches on the themes of nationality and independence as well as operating as a political satire and love story. Because of these various agendas, the novel risks trying to do too many things at once and consequently looks ineffective when some of the points are left in mid-air. It is welcome that certain ones are not over-indulged, such as the Tony Blair and Gordon Brown double act depicted figuratively as twins not separated at birth. This is limited to the ongoing joke of their names and to the reasoning that their strength is brought about by their enforced unity: 'While Blair possessed the twins' physical power – forza – their cunning resided in Gordon, making him dominant in most situations, despite being the weaker twin'. However, there are also parts of the novel that could have been either omitted or given more space than a superficial treatment, such as the disintegration of the former Soviet Union and the privatisation of the National Health Service.  
When comparing the two novels, Ludmila's Broken English feels less sure in its dialogue and characterisations and as Neel Mukherjee argues in his review, the style is often unnecessarily overworked: 'There's a lot here to be awed by – the laughter of despair has never had an angrier or funnier source, the political satire is like uninsulated electricity, the grand guignol ending and the twists of the coda are some of the most shocking in current fiction – but the failed stylistic attempt to defamiliarise both language and the reality it embodies deals it a fatal blow' (The Observer, 26 February 2006).  Furthermore, because the style tends to be stilted, this novel never manages to be as engaging as Vernon's account. This is not a criticism of the subject matter or the divided structure that lies in the extreme ends of Europe, as these add some originality, and the relationship between the brothers is emotive when they are given a sharper focus.
Dr Julie Ellam, 2008
Bibliography
2014
Breakfast with the Borgias
2010
Lights Out in Wonderland
2006
Ludmila's Broken English
Awards
2003
Bollinger Everyman Wodehouse Prize
2003
British Book Awards Author of the Year
2003
British Book Awards Newcomer of the Year
2003
Guardian First Book Award
2003
Man Booker Prize for Fiction
2003
Whitbread First Novel Award