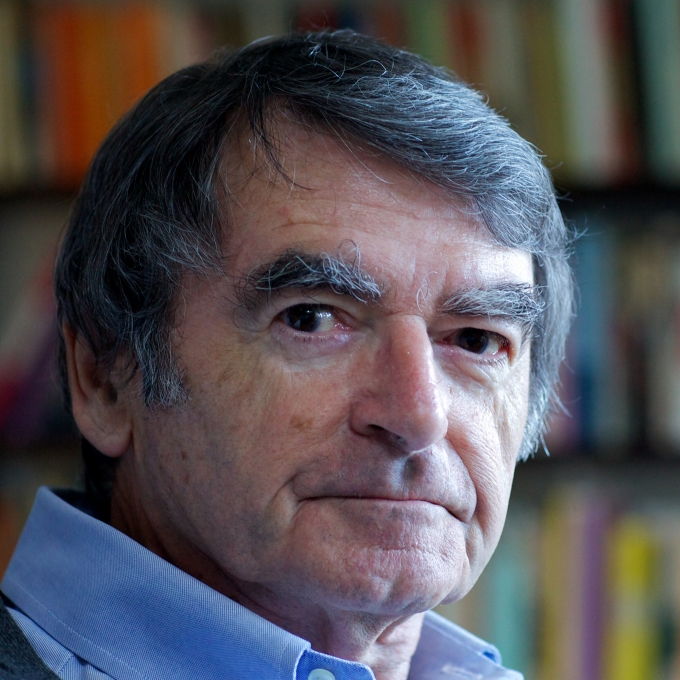 Professor David Lodge
Publishers:
Agents:
Biography
Born in South London on 28 January 1935, Professor David Lodge is a graduate and Honorary Fellow of University College London.
He is Emeritus Professor of English Literature at the University of Birmingham, where he taught from 1960 until 1987, when he retired to write full-time. He was Harkness Fellow in the United States (1964-5), Visiting Professor at the University of California, Berkeley (1969) and Henfield Creative Writing Fellow at the University of East Anglia (1977). He is a Fellow of the Royal Society of Literature, was Chairman of the Judges for the Booker Prize for Fiction in 1989, and is the author of numerous works of literary criticism, mainly about the English and American novel, and literary theory. He is also the author of The Art of Fiction (1992), a collection of short articles first published in the Independent on Sunday.
Lodge's suburban upbringing in a traditional Catholic family in the austere conditions of postwar England is reflected in his early fiction. His first novel, The Picturegoers (1960), is a portrait of a Catholic family living in South London, and their daughter who has attracted the attentions of their undergraduate lodger. Ginger, You're Barmy (1962), his second novel, drew on his own experience of national service, while The British Museum is Falling Down (1965), a comic novel, is the story of a poor Catholic graduate working on his thesis in the Reading Room of the British Museum. Worried that his wife may be pregnant, he becomes involved in a series of adventures and meetings that parallel or parody episodes in the modern novels he is studying. Out of the Shelter (1970) begins with a child's experience of the Blitz and his rescue from an air-raid shelter, a formative experience which is developed as a metaphor throughout the book as the young boy matures into an adult.
Changing Places (1975), was Lodge's first book in a trilogy of campus novels. Inspired by his experience of teaching in California, the novel centres on two academics: Englishman Phillip Swallow from the University of Rummidge in the West Midlands, and Morris Zapp, an American from the State University of Euphoria (California), and their participation in an exchange programme that sees them swap politics, lifestyles and wives. Small World (1984), the second book in the trilogy, develops Zapp and Swallow's story, while Nice Work (1988) completes the trilogy with the story of industrialist Vic Wilcox and his unlikely relationship with marxist, feminist and post-structuralist academic Dr Robyn Penrose. Small World and Nice Work were both shortlisted for the Booker Prize for Fiction.
How Far Can You Go? (1980) and Paradise News (1991) both deal with the doctrinal changes and moral uncertainty which beset members of the Catholic church in the post-war period generally and the 1960s in particular. Therapy (1995) continues similar themes through the story of a successful sitcom writer plagued by middle-age neuroses and a failed marriage. Ralph Messenger, the central character of Lodge's novel, Thinks ... (2001), is Director of the prestigious Holt Belling Centre for Cognitive Science at the fictional University of Gloucester. A notorious womaniser, he is forced to reappraise his lifestyle when he becomes involved with Helen Reed, a novelist who has come to work at the university.
David Lodge is a successful playwright and screenwriter, and has adapted both his own work and other writers' novels for television. Small World was adapted as a television serial, produced by Granada TV in 1988, and Lodge adapted Nice Work as a four-part TV serial for the BBC, broadcast in 1989. It won the Royal Television Society Award (Best Drama Serial) and the author was awarded a Silver Nymph for his screenplay at the International Television Festival in Monte Carlo in 1990. He wrote and presented a documentary about the academic conference circuit, Big Words - Small Worlds, which was broadcast on Channel 4 in November 1987, and a film about the pilgrimage to Santiago de Compostela, broadcast by the BBC in 1993. He also adapted Charles Dickens' Martin Chuzzlewit as a six-part television serial, first screened in 1994. His first stage play, The Writing Game, was produced at the Birmingham Repertory Theatre in May 1990, and subsequently in Manchester and Cambridge, Massachusetts. Lodge adapted it for Channel 4 television in 1996. His most recent play, Home Truths, was performed at the Birmingham Repertory Theatre in 1998. The author subsequently re-wrote the play as a novella, published in 1999.
Later books include Consciousness and the Novel (2002), which explores the representation of human consciousness in fiction, and includes essays on Charles Dickens, Henry James and John Updike; and Author, Author: A Novel (2004), which opens in December 1915 with the dying Henry James, and journeys back to the 1880s to explore James's 'middle years'.
David Lodge lives in Birmingham. His latest novels are Deaf Sentence (2008), based on his own experience of deafness and A Man of Parts (H.G. Wells) (2011). In 2015 his autobiography Quite a Good Time To Be Born: A Memoir 1935-75 was published. 
Critical perspective
During the shifting back-and-forth course of Author, Author (2004), David Lodge's finely elegiac novel about the later life of Henry James, 'the old toff' finds himself increasingly dissatisfied with his status as a literary novelist, and attempts to make a more commercial career as a dramatist on the London stage.
Its pivotal scene depicts what happens during the disastrous first night of his play, Guy Domville. Or rather, pivotal scenes; because it gives us not only James' anxious perspective but also those of other characters on stage and off: 'while this story, his story, with its drastically limited point of view, was proceeding, other connected stories were in progress, other points of view were in play, at the same time, in parallel, in brackets as it were'. This is, of course, a nice parody of the Jamesian prose style; Lodge's skill at humorous parody of novelists is on display in most of his books. But it makes an underlying critical point about James as a writer who 'had always believed that consciousness was the supreme value'. Indeed, as James is made to reflect, 'Consciousness is my religion …. Refining it, intensifying it – and preserving it'.
This may also make a point about David Lodge, who as a novelist and critic has himself now assumed distinguished veteran status. One of his critical works is titled Consciousness and the Novel (2002), which argues that the novel form is perhaps the best means yet developed to capture the individual's experiences moving through space and time. In The Year of Henry James (2006), a collection of connected essays, Lodge discusses his experience of researching and writing Author, Author - only discovering at a late stage in the process that other novels about James were due to be published. Among the pieces in the second part of the book, themed by 'the composition and reception of literary fiction', he writes on James's Daisy Miller, H.G. Wells (one of a number of future celebrity writers who make appearances in Lodge's novel), and Graham Greene, whose example as a writer of Catholic themes has arguably been influential.
Facilitated by his longstanding academic career, Lodge's fiction has been both informed by his teaching of literature and written alongside a prolific output of literary criticism, notably The Language of Fiction (1966) and The Modes of Modern Writing (1977) onwards. 'Rummidge' is the habitual location of his novels, defined in the author's note to Nice Work (1988) as a place 'which occupies, for the purposes of fiction, the space where Birmingham is to be found on maps'. The latter places feminist academic Robyn Penrose on a collision course with blunt-talking Vic Wilcox, the manager of a heavy engineering factory, as they find themselves shadowing each other in Industry Year. His comic novels often have campus settings, such as the satires Changing Places (1975) and Small World (1984), contrasting attitudes in American and British academia.
Lodge is a Catholic writer, interested in its issues (especially sexual). A fine sense of farce pervades The British Museum is Falling Down (1965), the contraceptive dilemmas of a Catholic postgraduate student and his wife being worked out in parodies of the novelists he is studying (James, Greene, Woolf, Hemingway), concluding with his wife's Joycean Molly Bloom-like thoughts. His later books take other views, as in the intense discussions about dogma throughout How Far Can You Go? (1980). Therapy (1995) concerns the midlife crisis of a television sitcom writer and somewhat lapsed Catholic. Tubby is obsessed with the philosopher Kierkegaard, whose gloomy writings about morality form an ironic counterpart to the action – especially when Tubby seeks solace from marital problems with a succession of women. He finds more lasting relief in joining a walking pilgrimage to a shrine in Spain. As always in Lodge's novels, along with the moral dilemmas and bedroom action goes an ongoing discussion of literature and language, with many jokey observations.
Human consciousness became the overt subject of Thinks… (2001), a satirical treatment of an academic hot topic. The novel switches between the viewpoints of cognitive scientist Ralph Messenger and writer-in-residence Helen Reed, their debate proceeding by streams-of-consciousness and emails, culminating in an academic conference. Ralph is revealed as a womanizer but Helen's residual Catholicism means more scruples. Along the way, we learn much about the subject, the processes of writing – as well as enjoying delicious parodies of Beckett, Martin Amis, Irvine Welsh and Salman Rushdie.
'Deafness is comic, as blindness is tragic', observes Deaf Sentence (2009). One of its chapters is titled 'Deaf in the Afternoon', and there is a playful deconstruction of the famous Wonderbra advertisement. With its on-off campus action, cast of academics and students and linguistic observations, his new novel has familiar elements – yet ultimately it becomes more serious. Its main character is a retired Professor of Linguistics whose hearing loss exposes him to all kinds of misapprehensions. He has to deal with his increasingly confused elderly father and unwisely becomes enmeshed with an alluring but disturbed American research student and her thesis on the analysis of suicide notes. After resisting her advances and continual lying, he tells her: 'you should try writing fiction'. But the novel turns into a moving reflection on the indignities of ageing, the moral values of family life. The drawn out process of his father's deterioration and death in hospital gives rise to painful memories of his mother's death. These are placed alongside the larger tragedy of 20th-century history when Bates undertakes a lecture tour of Poland and visits Auschwitz: 'I experienced this place of desolation in a way I knew I would never forget'.
At the conclusion of Author, Author – which is also the conclusion of Henry James's life in February 1916 – Lodge himself seems to enter the narrative, as a voice presenting his own consciousness of the literary act, 'as I conjure up this deathbed scene, looking at it as through the curved transparency of a crystal ball'. He (rather like a University professor) proceeds to summarise James's triumphant career in posterity, and corrects the biographer Leon Edel in representing James' views on the possibility of an after life. He wishes he could tell Henry James about this, and invites him to 'take a bow'. We might also invite David Lodge himself to take a bow. With this, and many other tour de force performances throughout his works, he deserves acclaim as both a clear-sighted, always lucid critic, and as a masterly novelist of the human comedy.
Dr Jules Smith, 2009
For an in-depth critical review see David Lodge by Bernard Bergonzi (Northcote House, 1995: Writers and their Work Series).
Bibliography
2015
Quite a Good Time To Be Born: a Memoir, 1935-75
2011
A Man of Parts (H.G. Wells)
2006
The Year of Henry James: The Story of a Novel
2004
Author, Author: A Novel
2002
Consciousness and the Novel
1999
Home Truths: A Novella
1996
The Practice of Writing
1990
After Bakhtin: Essays on Fiction and Criticism
1988
Modern Criticism and Theory: A Reader
1986
Write On: Occasional Essays 1965-1985
1981
Working with Structuralism: Essays and Reviews in 19th and 20th Century Literature
1977
The Modes of Modern Writing: Metaphor, Metonymy and the Typology of Modern Literature
1972
20th-Century Literary Criticism: A Reader
1971
The Novelist at the Crossroads and Other Essays on Fiction and Criticism
1966
Language of Fiction: Essays in Criticism and Verbal Analysis of the English Novel
1965
The British Museum is Falling Down
1962
Ginger, You're Barmy
Awards
2009
Commonwealth Writers Prize (Eurasia Region, Best Book)
1997
Chevalier de l'Ordre des Arts et des Lettres (France)
1996
Commonwealth Writers Prize (Eurasia Region, Best Book)
1995
Writers' Guild Award (Best Adapted Screenplay)
1989
Booker Prize for Fiction
1989
Royal Television Society Award
1989
Sunday Express Book of the Year
1984
Booker Prize for Fiction
1980
Whitbread Book of the Year
1975
Yorkshire Post Book Award (Finest Fiction)
Author statement
'A novel is a long answer to the question "What is it about?" I think it should be possible to give a short answer - in other words, I believe a novel should have a thematic and narrative unity that can be described. Each of my novels corresponds to a particular phase or aspect of my own life: for example, going to the University of California at the height of the Student Revolution, being an English Catholic at a period of great change in the Church, getting on to the international academic conference circuit; but this does not mean they are autobiographical in any simple, straightforward sense. I begin with a hunch that what I have experienced or observed has some representative (i.e., more than merely private) significance that could be brought out by means of a fictional story. To begin the novel I need to discover the structural idea that will generate the story: two professors passing each other over the North Pole on their way to exchange jobs, for example, or a parallel between the antics of globetrotting academics and the adventures of the knights of chivalric romance. I seem to have a fondness for binary structures, which predates my interest, as a literary critic, in structuralism. I use comedy to explore serious subjects, and find Mikhail Bakhtin's idea that the novel is an inherently carnivalesque form, subverting monologic ideologies by laughter and a polyphony of discourses, immensely appealing. I am fascinated by the power of narrative, when skilfully managed, to keep the reader turning the pages, but I also aim to write novels that will stand up to being read more than once.'