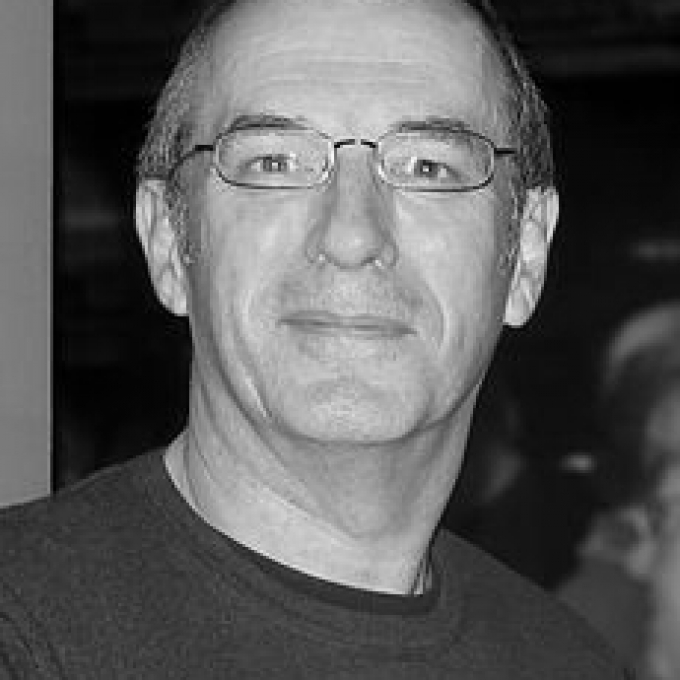 Biography
Gibbons is a graphic novels writer and illustrator, born in London in 1949.
He broke into British comics by working on horror and action titles for both DC Thomson and IPC during the late 1970s, and he joined '2000 AD' as an Art Director. After leaving 2000AD, Gibbons became the lead artist on Doctor Who Weekly/Monthly, drawing the main comic strip for most of the issues, and was hired in 1982 to draw Green Lantern for the American DC imprint.
He is best known in the US for collaborating with Alan Moore on the 12-issue limited series Watchmen (1986-7) now one of the best-selling graphic novels of all time, and for his collaborations with Frank Miller on Give Me Liberty (1990)
Gibbons' most recent complete works are a black and white graphic novel, The Originals (2005), a futuristic treatment of the Mods and Rockers wars of the 1960s and ongoing comic work, including the Albion spin-off Thunderbolt Jaxon (April–Sept. 2006), with art by John Higgins; a Kamandi serial for Wednesday Comics with Ryan Sook in 2009 and Tales of the Sinestro Corps, also in 2009. 
In 2015 he was appointed the UK's first 'comics laureate' to champion the use of graphic novels in promoting literacy.
Critical perspective
Dave Gibbons is one of Britain's most respected comic books artists, with a diverse and prolific career stretching back almost forty years.
The Times of London place him at the head of "the vanguard of "a British invasion of the States" that began in the 1980s. To Time Magazine, he is simply, "a genius — one of the major comic book artists of the 21st century."
His reputation rests first upon his influential 1980s work on Green Lantern, Batman, 2000AD, and Doctor Who series, and his work on the some of best Superman stories. Then there are the collaborations with Dark Knight author Frank Miller on the political satire Give Me Liberty in the early 1990s, and his own more recent solo output. But above all, he is celebrated for his role in creating the seminal graphic novel Watchmen with Alan Moore. Gibbons was responsible for look and design of this groundbreaking comic, and his collaboration with Moore has proved an enduring influence on later generations of readers and writers.
Through these collaborations, Gibbons pioneered various instantly recognizable styles. In Watchmen, he perfected a stark new twist on the nine-panel comic layout that was at once intensely narrative-driven and packed with symbolic depth. Moreover, through all his work, Gibbons has also managed to express one of the most influential visions of the future: an unnerving blend of cyberpunk and steampunk that transcends both into something else entirely. By visualizing the machines of the future - from the zeppelins and cigarettes in Watchmen, the medical machines in Give Me Liberty, or the hoverbikes in the Originals, his warped alternate take on the Quadrophenia – his has managed to trademark a particular form of vintage futuristic aesthetic.
In recognition of this importance, Gibbons was named as the UK's first 'comics laureate' in 2014. He is ideally suited to the job of promoting both the art form, the culture of reading, and fighting what se sees as the marginalization of the comics medium in the UK.  "In France," he has argued, "comics are called the ninth art, they stand alongside music and literature … But one of the problems comics have always had in this country – and this isn't so prevalent in Europe – is they have always been associated with very cheap and somewhat lurid entertainment." (Guardian interview, 2014). Comics, he argues, are a "very vibrant art form in their own right."
And yet, Gibbons is understandably ambivalent about this newfound respectability. "When I was a kid, comics were a glorious, disrespectful, underground thing," he recalls, "associated by most people with juvenile material — in the worst sense of the word," he said. "Adults just kept their noses out of them." His career has managed to balance this subversive element of comic book culture against the mainstream ambitions towards a vast readership.
"Nowadays," Gibbons argues, "much of the most innovative stuff in comics is British." But when he began his career, he recalls feeling marginalized as a British comics artist. Among his earliest American influences were Will Eisner and Wally Wood. In 2008, he recalled for Time magazine how as an aspiring artist,
I came to think that nobody from England could draw American comic books, because they were clearly all done by this sort of Mafia, all these guys with Italian and Irish names who had the whole thing sewn up. It was actually seeing a comic book drawn by Barry Smith, who was about my age, and English. He'd done it, so I clearly remember thinking: it can be done. And once it became a possibility that was all I pursued. I was probably about 19 or 20. That was it.  (Time, 2008)
Following work as a building surveyor, he struck out into the world of underground comics before becoming one of the regular artists for 2000 AD. Gibbons was one of the British comic talents identified by Len Wein in 1982 and was hired primarily to draw "Green Lantern Corps" backup stories within the pages of Green Lantern for DC. His early work on the Green Lantern and other Marvel formats during the early 1980s, with collaborators such as Wein and Todd Klein, led him towards his most influential contribution to the Doctor Who franchise. This Doctor Who work allowed Gibbons to shape the Doctor's comic adventures for years to come and is responsible for illustrating some of the series's most memorable stories.
The most enduring work of Gibbons's career was to come when he joined forces with frequent collaborator Alan Moore on Watchmen during 1986-87. This 12-issue limited series was to become one of the best-selling graphic novels of all time, and the only title to feature on Time's "Top 100 Novels" list. As he recalls, theirs was a natural match:
We'd known each other for probably five or six years by the time we came to do Watchmen … we got on very well personally and we had very similar tastes in comics there was a lot of shared ground, you know. Alan's a very visual writer and I think I'm a very literary artist, if you see what I mean, so there was a lot of overlap … (Comic Con interview)
As he told the Quietus in 2009, whilst Moore had come prepared with the narrative in place, Gibbons was charged with translating this into a visual world. "If you look at our original treatment" he notes, "you'll see that the story is laid out in great detail, and when I came on board, certainly I was concerned with making all this look good. And so I was responsible for the design of the comic book; the nine-panel grid was a thing that I suggested."
Watchmen depicts an alternate history of the mid twentieth century, where superheroes emerged to help the United States to win the Vietnam War. With the nation teetering on the brink of apocalyptic confrontation with the UUSR, freelance costumed vigilantes have been outlawed and most former superheroes are in retirement or working for the government. The story focuses on the struggles of these superhero protagonists as their investigation into the murder of one of their own lures them out of retirement, and leads them to confront a plot that would stave off nuclear war by sacrificing the lives of millions.
The series was Moore and Gibbons's attempt to reinvent the superhero comic for a literate audience. The premise, Moore told an interviewer in 2005, was "kind of clever - I was going through one of my clever periods - probably emotional insecurity. I thought: people will laugh at me 'cos I'm doing superhero comics. I'd better make 'em really clever, then no one will laugh." (enginecomics.co.uk) Its solution was certainly self-consciously cerebral. Watchmen takes readers on a critical journey through the preceding decades of the superhero tradition, and by doing so rewrites superhero history completely, imagining costumed crusaders as pathetic and pathological fantasists. It also added new notes of authenticity and literary sophistication to graphic narrative, through supplemental fictional documents that added to the series' backstory, and the intertwined meta-textual sub-narrative relating to a fictional pirate read by one of the characters, titled Tales of the Black Freighter.
Many consider Gibbons and Moore's work to be the most important comic ever produced. The series ultimately redefined the terms on which the comic industry was understood, and established the new wave of darkly authentic adventure comics of the 1980s and 1990s featuring morally ambiguous characters in realistic situations. Their masterwork is also a nuanced and thoughtful commentary on geopolitical anxieties. As the Chicago Tribune has argued, this sometimes works against its longevity, since "the series remains very much of its time -- a Cold War superhero tale that resonates most strongly in its original medium, reminding us always of the history of the comic book and unmasking the form while simultaneously expanding it." (2009).
More recently, various critics have also seen Gibbons and Moore's prophetic powers confirmed in wake of the new age of mediated terror and war, As the New York Times noted in 2005, "nearly 20 years after the original publication, Watchmen shows an eerie prescience: the symmetry between current events and the conclusion of its story, concerning a villain who believes he can stave off real war by distracting the populace with a trumped-up one, and an act of mass murder perpetrated in the heart of New York City, is almost too fearful to bear."
Of Gibbons's post-Watchmen career, two projects deserve particular mention: his Give Me Liberty series with Frank Miller; and his later mods and rockers series The Originals.
The former of these was a four-issue comic book mini-series published by Dark Horse Comics in 1990, taking its title from the famous quotation by Revolutionary era orator Patrick Henry: "I know not what course others may take but — as for me — give me liberty or give me death." The story is set in a dystopian near future in which the United States has disintegrated. It focuses on the struggle of Martha Washington, a young American girl from a public housing project, to break free of her upbringing, to become a war hero and national figure. A mixture of political satire and action, the series was a major success and one of the bestselling comics of the era.
The Originals (2004) was Gibbons's re-imagining of the Mods and Rockers imagery of British 1960s youth subcultures, set in an alternate history. Both scripted and written by Gibbons, this black and white graphic novel, characters ride on hovering scooters and motorcycles, and the world of Quadrophenia is transformed into a futuristic dystopia.
In his new two-year role as comics laureate, Gibbons will act as an ambassador for graphic novels and their role in increasing mass literacy. It is both a recognition of what the organisers call Gibbons's "outstanding achievement" in the field of graphic fiction, and an opportunity to evangelise for what he calls the "particular enjoyment, in a world of movies and video games, in the wonderfully solitary and intimate experience of sitting down and reading something" both visually bracing and intellectually rich.
Bibliography
2009
Tales of the Sinestro Corps