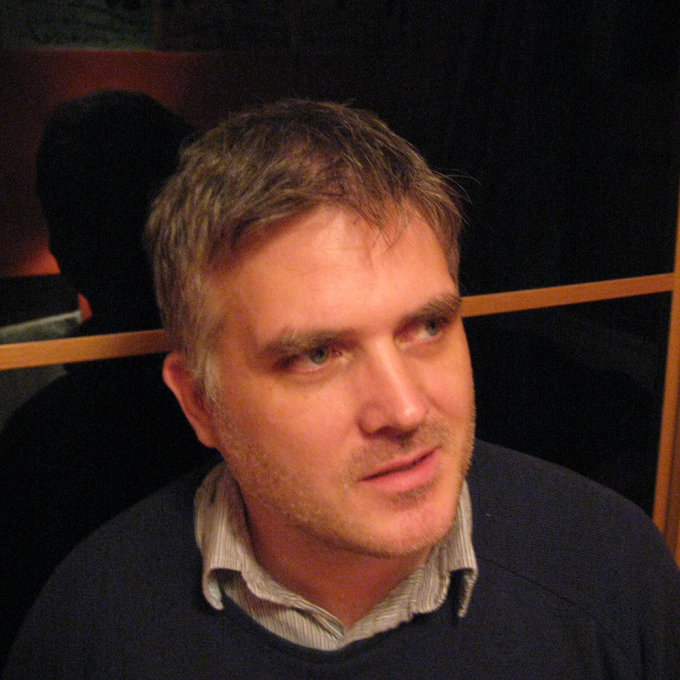 Biography
Dan Rhodes was born in 1972. He studied Humanities at the University of Glamorgan and later returned there for an MA in Writing, which he completed in 1997. He has worked on a fruit and vegetable farm, in the stockroom of a book shop, behind the bar of his parents' pub, as a teacher in Ho Chi Minh City, and, sporadically, as a full-time writer.
He has published two collections of short fiction: Anthropology: And a Hundred Other Stories (2000), which contains very short, darkly humorous stories about romantic relationships, and Don't Tell Me the Truth About Love (2001), which consists of seven longer stories on a similar theme. His first novel, Timoleon Vieta Come Home: A Sentimental Journey, was published in April 2003, and is about a dog's travels across Italy. This was followed by Little White Car (2004); and Gold (2007), shortlisted for the 2008 Catherine Maclean Prize.
Dan Rhodes was named by Granta magazine as one of twenty 'Best of Young British Novelists' in 2003. His most recent publications are Little Hands Clapping (2010), This Is Life (2012), Marry Me (2013), and When the Professor Got Stuck in the Snow (2014).
Critical perspective
Dan Rhodes has claimed that the 1980s band The Smiths have always functioned as a soundtrack to his life and that Morrissey's songs have been a great influence on his writings.
To Rhodes, The Smiths were the best band ever and "it's not often you come across a book that carries as much of a punch as something like 'I Know It's Over'". Only fiction at its best, Rhodes argues, can rival The Smiths. Morrissey's lyrics evoke "a plundering desire for love" (The boy with the thorn in his side) which is destined to be frustrated: "Last night I dreamt/that somebody loved me/no hope – but no harm/just another false alarm" (Last night I dreamt that somebody loved me). Dan Rhodes's short-stories and novels display the same sentimental unhappiness and deep melancholy. The Smiths's music is also notable for its combination of joy and sadness and for delivering distressing lines with an ironic edge. The same pessimism tinged of irony is present in Rhodes's fiction as it is apparent in the 101 101-word stories on modern relationships collected in Anthropology as well as in the author's choice to publish his 2013 collection Marry Me on Valentine's Day. In spite of the title and the publication date, the short-stories address themes that are little, if at all, romantic: betrayal, failed marriages and doomed relationships. The collection represents a formal, stylistic and thematic return to the author's literary debut.
In addition to the way he subverts idealised institutions, from a sociological rather than from a merely literary standpoint, Rhodes also interesting to read for the ways he epitomizes another type of relationship, that between novelists, the literary establishment and political power in the post-modern world. Although he has won numerous and prestigious awards, Rhodes has adopted the role of the literary outsider with an increasingly amused self-denigrating stance.
In 2003 he was angered by Granta's choice of the 20 Best Young British Novelists selected along with his name. This feeling of resentment increased when less than half of the group agreed to sign an open letter against the Iraqi war that he had penned. In a rather extreme fashion that he later came to retract, he announced his retirement from writing. It also did not help that Fourth Estate (of the Murdoch group that Rhodes so vehemently despises) had just refused to publish his first novel Timoleon Vieta Come Home which was later accepted by Canongate. Since then, Rhodes has resumed writing publishing four more novels, The Little White Car (2004), Gold (2007), Little Hands Clapping (2010), This is Life (2011). Yet, he has maintained a self-imposed image as literary outsider, doing the odd jobs in addition to writing and keeping a blog with, along other posts, the worst reviews of his books.
The form that first helped Rhodes to achieve a cult status is the short-story. In Anthropology, as in the later Don't Tell Me the Truth About Love (2001), which includes stories written before his literary debut, and Marry Me, the writer explores human relationships with cynicism and irony."Innocence," for example, focuses on a marriage that is dead before it even begins. The story starts with the sudden realization that the woman the narrator is about to marry is very different from what he believed: "I thought my beautiful fiancee was innocence itself until I met her parrot. She had taught it to say terrible things. Wank. Beaver. Fist-fuck. Stick it up your Jap's eye." The parrot is in the church the day of the wedding and "when the man asked whether anyone knew a reason for us not to marry, it squawked, 'Cunt flaps.' My bride bent double with laughter, and even though we made our vows I knew that the marriage was over." Told by a straight man who observes the absurdity of heterosexual relationships, the stories in Anthropology have been positively compared to Raymond Queneau's Exercises in Style for their obsession with a specific form. Although the form of each story is the same, thus pointing to a superficial similarity between all relationships, every piece in Anthropology tells of a different and unique aspect of modern relationships, exploring their imbalances, dysfunctions and distortions. The blank style displayed in Anthropology and in his other fiction points to a detached witticism in the face of even the most tragic events such as death and violence.
A parody of Lassie Come Home, Timoleon Vieta Come Home is Rhodes's first novel, which, however, still retains an episodic structure especially in its second part. Timoleon Vieta is a mongrel dog living with his beloved owner Cockroft, a failed gay composer who now lives in the Umbrian countryside in Italy. Cockroft has given up on love since "the boy in silver shorts," his last great love, has left him for his once collaborator, now rival, Monty Moore. Cockroft's loneliness is only enhanced by the many English expatriates that surround him and with whom he realizes he has nothing to share. The composer's only sexual solace are his cruising sprees in Florence when he invites young men to stay for free at his house in exchange of weekly blowjobs. Cockroft's and Timoleon Vieta's  peaceful lives are disrupted when one of these men accepts Cockroft's invitation. The man passes himself off as Bosnian, but is actually a middle-class bankrupt English who has escaped to Italy from drug-dealers. He intensely dislikes the dog and is reciprocated in his hatred. The Bosnian, who is brutal and unloving, forces Cockroft to abandon the pet in Rome.
The second part of the novel interweaves the narration of Cockroft's and the Bosnian's past with the stories of the people the dog meets on his return home. These interludes function as fables of love, loss and grief that mirrors the main narrative. As in Rhodes's previous short-stories, the episodes in the second part of Timoleon Vieta Come Home are tragic and, at the same time, darkly comic in tone, often  because they are so eccentric and so unexpected in their developments. By the end of the book, "the boy in silver shorts" comes back to Cockroft albeit without silver shorts because he found that "they didn't go with a hopelessly receding hairline." Cockroft finds again the love of his life. Yet, this makes his reunion with the dog definitively impossible. The Bosnian, who has just left the house with no complaints as the result of the new arrival, meets the dog on the track to his master's house and slits his throat. Rhodes gives a political significance to the upper middle-class English villain masquerading as Bosnian: "he's a morally and emotionally bankrupt upper-middle-class wanker, and I've had dealings with more of them than I care to remember. Also, he's an oblique political statement – those cretins have far too much say in running things."
The Little White Car by Danuta de Rhodes made people reasonably suspicious that Rhodes was masquerading as a woman. At a time when chick-lit is being dismissed by women writers, Dan Rhodes has tried to resurrect the genre with The Little White Car, which describes the adventures of two French women, Veronique, who has just dumped her boyfriend, and Estelle, following the night Princess Diana was killed in Paris. The Little White Car has received less enthusiastic reviews than Timoleon Vieta Come Home, and some critics have dismissed it as "just a limp joke". Yet, the novel has also been appreciated for Rhodes's challenging irony, his ability at literary parody and his investigation of the multi-layered significance of modern icons such as Diana.
Gold won the Clare Mclean Prize for Scottish Fiction and was included in the best novels of the year by The Independent literary critics. Set in a small village on the Pembrokeshire coast, it follows the Welsh Japanese lesbian Miyuki Woodward who regularly goes on holiday in the village without her life-partner Grindl so that they realize how much they still ache for each other's company for all the years they spent together. The title refers to Miyuki's ability to produce gold after she inhales the spray she is using to paint a beach rock gold. This functions as a metaphor for the production of a mixed and unexpected identity and sense of belonging, a metaphor that is reinforced by the setting of the narrative in a county that is unmistakably part of Wales and yet commonly referred to as "Little England".
Little Hands Clapping and This is Life continue to foreground Rhodes's surreal and paradoxical narrative turns which, however, lead to clear political and social messages. The former is set in a German suicide museum and recalls the short-story form in its episodic structure made of the several life-stories of different characters. Founded to help people cure their suicidal tendencies, the institution has reverted into its opposite, becoming a refuge for disturbing anti-heroes, except for the main character, Madalena, a Portuguese student who cannot bear the loss of her sweetheart and visits the museum to commit suicide. Although the setting of This is Life, modern-day Paris,is more realistic, the novel's plot is still composed of surreal fragments centring around an artist's quest for subjects for a series of artworks. While the tone of This is Life can appear lighter than Rhodes's other fiction, its underlying message is that darkness is always looming on, and even a part of, human experience.
Luca Prono, 2013
Bibliography
2014
When the Professor Got Stuck in the Snow
2010
Little Hands Clapping
2003
Timoleon Vieta Come Home: A Sentimental Journey
2001
Don't Tell Me the Truth About Love
2000
Anthropology: And a Hundred Other Stories