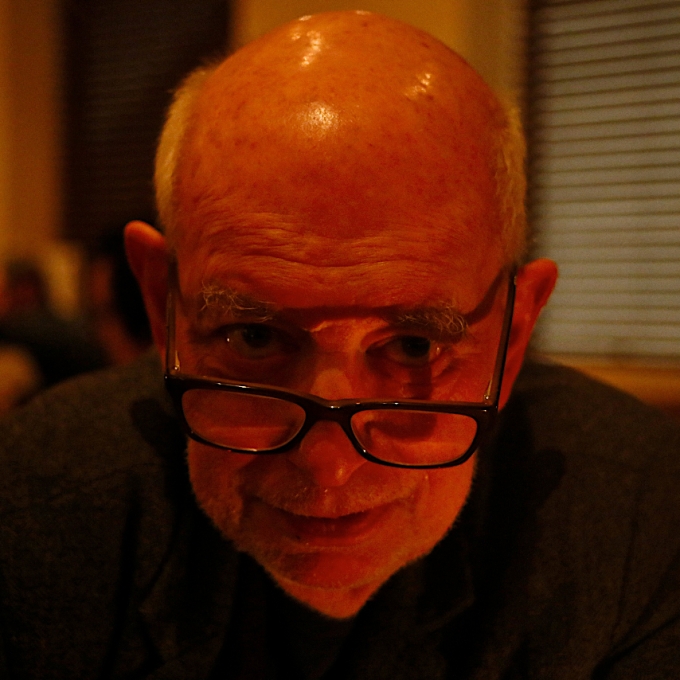 Biography
Clive Sinclair was born on 19 February 1948. He grew up in North London and later studied at the universities of East Anglia and California at Santa Cruz.
Sinclair published six novels: Bibliosexuality: a novel (1973), Blood Libels (1985), Cosmetic Effects (1989), Augustus Rex (1992), Meet the Wife (2002) and Death & Taxes (2014). His short story collections include Hearts of Gold (1979), Bedbugs (1982), and The Lady with the Laptop and Other Stories (1996). 
His non-fiction works include a book of travel writing, Clive Sinclair's True Tales of the Wild West (2008); The Brothers Singer (1983), a study of the Jewish-American writers Isaac Bashevis Singer and his brother Israel Joshua Singer; the memoir Diaspora Blues: A View of Israel (1987); and the autobiographical A Soap Opera From Hell: Essays on the Facts of Life and the Facts of Death (1998).
In 1981 he was awarded a Bicentennial Arts Fellowship, and in 1983 was named by Granta as one of twenty Best of Young British Novelists. From 1983-87 he was literary editor of the Jewish Chronicle. His stories, interviews, travel pieces and reviews have been published in Encounter, The Year's Best Horror Stories, New Review, London Magazine, Penthouse, Club International, Transatlantic Review, Lillit, Monat and The Independent. In 1988 he was the British Council Guest Writer-in-residence at the University of Uppsala in Sweden. In 1996 he was the British Library Penguin Writer's Fellow. As a Guest Lecturer at his former universities, he specialised in creative writing, detective fiction, gothic fiction and Holocaust literature.
Clive Sinclair was elected a Fellow of the Royal Society of Literature in 1983. He died on 5 March 2018.
Critical perspective
Unashamedly erudite, often macabre and sometimes deliberately obtuse, Clive Sinclair's postmodern novels and short stories address uncomfortable situations with relish, revelling in bodily discomfort, sexual tension and social awkwardness.
Sinclair describes most of his work as 'a fusion between tragedy and farce' (The Independent, 3 October 1998), and the British predilection for realism has perhaps prevented him from achieving the popular success of some of his contemporaries. Outside the mainstream of English fiction, his work is cosmopolitan, and reflects the time he has spent in the United States, Mexico, Israel and Egypt.
The title of his literary debut, Bibliosexuality: a novel (1973) describes 'a disorder of the senses in which an unnatural relationship with a book is either strongly desired or obtained'. Heavily indebted to the Argentinean writer Jorge Luis Borges, the novel purports to be written as a kind of collaboration between Sinclair and the bibliophile David Drollkind, whose literary, philosophical and sexual affairs are described at length: the matter of authorship is deliberately muddled, and the conceit is furthered by the inclusion of spurious 'Publisher's notes' and references to correspondence between Sinclair and Drollkind. Described by Malcolm Bradbury as 'an elaborate game of bibliophiles and bibliotecs, much concerned with the delights of story, the magic of fictionality, and the erotic tensions of text' (Times Literary Supplement, 14 December 1979), the novel is saturated with literary allusions and references, and presiding influences, including Chekhov, Nabokov, Poe and Mary Shelley, but notably excluding Borges, are listed in a bibliography at the end of the volume.
Sinclair has since disavowed Bibliosexuality, has rejected opportunities to republish the work, and says that the only part of the novel he would retain is its mock-scholarly appendix entitled 'St John's Complaint', purporting to endorse a bibliosexual approach to literature (LA Review of Books, 18 December 2012).
Following this first novel he concentrated on short fiction, initially published in the journal Encounter. Winner of the 1981 Somerset Maugham Award, Hearts of Gold (1979) established many of the themes and stylistic tropes which Sinclair would continue to explore over the succeeding decades. Opening with a sensual and highly allusive vampire tale, Hearts of Gold illustrates Sinclair's gift for pastiche: it also features a story told from the point of view of a giraffe in an Israeli zoo, and a series of adventures featuring the private detective Joshua Smolinsky, including Hamlet reimagined as 'The Texas State Steak-Eating Contest'. Literary forebears as diverse as Roth, Bronte, Nabokov, Shakespeare and Melville are again openly acknowledged. The stories in Hearts of Gold become increasingly sexually explicit: although deliberate nastiness is a key component of Sinclair's fiction, references to rape and paedophilia stand as a problematic element in his writing.
The worlds of academia and literature in which Sinclair has moved are the targets of regular and biting satirical dissection. In the brutal title story of Bedbugs (1982), a collection which developed Sinclair's taste for erotic weirdness, a lecturer at a Cambridge summer school renames a poetry course for his German students 'Rosenberg's Revenge', after the First World War poet:
'But was such irony justified? Neither I nor the students were even born in the days of the Third Reich, so could I blame them for the fact that had their parents proved victorious I would never have been born at all? Easily. Then what made me take the position? Money? Of course.'
In 1983 Sinclair published The Brothers Singer, a dual biography of Isaac Bashevis Singer, with whom Sinclair shares a propensity for the demonic, and Singer's brother Israel Joshua. He later wrote that with this he had 'surely paid my dues to the mamaloshen'. Sinclair was born in 1948, the year that the modern state of Israel was founded. He has observed of his own work that as his interest in Israel has increased, so has his concern for narrative fiction. Despite early attempts to resist the influence of his background, Jewish history and culture provide a rich context from which much of his fiction and non-fiction has emerged, where he has often explored the tensions between English and Jewish identities and pursued his interests in pre-holocaust English and European Jewish history. In the concluding story of Bedbugs, 'Ashkenazia', the government of the titular fictional Yiddish-speaking, Jewish European state commission a writer to produce an official guide to the country, as they conclude a deal with Hitler to sell uranium to Nazi Germany. It is worth noting that this imagined country is located in the same provinces of Poland once inhabited by Sinclair's grandfather.
In the essay collection A Soap Opera From Hell (1998) he wrote that 'Defying gravity I compare myself to the fishermen of Stockholm, as I try to pull a prize from my swirling inheritance of English culture and Jewish history', and that 'As a diaspora Jew, whose life story seems writ on water, I have always considered that the blessing of being part of the whole outweighs the curse.' Sinclair's clearest exploration of the troubled relationship between the Jewish diaspora and Israel is in Diaspora Blues (1987), which he describes as 'my way of looking at Israel' – part travelogue, part memoir, it also provides valuable commentary on his own fiction, and on the works of other writers and artists, including combative engagements with Amos Oz and Edward Said. In it he wrote that:
'I am a parvenu, just as I am an exile from my past, of which the occasional Yiddish word is a last reminded. My writing is a search for a place in which I may feel at home, where my literacy will not be in question. Since I am interested in neither sentimental atavism nor utopian visions I have not as yet found it, but if I did, what else would I have to write about.'
Sinclair's apprehension of his torn allegiances is perhaps best illustrated by the hypothetical scenario established at the beginning of the early autobiographical story 'Wingate Football Club': 'Suppose England were to play Israel in the World Cup. Who should I support?' He later wrote that when England played a friendly game in Tel Aviv in the run up to the 1986 World Cup, beating the home team one-nil with a penalty three minutes from time, that 'I had, at last, the answer to my question. I wanted the loser to win' (Diaspora Blues).
Sinclair was literary editor of the Jewish Chronicle between 1983 and 1987, but his work has sometimes come under considerable criticism in the Jewish press: the novels Blood Libels and Cosmetic Effects in particular have been charged with exhibiting Jewish self-hatred (David Brauner, Post-War Jewish Fiction (2001), 171). In Blood Libels (1985) a Jewish writer becomes inadvertently embroiled in the activities of a mysterious anti-Semitic group known as 'The Children of Albion': his attempts to atone for this involvement force him to confront some of the contradictions of the state of Israel. Cosmetic Effects explores the possibility of a Jewish academic being turned into a human bomb by a Palestinian doctor.
Like many postmodernist writers, the question of authorial identity is the subject of great play in Sinclair's fiction. Jake Silkstone, the writer in Blood Libels, shares a birthday with Sinclair, and both are literary editors for Jewish newspapers in England. Clive Sinclair has written amusingly about the confusion arising from his name, which he shares with the British inventor of the C5 battery-assisted tricycle, and names carry great significance in his fiction. When Sinclair's father joined the British army in 1939, he changed his name from Smolinsky to Sinclair: his son gave the name Smolinsky to a private detective who appears in several stories in Hearts of Gold and Bedbugs.
However, Sinclair has also written movingly and directly about his family in autobiographical journalism and essays. Within 18 months in the mid-1990s, Sinclair lost his wife, his father, his mother, his mother-in-law and his sister-in-law. He was also diagnosed with hereditary polycystic kidney disease, and underwent a kidney transplant. These traumatic experiences form the basis of the autobiographical collection A Soap Opera From Hell, subtitled Essays on the Facts of Life and the Facts of Death, which also includes a selection of literary essays and travel pieces.
Clive Sinclair's True Tales of the Wild West (2008) is written in a mode described by Sinclair himself as 'Dodgy Realism'.  This is the most visually striking of Sinclair's works since Augustus Rex, a postmodern and cross-generic exploration of the American West in which two Jewish cousins from Luton, Saltzman and Peppercorn, go in an apparent search for the truth behind the myths of such figures as Wyatt Earp, General Custer, Wild Bill Hickok and Geronimo. Inevitably the idea of historical truth is found to be illusory, reflected by the artificial nature of the settings – motels, studios and museums – in which much of the action unfolds, and Sinclair's skilful pastiches of the Western genre themselves constitute historical re-enactments. The book, which like his first novel includes a bibliography, is illustrated with maps, photographs, drawings, paintings and ephemera, including admission tickets to some of the attractions.
In such ways Sinclair's work frequently defies categorisation, reflecting an observation by the narrator of Cosmetic Effects: 'so long as there is pluralism, a proliferation of stories and interpretations, then the future won't be fascistic.' It would seem that for Clive Sinclair very little is off limits, but in 1998 he was asked by an interviewer why he would not consider writing about the Holocaust. He replied 'Auschwitz is not mine to conquer. And it's too easy; you get a spurious gravitas when you do Holocaust material, and I don't think I've earned it.' (The Independent, 3 October 1998)
Dr Guy Woodward, 2013
Bibliography
2008
True Tales of the Wild West
1998
A Soap Opera From Hell: Essays on the Facts of Life and the Facts of Death
1996
The Lady with the Laptop and Other Stories
1996
Kidneys in the Mind: A Lecture
1987
Diaspora Blues: A View of Israel
1973
Bibliosexuality: a novel