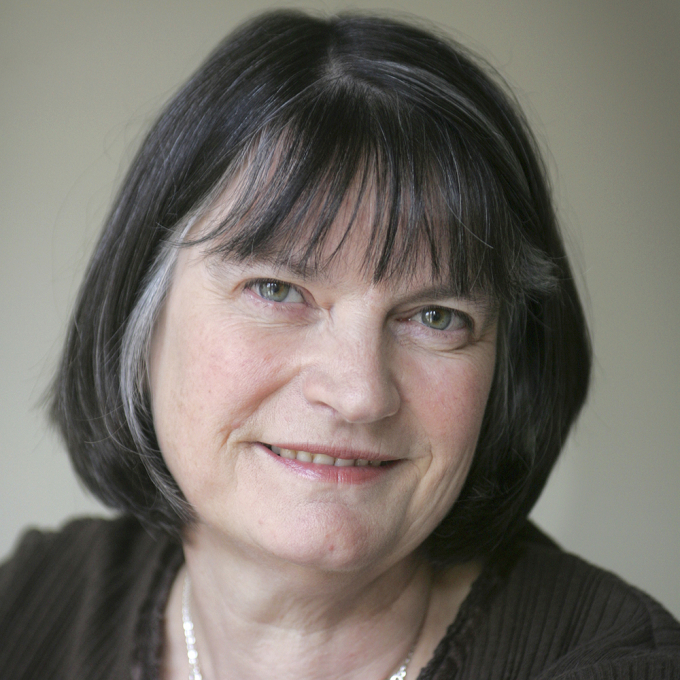 Clare Morrall
Publishers:
Agents:
Biography
Clare Morrall was born in 1952 and grew up in Exeter.
She moved to Birmingham to study music and still lives there, working in the Blue Coat school as a piano and violin teacher. Her first published novel, Astonishing Splashes of Colour (2003), tells the story of a childless woman who kidnaps a baby.  It reflects her interest in synaesthesia - a condition in which emotions are seen as colours. The Daily Mail describe it as "An extremely good first novel: deceptively simple, subtly observed, with a plot that drags you forward like a strong current." It was shortlisted for the 2003 Man Booker Prize for Fiction.
Her second novel was Natural Flights of the Human Mind, published in 2006, and this was followed by The Language of Others (2008). She has since published The Man Who Disappeared (2010), The Roundabout Man (2012), After the Bombing (2014) and When the Floods Came (2016).
Critical perspective
Clare Morrall's novels reveal a striking sympathy with the underdog – the unfashionable kind of outsider who rarely takes centre stage in literary fiction.
Writing in a straightforward, accessible style, at its best when at its most artless, Morrall displays a huge fund of compassion and humanity for her characters.
Astonishing Splashes of Colour (2003), Morrall's Man Booker-shortlisted debut, takes its title from J.M. Barrie's Peter Pan, a fantasy which becomes something of a leitmotif throughout the book. The narrator, Kitty Wellington, is herself something of a 'lost girl': the youngest by some way in a family of men, she is the only one who can't remember her mother, who died in a car crash when she was three, or her eldest sister, who ran away before she was born. When Kitty tries to ask her four brothers and her father about them, the answers she receives are evasive, vague, or wildly various.
Kitty's personal tragedy is the loss of a son, a Peter Pan-like child destined never to have grown up, and she battles with the after-effects of this loss, coupled with being told she can't have any more children. Her relationship with her husband James is touching yet somewhat semi-detached – they live in adjacent flats, and though James is tender and attentive, he's unable to engage with the death of their child. In a world where she often sees emotions as colours (waiting mothers at the school gates are yellow, for optimism, for instance), Kitty's chaotic, colourful existence is strikingly – yet not necessarily discordantly – contrasted with James's minimal, obsessive whiteness.
As the novel progresses, Kitty comes to feel increasingly left out of her family's history, lost in a vortex of absence and loss, and her psychological condition starts to deteriorate. An ill-fated trip to the theatre with her nieces (to see what else but Peter Pan) leads her family to question her trustworthiness around youngsters, and when she comes across not one but two 'lost children', the choices Kitty makes bring about a tense train of events which lead to the novel's climax.
Astonishing Splashes is a direct kind of novel: what you see is, generally, what you get. There is little literary trickery or postmodern cleverness, and things are revealed to the reader as they are revealed to the narrator. Morrall tells an honest tale which is saved from melodrama by the likeability of its narrator, an eye for humour, and a strong sense of authorial compassion.
Morrall's next book, Natural Flights of the Human Mind (2006), again uses its title to hint at a crucial theme. The quotation comes this time from The Rambler, in which Samuel Johnson wrote: 'The natural flights of the human mind are not from pleasure to pleasure but from hope to hope.' The novel is the story of two misfits who seem to have given up the pursuit of either pleasure or hope: the awkward, aggressive school caretaker Imogen Doody, who has grown up feeling the least important member of her family; and Peter Straker, a largely silent recluse who lives in a crumbling Devon lighthouse, wracked with guilt for an accident he believes he caused while at the hands of a small plane, some 25 years ago.
Morrall takes care to paint these two characters with all their faults and flaws. Doody is 'small and slightly plump', and can be rude, bitter, and quick to criticise. Straker, as well as being 'very ugly', with an 'untidy beard' and a 'huge nose', has developed some eccentric habits while living alone. Yet when Doody inherits a run-down cottage and a dilapidated bi-plane in Straker's village, these two seemingly incompatible people begin to make faltering steps towards friendship. The novel centres on how they are able to find a way of understanding each other which not only helps each of them reconnect with another human being for the first time in a long while, but also enables them to deal with problems which have been haunting them both.
The climax of the novel has left some reviewers feeling uneasy. In an almost cinematic conclusion which borders on cliché, an angry and vengeful mob chase Straker, who escapes by starting up a renovated Tiger Moth plane (the first time he has flown since the accident), which then gets into difficulties while flying over the sea. Morrall's fondness for tying up all the loose ends may satisfy some readers but can stretch credibility. At the end of the book, Doody's estranged husband, Harry, makes an unlikely first appearance, alongside but unrecognised by his wife, solely for the purpose of letting the reader know what really happened to him. While it istrue that paths do cross randomly like this on occasion, it is also the case that many domestic mysteries are never solved.
Morrall's writing is accessible and entertaining, dealing with personal grief, loneliness and social awkwardness against a backdrop of modern life that is filled with realistic quotidian detail. At the heart of her work is a compassion for those individuals who, whether for reasons within or beyond their control, find themselves set apart, made different, from the rest of society.
Susan Tranter, 2006
Bibliography
2016
When the Floods Came
2010
The Man Who Disappeared
2008
The Language of Others
2006
Natural Flights of the Human Mind
2003
Astonishing Splashes of Colour
Awards
2003
British Book Awards Newcomer of the Year (shortlist)
2003
Man Booker Prize for Fiction (shortlist)
Author statement
To me, the world of fiction has always been more satisfactory than the world of reality. It offers the opportunity to explore emotions and situations that are sometimes too difficult to address in real life. As a child, I found the imaginary world much easier to deal with, and I have learnt everything I consider to be worth knowing from novels. So I have spent my life wanting to be part of that fictional world. The privilege of creating such a world for other people is something I value very highly. There is nothing more satisfying than hearing people discussing characters from your books as if they really exist.
Apart from this, I find the act of writing intellectually stimulating and good for me. I write in a room in a friend's house, and I like the sense of isolation that comes from leaving my home environment, shutting the door on everyday life. The discipline of having a time and space just for writing is very rewarding. Discovering that I can earn money by doing this has been thrilling.