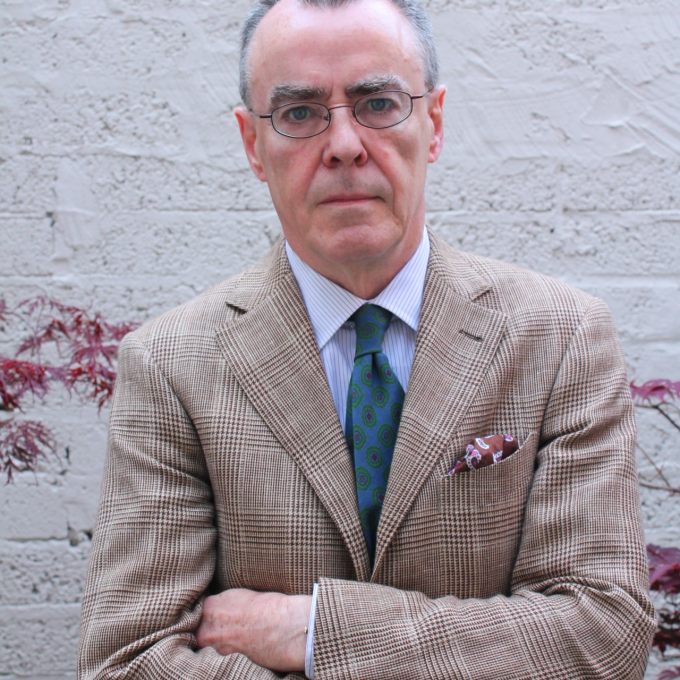 Ciaran Carson
Born:
Belfast, Northern Ireland
Publishers:
Agents:
Biography
Poet and novelist Ciaran Carson was born in Belfast, Northern Ireland, in 1948. After graduating from Queen's University, Belfast, he worked for the Arts Council of Northern Ireland until 1998. He won an Eric Gregory Award in 1978.
His collections of poetry include The Irish for No (1987), winner of the Alice Hunt Bartlett Award; Belfast Confetti (1990), which won the Irish Times Irish Literature Prize for Poetry; and First Language: Poems (1993), winner of the T. S. Eliot Prize. His prose includes The Star Factory (1997) and Fishing for Amber (1999) and his novel, Shamrock Tea (2001), explores themes present in Jan van Eyck's painting The Arnolfini Marriage.
His translation of Dante's Inferno was published in November 2002. Breaking News (2003), won the Forward Poetry Prize (Best Poetry Collection of the Year). His poetry collection For All We Know (2008), was shortlisted for both the 2008 T. S. Eliot Prize and the Costa Poetry Award. A further collection, On the Night Watch, was published in 2009.
Ciaran Carson is also an accomplished musician, and is the author of Last Night's Fun: About Time, Food and Music (1996), a study of Irish traditional music. He was Director of the Seamus Heaney Centre for Poetry at Queen's University, Belfast, until his retirement in 2015. He still acts as moderator of the Belfast Writers' Group and a postgraduate poetry workshop. He lives in Belfast.
His 2010 collection of poetry Until Before After was shortlisted for the 2011 Irish Times Poetry Now Award; and his 2015 collection From Elsewhere was shortlisted for the Forward Prize for Best Collection.
Critical perspective
Over the past three decades, Ciaran Carson has produced a diverse body of work encompassing poetry, prose, translations, a novel of sorts, and writings on literature and Irish traditional music.  His oeuvre is bound inextricably both to his home city of Belfast, the history, topography, nomenclature and eccentricities of which have proved seemingly inexhaustible sources of material, and to Irish music, whose improvisatory qualities and facility for story telling influence much of his work. The poetry has become increasingly both allusive and elusive, characterised by the density of its references and by rambling journeys through and across time and space, occasioned by linguistic association and the tracking of connections and patterns between colours, forms and smells.
His first collection of poetry, The New Estate (1976), is calm and measured in form and tone, and in terms of content, outlines many of the preoccupations evident in later works: fragmented autobiographical memories, the Troubles, found objects and named places in Belfast. The business of naming is of constant interest to Carson, whose first language is Irish, and etymological investigations are a crucial and distinctive feature of his work.
The collections The Irish for No (1987) and Belfast Confetti (1990) marks a new departure for Carson, formally and in his approaches to the subject matter: intensely psycho-geographical, in both works a forensic and scholarly analytical approach combines with colloquial and demotic storytelling, in complex excavations of the hidden histories of his home city and explorations of its traumatic contemporary life. These collections mark the first appearance of Carson's distinctive use of the long line. Deriving partly from the American poet C. K. Williams, partly from Irish traditional music, and partly from the Japanese 17-syllable haiku (examples of which separate many of the poems in the second collection) this mode of composition frees Carson to plunge further into the chaotic webs created by the intersections of language, history and geography in Troubles afflicted Belfast. Adjectives pile up as the improvisatory qualities of traditional Irish story telling and music are skilfully contained within the controlled formal structures provided by these long lines. The prefatory poem 'Turn Again' appears in editions of both collections:
'There is a map of the city which shows the bridge that was never built,
A map which shows the bridge that collapsed; the streets that never existed.
Ireland's Entry, Elbow Lane, Weigh-House Lane, Back Lane, Stone Cutter's Entry –
Today's plan is already yesterday's – the streets that were there are gone.
And the shape of the jails cannot be shown for security reasons.'
This has been described by the critic Alan Gillis as 'meta-cartography', whereby traditional maps, records of single specific moments, and thus unable to represent the heterogeneity of the past, are superseded by Carson's poetic rendering of places that no longer exist alongside those still present 'reconceiving the past as a boundless layering of present-tense moments' (Alan Gillis, 'Ciaran Carson: Beyond Belfast'). His work is deeply concerned with the fragments of material history, whereby the discovery or memory of an object sparks ruminations, flights and journeys into urban or historical labyrinths. In the five-page poem 'Dresden' from The Irish for No a china shepherdess falls from the trembling hand of a veteran of RAF Bomber Command during the Second World War, who had flown missions over that city:
'One day, reaching up to hold her yet again, his fingers stumbled, and she fell.
He lifted down a biscuit tin, and opened it.
It breathed an antique incense: things like pencils, snuff, tobacco.
His war medals. A broken rosary. And there, the milkmaid's creamy hand, the outstretched
Pitcher of milk, all that survived.'
Without labouring the symbolic properties of the object, Carson manages to make the mass-produced detritus of the twentieth century seem as precious here as the relics of more ancient times. From the same volume, 'Calvin Klein's Obsession' (his writings are studded with brand names, their various resonances fully exploited) journeys through various smells from his past, such as those of beer, the perfume worn by an old girlfriend, horse dung, soap and wisteria, in the process weaving together personal and cultural history, addressing the fleeting glamour of consumerism directly in the final line: 'Or maybe it's the name you buy, and not the thing itself.'
Although Belfast has continued to impress itself on Carson's work, during the 1990s and 2000s his poetry ranged more widely, and arguably became more overtly erudite and learned. Opera Et Cetera (1996) is particularly complex, made up of four sequences drawn together by a formal debt to the Irish ballad metre: the alphabetical series 'Letters of the Alphabet'; 'Opera', a series similarly built around the radio operator's code; 'Et Cetera', poems taking their cue from Latin tags; and 'Alibi', translations of short poems by the Romanian poet Stefan Augustin Doinas. In The Alexandrine Plan (1998) Carson translates sonnets by Baudelaire, Mallarmé and Rimbaud, and followed this with further translations of The Inferno of Dante Alighieri (2002) and Irish mythological epic The Tain (2007).
These projects were perhaps balanced by the prose works Last Night's Fun: About Time, Food and Music (1996) and The Star Factory (1997). The former is a vibrant exploration of Carson's love of traditional Irish music (for much of his life he was traditional music and culture officer of the Arts Council for Northern Ireland, spending much time playing music in bars and back rooms across the island), which also encompasses such matters as whiskey, Gaelic Games and the constitution of the ideal fried breakfast. The Star Factory is Carson's most overtly autobiographical work to date, a series of sensory explorations of Belfast's history and Carson's childhood familiar to readers of Belfast Confetti. The essays emphasise the encyclopaedic nature of Carson's project, seen in his repeated recourse to reference works such as the Belfast Street Directory of 1948, the year of his birth. In 2001 Carson published Shamrock Tea, a 'novel' that defies categorisation, a semi-fictional, fantastical and psychedelic odyssey through history, philosophy and art, and, of course, Belfast, in which the drinking of the titular concoction thrusts characters including an autobiographical analogue of Carson himself into the world of Jan Van Eyck's painting, 'The Arnolfini Portrait'.
Carson's most recent poems have moved away from Belfast and the Troubles. Breaking News (2003) also drops the long line, in dramatic fashion: some of the poems in this collection are pared back to one word per line. For All We Know (2008) exhibits a softer side to Carson, consisting of love poems dedicated to his wife: though references to the May 1968 Paris riots, bombs in Belfast and the Stasi are allowed to intrude, the emphasis here is on life and experience shared.
Guy Woodward, 2009
Bibliography
2012
In the Light of: After Illuminations by Arthur Rimbaud
2005
The Midnight Court/Brian Merriman
2002
The Inferno of Dante Alighieri
1999
The Twelfth of Never
1999
The Ballad of HMS Belfast: A Compendium of Belfast Poems
1998
The Alexandrine Plan
1996
Last Night's Fun: About Time, Food and Music
1995
Letters from the Alphabet
1993
First Language: Poems
1988
The New Estate and Other Poems
1986
Irish Traditional Music
Awards
2015
Forward Poetry Prize for Best Collection (shortlist)
2008
Costa Poetry Prize (shortlist)
2008
T. S. Eliot Prize (shortlist)
2003
Forward Poetry Prize for Best Collection
1997
Yorkshire Post Book Award (Book of the Year)
1990
Irish Times Irish Literature Prize for Poetry
1987
Alice Hunt Bartlett Award