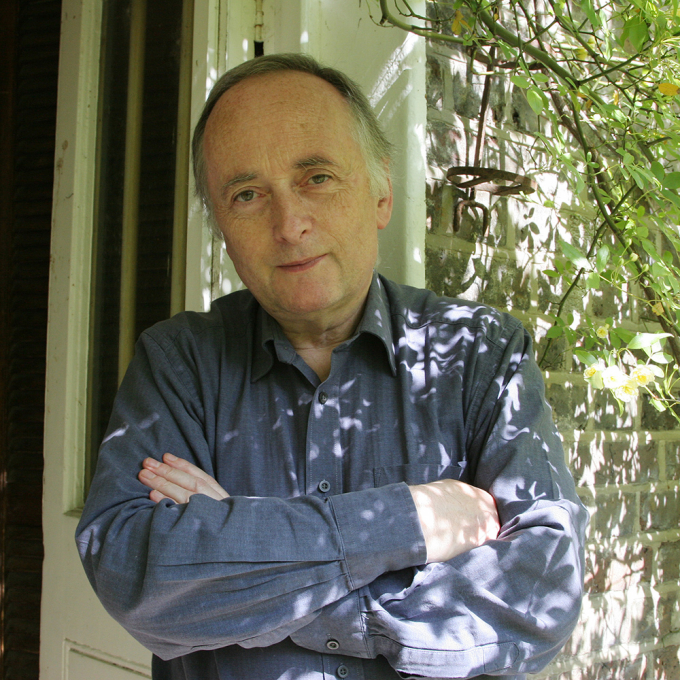 Christopher Reid
Publishers:
Biography
Christopher Reid was born in Hong Kong in 1949, educated in England, and studied at Oxford University from 1968-1971.
He then worked as a freelance journalist and as book review editor of Crafts magazine. He won an Eric Gregory Award for his poetry in 1978. A year later his first poetry collection, Arcadia (1979) was published, winning the 1980 Somerset Maugham Award and the Hawthornden Prize. This has been followed by Pea Soup (1982); Katerina Brac (1985); In The Echoey Tunnel (1991); Expanded Universes (1996); For and After (2002) and Mr Mouth (2005). A selection of his poems was published in the US as Mermaids Explained (2001). He is often cited as co-founder with Craig Raine of the 'Martian School' of poetry which employs exotic and humorous metaphors to defamiliarize everyday experiences and objects. He has also written two books of poetry for children: All Sorts (1999) and Alphabicycle Order (2001).
He is the editor of two Faber and Faber collections: Sounds Good: 101 Poems to be Heard (1998) and Not to Speak of the Dog: 101 Short Stories in Verse (2000).
Reid has also published illustrations in Punch and London Magazine, worked as Poetry Editor at Faber and Faber for eight years, and runs his own independent publishing house, Ondt & Gracehoper. He received a Cholmondeley Award in 1995, the 2000 Signal Poetry Award for his children's collection All Sorts, and is a Fellow of the Royal Society of Literature.
He currently teaches at the University of Hull. In 2007, he edited The Selected Letters of Ted Hughes for Faber and Faber.
His latest collections are The Song of Lunch (2009); A Scattering (2009), in memory of his late wife, Lucinda; Nonsense (2012); Six Bad Poets (2013); and Anniversary (2015). A Scattering was shortlisted for the 2009 Forward Poetry Prize (Best Poetry Collection of the Year) and the 2009 T. S. Eliot Prize, and won the 2009 Costa Book of the Year.
Critical perspective
Christopher Reid is perhaps still most often associated with the so-called 'Martian School' of poetry during the 1980s, due to his friendship with Craig Raine and their dandyish, witty style, transforming the everyday with strange similes and viewpoints.
Indeed, when Reid won the Hawthornden Prize for his first collection, Arcadia (1979), the critic Bernard Bergonzi called him 'a poet who combines exact observation with a rich and startling power of metaphor'. Since then, Reid's work has shown considerable development. He has used 'sham' personae to great effect, notably in Katerina Brac (1985), his 'translations' of a fictional Eastern European woman poet. One side of his work is enchanted by foreign poetry. The other side at times strikes a whimsically Betjeman-esque note, usually in neatly rhymed stanzas, by turns celebratory or satirical about Britishness. His work has retained its penchant for verbal play, irony and visual description, yet has also gained in humanity. Introducing his most recent collection, For and After (2003), in the Poetry Book Society Bulletin, Reid modestly described the contents as 'evidence of the poet's usual, provisional negotiations with untidy life'.
Succeeding Raine as poetry editor of Faber and Faber, Reid thereby exercised considerable influence in the publishing world throughout much of the 1990s. Reid subsequently founded his own press with his wife, Ondt & Gracehopper, which has published his poetry books for children, notably All Sorts (1999), winner of that year's Signal Poetry Award. He helped steer Faber in a populist direction with his anthologies Sounds Good: 101 Poems to be Heard (1990), and Not to Speak of the Dog: 101 Short Stories in Verse (2000). In the latter, there is a storytelling structure with themes linking one poem to the next. Thus, the tale of a child on the moors in Wordsworth's 'Lucy Gray' is followed by Carol Ann Duffy's rather different depiction of another lost child in 'Stafford Afternoons'. The contents range widely historically, to include classic poems about ghosts, love, comedy, war and lost innocence, and much besides, such as the shaggy dog story of Louis MacNeice's 'The Taxis'. 
 
His debut collection, Arcadia, contained plenty of short 'stories' in verse, playful and horrific, as in 'From an Idea by Toulouse Lautrec', in which supper becomes a mock-religious ceremony, while the martyr St Laurence 'does / to a turn in the oven'. These are ingenious poems with titles that typically take 'A Holiday from Strict Reality', play on 'Big Ideas with Loose Connections', and have 'The Haiku Adapted for Home Use'. Pea Soup (1982) continued much in the same vein, with numerous exotic similes: a cocktail bar guitarist has 'his hair brushed like a new LP'; tankards in a country pub are 'lords of the air and as free / as a flight of sitting-room ducks' ('Pastoral'). But with In the Echoey Tunnel (1991) he found a way of combining his ingenuity with emotional depth. His 'Memres of Alfred Stoker' (inspired by the St. Ives painter Alfred Wallis) is written in vernacular phonetics to tell an oddly affecting story of religious mania. The concluding sequence, 'Survival: a Patchwork', links his wife's art as a quilt-maker to her recovery from breast cancer: 'and who now minds / the touch of asymmetry / Matisse's jaunty drawing / one breast hitched / its nipple wider / for a while'.

Expanded Universes (1996), also has some inspirations of his wife. They are bittersweet: the 'ability' to make her cry is likened to 'the frenzy of a Roundhead / discharging shot / at an old carved angel, / and instantly wishing not' ('The Gift'). And such sentiments as these, anyone involved in a long-term relationship would surely concur with: 'It's a fearsome business, / this loving and being loved. / Would anyone try it/  if they hadn't been shoved / by a force beyond resistance, / velvet-fisted and iron-gloved?' ('Dear Diary'). But the volume moves away from the domestic scene, to inventively raise questions of belief and the poetic imagination. In doing so, we are invited to consult 'the contradictionary' (that 'vast rebuttal of all established / lexicographical lore') or view the 'last sphinx in captivity', with 'its unwholesome pelt / like a doubtful jumble-sale bargain' ('Epigone'). Reid's making of poetic mischief out of the everyday is exemplified by 'Two Dogs on a Pub Roof'. Bizarrely jaunty rhymes accompany the narrator, who informs us of his belief 'that they've been posted there, not quite on earth, / as emissaries of some higher truth'. Their barking aggression he identifies as standing for 'any ding-donging duo from history or myth/ that's come to stand as a hieroglyph / for eternal foedom, non-stop strife'.
Reid has explained the title For and After (2003) as simply that it mostly contains poems with dedications ('for') as well as translations or versions ('after'). The dedicatees include poet friends Seamus Heaney ('Palace Floor'), Christopher Logue ('The Sirens'), and Katherine Pierpoint: 'While the porcupine / will stab and sting you, / the pickupine / simply wants to bring you / a handy set / of those sharp little sticks' ('The Pickupine'). Another quirky animal is 'The Phone-Fox': 'We were talking about Ted Hughes, / when the corner of my eye / twitched to the fact of a fox'. Reid's peculiar vision leads to some exotic places, such as 'Bermudapest' and 'A City that Marco Polo Missed'. Perhaps most alarming, however, is the Middle England county of 'Bollockshire', where all place-names begin with B: 'So keep driving …. just when you least expect, / there's Blokeston FC, home of 'The Blockers', / and Blokeston Prison, by the same no-frills architect'.
The most delightful poems are a sequence of 'French Kisses', versions of poems by Gautier, Verlaine and Hugo. In 'The Ghost of the Rose', a flower addresses the young woman who took it to yesterday's ball ('my tomb being your breast'). 'Romance without Words', asks a 'sweet, teasing air' 'What was it you wanted, hovering and dithering here'. And 'The Ladybird' describes another pair of uncertain lovers, transfixed by the sight of an insect on a woman's neck: 'Her lips were right there; / I leant, too, and captured / that ladybird, / while the kiss flew off into thin air'. Christopher Reid had once observed that, 'a lot of my poems deal with … unjustifiable moments of happiness' [Poetry Review, September 1982]. There is a beautiful example of this, to conclude the book, in an elegy for the poet and critic Ian Hamilton. The writer's task of 'wrenching words / for rhymes' becomes transformed, by hearing 'two never-repetitive blackbirds', who are 'doing their free-jazz thing with the other birds' ('Lines').
Dr Jules Smith, 2006
Bibliography
2007
Selected Letters of Ted Hughes
2000
Not to Speak of the Dog: 101 Short Stories in Verse
1997
The May Anthology of Oxford and Cambridge Poetry 1997
1996
Two Dogs on a Pub Roof
1991
In the Echoey Tunnel
1990
Sounds Good: 101 Poems to be Heard
1989
The Poetry Book Society Anthology 1989-1990
Awards
2009
Costa Book of the Year
2009
Forward Poetry Prize (Best Poetry Collection of the Year)
2009
T. S. Eliot Prize (shortlist)
2003
T. S. Eliot Prize (shortlist)
1980
Prudence Farmer Award
1980
Somerset Maugham Award