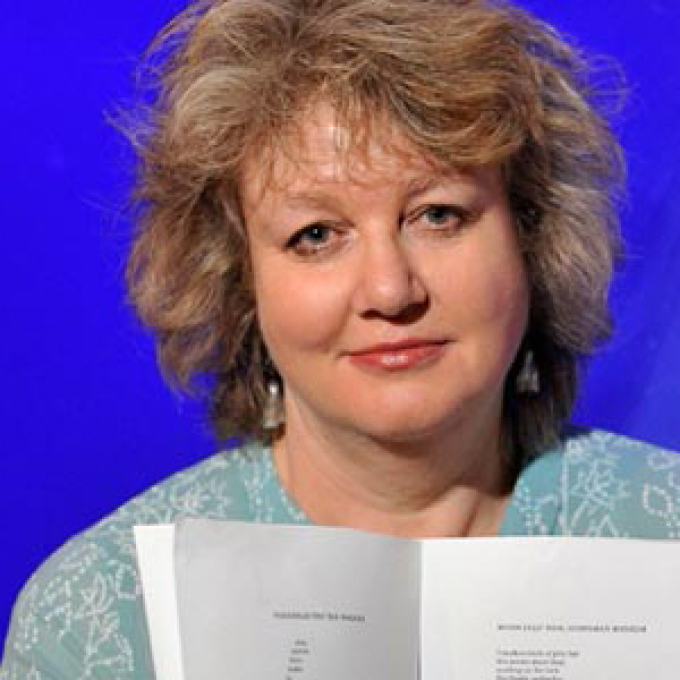 Chrissie Gittins
Publishers:
Biography
Chrissie Gittins' first poetry collection is Armature (Arc, 2003) – 'Gittins's deadpan tone and skewed perspective mark her out as a true original – she has a genuine gift', Jane Yeh, Poetry Review. Her second is I'll Dress One Night as You (Salt, 2009) – 'Her appealing poems reconnect a child's wide-awake senses with an adult's intelligence and passion,' Alison Brackenbury, Poetry Review.
Chrissie's third collection Sharp Hills was published by Indigo Dreams in 2019. It includes a sequence of poems written after a trip to India (courtesy of an Authors' Foundation Award) to follow in some of her father's RAF footsteps. It also includes poems from her third pamphlet collection Professor Heger's Daughter (Paekakriki Press, 2013). 'There are a lot of really funny poems in Professor Heger's Daughter … Gittins strikes a glorious balance between plaintive lyricism and vivacious exuberance, between a life lived en plain air and a sequence of repressive indoor spaces', John Field, Poor Rude Lines. 'Professor Heger's Daughter is one of the finest pamphlets I've read in recent years, for its range of ideas, its emotional sensitivity, its great wit and humour, and – more than anything else – its deranged use of language', Russell Jones, Elsewhere – A Review of Contemporary Poetry. 'By turns incisive and funny. Not unlike Oscar Wilde, Professor Heger's Daughter is a feast for the mind', Robert Peake, Poetry Salzburg Review.
Chrissie has five children's poetry collections; three were Choices for the Poetry Book Society Children's Poetry Bookshelf, and two were shortlisted for the CLiPPA Poetry Award. Her new and collected children's poems Stars in Jars (Bloomsbury, 2014) is a Scottish Poetry Library Recommendation. In 2014 she was a finalist in the first Manchester Children's Literature Prize with a portfolio of new poems. She appeared on BBC Countryfile with her fifth children's poetry collection Adder, Bluebell, Lobster (Otter-Barry Books, 2016) which was also longlisted for the North Somerset Teachers' Book Award.
Her poems are widely anthologized and appear in anthologies such as Happy Poems chosen by Roger McGough (Macmillan, 2018), Poetry for a Change - A National Poetry Day Anthology (Otter-Barry Books, 2018) and She is Fierce: Brave, Bold and Beautiful Poems by Women edited by Ana Sampson (Macmillan, 2018).
Chrissie's four plays broadcast on BBC R4 received critical acclaim and starred Patricia Routledge, Jan Ravens and Bernard Cribbins. Her second short story collection Between Here and Knitwear (Unthank Books) was shortlisted for the Saboteur Awards and reviewed in the TLS, and in the Sunday Times ('exceptional', Phil Baker). Helen Dunmore chose it as one of her top two collections of 2015.
Chrissie has read at the Hay, Edinburgh, Wigtown, Ilkley, Shetland and West Cork festivals, and the Aldeburgh, Ledbury, StAnza and Wenlock poetry festivals. She has also read at the Royal Festival Hall, Keats' House, Newcastle Centre for the Literary Arts, and the Poets House in New York. She has run workshops in schools, libraries, prisons and at Buckingham Palace; she tutors for the Arvon Foundation, Authors Aloud, the Poetry Society and Newcastle University.
Chrissie has received two Arts Council Grants for the Arts, she features on the Poetry Archive and is a National Poetry Day Ambassador. She is a Hawthornden Fellow.
Bibliography
2016
Adder, Bluebell, Lobster
2015
Between Here and Knitwear
2013
Professor Heger's Daughter
2009
I'll Dress One Night As You
2006
I Don't Want an Avocado for an Uncle
2002
Now You See Me, Now You ...
1998
The Listening Station
Awards
2016
Society of Authors' Authors' Foundation Award
2009
Arts Council Writers Award
2014
2014 Manchester Writing for Children Prize (Poetry) finalist
2007
Society of Authors Foundation Fund Writers' Award
2005
Arts Council Writers' Award
2002
Belmont Poetry Prize
2002
Belmont Poetry Prize
2002
Biscuit Fiction Short Story Competition
2002
Ottakar's & Faber National Poetry Day Competition
2001
Hawthornden Fellowship
1996
ICA New Blood Short Story Competition
1996
Yorkshire Open Poetry Competition
1994
Poetry News Competition