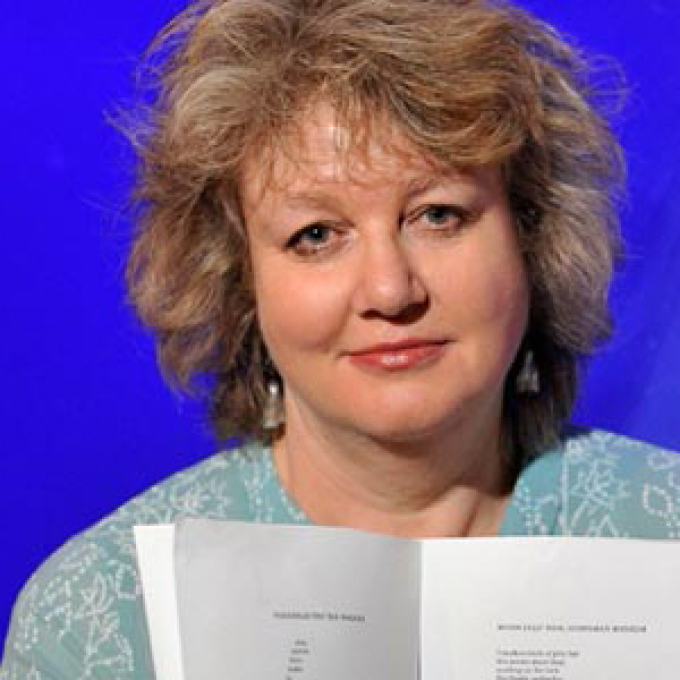 Biography
Chrissie Gittins was born in Lancashire and lives in Forest Hill in London. She studied at Newcastle University and St Martin's School of Art. Her poems have won prizes, been broadcast on BBC Radio 4 and are widely published in magazines, newspapers and anthologies.
Her first adult poetry collection is Armature (Arc, 2003): 'one of the more striking debuts of 2003. Gittins's deadpan tone and skewed perspective mark her out as a true original – she has a genuine gift'. Jane Yeh, Poetry Review.
Her second adult collection is I'll Dress One Night As You (Salt, 2009). 'Her appealing poems reconnect a child's wide-awake senses with an adult's intelligence and passion.' Alison Brackenbury, Poetry Review.
Her pamphlet collections are A Path of Rice (Dagger, 1997) and Pilot (Dagger, 2001). Her third pamphlet is Professor Heger's Daughter (Paekakariki Press, 2013). 'Professor Heger's Daughter is one of the finest pamphlets I've read in recent years, for its range of ideas, its emotional sensitivity, its great wit and humour, and – more than anything else – its deranged use of language.' Russell Jones, Elsewhere.
Chrissie won the Belmont Poetry Prize for children's poems in 2002. Her first children's collection Now You See Me, Now You … (Rabbit Hole, 2002) was shortlisted for the inaugural CLPE Poetry Award (CLiPPA) in 2003; republished in 2009 it was selected as a Poetry Book Society Choice for the Children's Poetry Bookshelf in 2010. 
Her second children's poetry collection I Don't Want an Avocado for an Uncle (Rabbit Hole, 2006) was shortlisted for the CLPE (CLiPPA) Poetry Award 2007 and was a PBS Choice for the Children's Poetry Bookshelf.
Avocado was also selected as one of four single poet collections for the 'Boys into Books 5-11' booklist (School Library Association).
Chrissie has been guest reader on Carol Ann Duffy's Arvon course for children's poetry at Moniack Mhor. She contributed to 'Poetry Pie' and 'The Rhyme Rocket' for Cbeebies TV, and to the Oxfam CD of Poems for Children. Her children's poems are widely anthologized and feature in Michael Rosen's Puffin anthology 'A-Z – The Best Children's Poetry'. Her third children's collection The Humpback's Wail (Rabbit Hole, 2010) is also a PBS Choice for the Children's Poetry Bookshelf. In 2012 Chrissie made an hour's recording of her children's poetry for the Poetry Archive. Her 'New and Collected' children's poems Stars in Jars was published by Bloomsbury in 2014. Chrissie was a finalist in the first Manchester Children's Literature Prize 2014 with a portfolio of new poems.
She has read her poetry on BBCR4 and at the StAnza, Hay, Aldeburgh, Ledbury, Ilkley, Edinburgh, Southwell, Huddersfield, Torbay, Wigtown, Wenlock, West Cork, Highland, Shetland and Belfast festivals, and at the Manchester Children's Book Festival. She has also read her poetry at venues including the Royal Festival Hall, the British Council Bangkok, Keats' House, Newcastle and Oxford Universities, the Troubadour, and the Poets House, Bowery and Cornelia Street Cafe in New York.
Chrissie's short stories have won prizes, and been published in The Guardian, Horizon Review, The London Magazine, Litro, The Lampeter Review, Unthology 6 and in several other anthologies; five have been read on BBC Radio 4 by actors including Anne Reid, Stephanie Cole and Penelope Wilton. Her stories were highly commended by Ali Smith in the New Writing Ventures Awards. 
Chrissie's short story collection is Family Connections (Salt, 2007); 'most of them carry an insidiously discomforting charge', Nicholas Clee, The Guardian. She has read her stories at Newcastle and Salford Universities, the Whitechapel Gallery, Manchester Central Library, Lancaster Litfest, Foyle's Bookshop, the Edinburgh International Book Festival and on BBC Radio 4. Her second collection Between Here and Knitwear was published by Unthank Books in November 2015.
Her plays for BBC Radio 4 include Poles Apart (starring Bernard Cribbins), Starved for Love (starring Patricia Routledge), Life Assurance (starring Sorcha Cusack), and Dinner in the Iguanodon. 
Chrissie's residencies have included Maidstone Borough Council, twelve
Southwark primary schools, Croydon Libraries, the Refugee Council, Bangkok Patana School and Belmarsh Prison. Chrissie was resident writer on Shetland in September 2010 and May 2013. In 2010 she was appointed as the first honorary Writer-in-Residence in Lewisham. She tutors for the Arvon Foundation and has run workshops for the NAWE/Writing Together Research Project, The Write Team (Bath Festivals), Authors Abroad, Authors Aloud, and the Northern Children's Book Festival. She is a member of the Poetry Society's Poetryclass team.
Chrissie is a Hawthornden Fellow, she has received two Arts Council Grants for the Arts, and awards from the Royal Literary Fund and the Author's Foundation. 
Bibliography
2016
Adder, Bluebell, Lobster
2015
Between Here and Knitwear
2013
Professor Heger's Daughter
2009
I'll Dress One Night As You
2006
I Don't Want an Avocado for an Uncle
2002
Now You See Me, Now You Don't
1998
The Listening Station
Awards
2016
Society of Authors' Authors' Foundation Award
2014
2014 Manchester Writing for Children Prize (Poetry) finalist
2007
Society of Authors Foundation Fund Writers' Award
2005
Arts Council Writers' Award
2002
Belmont Poetry Prize
2002
Belmont Poetry Prize
2002
Biscuit Fiction Short Story Competition
2002
Ottakar's & Faber National Poetry Day Competition
2001
Hawthornden Fellowship
1996
ICA New Blood Short Story Competition
1996
Yorkshire Open Poetry Competition
1994
Poetry News Competition