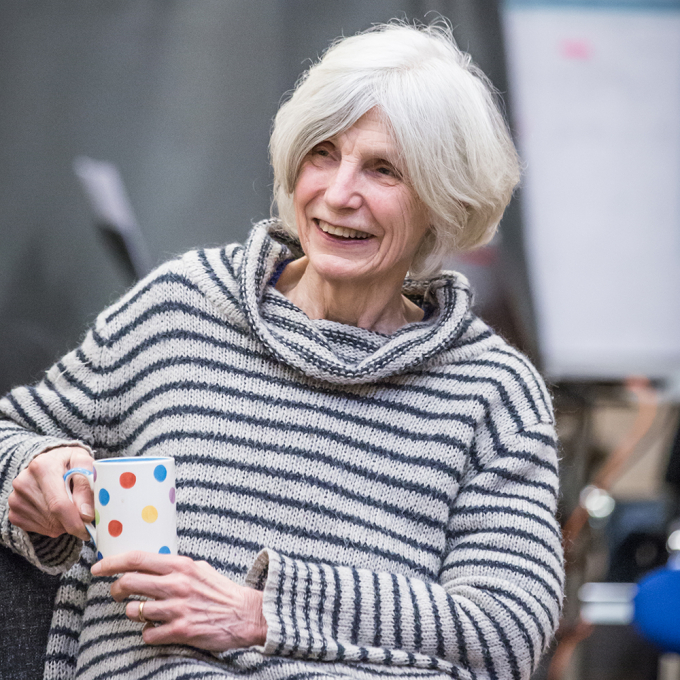 Caryl Churchill
Publishers:
Biography
Playwright Caryl Churchill was born on 3 September 1938 in London and grew up in the Lake District and in Montreal. She was educated at Lady Margaret Hall, Oxford, where she read English. Downstairs, her first play, was written while she was still at university, and was first staged in 1958, winning an award at the Sunday Times National Union of Students Drama Festival. She wrote a number of plays for BBC radio including The Ants (1962), Lovesick (1967) and Abortive (1971). The Judge's Wife was televised by the BBC in 1972 and Owners, her first professional stage production, premiered at the Royal Court Theatre in London in the same year.

She was Resident Dramatist at the Royal Court (1974-5) and spent much of the 1970s and 1980s working with the theatre groups 'Joint Stock' and 'Monstrous Regiment'. Her work during this period includes Light Shining in Buckinghamshire (1976), Cloud Nine (1979), Fen (1983) and A Mouthful of Birds (1986), written with David Lan. Three More Sleepless Nights was first produced at the Soho Poly, London, in 1980.

Top Girls (1982) brings together five historical female characters at a dinner party in a London restaurant given by Marlene, the new managing director of 'Top Girls' employment agency. The play was first staged at the Royal Court in 1982, directed by Max Stafford-Clark, and transferred to Joseph Papp's Public Theatre in New York later that year. Serious Money was first produced at the Royal Court in 1987 and won the Evening Standard Award for Best Comedy of the Year and the Laurence Olivier/BBC Award for Best New Play. More recent plays include Mad Forest (1990), written after a visit to Romania, and The Skriker (1994). Her plays for television include The After Dinner Joke (1978) and Crimes (1982). Far Away premiered at the Royal Court in 2000, directed by Stephen Daldry. She has also published a new translation of Seneca's Thyestes (2001), and A Number (2002), which addresses the subject of human cloning. Her new version of August Strindberg's A Dream Play (2005), premiered at the National Theatre in 2005. Her plays since then have included Seven Jewish Children - a play for Gaza (2009), Love and Information (2012), Ding Dong the Wicked (2013), Here We Go (2015) and Escaped Alone (2016).
Caryl Churchill lives in London. Her latest plays are Escaped Alone (2016), which premiered at the Royal Court Theatre in January 2016, and Glass. Kill. Bluebeard. Imp. (2019), a quartet of plays to be performed together.
Critical perspective
For more than thirty years, Caryl Churchill has been combining social commitment with theatrical experimentation.
Rarely in modern British drama has the combination been so fruitful. Her play-writing career began in radio in the 1960s, encompasses numerous acclaimed stage plays, and from the 1990s, has moved more and more into a mixed theatre of text, dance, and music. In other words, Churchill has traversed the dramatic spectrum, from word and sound alone in her radio plays, to a greater and greater emphasis on space and movement in her more recent work.

What themes, then, run across this tremendously varied oeuvre? Churchill's dramaturgy is above all the staging of desire, and more particularly the desires of those members of society who are least able to realise them. These desires are sometimes erotic, they are almost always political. They are desires which social and political structures are unwilling to accommodate - the desires of the oppressed, and most often, of women. The drama is in the thwarting of desire, the betrayal, in Light Shining in Buckinghamshire (1978), of the utopian hopes of the Ranters and Levellers by the Cromwellian party during the English Civil War and, in Mad Forest (1990), the similar sense of incomplete revolution after the overthrow of the Romanian dictator Ceausescu in 1989. The longing for a different relation between the sexes is expressed with some optimism in Vinegar Tom (1978) and Cloud Nine (1979), but with less assuredness in Top Girls (1982) and Fen (1983).
Always with Churchill there is the sense that exorbitant, utopian desires must be explored, but at the same time a recognition of the obstacles they come up against. Perhaps as a result of this frustration, many of her plays stage a near frenzy of anti-social passion: A Mouthful of Birds (1986), inspired by Euripides' Bacchae, takes as its theme possession by spirits; Serious Money (1987), commercially and critically one of Churchill's most successful plays, satirises the ferociously Bacchanalian behaviour of stockbrokers and City traders; Lives of the Great Poisoners (1998) charts in song and dance the murderous paths of four prisoners from different epochs; and the title character in The Skriker (1994) is a sort of wish-granting demon who alternately satisfies and torments two teenage girls.

Churchill is often thought of as a playwright who writes on historical themes, but among her stage plays this is only really the case for a series of pieces produced between the mid-1970s and mid-1980s. The sequence begins with Vinegar Tom and Light Shining in Buckinghamshire, two plays set in seventeenth-century England, but with resonances with the present. Making extensive use of documentary material, both plays tackle historical subjects that have a high profile in the popular imagination of history - the persecution of witches and the English Civil War - and both challenge popular perceptions of these events. Just as in Arthur Miller's The Crucible, the persecution of witches in Vinegar Tom is seen as a convenient displacement of other social issues. Unlike Miller's version, which paints women as treacherous accusers, Churchill's feminist revision emphasises how so-called witches were punished precisely because they were women: women 'on the edges of society, old, poor, single, sexually unconventional'. Light Shining, meanwhile, reminds its audience of the radicality of those 'left of Parliament' who were the real losers in the Civil War. Neither play has a central protagonist or hero(ine), because Churchill is less concerned with portraying the fate of individuals, than with that of groups. There are clear parallels in both plays with Fen, a play set in contemporary East Anglia which dramatises the circumstances of a largely female agricultural workforce who, unlike the characters in Light Shining, have no 'revolutionary belief in the millennium' to stoke their political energies.

Churchill's next two 'historical' plays, Cloud Nine and Top Girls, are among her most frequently stage and commented upon plays, possibly because of the freely anachronistic methods they use to make theatrical points. Cloud Nine asks how much attitudes to sexual behaviour have changed between 1879 and 1979. One act is devoted to each epoch - imperial Africa and modern London - with the same characters appearing in both, having aged just twenty-five years for the second act. While the rigidly patriarchal arrangements of the Victorian era have been loosened, Churchill suggests that we would be foolish to assume that our 'liberated' era is without its prejudices and power arrangements. Top Girls, meanwhile, abandons any claims to historical accuracy by bringing together in its opening scene five women from very different historical periods and cultural backgrounds in order to celebrate the promotion of a modern woman, Marlene. The dinner party, a theatrical tour de force, celebrates the achievements and struggles of the six women and ends in drunken mayhem. The rest of the play, set in the present, questions the celebration of the first scene by examining the fate of under-educated, labouring women left in the wake of the Thatcherite individualism that enabled Marlene's success. Completing Churchill's quintet of historical plays is Softcops (written 1978, produced 1984), a reflection on changes in the handling of criminality during the eighteenth and nineteenth centuries, whose macabre humour is reminiscent of Churchill's first professionally staged play, the dark comedy Owners (1973).

Like many of her generation influenced by Brecht, Churchill eschews suspenseful plotting, favouring instead an episodic approach to storytelling. Her plays, then, tend to be constructed from many loosely connected scenes which do not necessarily 'join up' seamlessly with each other, but rather build up, through patterning, a general picture. In this way, Churchill's audiences are encouraged, in Brecht's words, to have their 'eyes on the course' and not 'on the finish'. One particularly 'Churchillian' strategy in plotting is the juxtaposition of two radically discontinuous theatrical worlds. This technique is employed in Cloud Nine with the clash between 1879 and 1979, as well as Top Girls, where the extraordinary fantasy of the dinner party contrasts starkly with the ordinary world of the workplace and the home. This 'contrapuntal' structure is also employed to varying degrees in Traps (1978), Hotel (1997) and Far Away (2000), but perhaps most strikingly in Blue Heart (1997). Blue Heart consists, in fact, of two short plays, 'Heart's Desire' and 'Blue Kettle'. In the first playlet, the long-anticipated return of a daughter from Australia by her parents and aunt is rehearsed over and over with slightly different variations and outcomes, while in the second half, forty year-old Derek convinces a series of elderly women that he is the son they gave up for adoption, with the complication that, as the playlet goes on, the words 'Blue' and Kettle' begin to replace the words the characters speak, just as Derek has substituted himself for the women's real sons. The link between the two halves is at once visual - the blue kettle which appears on stage in 'Heart's Desire' - and thematic (both halves deal with the passion between parent and child). By not always making explicit what connections exist between the two parts of such contrapuntal plays, Churchill opens up a space of interrogation and uncertainty which the audience must occupy.

'Counterpoint' is of course a term from music, and it is significant that in recent years Churchill has turned more and more to a theatre which incorporates music and especially dance. The exploitation of dance can be seen in Blue Heart, even though that play does not technically speaking make use of dance. The repetition, with slight variations and at different paces, of the same movements again and again in 'Heart's Desire' allows us to see such supposedly mundane activities as putting on a cardigan, opening and shutting a fridge, and setting a table as highly choreographed movements. And just as 'Heart's Desire' demonstrates the intense work of the body internal to any stage activity, so 'Blue Kettle', by stripping the stage of comprehensible language, shows how the theatre can in fact, like dance, do without language.

Churchill's turn to music and dance theatre has, naturally, involved collaboration with choreographers and composers, so that her work is becoming more and more a collective enterprise. Among her regular collaborators are Ian Spink, on A Mouthful of Birds, Lives of the Great Poisoners, The Skriker, and Hotel; and Orlando Gough, on Lives of the Great Posioners and Hotel. However, Churchill's involvement in collective work began much earlier, and she is always quick to acknowledge the participation of others in the productions and printed plays, which bear her name. Vinegar Tom emerged out of workshops with Monstrous Regiment, the feminist theatre group which staged it, and many of her plays are the product of collaboration with director Max Stafford-Clark and/or Joint Stock theatre company (latterly Out of Joint): Light Shining in Buckinghamshire, Cloud Nine, Top Girls, Fen, Serious Money, A Mouthful of Birds, Ice Cream (1989), and Blue Heart. In her introduction to Vinegar Tom, Churchill generously explains how first working with Monstrous Regiment and Joint Stock in 1976 transformed her as a playwright: 'Though I still wanted to write alone sometimes, my attitude to myself, my work and others had been basically and permanently changed.' 
Dr Peter Buse, 2003
For an in-depth critical overview see Caryl Churchill 2nd edition by Elaine Aston (Northcote House, 2001: Writers and their Work Series).
Bibliography
2019
Glass. Kill. Bluebeard. Imp.
2013
Ding Dong the Wicked
2012
Love and Information
2009
Seven Jewish Children – a play for Gaza
2008
Bliss/Olivier Choinire
2006
Drunk Enough to say I Love You?
1993
Lives of the Great Poisoners
1990
Mad Forest: a Play from Romania
1985
Plays by Women Volume 4
1978
Light Shining in Buckinghamshire
Awards
2010
Inducted into the American Theater Hall of Fame
2001
Obie Sustained Achievement Award
1988
Laurence Olivier/BBC Award for Best New Play
1987
Evening Standard Award for Best Comedy of the Year
1987
Evening Standard Award for Best Comedy of the Year
1987
Obie Award for Best New Play
1987
Susan Smith Blackburn Prize
1984
Susan Smith Blackburn Prize
1983
Susan Smith Blackburn Prize
1982
Obie Award for Playwriting
1981
Obie Award for Playwriting
1961
Richard Hillary Memorial Prize
1958
Sunday Times/National Union of Students Drama Festival Award