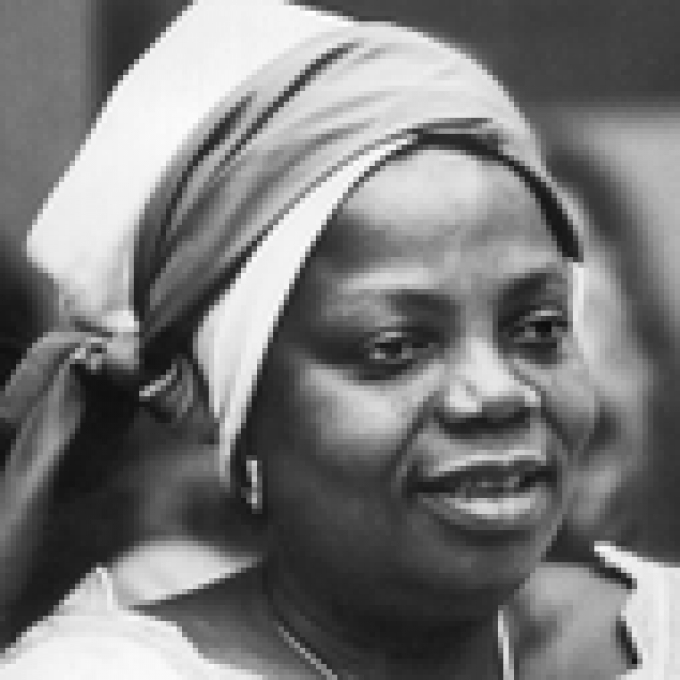 Buchi Emecheta
Publishers:
Biography
Nigerian writer Buchi Emecheta was born to Ibo parents in Lagos on 21 July 1944. She moved to Britain in 1960, where she worked as a librarian and became a student at London University in 1970, reading Sociology. She worked as a community worker in Camden, North London, between 1976 and 1978.
Much of her fiction has focused on sexual politics and racial prejudice, and is based on her own experiences as both a single parent and a black woman living in Britain. Her first novel, the semi-autobiographical In the Ditch, was published in 1972. It first appeared in a series of articles published in the New Statesman magazine, and, together with its sequel, Second Class Citizen (1974), provides a fictionalised portrait of a poor young Nigerian woman struggling to bring up her children in London. She began to write about the role of women in Nigerian society in The Bride Price (1976); The Slave Girl (1977), winner of the New Statesman Jock Campbell Award; and The Joys of Motherhood (1979), an account of women's experiences bringing up children in the face of changing values in traditional Ibo society.
Her other novels include Destination Biafra (1982), set during the civil war in Nigeria; The Rape of Shavi (1983), an allegorical account of European colonisation in Africa; Gwendolen (1989), the story of a young West Indian girl living in London; and Kehinde (1994), about a middle-aged Nigerian wife and mother who returns to Nigeria after living in London for many years. Her final work of fiction, The New Tribe, was published in 2000.
Buchi Emecheta is also the author of several novels for children, including Nowhere to Play (1980) and The Moonlight Bride (1980). She published a volume of autobiography, Head Above Water, in 1986. Her television play, A Kind of Marriage, was first screened by the BBC in 1976. In 1983 she was selected as one of twenty 'Best of Young British Writers' by the Book Marketing Council. She lectured in the United States throughout 1979 as Visiting Professor at a number of universities and returned to Nigeria in 1980 as Senior Research Fellow and Visiting Professor of English at the University of Calabar.
She ran the Ogwugwu Afor Publishing Company with her son and was  a member of the Home Secretary's Advisory Council on Race. She was a member of the Arts Council from 1982 to 1983, and was a regular contributor to the New Statesman, the Times Literary Supplement and The Guardian. Buchi Emecheta died in 2017.
Critical perspective
Emecheta's writings document the author's multi-layered yet intersecting identities: the diasporic single woman, the sociologist observing grim urban realities, the best-selling novelist, the narrator of African myths and traditions that clash against modernization, the re-creator of her continent's enslaved traumatic historical past.
The varied interests that converge in these identities contribute to confer to Emecheta's fiction and essays the social and political responsibility of countering the stereotypes to which black people are still subjected and of challenging the subaltern status of black women both within their own race and in the larger society. Emecheta's attention to gender and racial difference is therefore always coupled with her investigation of how this overlaps with education, poverty and enslavement in women's quest towards self-determination and empowerment. Because of this concern for the self-characterization of black women, Emecheta prefers the term "womanist" to "feminist" to describe her fiction.
The characterization of Adah as a "second-class citizen", the definition which also gives Emecheta's second novel its title, illustrates the author's thorough exploration of gender discrimination in her native Nigerian society and in African immigrant communities in Britain. Like the majority of women in Emecheta's works, Adah is a second class citizen in Nigeria where her parents initially deny her a proper education and arrange her marriage. She is equally second-class in England both because she is black ("She knew that there was discrimination all over the place") and because the Nigerian diasporic community replicates the patriarchal values of the mother country. Yet, in spite of her second-class status, Adah engages in a tenacious struggle for freedom and self-achievement which ultimately allows her to improve her situation through education. The female protagonists of Emecheta's fiction challenge the masculinist assumption that they should be defined as domestic properties whose value resides in their ability to bear children and in their willingness to remain confined at home.
Initiative and determination become the distinguishing marks of Emecheta's women. They are resourceful and turn adverse conditions into their triumph, yet men are characterized as lazy and passive. While, at the end of Second-Class Citizen, Adah has become conscious of her potential and supports her children alone, her husband Francis keeps failing his university exams and is still jobless. Adah's ability to come out of the ditch where her marriage has thrown her, is paralleled by Emecheta's own progress as a writer which she details in her autobiography Head Above Water (1986). The book subverts the common notion of domesticity by calling attention in its conclusion that a public life does not necessarily compromise a woman's attachment to her family. Significantly, Emecheta's rise to the status of a full-time, professional writer coincides with her purchasing her own house.
In the Ditch (1972), Second-Class Citizen (1974), Gwendolen (1989) and Kehinde (1994) explore the lives of African women in British society; Emecheta's other novels such as The Bride Price (1976), The Slave Girl (1977), The Joys of Motherhood (1979), whose title is clearly ironic, Destination Biafra (1982), and Double Yoke (1982) take place in Africa at different yet equally crucial historical moments. In spite of the different locale, they still stress Emecheta's main thesis that women have to struggle to succeed in an exploitative patriarchal society. The Slave Girl, set at the beginning of the twentieth century, goes as far as using slavery as a universal condition for women in Nigeria. As Chikwenye Okonjo Ogunyemi has pointed out, the slave girl becomes the leitmotif of Emecheta's fiction, "the archetypal African woman buried alive under the heavy yoke of traditional mores and customs." The Slave Girl equates the institutions of slavery and marriage by exploring the condition of Ojebeta, its heroine, first as a slave and then as a wife. Her new freed status is described simply as a change of masters. The novel also functions as a powerful indictment of Britain's colonial and imperialist past, challenging the concept that colonialism had a civilizing mission. On the contrary, the novel argues that the British Empire encouraged and thrived on slavery and the imperial patriarchal system of oppression survived the abolition of slavery. Britain's civilizing mission did nothing to improve the condition of African women.
The relationship between Africa and the West is also the subject of The Rape of Shavi (1983), Emecheta's most unusual work, which takes the author's interest in race relation to almost fantasy/science-fiction overtones. The arrival of a group of Europeans fleeing from nuclear holocaust in the fictional African kingdom of Shavi is the fictional pretext to investigate the infringement of African culture and customs through Western intrusion. The violence implied in the title has therefore a more collective and metaphoric meaning than in other Emecheta's works, as en entire country rather than a single woman is raped.
Emecheta's fiction, like many other post-colonial texts, is deeply rooted in the contrasting senses of place and displacement. Several of her characters are concerned with the development or recovery of an effective relationship between their selves and the place where they live or where they were born. Emecheta's protagonists are often caught between two worlds to neither of which they fully belong. Their sense of self may have been challenged by dislocation resulting from migration, yet the return to the homeland is described as an emotional crisis in Double Yoke, Kehinde and The New Tribe (2000), a most atypical Emecheta's novel in its focus on Chester, a Nigerian male adolescent adopted by a white English couple. The return to Africa signifies the end of Chester's nostalgic dream to reclaim its African kingdom and brings him into contact with Nigeria's harsh reality of social and political chaos. Tellingly, at the end of the novel, Chester is reunited with his adoptive family and his fiancée Esther, who had warned him before he embarked on his expedition: "You don't seem ready to accept reality . . . We don't belong in Africa, we're British. Black British maybe, but this is our home now." To Esther, Chester's idea to leave for Africa is like "chasing a dream".
Emecheta's characterization of her books as being about "survival . . . just like [her] own life," calls attention to the autobiographical element that pervades them. Throughout her prolific literary activity, Emecheta has reproduced her struggle against the social, economic and cultural forces that, according to her, lead to the exploitation of black women. Yet, the attempt to translate personal experience into a sociological interpretation of African womanhood, particularly in her first novels, has proved problematic to some critics. The heavy reliance of the novelist's first works on autobiographical elements is thought as compromising an unbiased character analysis. In spite of her denunciation of the Western rape of Africa, Emecheta has been faulted for her attitude of offering herself as a model for all African women and for her adoption of seemingly Eurocentric standards in her investigation of African patriarchy and her representations of African males. Yet, this challenge to Emecheta's work is not entirely fair. Her later novels, such as The Joys of Motherhood and Kehinde, show more sophisticated narrative techniques and a more complex and contradictory sense of African heritage. What emerges from Emecheta's writings is neither a definite embracement nor a rejection of African customs. As far as it is nurturing to women, traditional heritage is celebrated, while damaging prejudices and superstitions are challenged.
Luca Prono 2013
Bibliography
1989
Gwendolen (The Family)
1979
The Joys of Motherhood
1974
Second Class Citizen