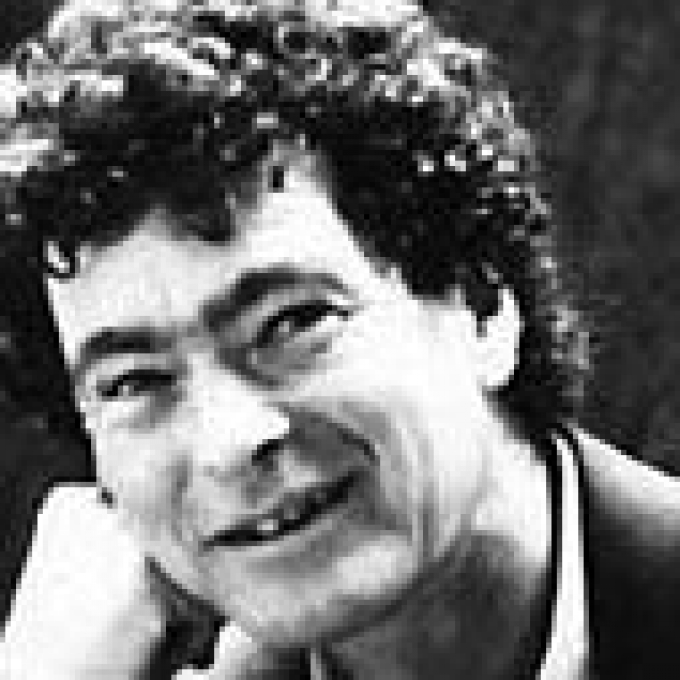 Brian Patten
Publishers:
Agents:
Biography
Brian Patten made his name in the 1960s as one of the Liverpool Poets, alongside Adrian Henri and Roger McGough.
Their main aim was to make poetry immediate and accessible for their audience, and their joint anthology, The Mersey Sound (1967), has been credited as the most significant anthology of the twentieth century for its success in bringing poetry to new audiences. Brian Patten's individual strength within this trio lay in his ability to write and perform a powerful mix of serious and humorous work. His poems have since been translated into many European languages.
Patten was born in 1946 in Liverpool, and grew up in the docklands. He left school at fifteen, becoming a cub-reporter on The Bootle Times, with responsibility for writing the popular music column. One of his first pieces included a report about McGough and Henri. This led on to him producing and editing the magazine Underdog, which gave a platform to the underground poets in Liverpool at that time.His own work came fully to public attention with the publication of Little Johnny's Confession in 1967, when he was twenty-one years old. Since then he has written several adult poetry collections, including Vanishing Trick (1976) and Love Poems (1981), which deal with the trials and tribulations of love; Storm Damage (1988); and Armada (1996), which includes some of his most striking poems, focusing on the death of his mother and his memories of childhood. He is also well-known for his best-selling poetry collections for children, most famously Gargling with Jelly: A Collection of Poems (1985) and Juggling with Gerbils (2000). His collection for children, The Blue and Green Ark: An Alphabet for Planet Earth (1999), won a Cholmondeley Award in 2002. He has also written a novel for children, Mr Moon's Last Case (1975), which won an award from the Mystery Writers of America Guild.
Brian Patten also edits poetry anthologies, most notably The Puffin Book of Utterly Brilliant Poetry (1998), with Adrian Henri and Roger McGough, and The Puffin Book of Twentieth-Century Children's Verse (1991). He wanted the latter to be a modern version of a particular neighbour's living room he visited in childhood, which had a lasting effect : ' ... a vast coffee-scented cavern in which there were forests to get lost in, and oceans in which mermaids might drown.' Brian Patten's latest books are The Story Giant (2001), which contains ghost stories, fables and morality tales for both adults and children, and Ben's Magic Telescope (2003) - a picture book for children. His life story as one of the three Liverpool poets is told by Phil Bowen in A Gallery To Play To: the story of The Mersey Poets (Stride: 1999), and a critical study of his work, Brian Patten, was published by Northcote House in 1997. He lives between London and Devon and has been honoured with the Freedom of the City of Liverpool.
Brian Patten's Selected Poems and Collected Love Poems were published in 2007.
In 2008 he contributed to a fiction collection The Book of Liverpool: A City in Short Fiction.
Critical perspective
Brian Patten is a popular poet and performer, equally successful in his parallel career as a children's author.
In many ways, his books for adults and children have much in common: his 'adult' collection Grave Gossip (1979), for instance, has poems about Brer Rabbit, and a fable-like tale 'The Mule's Favourite Dream'. Fantasy, childhood and the vagaries of romantic love have always been his favoured subjects, from Little Johnny's Confession (1967) to an outstanding volume of selected Love Poems (1981), with a marked elegiac sense of the passing of time, and ecological destruction. As a writer of poems for children, Patten's talent for inspired whimsy, silly puns ('Lettuce Pray') and deft rhymes makes him the current successor to Spike Milligan, or even Edward Lear (witness Patten's many fantastic invented animals such as 'The Silly Sipospark' and 'The Moggitflew'). The problem side of childhood is reflected in poems addressing issues of literacy and bullying. But he also enters into the anarchy of their imaginative world with a great sense of fun, humorously surreal views of school and family life. As well as his own best-selling children's collections, notably Gargling with Jelly (1985), Patten has encouraged the love of reading with anthologies including The Puffin Book of Utterly Brilliant Poetry (1985).
During the 1960s and subsequently, as one of  'The Liverpool Poets' with his friends Adrian Henri and Roger McGough, Patten did much to change the nature of poetry readings in Britain, making them a non-academic, genuinely popular attraction. Their association had its origins in Patten's little magazine Underdog in Liverpool (already one of the most culturally vibrant cities in the world, thanks to The Beatles). They set out to entertain, with highly personal, accessible, playfully humorous, and surreal poetry, full of references to the then-burgeoning pop culture, sex and drugs. In doing so, they were influenced by the American 'Beat' poets (Patten's work certainly stands comparison with, say, Gregory Corso's) and were early examples of what would now be called 'Performance Poets'. By the time of their appearance in the influential Penguin Modern Poets series with The Mersey Sound (1967), Patten's own first collection, Little Johnny's Confession, had established his individual voice. 'Little Johnny', hero of several early poems, is an absconding schoolboy, 'the Humphrey Bogart of Innocence', who sits alone in a strange playground 'with eyes as big as planets / whose dreams do not collide / with any forms of teaching / with any form of lies'. This identification with the disaffected child's eye view became a marked characteristic. Others are romantic regrets ('Song for Last Year's Wife'), and literary parodies, 'Do you wear a Mary Quant dress? / …. So, come into the city, Maud' ('Maud, 1965').
Two years later, in Notes to the Hurrying Man: Poems, Winter '66-Summer '68 (1969), there's less exuberance. Love can be 'the bruised shape we pick / from now freezing orchards' ('Diary Poem'), and 'it is evident by the rain gathering in your eyes / how easily our loving has translated into pain' ('The Translation'). Romantic love in all its aspects has indeed provided Patten with a rich vein of material over the years, and many lovers walk through his pages. His ever-popular volume of Love Poems progresses from infatuation to seduction, rapture to regrets. By Storm Damage (1988), Patten has become more satirical, admitting that 'the face you swore never to forget / Can no longer be remembered'. 'The Cynic's Only Love Poem' reads, in its entirety: 'Love comes and goes / And often it has paused, / Then comes back to see / The damage it has caused'. He writes in Storm Damage with some venom also about politics, religion, high finance ('Blood Broker') and the betrayal of the 1960s' ideals. But by then Patten's work had long begun its evolution towards children, arguably beginning in the early 1970s with two short prose works: Jumping Mouse (1972), an illustrated fable (based on a Native American folktale) about a mouse who learns lessons about life from the animals he meets on his travels, and a fantasy novella, Mr. Moon's Last Case (1975). The latter depicts, in simple but effective prose, a dwarf's odyssey in Wales, and manages to be oddly poignant. Nameon's encounters with the baffled locals and modern technology are interspersed with episodes with a sympathetic tramp, a lorry driver, and some nasty, greedy children. He is also being doggedly pursued, by a retired detective 'who still believes in fairyland'.
The fully illustrated Gargling with Jelly is still his best and most popular children's poetry book, with a fast-moving cast of nose-picking children, cartoon heroes ('Billy Dreamer's Fantastic Friends'), 'Groan-Ups', fantastical creatures, 'Five Nasty Goblins', and a jealous mermaid. School and family life is its mainstay, using generally short, simple rhyming forms. The fun of 'Mum won't Let Me Keep a Rabbit' contrasts with 'Burying the Dog in the Garden' ('We were all / seven. / We decided we / did not want to / go to Heaven').  Very funny and surreal, too, at times: as in a poem about a child who becomes invisible, 'Cousin Lesley's See-through Stomach': 'In the morning we often noted / How the toast and porridge floated, / And how unappetizing in the light / Was the curry from last night'. 'The Bee's Last Journey to the Rose' hits a lovely elegiac note:  'I'm old in this green ocean. / Going a final time to the rose'. Thawing Frozen Frogs (1990) is much in the same vein, full of fantasies ('The teachercreature' and 'The Family Exchange') and exuberant scenes at home ('The Race to Get to Sleep'). There are more serious poems, as with a child's problems with speech and language ('Aphasia'), and a number have ecology as their moral ('Acid Snow Drops' and 'The River's Story').
Juggling with Gerbils (2000) has some of his best poems about animals ('Tiger Shadows'), and weird creatures, 'Three Frazzles in a Frimple' and 'The Mysterious Smirkle'. Anarchy rules in 'Our Sister, the Mad Scientist', and the sentimental in a poem about his dancing granny. Overt morals are pointed out through 'The Word Spoken in Haste', and 'Mr. Ifonly'. Patten's typically sympathetic view of disturbed children ('the bottled-up pain inside him / was like a mad genie') is at work in 'The Boy Who Broke Things'. As in his adult collection, Armada (1996), there are fine poems about the past and memories of his late mother: 'Bring the scents of my childhood to haunt me: / The smell of privet hedges, / The tang of an estuary. / The scent of my mother's dress'. He pays tribute to past masters of children's writing in 'The Famous Five' and 'Mr. Dahl Supping Soup'. 'Reading the Classics' sums up the attractions of such books, and insists: 'Though Time's a thief it cannot thieve / One page from the world of make-believe'. However, Patten's finest poems simply dissolve distinctions between those for children and adults, with beautifully simple observations: 'light receded from the hedgerows / Like a tide carrying on its hunched back / The flotsam of birdsong' ('Trees in the Storm').
Dr Jules Smith, 2003
For an in-depth critical overview see Brian Patten by Linda Cookson (Northcote House, 1997: Writers and their Work Series).
Bibliography
2008
A Book of Liverpool: A City in Short Fiction
2007
Collected Love Poems
2003
Ben's Magic Telescope
2000
The Impossible Parents Go Green
2000
Juggling with Gerbils
2000
The Walker Book of Funny Stories
1999
Beowulf and the Monster
1999
The Blue and Green Ark: An Alphabet for Planet Earth
1999
Five Finger-Piglets: Poems
1999
The Puffin Twentieth-Century Collection of Verse
1998
The Puffin Book of Utterly Brilliant Poetry
1997
Another Day on Your Foot and I Would Have Died
1992
Grizelda Frizzle and Other Stories
1991
The Puffin Book of Twentieth Century Children's Verse
1990
A Year of Mouse Poems
1990
Grinning Jack: Selected Poems
1990
Thawing Frozen Frogs
1990
Puffin Portable Poets
1985
Gargling with Jelly: A Collection of Poems
1983
New Volume: The Penguin Poets
1981
Clare's Countryside: A Book on John Clare
1981
Gangsters, Ghosts and Dragon Flies: A Book of Story Poems
1977
The Sly Cormorant and the Fishes: New Adaptations intro Poetry of the Aesop Fables
1977
The Oxford Book of 20th Century English Verse
1975
Mr. Moon's Last Case
1973
The House That Jack Built: Poems for Shelter
1973
The Unreliable Nightingale
1972
The Eminent Professors and the Nature of Poetry as Enacted Out by Members of the Poetry Seminar One Rainy Evening
1972
Double Image: Five Poems by Michael Baldwin, John Fairfax and Brian Patten
1972
And Sometimes it Happens
1971
Walking Out: The Early Poems of Brian Patten