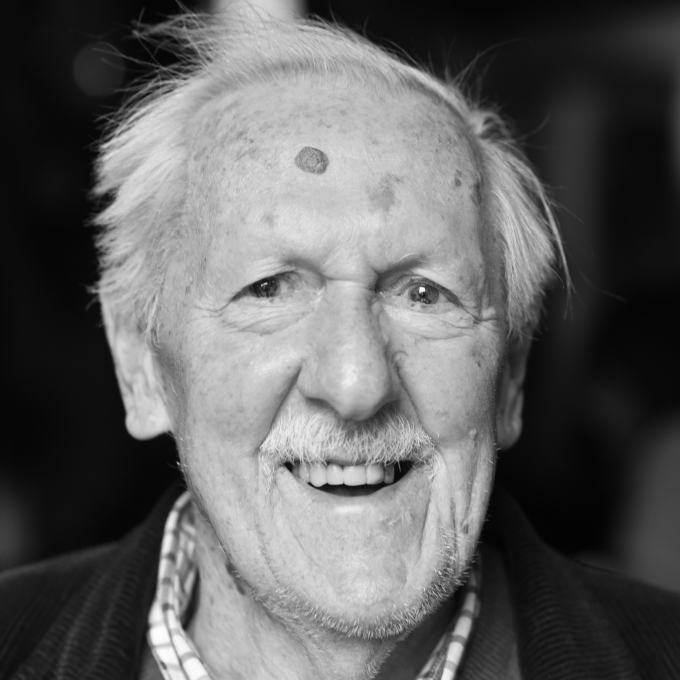 Brian Aldiss
Publishers:
Agents:
Biography
Poet, playwright, critic, fiction and science-fiction writer Brian W(ilson) Aldiss was born on 18 August 1925 in Dereham, Norfolk, and is the author of more than 75 books. He died in August 2017. 
He was educated at Framlingham College, Suffolk, and West Buckland School, Devon, and served in the Royal Signals between 1943 and 1947. After leaving the army, Aldiss worked as a bookseller in Oxford for almost a decade. This experience  provided the setting for his first book, The Brightfount Diaries (1955), a volume of short stories. His first science fiction novel, Non-Stop, was published in 1958 while he was working as literary editor of the Oxford Mail, a post he held between 1958 and 1969. His many prize-winning science fiction titles include Hothouse (1962), which won the Hugo Award, The Saliva Tree (1966), which was awarded the Nebula, and Helliconia Spring (1982), which won both the British Science Fiction Association Award and the John W. Campbell Memorial Award. He edited SF Horizons: A Magazine of Criticism and Comment with his friend, the science fiction novelist Harry Harrison, and he has edited numerous anthologies, including Introducing SF: A Science Fiction Anthology (1964). He has also written science fiction criticism, most recently, The Detached Retina: Aspects of SF and Fantasy (1995), as well as introductions to classic novels including Mary Shelley's The Last Man (1983). Brian Aldiss's autobiographical fiction includes The Hand-Reared Boy (1970) and A Soldier Erect (1971), and he has also written three volumes of autobiography, Bury My Heart at W. H. Smith's: A Writing Life (1990), The Twinkling of an Eye or My Life as an Englishman (1998) and When the Feast is Finished (1999). He is the author of several poetry collections, including Home Life with Cats (1992); A Plutonian Monologue on His Wife's Death (2000) and A Prehistory of Mind (2008). Several of his books, including Frankenstein Unbound (filmed 1990), have been adapted for the cinema. His story, 'Supertoys Last All Summer Long', was adapted and released as the film AI in 2001. His book Jocasta (2005), is a reworking of Sophocles' classic Theban plays, Oedipus Rex and Antigone.
Cultural Breaks (2006), published to coincide with his eightieth birthday, is a collection of short fictions which includes commentaries on his work by his peers. In 2011, a selection of his poetry, Mortal Morning, was published. His latest novels are Walcot (2009) and Comfort Zone (2013) and his is currently working on a long novel set in Russia in the eighteenth century. His publishers, Harper Voyager, will soon be reprinting everything Aldiss wrote in the sixties, along with a collection of stories written in his teenage years, Whip Donovan,  to celebrate his ninetieth birthday. 
Brian Aldiss is the recipient of numerous international awards for science-fiction writing including a Kurd Lasswitz Award (Germany) and a Prix Jules Verne (Sweden). He lives in Oxford and was awarded an OBE in 2005 for Services to Literature.
Critical perspective
Brian Aldiss is the doyen of British science fiction writers, and arguably its most influential ever figure. Emerging during the late 1950s as part of the so-called 'New Wave' (alongside Michael Moorcock, Harry Harrison and J.G. Ballard), he has gone on to be enormously prolific, having thus far published more than 40 novels and novellas, many volumes of short stories, non-fiction works and memoirs, in addition to editing numerous anthologies of science fiction, notably Billion Year Spree (1973, revised 1986).
His is an undeniably 'poetic' approach to the genre; he has always written poems, and recently published Mortal Morning (2011), a collection of deeply personal poetry that also reveals the breadth of his interests, from sci-fi landscapes to responses to painters Gauguin, Kandinsky and Francis Bacon.
Aldiss has argued science fiction's origins from Mary Shelley's 1818 novel, Frankenstein. He summarises the genre as "a search for a definition of man and his status in the universe", and its most essential plot as "hubris clobbered by nemesis". In his autobiography The Twinkling of an Eye or My Life As An Englishman (1998), Aldiss traces his own fascination with mankind's future destiny and space travel to his reading of magazines Fantasy, Amazing Tales and Nebula, as well as the works of Olaf Stapledon, H.G. Wells and Robert Heinlein.
Aldiss's short stories rank with the best of the genre. 'T' concerns a deadly machine moving backwards in time to destroy the Earth before life can start – only to misread its cosmic map. 'Visiting Amoeba' describes a new species of mankind confronting the old. Most celebrated of all is the poignant 'Super Toys Last All Summer Long', in which an android boy develops human emotions.The autobiography describes the psychological effects of his wartime experiences in the jungles of Burma, Sumatra and India, which no doubt suggested the lush vegetation for the end-of-the-world scenario in Hothouse (1962). This modern classic started out as a short story and can be read as a predictive allegory of global warming. The sun's increased heat and radiation causes species to mutate and tree growth to cover the planet, and a giant web connects Earth to the moon. The morel, an intelligent fungus, and the dolphin-like Sodal Ye, try to persuade human survivor Gren to join them in escaping the dying planet via the traversers (mile-long vegetable spiders), but he and his woman Lily-yo opt to stay. But this is not about the triumph of humanity; as it ends, "the traverser with its passengers rose slowly, slowly floated from the jungle up into the green-flecked sky, and headed for the solemn blues of space".
Aldiss's greatest imaginative achievement is no doubt the Helliconia novel trilogy, which the author has described as "a scientific romance of civilisation contained within a dominating nature". The story is about a planet a thousand light years away, orbiting two suns, whose seasons last hundreds of years. The twist is that the ongoing conflicts between human-like beings and fearsome phagors are being watched – via spy satellite Avernus – by mass television audiences on Earth. But the observers are being affected by what they observe; over time the link between Earth and Helliconia changes from entertainment to take on a spiritual dimension. Helliconia Spring (1982) introduces the grand conception; its landscapes, flora and fauna, creatures ("the avalanche of shaggy life") and leading characters. A complex society of mythic and religious interests is revealed: "life was good and had to be secured by sacrifice". But this is a planet dominated above all by the struggle to survive its climate: the "sky of ice" eventually changes to "a sky of fire", heralding the long-awaited spring. Helliconia Summer (1983) takes place hundreds of years later, as gun technology is being developed by humans and phagors. It is revealed that latter are the planet's original species, and their battles lead to a phase of phagor dominance. The proximity of one of the suns leads to volcanic explosions, while earthquakes and fires also threaten to destroy much of the civilisation. The concluding novel, Helliconia Winter (1985), finds the planet ravaged by a fatal plague affecting the balance between the warring species but also the realization that "human existence was not possible without the virus". Meanwhile there has been a nuclear war between planets in the Solar System, and the vital Earth-Helliconia link is re-established by androids on Pluto's moon Charon. Aldiss's fiction has great diversity.
Many of his novels depart from the science fiction genre altogether, notably his autobiographical Horatio Stubbs saga, which began with The Hand-Reared Boy (1970) and continued with A Soldier Erect (1971). Best sellers – and controversial at the time due to their relative sexual explicitness – the books followed their lead character from boyhood into army life in India. Other books have a strong satirical element, for example Super-State (2002), which depicts a disunited Europe of 40 years hence. The daughter of the European President is abducted and her wedding has to go ahead with an android substitute. Androids have themselves started agitating for a change in their subservient status. Meanwhile, the spaceship 'Rodenberry' ("a tiny needle in the immaculacy of space") finds aquatic life on Jupiter's moon Europa – but supply problems mean that the crew is forced to eat them. Affairs at Hampden Ferrers (2004) is different again, subtitled "An English Romance" and depicting weird goings-on in an Oxfordshire village. The local vicar establishes a fund-raising committee to celebrate the church's 1500th anniversary, only to discover a stone tablet within it whose cosmological revelations appear to undermine the basis of religion. His latest novel Harm (2007) combines political satire with his trademark ingenious sci-fi conceptions. Its title refers to the Hostile Activities Research Ministry, whose agents, during a period of terrorist threat, arrest and torture a British author of Muslim descent. Confined to his cell after interrogations, Paul Ali retreats in his imagination into the story of humans struggling to survive on the remote planet Stygia. The inter-stellar transportation of human DNA and brain functions has involved their reconstitution as human beings before arrival. Not entirely successfully; some alarming gaps in language and knowledge appear among the colonists. As with Helliconia, the planet's creatures and special physics are convincingly strange yet recognisable, and the scenario is one of perpetual conflict. It is revealed that the colony ship 'New Worlds' was "a last-ditch attempt to save the values of the West". As always in Aldiss's fiction, inter-planetary speculations reflect back towards humanity and our moral conduct on the Earth itself.                
Dr Jules Smith, 2011
Bibliography
2016
The Folio Science Fiction Anthology (editor)
2008
A Prehistory of Mind
2004
Affairs at Hampden Ferrers
2001
Supertoys Last All Summer Long and Other Stories of Future Time
2000
Art after Apogee: The Relationships between an Idea, a Story, a Painting
2000
A Plutonian Monologue on His Wife's Death
1999
When the Feast is Finished
1999
White Mars Or, The Mind Set Free
1998
The Twinkling of an Eye or My Life as an Englishman
1995
The Secret of This Book
1995
The Detached Retina: Aspects of SF and Fantasy
1995
At the Caligula Hotel and Other Poems
1994
Somewhere East of Life: Another European Fantasia
1993
The Island of Dr. Moreau/H. G. Wells
1990
Bury My Heart at W. H. Smith's: A Writing Life
1989
A Romance of the Equator
1988
Best SF Stories of Brian W. Aldiss
1986
My Country 'tis Not Only of Thee: A Story of the World after the Vietnam War
1986
The Penguin World Omnibus of Science Fiction: An Anthology
1986
Trillion Year Spree: The History of Science Fiction
1983
Science Fiction Quiz
1983
The Last Man/Mary Shelley
1980
Moreau's Other Island
1979
This World and Nearer Ones
1979
New Arrivals, Old Encounters: Twelve Stories
1979
Pile: Petals from St. Klaed's Computer
1978
Enemies of the System
1978
Science Fiction as Science Fiction
1977
Brothers of the Head
1976
The Malacia Tapestry
1976
The Year's Best Science Fiction No. 9
1976
Galactic Empires: Volumes I and II
1975
Space Odysseys: A New Look at Yesterday's Futures
1975
Hell's Cartographers
1975
Science Fiction Art: The Fantasies of SF
Awards
2013
World Fantasy Convention Award
2008
Honorary doctorate from the University of Liverpool
1983
Kurd Lasswitz Award (Germany)
1982
British Science Fiction Association Award
1982
John W. Campbell Memorial Award
1977
Ferrara Silver Comet
1977
Prix Jules Verne (Sweden)
1972
British Science Fiction Association Award