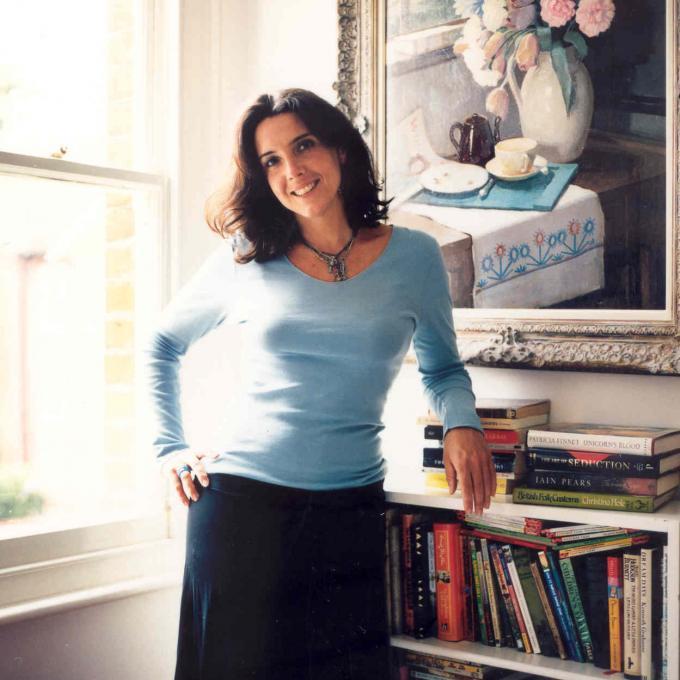 Bettany Hughes
Publishers:
Biography
Bettany Hughes is an award-winning historian, author and broadcaster.
She was born in 1967 in and brought up in west London, the daughter of actor Peter Hughes and the sister of cricketer and journalist Simon Hughes.
Hughes has written two critically acclaimed books on Ancient Greek subjects, Helen of Troy: Goddess, Princess, Whore (2005) and The Hemlock Cup: Socrates, Athens and the Search for the Good Life (2010). The latter was a New York Times bestseller, Book of the Week on BBC Radio 4 and a finalist for the Writer's Guild Award.
Hughes has written and presented documentary films and series on both ancient and modern subjects for National Geographic, BBC, Discovery Channel, PBS, The History Channel and Channel 4. In July 2012, she began to co-present a series on ITV with Michael Buerk, Britain's Secret Treasures.
She is a Tutor for Cambridge University's Institute of Continuing Education and a Research Fellow of King's College London. She has also taught at Oxford and lectured at Cornell, Bristol, UCL, Maastricht, Utrecht and Manchester.
Hughes is married to Adrian Evans, who also works in the Arts, and they have two children.
Critical perspective
"By day I am a historian," Bettany Hughes has said, "by night a broadcaster." And through a combination of her numerous top-ranked television series and two bestselling books, both jobs have seen her help to open up classical studies to a wide audience.
As an author, Hughes has successfully ridden the ongoing boom in popular history writing. "In the past decade," Peter Stanford noted in the Telegraph in 2012, "sales of history books have almost doubled … to 5.4 million copies a year. A sizeable chunk of these sales have been made by those whose faces are familiar not from peer-reviewed journals" but who have other audiences in their sights. Hughes has been at the forefront of this group, alongside with other nominally 'non-institutional' historians such as Alison Weir, Lucy Worsley, Amanda Foreman, Flora Fraser and Dan Snow.
As with all popular historians of this sort, her success has bred controversy. Attacks on her have ranged from overtly sexist condescension (the 'Nigella of History', 'Helen of Troy in jeans') to more substantial suggestions that her works are merely synthesis, bringing nothing new to the table. One critic of her television series, for example, lamented at her habit of "climbing over ancient ruins" whilst pretending to be "bravely overthrowing a long-established piece of established wisdom." (Sunday Telegraph, 2006) The reality, they suggested, was that the actual originality of the research and arguments presented in her books was being oversold.
For the most part, however, she has achieved the elusive combination of popular and academic recognition.  This is in large part due to what reviewers have praised as a style that deftly balances erudition with force and fluency. Describing her own approach in her first book, she wrote that "my hope is that this book is an historia in the sense used by the ancients: an account which encompasses observation and narrative, inquiry, analysis and myth." This mixed approach has served her well. It is a stylistic blend has been praised as managing to be "as gossipy as it is erudite" (Lucy Beresford, The Sunday Telegraph) and possessing "dazzling erudition which remains hugely readable" (John Julius Norwich). The Washington Post simply said of this accessible intellectual eloquence that it was "history exactly as it should be written".
At present, she has managed to bring this talent to bear in two books on a pair of the most important yet elusive icons of the Ancient world. The first was Helen of Troy in (2005), in which she explored the myth and reality of this tantalizing historical figure.  "As soon as men began to write", Hughes wrote, "they made Helen of Troy their subject; for close on three thousand years she has been both the embodiment of absolute female beauty and a reminder of the terrible power that beauty can wield … But who was she?"
Crucially, she came armed with an eye-catching central argument: that Helen was not a convenient and powerful creation of myth, but an actual historical person, "one of those real flesh-and-blood people who simply seem extraordinary". Hughes's aim here was quietly polemical: "the study of Helen as a real character from history has been consistently neglected. Historians and romantics alike have enthusiastically sought out the heroes of Greece and by-passed its heroines". Hughes's book set out to redress the balance by exploring the clues pointing to a possible 'real' Helen and a speculative context for a flesh-and-blood Greek Bronze Age aristocrat.
The result was widely praised. Tom Holland of the Sunday Times praised the "sensuous and gorgeous prose" Peter Stothardt, the editor of the Times Literary Supplement simply stated that, "I do hope that many readers buy this book." The Financial Times thought "The book triumphantly reclaims Helen from her traducers. Hughes' portrait is as close to a real, living Helen as we are likely to get. In an increasingly sexualised culture, the questions Helen raises are more alive than ever." To some, though, the compromises of popular history came at a price. In the Independent, Joan Smith expressed misgivings at a book "whose undoubted scholarship sits uneasily with the short, verbless sentences that are standard fare in TV voiceovers, not to mention bursts of romantic speculation that would drive less self-indulgent scholars mad," concluding above that "there is something hurried and unconvincing about Hughes's attempt to demolish the argument that Helen is a mythical figure".
Judged purely as historical scholarship, key academics were mostly supportive. Professor Robin Lane Fox of Oxford University thought it "the most fascinating of subjects, handled with style, learning." Praising Hughes's spadework, Kenneth Wardle of the Institute of Archaeology asked in the Independent of Sunday "Why should we think all the people Homer mentions are fictitious? I see every reason to believe that the Helen of legend, like Agamemnon or Menelaus, may have been a real character with a real background whose actions have been modified, embellished and distorted over the centuries." Others, however, were more sceptical. Mary Beard was notably ambivalent in her Guardian review, praising its "investigative achievement" but lamenting that "the book's main thesis - that Helen was a historical character who really existed in the late Bronze Age" was downright "zany."
For her follow-up, Hughes opted to excavate another misunderstood figure. The Hemlock Cup: Socrates, Athens and The Search for The Good Life (2010) explored the new archaeological findings in Athens and Greece and tries in order to place the great philosopher within a vivid 5th century BC context. It was, as Hughes admitted, a "doughnut subject": a rich and tasty topic with a large hole in the middle where the main character should have been. But painting a more realistic vision of his messy Athens was part of her aim. Of her choice of subject she has said that the time had come to capture the sheer chaos mess of his milieu:
'For the first time, we are able to put together a very cogent picture of his life, his world. That's why it seemed like the right time to write this book now. We can now imagine very clearly Socrates walking around those stoas [arcades] and around the agora. For instance, there's this one stoa that has been recently excavated, where we can now see that it had a packed earth floor, rather than a flagstone floor. Somehow, for me, that's terribly touching … Somehow, people seem to imagine Socrates sweeping down all these marble staircases, but that's not right. He was padding around in mud, talking about his ideas. It really helps clarify the picture of him for me.' (History Today Magazine, interview, 2010)
This revisionist portrait proved another critical and popular success. Widely acclaimed in both the UK and the US, it became a New York Times bestseller, was selected as 'Book of The Year' in numerous national papers, and was chosen as a BBC Radio 4 Book of the Week.
The Independent praised the work's "enormous energy and enthusiasm" expressing amazement that "No-one before Bettany Hughes, a highly accomplished communicator, has thought to weave Socrates examined life into so rich and dense a tapestry". Selecting it as one of his books of the year, Simon Sebag Montefiore called it "an exuberant, fascinating portrait of Socratic Athens." The Washington Post thought that Hughes's "canny stylistic decisions … pay off...This tension between "the good" and the real is given full respect in this beguiling book, and the Socrates Hughes creates is ultimately a towering yet intensely human figure. He lives and speaks again in these pages: it's a singular accomplishment."
Now a spokesman for the endeavour of popular history, Hughes is outspoken about what she sees as its crucial role in society.  And she is frank about the enemies that success brings:
'I think it's the most important thing. If we're lucky enough to live in an age and culture that supports higher education, we should spend as much time researching and teaching as spreading that to as wide a public as possible. … to reach out to the public, to inform and try to capture people's curiosity. Sometimes, you get into trouble for dumbing down, of course. Some people seem to get angry about that. Not just academics but also journalists. I suspect that is because they think it is they who should be on telly. They really get the knife in. But I've always thought it's important to reach out. It's always been a substantial part of what I do.'
Over the course of her well-regarded books on classical topics, she has performed the often thankless task of communicating esoteric archaeological and historical research to the masses.
Dr Tom Wright
Bibliography
2010
The Hemlock Cup: Socrates, Athens and the Search for the Good Life
2005
Helen of Troy: Goddess, Princess, Whore