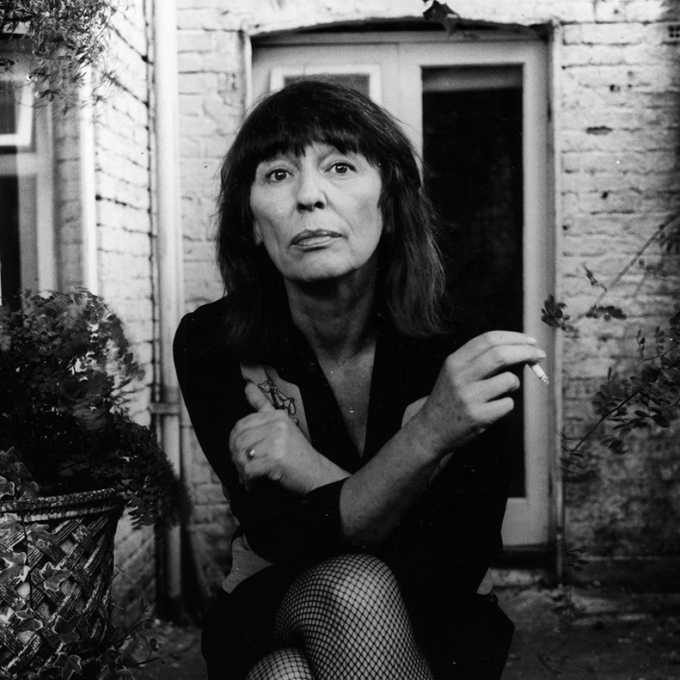 Dame Beryl Bainbridge
Born:
Formby, Lancashire, England
Biography
Dame Beryl Bainbridge was born in Lancashire on 21 November 1932.
She was educated at Merchant Taylors' School in Liverpool and worked as an actress at Liverpool Repertory Theatre. She was awarded a DBE in 2000. She wrote her first novel, Harriet Said, during the 1950s, although it was not published until 1972. Her first published novel, A Weekend with Claud, appeared in 1967 (revised edition 1981), and was followed by Another Part of the Wood (1968), and The Dressmaker (1973), adapted as a film in 1989. The Bottle Factory Outing (1974) won the Guardian Fiction Prize and Injury Time (1977) won the Whitbread Novel Award. An Awfully Big Adventure (1989) drew on her experiences as an actress working in Liverpool during the 1950s and was adapted as a film. Her later novels, based on real lives and historical events, include The Birthday Boys (1991), the story of Captain Scott's ill-fated Antarctic expedition; Every Man For Himself (1996), set on board the Titanic; and Master Georgie (1998), chronicling a young surgeon's adventures during the Crimean War. Every Man for Himself won the Whitbread Novel Award and Master Georgie won the James Tait Black Memorial Prize (for fiction), the WH Smith Literary Award and was shortlisted for the Booker Prize for Fiction. 
Beryl Bainbridge died in July 2010. Her unfinished last novel, The Girl in the Polka-Dot Dress, was published posthumously in 2011.
Critical perspective
Beryl Bainbridge began her working life as an actress and remained an entertainer, as one of Britain's most popular and best-loved novelists.
Her work attracted a wide readership as well as critical acclaim, was short-listed for the Booker Prize four times, and won the Whitbread Prize three times, including for Every Man for Himself (1996). Her trademark is the sardonic, even at times macabre wit in her books, usually mercilessly black comedies with eccentric characters. But, by the author's skill, we never lose sympathy with these inhabitants of a peculiarly 'dismal England'. This is partly because of her fine ear for the nuances of dialogue, though what is left unsaid is often as important as what is. Bainbridge is a wonderful observer of human folly and self-deception. The shabbiness of human behaviour, especially in domestic warfare between the sexes, is a constant theme. At its most extreme, she explored the motives of a man and wife pushed to breaking point in Watson's Apology (1984), her re-imagining of a notorious Victorian murder case. Usually her long-suffering women characters/narrators content themselves with being sceptical of male pretensions. But Bainbridge can be unusually sympathetic to men. The Birthday Boys (1991), for instance, shows us the fallible sides of Captain Scott and his companions in their doomed struggle to and from the South Pole, in their fears and foibles, their camaraderie and heroic foolishness. The unpredictable nature of reality is the underlying theme of her first novels, as in A Weekend with Claud (1967) and Another Part of the Wood (1968), which end with sudden death in bizarre circumstances. The latter takes place during a rainy camping weekend in Wales with a mixed group of adults and children wrangling at each other, exploring the woods, and trying to keep amused or at least warm. Joseph's joy with his young son Roland is balanced by arguments with his girlfriend Dotty ('always anxious to put her in the wrong') and the other misfits. All are self-absorbed, somewhat out of step with ordinary life, and have relationships that are deeply disappointing. Interspersed amongst all this are fine comic moments, as when Balfour, 'bloated with excitement', overhears May's husband telling her the erotic story of 'Lallah Rooke' at night. The tragic finale is brought about by Roland swallowing another child's medication. In a typical Bainbridge touch, the news comes as the adults are at last burying their resentments and enjoying themselves with a game of 'Monopoly', his father 'full of fun, holding the paper money in his fist'.
A number of her novels are set in Bainbridge's native Liverpool, from the wartime scenes of The Dressmaker (1973) to Young Adolf (1978) which imagines a visit supposedly made to the city in his youth by the future dictator. But she draws perhaps most successfully on local knowledge, and her own early life working for a repertory company there, in An Awfully Big Adventure (1989), which was fairly recently made into a film starring Hugh Grant and Alan Rickman. The city's hotels, shops and landmarks are seen in cold grainy images of post-war austerity in Britain. A seasonal production of 'Peter Pan' is the stage set for an ensemble piece of the human comedy, whose sad and passionate characters are, as ever, somewhat at emotional cross-purposes. A sixteen year old Stella is the ingenue who in the course of the production gains (mostly sexual) experience but not necessarily self-knowledge. In her naïve infatuation with theatre manager Meredith, a discreet homosexual, she attempts to make him jealous by sleeping with an ageing famous actor, for whom the affair has drastic consequences. As the plot unwinds, Stella's actions unwittingly reveal adultery, homosexuality (then illegal), and the buried secrets of her own parentage. It ends on an absurd note: death in the River Mersey, and Stella blithely phoning 'The Speaking Clock' to hear her actress mother.
In some of her very best novels, Bainbridge specialised in fictionalising Great British disasters; not only Scott's doomed Antarctic expedition in The Birthday Boys but the larger-scale chaos of the Crimean War in Master Georgie (1998). However, her pre-eminent performance within this special self-created genre is Every Man for Himself, which many readers consider to be her masterpiece. The maiden voyage of 'The Titanic' (freighted with millionaires and hopefuls) is presented over the course of several days through it young narrator Morgan, his views of the hedonistic revelry and passions aboard forming a counterpoint to the inexorable progress of the ship towards nemesis. Again, the pleasure of this remarkably concise and haunting book comes partly from its close focus on a group of passengers, enabling us to make their acquaintance, and partly from Bainbridge's skill in orchestrating subplots. The mysterious older man scurra is involved in most of these, in his revelations to Morgan (supposedly the nephew of financier J. P. Morgan), his arguments with him, and his rivalry for the affections of alluring socialite Wallis. In the best farcical scene in the book, the infatuated and jealous Morgan hides in a closet in Wallis' bedroom, and is then forced to overhear her in flagrante with Scurra. As one of the ship's designers, Morgan takes a professional notice of the ship's workings below decks as well, and an increasingly personal one as a fire breaks out in a coal bunker. Bainbridge steers the narrative with a fine sense of pace, building the tension with hints (a casual mid-Atlantic ice warning), and expertly choreographing the last hours. As he waits to jump into the sea, Morgan finds that 'Death is such a lover's pinch that a man can be excused for prising himself free'.
Bainbridge's novel, According to Queeney (2001), again features a young narrator commenting on historical events. The subject is Samuel Johnson's misplaced passion for Queeney's mother Mrs Thrale. It largely takes the form of letters replying to enquiries about the events of thirty years ago, each section being ingeniously headed by the definition of a word from Johnson's Dictionary. The portrait of Johnson that emerges, for all his melancholic attacks and jealous rages, is a very sympathetic one. The ageing writer concludes that age 'weakened the emotions owing to a realisation that the light was fading and nought but darkness lay ahead'. Indeed, by the last pages of almost all of Bainbridge's books, however dubious her characters are, by a kind of alchemy, readers know and care about them. They manage to be heart-felt without being sentimental. An essential theme, announced in Watson's Apology and pervasive throughout her writing, is that 'Tragedy, though hard to contend with, was an affirmation of life'.
Dr Jules Smith, 2001
Bibliography
2011
The Girl in the Polka Dot Dress
2005
Front Row: Evenings at the Theatre
2001
According to Queeney
1996
Every Man For Himself
1993
Something Happened Yesterday
1989
An Awfully Big Adventure
1986
Filthy Lucre, or The Tragedy of Andrew Ledwhistle and Richard Soleway
1974
The Bottle Factory Outing
1968
Another Part of the Wood
1967
A Weekend with Claud
Awards
2003
David Cohen British Literature Prize
1999
Commonwealth Writers Prize (Eurasia Region, Best Book)
1999
WH Smith Literary Award
1998
Booker Prize for Fiction (shortlist)
1998
James Tait Black Memorial Prize (for fiction)
1996
Booker Prize for Fiction (shortlist)
1996
Whitbread Novel Award
1990
Booker Prize for Fiction (shortlist)
1977
Whitbread Novel Award
1974
Booker Prize for Fiction (shortlist)
1974
Guardian Fiction Prize
1973
Booker Prize for Fiction (shortlist)