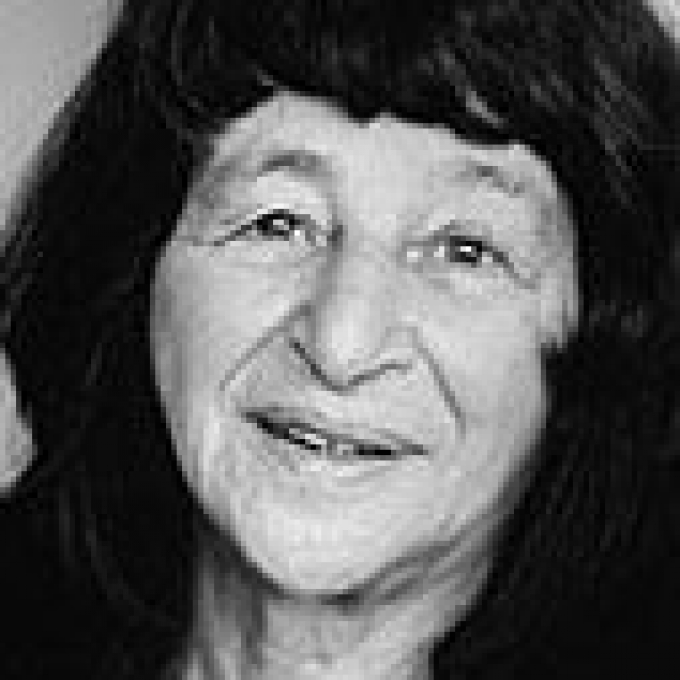 Bernice Rubens
Publishers:
Agents:
Biography
Novelist Bernice Rubens was born in Cardiff, Wales, in 1928, the daughter of a Russian Jewish father.
She read English at the University of Wales. She became a Fellow of the University of Wales in 1982 and was awarded an honorary doctorate in 1991. She taught English in Birmingham for two years before working in film as a freelance film director and script writer. She travelled extensively in Africa and Asia producing documentaries for organisations including the United Nations and in 1968 she was awarded the American Blue Ribbon award for the documentary film Stress.

Her early novels included the comedy Set on Edge (1960); Madame Sousatzka (1962), the story of a music teacher and her young Jewish pupil; and Mate in Three (1966), the tale of an adulterous husband. Her fourth novel, The Elected Member (1969), won the Booker Prize for Fiction. The book explores the controversial theories of the psychologist R. D. Laing through the central character Norman Zweck, who suffers a mental breakdown under extreme family pressure. A Five-Year Sentence (1978), the story of an elderly woman and the five-year diary she is given as a present, was shortlisted for the Booker Prize for Fiction.

She explored her own family heritage in the novel Brothers (1983), which follows several generations in a Russian Jewish family moving through Europe fleeing persecution. Kingdom Come (1990), an historical novel which won the Jewish Quarterly Literary Prize for Fiction, is set in seventeeth-century Poland and Turkey and tells the story of a child thought to be the new messiah, while Mother Russia (1992) is a historical saga charting Russian history from the Tsars to Gorbachev.

Her later fiction included A Solitary Grief (1991), a compassionate tale of a psychiatrist weighed down by guilt; Autobiopsy (1993), in which the narrator steals the brain of a famous novelist to drain it of ideas that he can use in his own writing; Yesterday in the Back Lane (1995), a powerful tale about a rape victim and the attacker she kills; The Waiting Game (1997), set in an old people's home on the south coast of England; and I, Dreyfus (1999), a re-working of the Dreyfus case that highlighted anti-semitism in France at the end of the 19th century, and which was shortlisted for the Jewish Quarterly Literary Prize for Fiction. In Milwaukee (2001), Annie, who is spending the last few weeks of her life in a hospice, recalls her life and experiences in flashback. Her last novel, The Sergeant's Tale (2003), is set in the British Mandate of Palestine in 1947.
Bernice Rubens died in October 2004.
Critical perspective
In the fiction of Bernice Rubens, 'God is occasionally good', and allows the full playing out of the human capacity for love, farce, resentment - and evil.
At its best in deeply moving novels such as A Solitary Grief (1991) and Mother Russia (1992), Rubens' grasp of moral ambiguities is profound as well as engaging, pessimistic but ironic. While her many novels contain recurring themes, they vary in type from very black comedy to historical novels, morality dilemmas or tales with bizarre scenarios such as Spring Sonata (1979), about a foetus refusing to be born, or Autobiopsy (1993) in which a writer uses his dead mentor's brain for inspiration. Her best-known book is probably still Madame Sousatzka (1962), memorably filmed by John Schlesinger and starring Shirley Maclaine. Her style is generally realist, steering clear of 'descriptive passages', though with many touches of the grotesque, or hallmarks of the parable.
Her most obvious recurring subject is the tension inherent in family life, and she once remarked that, 'I am concerned with the communication, or non-communication as is more often the case, between people and families'. This is certainly the case in the emotionally harrowing A Solitary Grief. A psychiatrist is told that his newborn child has Down's Syndrome, and refuses to look at her, though ambiguously visiting her at night. Estranged from his wife, he becomes close to one of his patients, an exhibitionist who has himself experienced parental rejection, and finds his 'frozen heart' released. The tragedy occurs when his little daughter is abducted, her body found, and ironically he has to identify her. As the murder hunt goes on, he finds that his is 'a solitary grief. Unsharable'. The need for forgiveness among a family's members is also the theme of Milwaukee (2001), where the wartime conception of an illegitimate baby leads to wounding conflicts, deceptions and consequences. Once again, as 'Guilt prolongs grief', bitter feelings are passed down the generations. But in this case the hospice-bound Annie is at last able to seek, and bestow, forgiveness for the past. Indeed, many of her books feature characters emotionally crippled by their families. Others 'cling' to their doubts, whether about sexuality, political causes, or religion. Many of her characters, however, are self-deceivers, with little insight into the lives of others.
Themes of Jewish history, culture, morality – and family life - operate throughout her work, especially in Kingdom Come (1990), set in 17th century Smyrna (Turkey), which begins with the birth of Sabbatai Zvi, who grows up to be a self-proclaimed Messiah. With his fasting-induced visions and echoes of Jesus, he succeeds in attracting followers and antagonizing local rabbis, so that eventually the Ottoman state is alarmed. But his own father and brother refuse to believe in him. And Zvi has doubts of his own; he is homosexual, marries a prostitute and preaches redemption through sin. For the large canvas of Mother Russia, Rubens drew upon her own family's background though she also frames fictional and real-life characters against the major events of the 20th century. Lovers Anna and Sasha come from neighbouring families, one aristocratic and the other peasant; Sasha becomes a Pasternak-like 'people's poet' and novelist, while Anna sustains their family, as together they go through the Revolution, personal tragedies and political upheavals. Among the supporting cast is Sasha's brother, who becomes a ruthless Soviet commisar by believing that 'the Cause is greater than the people'. Anna and Sasha struggle into old age during the Gorbachev era, sustained by their love and 'still too young to count our blessings'.
Rubens' most enjoyable novels are undoubtedly her black 'comedies of manners', notably Birds of Passage (1981), in which recently widowed friends Ellen and Alice ('combined age 126') go on a Mediterranean cruise. They meet a variety of self-deceivers, from the courtly Mr Bowers to gauche fantasist Wally, and the Doves, an estranged mother and daughter. Their life-changing experience comes when both are repeatedly raped by the ship's steward. However, they have opposite reactions. Alice feels a belated sexual awakening and begins to bloom as a personality, whereas Ellen plots murderous revenge. When they go ashore at Cyprus, Ellen denounces the steward to his wife – only to find that she doesn't understand English. In another farcical scene, there is a fancy dress party at which too many Hitlers turn up, and it looks like 'the Hall of Mirrors in Berchtesgaden'. The Waiting Game (1997) was described in The Sunday Times by Shena Mackay as 'An Ealing comedy twinned with grand guignol'. Its setting is 'The Hollyhocks', an old people's home whose residents – regularly interrupted by deaths - all have secrets they wish to conceal. Lady Celia, for example, is running a blackmailing scheme; Mrs Thackeray was unlucky enough to have two husbands with a whipping fetish, and Mrs Primple is addicted to telephone chat-lines. New resident Mrs Feinberg has her own 'unspeakable untellable past', involving her childhood at Auschwitz. A sub-plot reveals another's secret Nazi past, but the tone is mainly sardonic not tragic, and again there is some wonderful farce, as when they attend a talk on ageing by a 25 year-old 'expert', and a memorial service turns into a 'wine-fed' party. 
Anti-Semitism as a phenomenon is made explicit in I, Dreyfus (1999), the parable-like story of a secretly Jewish public school headmaster framed by a racist conspiracy for the murder of one of his pupils. It also lurks in the depiction of the attitudes of British military authorities in her last novel, The Sergeants' Tale (2003). Its narrator is 'up to my neck in the [Palestinian] intifada', and tells us about his grandfather's terrorist activities in 1947 during the pre-Israel British Mandate. Crucially, this is not just a political conflict but a personal one, as the Wertman family, like the Jewish community itself, is divided. Zeyda belongs to Begin's organization, who have kidnapped two British sergeants to bargain for the freedom of Irgun members about to be hung. He believes (like Ivan, the Communist revolutionary in Mother Russia) that 'everything is done in the name of the cause'. Zeyda's daughter Hannah belongs to the non-violent nationalist group Haganah, and is in love with one of the sergeants. Both have secrets - David is half-Jewish, and Will is homosexual – which they confess to each other during captivity. David decides 'as a Jew, he would marry Hannah and make his home in Palestine', but the story moves inexorably towards tragedy. More simply written and perhaps less subtle than at her best, its characteristic exploration of insoluble human dilemmas nevertheless proves the Times Literary Supplement correct in calling her 'a sympathetic chronicler of human weakness'.
Dr. Jules Smith, 2004
Bibliography
1995
Yesterday in the Back Lane
1985
Mr Wakefield's Crusade
1978
A Five-Year Sentence
1975
I Sent a Letter To My Love
Awards
2000
Jewish Quarterly Literary Prize for Fiction
1991
Arts Council of Wales Literature Award
1991
Jewish Quarterly Literary Prize for Fiction
1988
Arts Council of Wales Literature Award
1978
Booker Prize for Fiction (shortlist)
1976
Arts Council of Wales Literature Award
1970
Booker Prize for Fiction