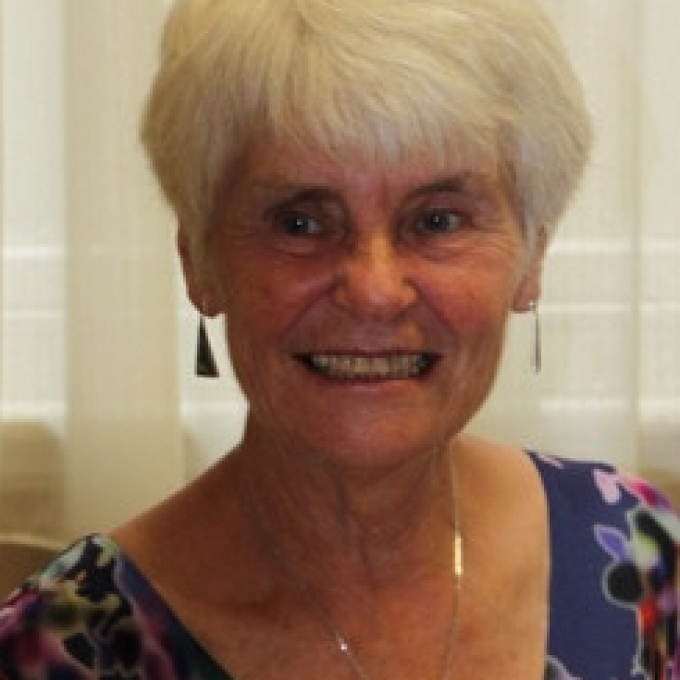 Berlie Doherty
Publishers:
Agents:
Biography
Children's author Berlie Doherty (née Hollingsworth) was born in Knotty Ash, Liverpool, on 6 November 1943.
Educated at Upton Hall Convent School, she read English at the University of Durham, graduating in 1965. She completed a postgraduate certificate in Social Science at the University of Liverpool in 1966 and a postgraduate certificate in Education at the University of Sheffield in 1978. She received an honorary doctorate from the University of Derby in 2002. Her first book, Requiem, took her over ten years to write and was published as her first novel for adults in 1991.
She worked as a social worker, a teacher and a schools broadcaster for BBC Radio, before becoming a full-time writer in 1983. She has travelled extensively in America, Australia, Europe, Asia and the Middle East speaking at conferences and literature festivals as well as in schools and universities.
Her first novel for children, How Green You Are!, was published in 1982. She has won the prestigious Carnegie Medal twice, first for Granny was a Buffer Girl in 1986, and again in 1991 for Dear Nobody, which dealt with the subject of teenage pregnancy. Other novels include The Snake-Stone (1995) and Daughter of the Sea (1996).  Her books, several of which have been televised, have been translated into many languages and include picture books and short story collections, including Running On Ice (1997). She has also written several plays for television, radio and stage. In 1985, she was a Writer in Residence at Calderdale Libraries and continues to work closely with local schools and libraries. Her novel, Deep Secret (2004) was shortlisted for the 2004 Booktrust Teenage Prize. 
In 2002 Derby University awarded Berlie Doherty an honorary doctorate, and in 2005 she was shortlisted for the Swedish Astrid Lindgren Memorial Award. Her children's concert opera, The Magician's Cat, is being toured by the Welsh National Opera.
Berlie Doherty has recently written the libretto for a children's opera, Wildcat, performed in Wales in 2007, partly translated into Welsh by Menna Elfyn. Her most recent books are The Company of Ghosts (2013) and Far from Home: The Sisters of Street Child (2015). 
Critical perspective
In 2007, the Sheffield 'Off The Shelf' Literature Festival celebrated the 25th anniversary of Berlie Doherty's first publication (which was the children's novel, How Green You Are! in 1982).
Since then, she has published over 50 books, including picture books, plays and novels for children and teens, along with some fiction for adults. More often than not, she focuses on family life and relationships, but she does this in a variety of diverse settings and contexts, from contemporary stories such as Dear Nobody (1991), which tackles teenage pregnancy, to historical novels such as Children of Winter (1985) and Street Child (1993).
Many of Doherty's novels have a strong sense of both time and place - whether the setting is past or present, the stories usually have a very specific date and location. Children of Winter, one of her earliest books, is set in the Derbyshire village of Eyam during the Great Plague in 1666. The true story of Eyam, often described as the 'plague village' because it chose to quarantine itself, has inspired various novels, including Jill Paton Walsh's A Parcel of Patterns (1983) and Geraldine Brooks' Year of Wonders (2001).
Children of Winter is framed by a present day narrative in which three siblings are enjoying a family day out on the moors, until bad weather forces them to shelter in a barn. The novel then slips back to 1666 and tells the heart-rending story of three children who are spending the entire plague winter in a barn in order to protect themselves from the disease spreading through their village. Children of Winter is deliberately ambiguous - the reader can interpret it as the three present-day children going back in time, or as a dream, or a game they are playing. The experience of the 17th-century children also addresses timeless issues. Although their story is specifically about the plague, their sense of fear and isolation and their determined ability to survive could be applied to any era, particularly modern-day refugees and asylum seekers. Like many of Doherty's novels, Children of Winter therefore evokes the continuity of past and present.
Street Child (1993) is also a fictional story which is loosely based on real events in the past. It is particularly popular in schools and Doherty has commented that she receives more letters from children about Street Child than about any of her other books. Its setting is 19th-century London and its protagonist is Jim Jarvis, an orphan whose life is changed when he meets Dr Barnardo. Jim Jarvis was a real orphan whose story was one of several written down in a pamphlet used by Dr Barnardo for fundraising. However, only the bare facts are known about the real Jim - he ran away from the workhouse after his mother died, and his meeting with Dr Barnardo made the latter aware of how badly London street children needed help. Doherty's story is therefore a fictionalised version of Jim's life and, like Children of Winter, it is a story of resilience and survival:
'"My story mister? What d'you want to know that for? Ain't much of a story, mine ain't!"
And he looks at me, all quiet. "It is, Jim," he says. "It's a very special story."'
Doherty's first Carnegie Medal was for Granny Was A Buffer Girl (1986). Granny Was A Buffer Girl is a rich, multi-faceted novel which incorporates both the past and present as it reveals the layers of a Sheffield family's history. Jess is about to leave home, but before she does, her family gather for the evening. One by one, each family member tells a story about his or her life, from grandparents' romances in the 1930s to memories of Jess's older brother Danny, who died as a teenager. The intertwining of past and present in this novel emphasises the parallels and continuity between the two and suggests that the past is not as distant or abstract as young people may think. In particular, the stories of the respective youths of Jess' parents and grandparents gives each of these characters depth and complexity as they are revealed in their many layers, and not simply as 'a parent' or 'a grandparent'.
Granny Was A Buffer Girl, like most of Doherty's novels, displays what Philip Pullman has described as her 'emotional honesty'. The family members' love for each other pervades the novel, yet it is never sentimental - in fact, Doherty is sometimes brutally honest. This is particularly noticeable in the poignant chapter about the death of Jess' beloved older brother Danny. Jess, along with the rest of the family, is devastated, but it is much more complex than mere sadness, for she also experiences jealousy and feelings of rejection:
'The house went so still I thought everyone had left. Then there was a knock on the door, and someone said, "The ambulance is here."
There were lots of legs in the hall, too many legs, bringing something out of Danny's room.
"I hate my brother," I shouted.
Someone dragged me out from behind the coats and slapped my face.'
However, although Doherty avoids sentimentality, she also avoids pessimism, and her stories are suffused with the sense that love and difficult emotions can (and usually do) co-exist. It is in the acceptance of this that contentment can be found.
Doherty's second Carnegie Medal was for Dear Nobody (1991). Also set in Sheffield, it is a poignant, unsentimental and acutely realistic story of two teenagers, Helen and Chris, and their unplanned pregnancy. The story centres on Helen's letters to her unborn child, but, unusually for this type of story, it is actually told from Chris' point of view as he reads the letters while Helen is in labour. Doherty skilfully evokes the fear and sense of powerlessness that Chris experiences, highlighting that an unplanned pregnancy can be just as traumatic for the father, who is often overlooked, both in real life and in stories of this nature. Doherty not only explores the emotional experiences of both teenagers, but also shows the far-reaching effect on others, particularly the parents and other members of the family. Dear Nobody thus considers this sense of interdependence in both its positive and negative forms, emphasising that the actions of individuals will always have a wider impact.
Doherty has also written some well-received novels for adults, but she remains most well-known for her novels for children and teens, and for her picture books for younger children. She has produced several remarkable re-tellings of classic tales, such as The Snow Queen (1998) and The Nutcracker (2002), along with her own original stories for the very young. She continues to write children's novels based on family themes, but she is also acclaimed for books such as Daughter of the Sea (1996), which intertwines a family's story with myth and folklore, and Deep Secret (2004), which is based on the real-life story of the drowning of two villages by the Ladybower Reservoir.
2007 saw the publication of Doherty's 50th book, Abela: The Girl Who Saw Lions, which explores the contemporary issues of HIV/AIDS in Africa, asylum seekers in the UK, child trafficking and adoption. The novel has been acclaimed for its ability to present these serious and harrowing issues in a manner that is appropriate for young readers (it is suitable for older children and teens), yet equally without glossing over the traumas that Abela experiences. The child's strength of character makes this a poignant and ultimately uplifting read, while simultaneously opening readers' eyes to the lives of those who are born into traumatic circumstances.
There are traumas of a different kind in the teen novel, A Beautiful Place for a Murder (2008), which is a succinct, fast-paced and thrilling murder-mystery. Its plot is compelling, yet skilfully avoids the excessive complexity that is sometimes characteristic of crime novels. Teenager Shaun relishes the freedom of being left alone at home for several days, until he finds himself accused of a murder. His girlfriend Caroline is the only person certain of Shaun's innocence, and thus this exciting thriller is combined with a teenage romance.
Elizabeth O'Reilly, 2009
Bibliography
2015
Far from Home: The Sisters of Street Child
2013
The Company of Ghosts
2008
A Beautiful Place for a Murder
2007
The Oxford Book of Bible Stories
2007
Abela: The Girl Who Saw Lions
2004
Tricky Nelly's Birthday Treat R/I
2004
Fairy Tales Minis Bfs
2002
Coconut Comes to School
2002
Granny was a Buffer Girl
2000
The Famous Adventures of Jack
1998
The Forsaken Merman and Other Story Poems
1998
The Sailing Ship Tree
1997
Tales of Wonder and Magic
1994
Willa and Old Miss Annie
1993
Old Father Christmas
1988
Tilly Mint and the Dodo
1986
Granny was a Buffer Girl
1983
The Making of Fingers Finnigan
Awards
2005
Astrid Lindgren Memorial Award (Sweden)
2004
Booktrust Teenage Prize
1996
Writers' Guild Award (Best Children's Book)
1995
NASEN Special Educational Needs Children's Book Award
1994
Sankei Award (Japan)
1991
Writers' Guild Award (Best Children's Play)
1988
Boston Globe-Horn Book Award (USA)
1987
Burnley Express/National and Provincial Children's Book of the Year
Author statement
'As long as I'm able to write across the media and across the age-groups I'm happy. I love writing plays because they are living, fluid things that are energised by the producer, designers, musicians, actors and audience. I love writing picture books and story books because of the exciting, visual life that artists and illustrators give to them. And most of all, I love writing novels because of the inner, emotional journeys that they take me on. Hopefully, the reader comes with me!'