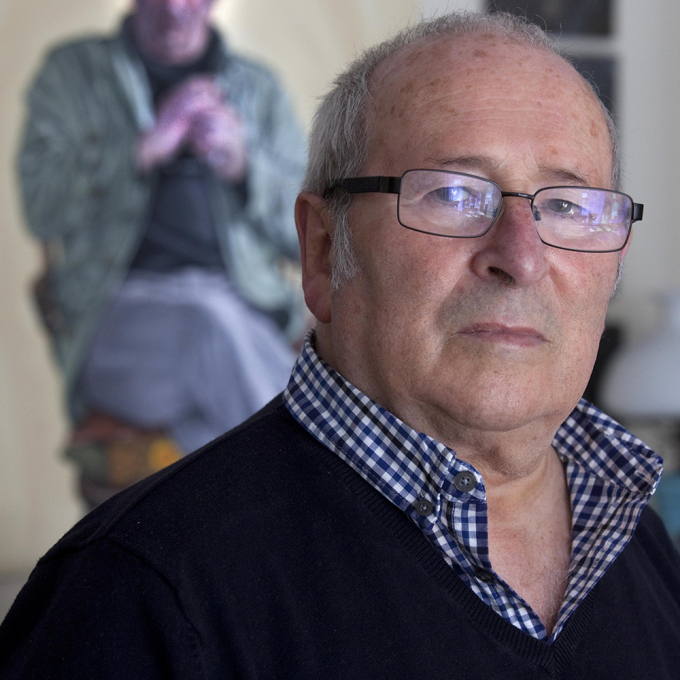 Sir Arnold Wesker
Publishers:
Agents:
Biography
Playwright Arnold Wesker was born on 24 May 1932 in Stepney in the East End of London. His father was a Russian-Jewish tailor and his mother was of Hungarian-Jewish extraction. He spent most of the Second World War in London and in 1943 he went to Upton House Central School in Hackney. He left school in 1948, worked in various jobs including kitchen porter and pastry cook, and was conscripted into the Royal Air Force in 1950, an experience he later wrote about in his play Chips with Everything (1962). He began to write plays and received a bursary from the the Arts Council of Great Britain in 1958. He was Chairman of the British Centre of the International Theatre Institute between 1978 and 1982 and President of the International Playwright's Committee between 1979 and 1983. He holds honorary doctorates from the University of East Anglia, Queen Mary and Westfield College, London, and Denison University in Ohio.

The three plays which make up the Wesker Trilogy (1960) - Chicken Soup with Barley, Roots and I'm Talking about Jerusalem - were first performed at the Belgrade Theatre in Coventry between 1958 and 1960. The trilogy, which drew on Wesker's working class Jewish background, was first performed in its entirety at the Royal Court Theatre, London, in 1960. The Kitchen (1961), first performed in 1959, similarly drew on his own direct experience and was revived by Stephen Daldry at the Royal Court in 1994.

In 1961 Wesker played a leading role in the Committee of 100's demonstrations against the use of nuclear weapons and, together with Bertrand Russell and others, was sentenced to a month in prison. He also became artistic director of Centre 42, a cultural movement for popularising the arts. Chips with Everything, a portrait of life in the RAF, opened at the Vaudeville Theatre, London, in 1962. Subsequent plays include Their Very Own and Golden City (1966), The Friends (1970), Caritas: A Play in Two Acts (1981), Wild Spring, as published in Wild Spring and Other Plays (1994) and Denial, first staged at the Bristol Old Vic.

His book The Birth of Shylock and the Death of Zero Mostel (1997) is an account of the unhappy production of his play Shylock (1980), (previously named The Merchant) on Broadway in 1977, when Zero Mostel died after the first performance.

Arnold Wesker has written a number of collections of short stories including Love Letters on Blue Paper: Three Stories (1974) and The King's Daughters (1998). He published As Much as I Dare: An Autobiography, a memoir covering the early part of his life, in 1994. He has also written screenplays: Lady Othello (an original) in 1982, and an adaptation of Doris Lessing's novel The Diary of Jane Somers. His recent work includes Barabbas, a short play for BBC television; Groupie, originally for radio, subsequently for stage; Longitude, a new play; and Grief, libretto for a one-woman opera. In 2005, his first novel, Honey, was published - taking off where his play Roots finishes, continuing the story of Beatie Bryant. His first collection of poetry, All Things Tire of Themselves, was published in 2008.

Arnold Wesker is a Fellow of the Royal Society of Literature. He lives in the Black Mountains of Wales and was knighted in 2006.
Critical perspective
Arnold Wesker has a reputation as a social realist and founder member of the New Wave of British theatre of the late 1950s.
This is not a bad reputation to have, but in the case of Wesker, it only really accounts for his first five plays, written and performed between 1957 and 1962.  Between then and now there are a full forty years of further playwriting and directing which leave behind most, if not all, of that early reputation.
Although he was a central figure in the post-1956 generation of New Wave playwrights who flourished at the Royal Court theatre, there are good reasons to doubt whether even then the term 'realist' adequately described Wesker's dramaturgy.  The Kitchen (1961), Chips with Everything (1962) and above all the Trilogy - Chicken Soup with Barley (1959), Roots (1959) and I'm Talking About Jerusalem (1960) - established him as a social realist because they brought a strikingly new content to the British stage.  The cadences of speech and rhythms of life of his working-class characters were distinctly at odds with the accents and attitudes of the upper-middle classes who had hitherto dominated British theatre.  Instead, his audiences witnessed the manic activities of a large London restaurant in The Kitchen, the treatment of new RAF recruits by their upper class officers in Chips with Everything, the socialist struggles of an East End Jewish family in Chicken Soup with Barley and I'm Talking About Jerusalem, and the meagre existence of Norfolk farm-labourers in Roots.
But Wesker was far from being a documentarist.  His aims in his first plays, and in the later ones, always went beyond a desire to record sympathetically the everyday life of the working-classes.  Sometimes verging on the didactic, these plays set out to diagnose the situation of the working-classes and offer a tentative programme for change.  He says in the preface to the Trilogy: 'I am at one with these people: it is only that I am annoyed, with them and myself.'  His annoyance is at the lack of worthwhile aspiration in his characters, or at their own unwillingness or inability to carry out their most ambitious and utopian dreams.  In The Kitchen, Roots, and Chips with Everything, the limited social and cultural horizons of the cooks, farm workers and recruits limit in turn their ability to imagine a better life.  In Chicken Soup with Barley and I'm Talking About Jerusalem, meanwhile, the politically active Kahn family possess ideals worth fighting for, but over the course of twenty years, become gradually disillusioned as their expectations fail to come to fruition.  Many of Wesker's later plays, which take up a wide diversity of themes, still follow this temporal pattern, either by following characters' lives over the course of years, or more commonly, by having characters reflect on the past and take stock of what they have done in relation to what they hoped to do.
In Roots, through the character of Beatie Bryant, Wesker suggested that the working classes should not be satisfied with mass culture - 'the slop singers and pop writers' - but deserve access to high art and culture.  By founding Centre 42 in 1961 and administering it from the Roundhouse in London, Wesker set out to change this situation directly.  The Centre was named for a clause approved by the Trades Union Congress of 1960, which read 'Congress recognises the importance of arts in the life of the community, especially now when many unions are securing a shorter working week and greater leisure for their members.'  Centre 42 was to bring art and theatre to a working-class constituency, but it never received the support of Trade Unions which Wesker expected and was eventually disbanded in 1970.  Wesker's plays from this period record some of the expectations and frustrations born of this unsuccessful project.  Their Very Own and Golden City (1966) charts the thwarted ambitions of Andrew Cobham, an architect with utopian plans to build entirely new cities.  These plans are never realised, partly from failure of support by Trades Unions, in a process of disappointment and betrayal spanning more than sixty years.  In The Friends (1970) a similar failure is dramatised: a group of working-class friends who have become successful designers meet at the deathbed of one of their number, Esther.  They realize that they have achieved professional success, but failed in their ambition to bring design to a working-class public.  Symptomatic of this failure is The Four Seasons (1966), a love story, which withdraws almost entirely from the public sphere Wesker was hoping to influence.
In the 1970s and 1980s, after the demise of Centre 42, and no longer encumbered by the weighty social project he had taken upon himself, Wesker went on to write and direct plays on an impressive range of topics and in a number of styles.  This period was also marked by something of a theatrical exile.  While still finding theatres willing to produce his plays in England, those plays were more likely to be premiered in Stockholm than Sloane Square.  One of his most ambitious pieces, The Journalists (1974), was extraordinarily rejected by the actors at the National Theatre.  This multi-layered and perceptive play dispenses with a strong plot-line in favour of a series of juxtaposed scenes reflecting on the ethics of Fleet Street.  Equally ambitious intellectually in this period was The Merchant, now known as Shylock (1980), which rewrites Shakespeare's Merchant of Venice from the point of view of Shylock, who in this version is friends with the merchant Antonio.  Shylock's gregariousness and cultivation contrast sharply with the churlish and philistine Venetians.  Also in this historical mode is Caritas (1981), which tells the story of a fourteenth-century anchoress, Christine Carpenter, whose misplaced religious zeal blinds her to the spontaneity of her possible husband, Robert.
At the same time that he was producing these serious plays, Wesker was tapping a vein of comic writing first displayed in The Old Ones (1973).  The Wedding Feast returns to the Norfolk setting of Roots, and was also one of his best received plays in this period.  As with many of his works, a Jewish character is the protagonist, but tragi-comic Louis Litvanov is a small-time capitalist running a shoe factory rather than a socialist radical.  Nevertheless, like so many of Wesker's key characters, Louis is an idealist destined to be disillusioned.  In this case, disillusion comes at the hands of his employees who entertain him at a wedding he has not been invited to.  One More Ride on the Merry-go-round is a venture into farce, with the two main characters, the separated Jason and Nita, sparring verbally throughout.  When God Wanted a Son, meanwhile, tackles the question of anti-semitism within a comic form: Connie, an aspiring stand-up comic, mediates between her Jewish father Joshua and her English mother Martha.  The audience is encouraged to side with the 'enthusiasm, appetite, energy, ideas, touch, loud laughter, generosity' of the father over the emotional stinginess of the mother.  In the play we are shown different parts of Connie's stage routine - a glimpse into the subject matter of Wesker's other major project from this period, a series of one-woman plays: Four Portraits - of Mothers, Annie Wobbler, Yardsale, Whatever Happened to Betty Lemon?, The Mistress and Letter to a Daughter.
Into his fourth decade of playwriting, Wesker was still preoccupied with some of the same themes.  In Men Die Women Survive and Wild Spring (1994) it is once again the failure of relationships that takes centre stage and once more the passage of time and the emotional autopsy of failure that engages the characters' energies.  In Blood Libel Wesker returns to historical material -a twelfth-century child murder - taking up once again anti-semitism, this time in a familiar Norfolk setting.  In Denial, families, almost always Wesker's central dramatic material, are at the heart of things, while Longitude, which tells the story of John Harrison, a carpenter and joiner who invented a clock that could run at sea, brings Wesker back to ground of the Trilogy, working-class creativity.
Peter Buse, 2003
Bibliography
2012
Wesker's Domestic Plays
2012
Weskers's Historical Plays
2010
Wesker's Political Plays
2009
Wesker's Social Plays
2008
All Things Tire of Themselves
2006
Longitude: The Play - Based on the Book Longitude" by Dava Sobel"
2001
Plays 2: One-Woman Plays
1998
The King's Daughters: Twelve Erotic Stories
1997
The Birth of Shylock and the Death of Zero Mostel
1994
Wild Spring and Other Plays
1994
As Much as I Dare: An Autobiography
1990
Lady Othello and Other Plays
1990
Shylock and Other Plays
1990
The Kitchen and Other Plays
1990
Chips with Everything and Other Plays
1981
Caritas: A Play in Two Acts
1979
The Journalists: A Triptych
1978
Fatlips: A Story for Children
1978
Said the Old Man to the Young Man
1977
Journey into Journalism: A Very Personal Account in Four Parts
1976
Words as Definitions of Experience
1974
Say Goodbye, You May Never See Them Again: Scenes from Two East End Backgrounds
1974
Love Letters on Blue Paper: Three Stories
1971
Six Sundays in January
1970
Fears of Fragmentation
1966
Their Very Own and Golden City
1962
Chips with Everything
1960
I'm Talking about Jerusalem
1959
Chicken Soup with Barley
Awards
1999
Last Frontier Lifetime Achievement Award
1973
El espectador y la critica (Spain)
1964
Premio Marzotto (Italy)
1959
Evening Standard Award for Most Promising Playwright
Author statement
One of my characters in Annie Wobbler says: 'I write because I want to affect people the way other writers affected me.'
Like most writers I have frequently been pressed to ask myself what it is that informs my work. On reflection it seems to have been a Jewish temperament. Acknowledging a Jewish temperament is not the same thing as being preoccupied with Judaism. My first play Chicken Soup With Barley was no more about Judaism or Jewishness than it was about the working class. It was about the decline of idealism, about disillusionment. It happened to be played out through a Jewish working-class family because that was my background, the one through which I experienced the disillusionment.

It may be asked: what is a Jewish temperament? Well, a Russian Jewish landscape painter was once described as suffering from a melancholy optimism. With the exception of Roots, probably the only 'triumphant' play I ever wrote, I suspect a 'melancholy optimism' to be one of the most recognizable colours in my work. 'Colour' is not, however, to be confused with 'theme'. Whatever 'colour' pervades the writing, the plays and stories have explored many themes: of love as well as disillusionment; of the relationship between friends as well as the relationship between the state and the individual; of man and woman, parent and child, as well as people in work; of dying, of sexuality, of ageing, of fear, as well as the lilliputian spirit.

And if I am remembered I hope it will be not for form but for content and perception. My material dictates the form of a play. I have no mannered form into which I straightjacket my selections from experienced reality. But I do have perceptions about, and evaluations of, that reality. I hope the perceptions last.