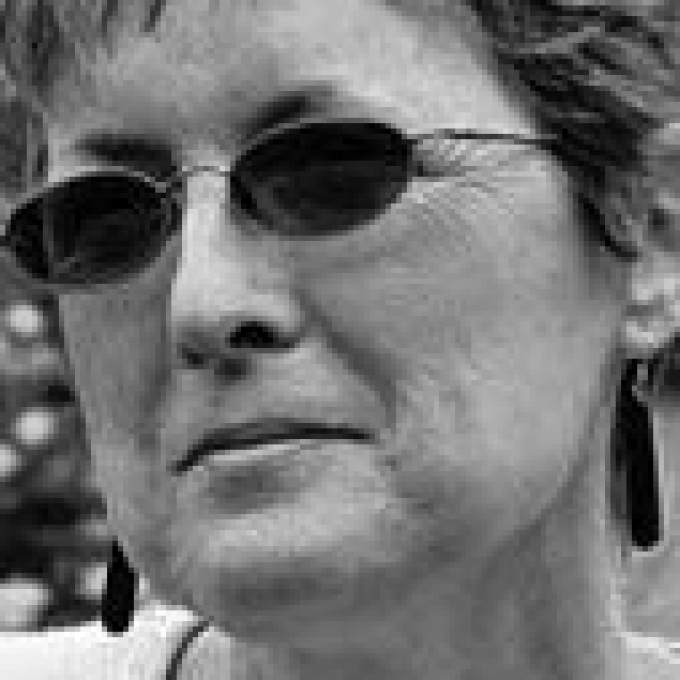 Biography
Anne Cassidy was born in London in 1952, and worked for some years as a teacher, before becoming a full-time writer.
She specializes in crime stories and thrillers for teenagers, and has written a series of East End Murder books: A Family Affair (1995); Accidental Death (1996); End of the Line (1996); No Through Road (1996); Brotherly Love (1997); Death by Drowning (1999); Killing Time (1999); and Dead Quiet (2000).
Her books also include Missing Judy (2002), the story of Kim, whose sister Judy has been missing for six years, and Looking for JJ (2004). JJ is Jennifer Jones, a girl who is released after serving a sentence for manslaughter for a crime she committed when she was ten years old. This book was shortlisted for the 2004 Whitbread Children's Book Award and won the Booktrust Teenage Prize.
As well as her crime fiction, Anne Cassidy has also written books for younger children, aimed to get them into reading. These include the Tadpoles range, for example Ben's Rocket (2015) and the Must Know Stories range including classics like Cinderella (2014). 
Her recent books include The Story of my Life (2007), the story of Kevin, a teenage boy who is drawn into crime; Forget Me Not (2008); Just Jealous (2009); and Heart Burn (2011).
Critical perspective
Anne Cassidy is best-known for her novels for young adults, most of which are thrillers and crime stories.
Consequently, she has often been described as 'Ruth Rendell for teenagers', and includes Rendell among her own favourite authors. Since the early 1990s, Cassidy has produced a prolific output of both young adult novels and books for younger children, and had a steady and moderate stream of success until the award-winning Looking for JJ (2004) dramatically increased her public profile and credence in the literary world.
Cassidy has a perceptive understanding of teenagers, and seems particularly sympathetic to those who would usually be perceived as 'difficult' or 'delinquent'. She often shows how easily young people can fall into troubling circumstances, and the stories which depict extreme or tragic situations seem to be suggesting that any one of us could have encountered the same experiences and, perhaps, behaved in the same way. Cassidy's novels therefore lessen the distance between what is considered 'normal' and what is considered 'abnormal', questioning the 'us-and-them' divide which pervades society.
One of Cassidy's earlier publications was A Family Affair in 1995. This was the first in her East End Murder series, featuring the 18 year-old teen sleuth Patsy Kelly who works for her uncle's detective agency. In these novels, Cassidy uses the classic 'whodunnit' plot to explore the complexities of human nature and examine what it is that causes people to commit such actions. This series in particular is strongly influenced by Cassidy's own reading of crime fiction - Rendell, Ian Rankin, Lawrence Block, James Lee Burke. As she says herself of her predecessors: 'There's a lot more to these books than you'd think. I love them. At their best they're thrilling and puzzling and - if they're well written - they tell you a lot about human nature and a darker side of life' (Cassidy's official website: http://www.annecassidy.com).
Cassidy gets many of her ideas from real-life news events. Missing Judy (2002) is about the abduction of a young girl, focusing not on the event itself, but on the traumatic struggles of her family in the following years. Their pain is more acute because of the lack of closure: Judy's body has never been found, and her abductor has not been caught. The novel's main character is Judy's sister, Kim, who feels responsible for letting her little sister run off on the fateful day, and is still tormented by guilt. Cassidy explores Kim's complex relationship with her parents - they do not blame her, but Judy's 'absent presence', as it were, is always with them, intensified by the family's tormented hopes that their little girl may still be alive. The discovery of new evidence six years later finally brings a dramatic conclusion.
While some of Cassidy's novels start with dramatic or tragic events, others begin in seemingly ordinary circumstances, before disturbing elements begin to filter in. Love Letters (2003) depicts an ordinary teenage girl, Vicky, who, like any girl her age, is extremely flattered to receive love letters from a secret admirer, particularly as her best friend is busy with her own new boyfriend and Vicky has been feeling neglected. However, what starts as a typical teen story of friendship, growing up and new romances, takes a horrifying turn when Vicky discovers that she is being stalked. Cassidy often explores the consequences of adults' behaviour on the lives of children and young people: Vicky is both terrified and humiliated, and must grow up extremely quickly as she is thrown into an adult world and forced to make crucial decisions.
2004 saw the publication of Looking for JJ. This novel received far more publicity than Cassidy's previous books, partly because of its controversial subject matter, and partly because it was awarded the 2004 Booktrust Teenage Prize. Looking for JJ, like Anne Fine's The Tulip Touch (1996), was inspired by the real-life murder of toddler James Bulger by two 10 year-old boys in 1993. Both authors felt strongly about the media's demonising of Bulger's killers, and both depict child characters who are severely troubled and in need of help. The two novels also enable a more considered and less emotional perspective by avoiding depicting the troubled child directly at the time of events: Tulip's story is told from the point-of-view of her friend, Natalie, while Looking for JJ begins when the girl is older, looking back on her traumatic childhood.
JJ is Jennifer Jones, who was jailed at the age of 10 for her part in the murder of another child. At the age of 17 she has been released under a new identity but struggles to free herself from her past. It is clear that JJ is in no way inherently 'bad', but rather is the product of a self-absorbed, callous mother who not only neglects her daughter but is on the verge of the ultimate betrayal in her intention to sell JJ into child pornography. As a result, JJ is a needy child who allows herself to be bullied by her domineering friend. This friend ultimately manipulates her into participating in a tragic event. Thus, JJ's actions are seen to be the result of a complex chain of events in which many people, most particularly her mother, have played a significant part. Consequently, the harsh, unforgiving attitudes of the media and the public - reflective of what actually happened in the Bulger case - are shown to be short-sighted and malicious.
Cassidy's 2006 novel, The Story of My Life, also shows how easily situations can get out of hand. Kenny is a fairly ordinary rebellious teenager, living in the shadow of his talented older brother, but for various reasons this ordinary boy gets sucked into gang warfare in East London. The novel is set over one night, looking back over a build-up of events which are about to culminate in a crucial early morning deadline. As with Looking for JJ, Cassidy depicts Kenny as a boy with potentially good qualities whose life has taken a difficult turn. Without condoning his behaviour, she again emphasises that bad actions do not indicate an inherently bad character, and suggests that other people's inability to see this will fuel undesirable behaviour. Cassidy discusses her opinions of teenage boys, and society's reactions to them, in relation to The Story of My Life:
'Are modern teenage boys more violent, more loathsome than in years gone by? Or, in these days of political correctness, are they just a handy group of people that can be picked on? Teenagers (particularly boys) have many enemies and few friends. They are often represented in the media as a group, a pack ... Individually they are vulnerable. As a group they can hide behind the image of the surly, potent teen who takes no crap from anyone.'
(Cassidy's official website: http://www.annecassidy.com)
Kenny, JJ and the majority of Cassidy's teen characters are both troublesome and extremely vulnerable. They are not absolved of responsibility for their actions, but they are shown to be both victims and perpetrators simultaneously, often caught up in a web of events in which other people are also at least partly responsible for what happens. Cassidy's depiction of abhorrent behaviour also suggests that the potential for 'darkness' lies latent in all of us, just as the potential for goodness is still present in those whom society condemns as 'evil' and 'other'.
Elizabeth O'Reilly, 2007
Bibliography
2013
Cheeky Monkey's Big Race
2010
Cheeky Monkey's Treasure Hunt
2010
Cheeky Monkey's Treasure Hunt
2009
Getting Away With It
2008
Cheeky Monkey on Holiday
2007
The Story of my Life
2007
Hopscotch Fairy Tales: Cinderella
2005
Sammy and the Starman
2003
The Better Brown Stories
1994
Talking To Strangers