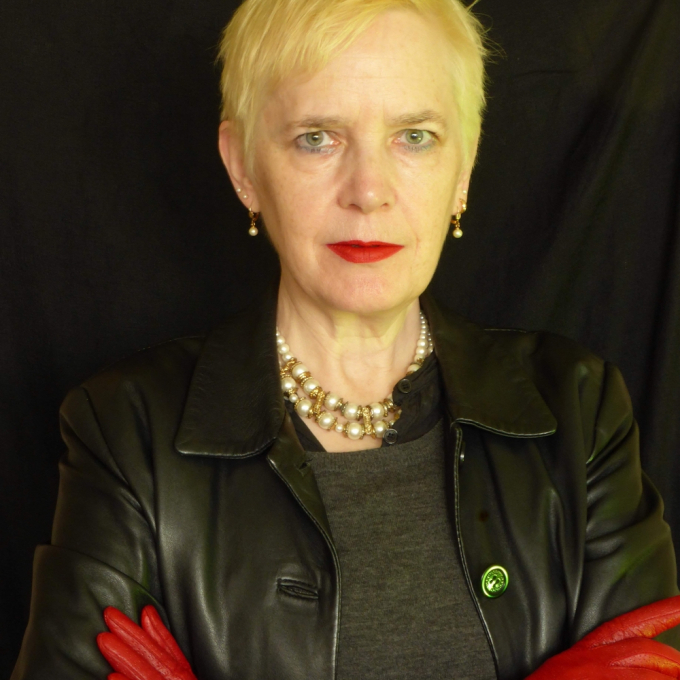 Biography
Anne Billson is a film critic, novelist and photographer whose work has been widely published. She has lived in London, Tokyo, Paris and Croydon, and now lives in Brussels.
Her books include Suckers (1993, an upwardly mobile vampire novel), Stiff Lips (1997, a Notting Hill ghost story) and The Ex (2012, a supernatural detective story), and several works of non-fiction, including The Thing (1997), a BFI monograph about John Carpenter's film, and Let the Right One in (2011), from Auteur Publishing, about Tomas Alfredson's film of John Ajvide Lindqvist's novel of the same name.
In 1993 she was named one of Granta's "Best Young British Novelists".
She has written about many different subjects, but chiefly about films, for more publications than she cares to remember, and has been film critic for the Sunday Correspondent, Tatler, New Statesman & Society and the Sunday Telegraph. She is currently working as a screenwriting consultant and contributing regularly to theTelegraph's online arts pages.
In 2012 she wrote Case Study: Richard Gill, a segment for the portmanteau play The Hallowe'en Sessions, directed by Sean Hogan and staged during the last week of October and the first week of November at the Leicester Square Theatre in London's West End.
Critical perspective
Anne Billson's first book was a prose adaptation of the British horror film, Dream Demon (1988). There have been more auspicious openings to a literary career perhaps, but it did not stop Billson's talents being recognised at an early stage.
She was named one of Granta's Best Young British novelists in 1993. Billson herself has always stood by her apprenticeship novel, and in interview has explained that it is storytelling as an immersive entertainment, as much as an art form, that motivates her writing:
I have a real attachment to storytelling. It's hugely underrated, I think. Some people think they can get away without it and, unless you're a genius like Bunuel, you can't. I don't think you necessarily have to tell the story in a straightforward way, but there has to be a good story there. Once you have it you can throw it out the window, but there has to be some sort of structure. I don't want to impress people with my writing, I want them to think, 'Hey, this is a really good read.' I want you to keep reading to the end. I'm always starting a literary novel and [finding] there's no reason why you'd want to finish it. Take it or leave it. I really really want to know what happens.
Billson's attachment to storytelling comes to the fore in her first original novel, Suckers, which was 'highly recommended' in the Library Journal as a 'surprisingly down-to-earth supernatural romp', heralded by Kevin Jackson as 'a gripping adventure yarn', and reviewed in Time Out as 'dark, sharp, chic and very funny'. Suckers is set in late eighties London. In its satirical exploration of yuppies, image-consciousness materialistic excess, self-delusion, dinner parties and gothic dismemberment, it resembles the world of Brett Easton Ellis' American Psycho, but with less killing and more comedy. Dora is the novel's anti-heroine and 'I' narrator. She's a woman with a past and a penchant for persecuting people. The only thing that redeems her as a character is that the culture around her is even less appealing. She may relish frightening the life out of Patricia Rice by making anonymous phone calls, but Patricia did gazump her. She may take a sadistic pleasure in tearing strips off Duncan's new girlfriend, Lulu, but Lulu is the epitome of shallow eighties narcissism. In the end, and as with American Psycho, we begin to wonder whether pathological behaviour comes from within, or without, is a psychological, or a public state of being.
Billson's next novel is a ghost story. Stiff Lips is centred on the character of Clare. Overweight, untrendy, but keen to get on with Notting Hill's in-crowd, Clare enters the text like Bridget Jones trapped in the wrong genre: 'she might have been quite attractive if she'd shed a couple of pounds, ditched the dowdy specs, and daubed on a bit of lipstick…' For Clare though, the stakes are considerably higher, a matter of life and death even.
Billson's most recent novel, The Ex, continues in a similar vein. A supernatural detective story that takes us from London to Venice via Norfolk, this is Billson's distinctive brand of horror comedy (a label Billson prefers for her work to chick lit or satire) at its best.
For all her success as a novelist, Billson is arguably at her most astute, witty and transgressive in her journalism. Below she speaks up about  'cockamamie feminist role models' in recent film with reference to the pernicious 1980s Prime Minister, Margaret Thatcher:
I have no intention of going to see The Iron Lady. This is not for political reasons (though there is that) but because it's by the same director asMamma Mia!, which was like a drunken Club Med hoedown shot through a sock. Worse, I hear they've softened Margaret Thatcher in an effort to make her seem human and vulnerable. Again, I don't object to this for political reasons (though there is that) but because it's not what I want from a movie about one of the most powerful women of our time. … No, what I really want is for screenwriters to go Shakespearean on Thatcher's ass.
As this passage suggests, Billson and her work to date is as much about film as it is about chronicling the 1980s and 1990s. A regular film critic for the Telegraph (1993-2001) and the Guardian, she has published numerous books on cinema, including Spoilers. Appearing in two parts, Spoilers is a selection of Billson's best film journalism printed between 1989 and 2001 in a range of newspapers and magazines, including the New Statesman, Times, Vogue, Elle and GQ. Meanwhile, Anne Billson on Film 2009, and Anne Billson on Film 2010 round up the best of Billson's journalism from her highly regarded Guardian film column. Billson has also contributed more sustained film and television analysis to the established BFI series, including a popular study of The Thing, which not only sheds light on John Carpenter's classic, but on Billson's own fascination with the horror genre.
Billson's most recent work, My Day by Jones (2012) is an intriguing short story that combines film analysis and fiction in its cat's eye view of the world from the perspective of Jones, the ginger feline from the 1979 film, Alien! Here's how it opens:
Y-a-w-n. Was just having a pleasant dream about eviscerating a small family of fieldmice when the can-opener tipped me off her chest by sitting up. Impossible to go back to sleep with the can-openers all aflutter like this. S-t-r-e-t-c-h. They seem to think we're home. I could tell them we're not, but I'll leave them to work that out for themselves. No sense of direction, these people. But hey, since I'm awake, might as well take advantage of the situation to tuck into some moggynosh. I eat at the big table, like everyone else. I have my own bowl with JONES painted on the side so the can-openers won't steal my food.
The narrative is classic Billson territory in terms of its quirky combination of both horror and humour. It is a combination publishers have struggled to pigeon hole and market (Billson's most recent work is self-published), but for better or worse, it encapsulates this author's tireless inventiveness.
Dr James Procter, 2013
Bibliography
2012
Spoilers: Selected Film Reviews Parts 1 and 2 1989-1995 and 1995-2001
2011
Let the Right One In
2005
Buffy the Vampire Slayer
1992
My Name is Michael Caine: A Life in Film