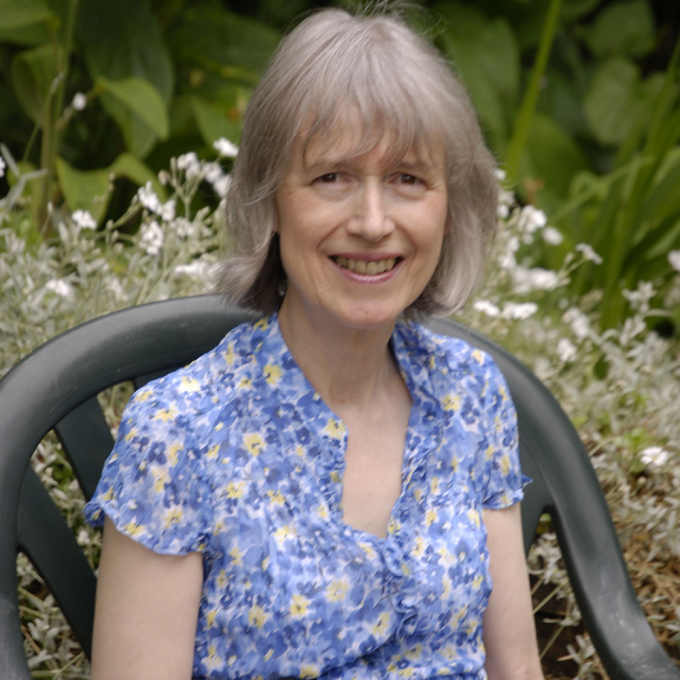 Ann Turnbull
Publishers:
Agents:
Biography
Ann Turnbull was born in Hertford in 1943, and brought up in south-east London. She worked as a secretary for some years before becoming a full-time writer. Her first novel, The Frightened Forest, was published in 1974, and has been followed by many books for children and young people, some set in Shropshire where she lives, and many with a historical setting.
Gunner's Boy (2002) is the story of John Amery, who joins the Royal Navy as a gunner's boy in 1588.  Pigeon Summer (1992) was shortlisted for the Nestlé Smarties Book Prize and filmed for Channel 4 Schools TV. No Shame, No Fear (2003), is set in 1662 and tells the story of 17-year-old Will, and Susanna, a young Quaker girl. It was shortlisted for the 2004 Whitbread Children's Novel Award and the Guardian Children's Fiction Prize, and adapted for the stage in 2007. A sequel, Forged in the Fire, was published in 2006. 
Alice in Love and War appeared in 2009.
Recent titles include The Gunpowder Plot: A Time for Treason (2014), and new editions of the Pigeon Summer Trilogy also in 2014 and Deep Water in 2013, a compelling, realistic moral tale for young adults. 
Critical perspective
Ann Turnbull has been writing stories since she was six years old, although she was in her 30s at the time of her first publication.
She has a particular interest in historical fiction, and many of her books are set in past eras. Her output of more than 30 books includes picture books for very young children, novels for children in the 8-12-year age range and, more recently, Young Adult fiction. However, as most children's writers would probably point out, these categories are by no means watertight - Young Adult fiction in particular is often enjoyed by adult readers as well as teenagers. One of Turnbull's picture books, The Sand Horse (1989), is also written with such poignancy and sophistication that many reviewers have pointed out that it could be enjoyed by older children (and perhaps even adults) as well as pre-schoolers. 
Turnbull's first two books - The Frightened Forest (1974) and The Wolf King (1975) - are fantasies. This was followed by a break of almost 10 years while the author raised her two children. She has stated in interviews that when she returned to writing again, she found she was less interested in fantasy, but instead focused more on domestic themes and characters. However, her novels rarely have contemporary settings - most are set in past eras, combining accurate historical detail with realistic characters with whom any modern-day reader can easily identify.
The 'Pigeon Summer' trilogy is one of Turrnbull's most popular series of novels: Pigeon Summer (1992), No Friend of Mine (1994) and Room for a Stranger (1996). Each book tells the story of a different member of the Dyer family, a working-class mining family in Shropshire (where Turnbull now lives). The books are set, respectively, in 1930, 1937 and 1941, and depict the history of the local area in Shropshire as well as more far-reaching events of time - most notably, the Great Depression and World War II. As in most of Turnbull's novels, the child protagonists are experiencing their own personal dilemmas alongside the challenges and traumas that face their family and community: in Pigeon Summer, Mary's father is forced to leave home to look for work, increasing the tension between Mary and her mother; No Friend of Mine explores class prejudice as Lennie befriends a boy from a wealthy family; Room For a Stranger depicts Doreen's struggle to accept the presence of evacuee children in the family home.
Turnbull has also written two books for the 'Historical House' series: Josie Under Fire (2004) and Mary Ann and Miss Mozart (2007). The series consists of six books, with two each written by Turnbull, Adele Geras and Linda Newbery. Each novel is set in the same house - number 6, Chelsea Walk, London - during different periods of time, from the eighteenth century through to the 1960s. Each focuses on a young female protagonist, exploring the issues of the particular era - for example, Victorian social mores; the Suffragette movement; the two world wars - through the eyes of these young girls. Though the protagonists each live in a society which is vastly different from the twenty-first century, they are such well-rounded and realistic characters that today's readers will easily identify with their thoughts, feelings and emotional dilemmas.
Most of the six novels explore the young protagonists' developing ambitions and beliefs. Frequently, their dreams are blocked by obstacles, or they must learn to develop confidence in themselves and their beliefs. Mary Ann and Miss Mozart is set in the eighteenth century and features Mary Ann, who longs to become an opera singer, but is thrown into difficulties by her father's financial problems. Josie Under Fire is set during the Blitz in World War II. Josie is struggling to cope with the shame inflicted on her family by her brother's decision to become a conscientious objector. When she is sent to stay with her cousin Edith, she hopes that her secret will remain hidden:
'"Do they know?" she asked "About Ted? Does Edith know?"
"We told Aunty Grace and Uncle Walter. I doubt if they'd tell Edith. And Aunty Grace wouldn't gossip. The neighbours won't know."
No, thought Josie, Aunty Grace was always polite and correct. And if she felt differently about Josie now, she wouldn't show it. But Edith....?'
Yet Josie soon finds herself joining in with the bullying of a girl at her new school, and she thus faces an emotional dilemma in which she is torn between her desperate desire to fit in with her peer group and her own understanding of how it feels to be ostracised. Thus, though the story is set within the context of World War II, and offers young readers a well-researched introduction to this period of history, it also features the more universal themes of peer-pressure, bullying and learning to negotiate the issues of self-identity and group-identity.
Turnbull continues to produce a steady output of both picture books for the very young and novels for the 8-12-year age range. Recently, she has also begun to write fiction for older children and teenagers, and the first of these was No Shame No Fear in 2003, followed by a sequel, Forged in the Fire, in 2006. Turnbull's official website (http://www.annturnbull.com) describes the books as 'Quaker novels'. Both are set in the 1660s, and tell the story of the passionate love affair between William Heywood and Susanna Thorn. Will's Anglican father is a wealthy wool merchant in Shropshire, while Susanna's family are Quaker weavers, and the novel explores young love, class prejudice and religious persecution in the seventeenth century. The sequel takes the young lovers from Shropshire to London, during the time of the Plague and the Great Fire of London.
Turnbull was inspired to write these novels when she began to learn about the remarkable faith and tenacity displayed by the Quakers during their time of persecution. As she says in her own words:
'I knew I had to write their story. I began with 15-year-old Susanna, the eldest child in a Quaker family, who sees a life of struggle and persecution ahead of her and fears she may not have the courage to endure it. But I was also interested in Will, scholarly and thoughtful, brought up an Anglican but drawn to the Quakers. I decided to tell the story through both their voices, and to have them fall in love.' (Turnbull's official website, cited above) 
No Shame, No Fear and Forged in the Fire are meticulously researched yet, as in all of Turnbull's historical novels, the issues of 17th-century life are intertwined with timeless themes of love, friendships and family relationships, along with authentic and sympathetic characters. These novels have been praised particularly for the way in which they depict the turmoil of religious persecution and passionate young love with a clear, direct style and detailed realism. In many scenes, the matter-of-fact depiction of ordinary, everyday experiences makes the terror of persecution all the more striking:
'We were having a washday when the bailiffs came. We'd got the linen together, piled in a basket - shirts, shifts, caps, sheets, collars: a fortnight's load - and I was helping my mother lay it in the tub […] "They're at the top of the lane!" said Isaac. "With a cart!"
Deb had her thumb in her mouth […] I knew she was frightened. My own heart was racing […] There were three of them, tall in their high-crowned black hats […] once inside, they seemed to fill the house with their male presence: loud voices, boots, weapons.'
Turnbull's success with her Quaker novels has proved her immense versatility in producing a wide range of fiction from picture books to Young Adult novels. Her work as a whole shows great empathy for child readers, as well as confidence in their abilities. She does not shy away from difficult topics, and even her picture books, such as The Sand Horse, contain vocabulary that will 'stretch' the reader and introduce him or her to new ideas. Her historical novels introduce older children and teenagers to different eras and themes, while also showing them that young people throughout history have experienced many of the same emotional dilemmas and learning experiences as themselves.
Elizabeth O'Reilly 2007
 
 
Bibliography
2014
The Gunpowder Plot: A Time for Treason
2013
Plague: A Cross on the Door
2009
Alice in Love and War
2007
Mary Ann and Miss Mozart
1990
There's a Monster under my Bed
1984
Maroo of the Winter Caves
1974
The Frightened Forest
Awards
2004
Guardian Children's Fiction Prize
2004
Whitbread Children's Book Award
1994
WH Smith Mind-Boggling Book Award
1992
Nestlé Smarties Book Prize
Author statement
I've been writing stories since I was six years old. The desire to write grew out of my love of reading, which for me was an escape - a way of entering other worlds and becoming other people.
I love the process of writing a book, from the first hint of an idea through the struggle to find shape, form and meaning. I never tire of this because every book is different; and I never fail to be surprised when it works and all those bits of ideas come together in a coherent narrative.