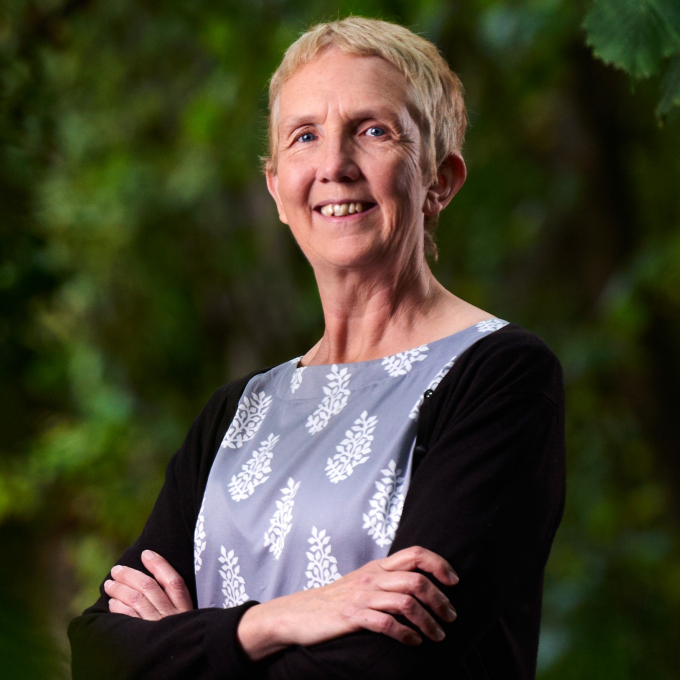 Biography
Novelist Ann Cleeves was born in Herefordshire in 1954 and in 2014 was awarded an Honorary Doctorate of Letters from the University of Sunderland.
The 2017 recipient of the Crime Writers' Association Diamond Dagger, the highest honour in British crime writing, and Sunday Times Top Five bestseller, Ann Cleeves has sold over 5 million books, written 32 novels and is translated into as many languages. She is the only living British author with two crime series adapted for television; Vera and Shetland are major dramas starring Brenda Blethyn on ITV and Douglas Henshall on BBC One respectively. The Guardian has named her 'the best living evoker of landscape'.
In 2006, Cleeves' first Shetland novel, Raven Black, was awarded the Duncan Lawrie Dagger (CWA Gold Dagger) for Best Crime Novel, and in 2012, she was inducted into the CWA Crime Thriller Awards Hall of Fame. In 2014, she was awarded an Honorary Doctorate of Letters by the University of Sunderland, in recognition of her outstanding achievements as a crime writer. In 2015, she chaired the Theakston's Old Peculier Crime Writing Festival, during which Vera Stanhope was voted the UK's favourite fictional detective. In the same year, Thin Air was nominated for the Scottish Crime Novel of the Year and Cleeves was shortlisted for the prestigious Crime Writers' Association Dagger in the Library award.
As well as fiction, Cleeves has written a non-fiction title about Shetland and, in November 2015, she hosted the inaugural Shetland Noir festival. She is a passionate supporter and champion of libraries and was named CILIP's National Libraries Day Ambassador in 2016.
Cleeves grew up in the country, first in Herefordshire, then in North Devon. After dropping out of university she took a number of temporary jobs - childcare officer, women's refuge leader, bird observatory cook, auxiliary coastguard - before going back to college and training to be a probation officer.
While she was cooking in the bird observatory on Fair Isle, she met her husband Tim, a visiting ornithologist. Soon after they married, Tim was appointed warden of Hilbre, a tiny island nature reserve in the Dee Estuary. They were the only residents, and access to the mainland was only possible at low tide across the shore. If a person is not heavily into birds -- and Ann is not – there is not much to do on Hilbre, and so that was when she started writing.
In 1987, Cleeves, her husband and their two daughters moved to Northumberland, and the North East provides the inspiration for many of her titles. In the autumn of 2006, Cleeves and her husband – having previously moved away -- finally achieved their ambition of moving back to the North East. Cleeves now lives in Whitley Bay in Northumberland; sadly, Tim died in 2017.
In October 2016, Cleeves celebrated the publication of 30 books in 30 years.
Critical perspective
Cleeves is a well-known aficionado of Scandinavian crime fiction, and she is able to transmit that Nordic feeling into her own exemplary work set in Britain. But that approach is a relatively recent one in her lengthy and impressive writing career; Cleeves' earlier books were more Anglocentric, inhabiting what is sometimes described as the 'cosy' end of the crime-writing spectrum. And while her later Vera Stanhope novels share some of the elements of that genre, the acerbic qualities of the central character and the edgy cases she investigates firmly banish any notions of 'cosiness' (and Cleeves' concurrent 'Shetland' series has all the sinewy, unsentimental edge of the author's admired Nordic Noir genre).
The author's first protagonist was the ageing naturalist George Palmer-Jones, the kind of quietly effective, low-key character who might have been created by one of the writers of the Golden Age of British crime fiction. In A Bird in the Hand (1986), the initial book in a series of birdwatcher titles written between 1986 and 1996, a young man is discovered murdered in a marsh on the Norfolk coast. He was one of the best-known birders in the country, and was something of a celebrity in the village of Rushy. The doughty Palmer-Jones investigates the murder and finds a variety of possible motives, even as he simultaneously looks into rumours of rare bird sightings. Rather in the fashion that the crime writer Dick Francis took the reader into the world of horse racing in his books, Cleeves immerses us in the esoteric world of birdwatching. And while the considerable accomplishment of her later books is in embryo here, there is clear evidence that Cleeves was already a writer of skill and authority.

More indicative of the direction the author was subsequently to take were her novels featuring Inspector Ramsay; these began with A Lesson in Dying in 1990 and ended with The Baby Snatcher in 1997. These were polished police procedurals that more closely prefigured her later work (while not as yet achieving her later mastery), and while Ramsay may have been cut from familiar cloth, there was a certain individuality to the character that would come to full fruition in Cleeves' more recent protagonists Vera Stanhope and Jimmy Perez. What's more, one of Cleeves' particular strengths – her assured plotting - can be seen in the decade in which the Ramsay books appeared.

However, few of her admirers would dispute the fact that Ann Cleeves' real achievement as a crime writer came with the creation of her short-tempered, badly dressed (but keenly intuitive) policewoman Vera Stanhope, who first appeared in with The Crow Trap in 1999. The highly successful television series that followed with Brenda Blethyn in the title role had a similar effect to television adaptations of Colin Dexter's Inspector Morse novels: the figure of the detective became indelibly associated with the actor who played the character, even (as both Cleeves and Dexter admitted) affecting the writers' own perceptions of their detectives. The Stanhope books, particularly the excellent The Glass Room (2012) and The Moth Catcher (2015) demonstrate the author's particular strengths: a strong and vivid sense of locale (the northern England settings are perfectly evoked), a vividly drawn cast of characters and – most significantly of all -- the character of Vera herself: difficult, often infuriating but always bristling with a keen sense of justice, and a notable reluctance to suffer fools gladly. Vera was something new in crime fiction -- distinctly unlike earlier female sleuths such as Agatha Christie's Jane Marple or the single-minded female forensic pathologists that had begun to (over)-populate the crime fiction world.
Many critics and readers, however, maintain that Cleeves' crowning achievement is her series of books featuring her Shetland detective Jimmy Perez. Blue Lightning (2010), for instance, cogently demonstrates her considerable narrative grasp and (her ace in the hole again), her persuasive evocation of local atmosphere. In Blue Lightning, Jimmy Perez is hardly looking forward to his trip to the Fair Isles. It is an insular community, one that shuns incomers. Perez is well aware that the islanders are a tough bunch – and, as winter sets in with its ferocious storms, the community hunkers down even more. It is in this fraught setting that violent death occurs and the body of a woman is discovered with her hair laced with feathers. As the locals grow ever more uncooperative, Perez is obliged to investigate the murder as expeditiously as he can. The book represents Cleeves at her considerable best, and is the perfect entrée into the universe of the Shetland books.

Cold Earth, Cleeves' thirtieth book, is a taut and carefully structured outing for the complicated detective Perez. Another typically bruising winter has Shetland in its grip, and heavy rain causes a landslide; at an old friend's burial, Jimmy watches the displaced earth destroy a croft house. The house was thought to be empty, but Jimmy discovers a body – that of a woman wearing a red silk dress. Jimmy becomes convinced that, like him, the dead woman had a Mediterranean background, and feels driven to discover her identity. But then an unpleasant fact comes to light – the woman was already dead before the landslide wrecked the house. Jimmy's already obsessive investigation becomes even more focussed – and then a wooden box with enigmatic contents comes to light. In it are two photographs: one of two young children, and one of an ageing couple – as well as a letter that begins 'My dearest Alis'. And readers of crime fiction are well aware that close attention must be paid to letters. This really is Cleeves at her finest, and even the currently fashionable imposing length (nearly 400 pages) is fully justified. While the plotting is top-notch, it is the conflicted, complex character of Jimmy himself that makes the book so fascinating. With Cleeves' adroit chronicling of her two detectives, Jimmy Perez and Vera Stanhope, in robust health, the writer's admirers have continuing cause to be thankful.
Barry Forshaw, 2018
Bibliography
2018
Wild Fire [Shetland Island Mysteries]
2017
The Seagull [Vera Stanhope]
2016
Too Good to Be True [Shetland Island Mysteries]
2016
Cold Earth [Shetland Island Mysteries]
2015
The Moth Catcher [Vera Stanhope]
2014
Harbour Street [Vera Stanhope]
2014
Thin Air [Shetland Island Mysteries]
2013
Dead Water [Shetland Island Mysteries]
2012
The Glass Room [Vera Stanhope]
2011
Silent Voices [Vera Stanhope]
2010
Blue Lightning [Shetland Island Mysteries]
2009
Red Bones [Shetland Island Mysteries]
2008
White Nights [Shetland Island Mysteries]
2007
Hidden Depths [Vera Stanhope]
2006
Raven Black [Shetland Island Mysteries]
2005
Telling Tales [Vera Stanhope]
2001
The Sleeping and the Dead
1999
The Crow Trap [Vera Stanhope]
1994
The Mill on the Shore
1992
A Day in the Death of Dorothea Cassidy
1992
Another Man's Poison
1991
Murder in My Backyard
1987
Come Death and High Water
Awards
2018
Raven Black awarded the Icelandic Ice Pick award for best translated crime fiction in Icelandic
2017
Recipient of the Crime Writers' Association Diamond Dagger
2014
Honorary Doctorate of Letters from the University of Sunderland
2012
Cleeves inducted into the CWA Crime Thriller Awards Hall of Fame.
2006
Raven Black awarded the Duncan Lawrie Dagger (CWA Gold Dagger) for Best Crime Novel