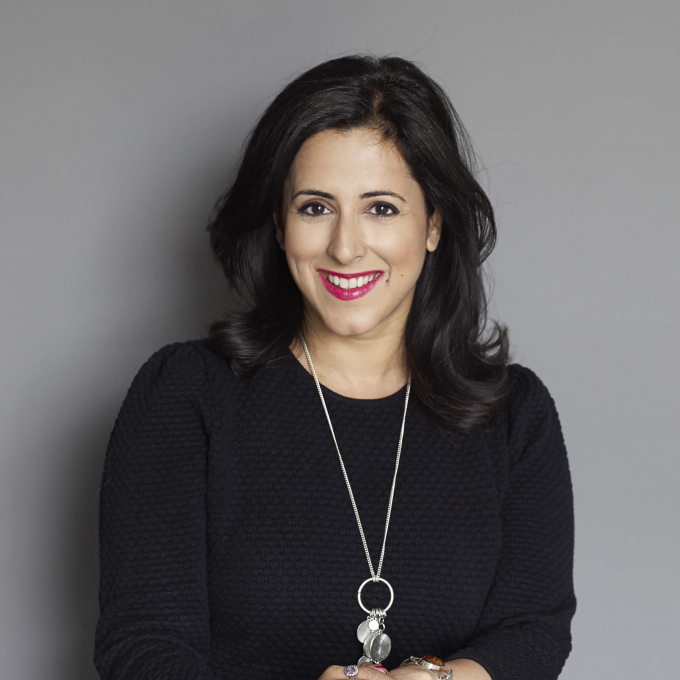 Biography
Broadcaster, journalist and biographer Anita Anand was born in 1972 and educated at King's College, London.
Her broadcasting career began in the newsroom of satellite channel Zee and she won the Nazia Hassain Award in the Upcoming Television Broadcaster category in 2005. She has since presented several news and current affairs programmes for BBC radio and television, notably on Radio 5 Live and currently Radio 4's Any Answers. On BBC2 she has co-hosted The Daily Politics show and presented Newsnight.
Her first book, Sophia: Princess, Suffragette, Revolutionary, a biography of a campaigner for women's suffrage and Indian independence, was published in 2015.
She opened the 2014 Kolkata Book Fair and has also appeared at the Jaipur Literature Festival, most recently in January 2015. 
Her website is www.anitaanand.net
Critical perspective
Anita Anand's much-praised biography Sophia: Princess, Suffragette, Revolutionary (2015) opens by re-creating the scene at Caxton Hall, Westminster, on 18 November 1910. Hundreds of women had assembled to hear Emmeline Pankhurst, leader of the campaign for votes for women, speak before their protest march to Parliament. Behind her were 38 prominent supporters, including "a quiet, bird-like woman seated right at the back of the stage", dressed in Parisian couture, the Princess Sophia Duleep Singh. Self-effacing and yet "an international celebrity", this daughter of a flamboyant spendthrift Maharajah and a favourite goddaughter of Queen Victoria is brought back to life over the course of the book, in all her fascinating contradictions. Anand brings her out from the back of the stage, as it were, to reveal Sophia's involvements in two key historical movements: women's rights and Indian independence. Anand does this not only with detailed archival research but also with descriptive flourishes and some of the techniques of fiction. The opening scene, for instance, imagines Sophia drumming out the beat to suffragette songs with emerald rings on manicured fingers, and ends with a cliffhanger as she "was about to pitch herself into a violent street brawl which would leave many – including herself – bruised and bleeding in the shadow of the mother of all parliaments".
It was an appropriate place to begin, because Anand, an experienced political journalist, knows the parliamentary scene well. There may also be a degree of identification between author and subject. Both were born in London but with family history from the same part of India; as Anand remarked in an online interview with Gargi Gupta, "she was Punjabi, as am I". She further explained that her own interest in Sophia originated in a 1913 photograph of her selling The Suffragette newspaper outside Hampton Court (where the princess lived in a royal grace-and-favour house, much to the chagrin of the authorities as her activism increased). In researching the book, Anand drew upon the papers of Sophia's father, Maharajah Duleep Singh, as well as intelligence and police records detailing links with suffragettes and Indian nationalist leaders. By a nice irony, she pointed out, it was the very thoroughness of British bureaucracy that enabled Sophia's story to be fully told for the first time (www.dnaindia.com 18 January 2015).
Having set the scene with the suffragettes in bravura fashion, the book then follows a more conventional cradle-to-grave narrative. Readers wanting to know the violent outcome of the march on Westminster must wait until page 247, but what follows is the dramatic highlight of their campaign - still shocking in its details of police brutality and sexual harassment - and perhaps of Sophia's life itself. For that life was, in personal terms, "a sad story of disposession and dislocation", as historian Lucy Worsley has noted, and in the "noble cause" of women's suffrage "she found something like redemption from the tragedies of her birth family" (The Daily Telegraph, 15 January 2015). These tragedies included her father's exile from his kingdom in the Punjab, to become an embittered alcoholic and bankrupt; her brother's early death from a similarly dissipated life; and her half-sister's suicide. She had "little experience of romance", and never married, lavishing affection and money upon her many dogs and, late in life, the daughter of her housekeeper as well as three children evacuated to her estate during the Second World War.
Crucial to Sophia's evolution from socialite to political campaigner were her visits to India, where she witnessed firsthand the results of disastrous famines, plagues and repression against growing nationalist demands. Socially ostracised by the Raj during the so-called 'Delhi Durbar' celebrating the Coronation of King Edward VII, she attended rallies by Gopal Krishna Gokhale (a "passionate moderate", founder of the Indian National Congress) and the more radical Lala Rajput Rai. She lived just long enough to welcome Indian independence and democracy in 1948. By contrast, her autocratic sister Bamba (who had experienced discrimination when attempting to study medicine in Chicago), went back to live in Lahore and styled herself 'Queen of Punjab'.
Anand's handling of this rich mix of the personal and political is assured, occasionally exuberant. There are amusing descriptions of Sophia's youthful crazes for high fashion, dog breeding or cycling. On the liberating effects of the latter for women, she notes that Sophia favoured the Vigor and Co. pneumatic anatomical cycle saddle which promised no vibration, shock, "and presumably nor would it cause unnecessary excitement". One also relishes Maharajah Duleep Singh's private description of Queen Victoria as "Mrs Fagin", Dickens' infamous receiver of stolen goods, referring specifically to the fabulous Koh-i-Noor diamond, taken by the British from the Sikh Treasury. For her part, the Queen was seemingly unaware of this burning resentment and continued her longstanding personal interest in the family, showering Sophia with gifts as a child and worrying about her future.
The achievement of the book is to tell the story of a life exceptional in its circumstances, within the larger context of the historical relationship between Britain and India. On a personal level, Sophia did not so much rebel against her background as find herself through these causes. In a poignant epilogue, Anand details how she eventually tracked down the only living people who had known Sophia: her goddaughter Drovna and the surviving evacuee child. They were able to give testimony on what really mattered to Sophia, the advancement of women by democratic means; she told Drovna "You are never, ever not to vote". (This is a command that, in her acknowledgements, Anand herself repeats to her own neices and goddaughters). No matter that Sophia "never managed to be sent to prison, and therefore was denied her chance to go on hunger strike and her place in the pantheon" of the suffragette movement – until now. A lifestory that encapsulates the rise of women and the fall of empires is one still full of relevance today. Anita Anand herself, as political journalist and biographer, observes these ongoing struggles.
Dr Jules Smith, 2015