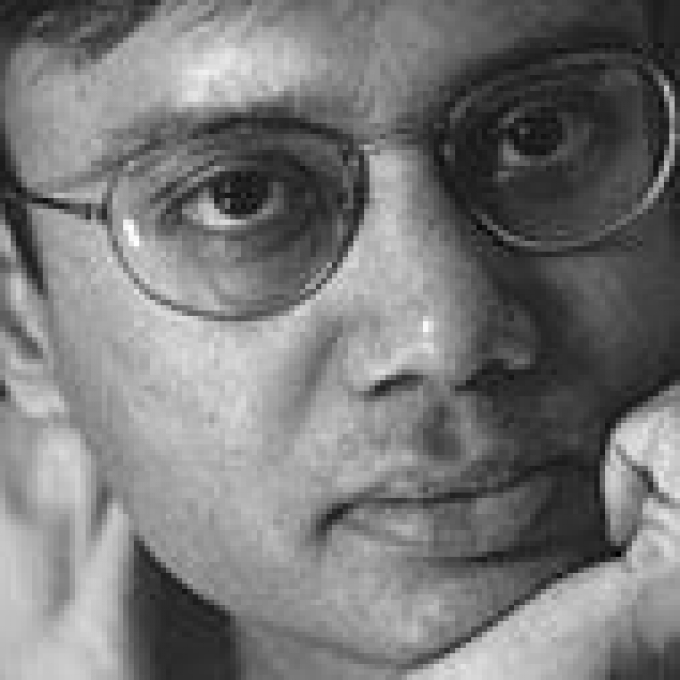 Amit Chaudhuri
Publishers:
Agents:
Biography
Born in Calcutta, India, in 1962, Amit Chaudhuri was brought up in Bombay.
He graduated from University College, London, and was a research student at Balliol College, Oxford. He was later Creative Arts Fellow at Wolfson College, Oxford, and received the Harper Wood Studentship for English Literature and Poetry from St John's College, Cambridge. He has contributed fiction, poetry and reviews to numerous publications including The Guardian, the London Review of Books, the Times Literary Supplement, the New Yorker and Granta magazine. His first book, A Strange and Sublime Address (1991), a novella and a number of short stories, won the Betty Trask Prize, the Commonwealth Writers Prize (Eurasia Region, Best First Book) and was shortlisted for the Guardian Fiction Prize. His second novel, Afternoon Raag (1993), won both the Southern Arts Literature Prize and the Encore Award (for best second novel of the year). The novel adopts the metaphor of Indian classical music, the raag, to evoke the complex emotions displayed by the narrator, a young Indian student at Oxford. It was followed by Freedom Song (1998), set in Calcutta during the winter of 1992-3 against a backdrop of growing political tension between Hindus and Muslims. The US edition of Freedom Song won the Los Angeles Times Book Prize (Fiction) in 2000. A New World (2000) is the story of Jayojit Chatterjee, a divorced writer living in America, and the visit he makes with his son Vikram to his elderly parents' home in Calcutta. Real Time (2002), includes a number of short stories set in Bombay and Calcutta, some of which have been published in the London Review of Books, the Times Literary Supplement and the New Yorker, as well as 'E-minor', a memoir written in verse. D. H. Lawrence and 'Difference': Postcoloniality and the Poetry of the Present, exploring Lawrence's position as a 'foreigner' in the English canon, was published in 2003. St. Cyril Road and Other Poems was published in 2005. His most recent novels are The Immortals (2009), shortlisted for the 2010 Commonwealth Writers Prize (South Asia and Europe Region, Best Book) and the 2011 DSC Prize for South Asian Literature, and Odysseus Abroad (2015). In 2013 his non-fiction book Calcutta: Two Years in the City was published, a personal account of his time spent in the city. 
Amit Chaudhuri is currently teaching Creative Writing at the University of East Anglia. He is editor of The Picador Book of Modern Indian Literature, published in 2001.
Critical perspective
Amit Chaudhuri achieved critical acclaim with his first book, A Strange and Sublime Address (1991).
Moving between Calcutta and Bombay, A Strange and Sublime Address is structured around nine evocative tales. Like so many of his other stories and novels, the text is without major events or upheavals. Nothing much seems to happen. Yet this is one of the strengths of Chaudhuri's writing, which pursues its larger questions indirectly, and through the seemingly insignificant. In a typically outspoken attack on postcolonial writing recently, Chaudhuri despaired that work appearing under this heading 'has become less a critical or imaginative exploration than a political programme, with novelists "writing back" to the Empire that had supposedly formed their recent histories'. Whether or not we agree with Chaudhuri here, it would be difficult to accuse the author's own imaginative explorations of such reductiveness.
His next novel, Afternoon Raag (1993), tells the story of a young English Literature student at Oxford University, whose obsession with music is matched only by his equally obsessive memories and hallucinations of home and the past. The 'raag' (a piece of classical Indian music) of the title is not just an allusion to the musical tastes of the 'I' narrator - it seems to refer to the very substance of the novel and its poetic, musical prose. In a recent article, Amit Chaudhuri recalled the influence of Nobel Prize winner, V. S. Naipaul, on his work, and there is something of Naipaul's sadness, solitariness and pessimism in Afternoon Raag. His more recent Freedom Song (1998), A Strange and Sublime Address and Afternoon Raag constitute a trilogy. Freedom Song is set against the backdrop of social, religious and economic unrest. It follows the lives of two families in Calcutta as they grow up and grow old.
Real Time: Stories and a Memoir in Verse (2002) consists of 15 short stories and a piece of poetry. Many of the tales are fictional meditations on the artistic process and its characters are often poets and musicians. One critic has described Chaudhuri as a 'miniaturist' and the intricate, understated stories within this collection certainly constitute memorable miniatures. This fact also sets his work apart from the 'elephantic' narratives of people like Mistry, Seth and Rushdie. A New World (2000), Chaudhuri's fourth novel, tells the story of Jayojit Chatterjee, an economist, writer and university lecturer. Jayojit travels back from the United States to his native India with his son, Vikram (otherwise known as Bonny). They are to stay for four months to take advantage of the custody settlement following Jayojit's divorce. As father and son re-establish themselves in the city during the summer we are given a sense of the returning migrants' disorientation within a landscape that is both familiar yet strange. Behind him, in America, is the broken relationship that has left Jayojit fragile and depressed, yet he can't help glancing back at that land of wealth and opportunity as if it might also cure him.
As the university settings of much of this fiction suggests, Chaudhuri is also a scholar who has made a contribution to English literary criticism, most notably in D.H. Lawrence and 'Difference': Postcoloniality and the Poetry of the Present (2003) which contains a foreword by the prominent critic and poet, Tom Paulin. In this book-length study, Amit Chaudhuri notes his unease with theory, its belated rise within the British university in the 1970s and its potentially negative impact on the appreciation and enjoyment of poetry. At the same time Chaudhuri acknowledges how his reading has been transformed and energised by theory. In part D.H. Lawrence and 'Difference' charts this transformation as it moves from close readings of individual poems in the opening chapters to a broader discursive account in a manner that follows Chaudhuri's own struggle for an appropriate critical approach to Lawrence. The book's main arguments, he tells us, emerged in the course of being written.
Chaudhuri finds in theory a means of making sense of the apparently senseless repetitions, excesses and 'unfinished' qualities that characterise Lawrence's poetry, but which critics have previously read simply as flaws or imperfections. His approach involves abandoning New Criticism's focus on the poem as an isolated and self-sufficient expression, and structuralism's concern with depth for a post-structuralist focus on intertextuality and grammatology. Chaudhuri takes on Derrida's notion of the trace while stopping short of the radical deconstructive readings of the Yale variety, which he feels repeat the New Critical mistake of viewing the reader and poem in isolation. Nevertheless if Chaudhuri's critical approach seems cautious and at a safe distance from the latest trends and terminology of critical theory, his readings are by no means pedestrian. Chaudhuri's interest in Lawrence is more than merely academic, and his reading of this great modernist writer is marked by his own sense of being a poet, and of the importance of poetry to articulations of 'difference'. St. Cyril Road and Other Poems (2005) collects Chaudhuri's occasional verse over the past 20 years, and if some of this work appears to some critics nacissistic and juvenile the poems certainly make an important companion to the novels, raising similar correspondences between music and language, the personal and the political, the everyday and the extraordinary.
As well as being a gifted storyteller, Amit Chaudhuri has demonstrated his ability as an editor recently, in The Picador Book of Modern Indian Literature (2001). This is an ambitious collection spanning over 600 pages, and taking over five years to complete. The selections are headed with incisive, illuminating and often amusing biographical details. The selections themselves are informed and diverse, combining the household names of Indian literature (Seth, Rushdie, Narayan, Ghosh) with lesser-known writers (Ashok Banker, Nirmal Verma). However the Picador anthology is certainly not without some glaring absences: Arundhati Roy, Rohinton Mistry, not to mention the complete absence of Gujarati and Marathi writers. Unlike Rushdie though, whose anthology of Indian literature famously snubbed writers not writing in English, Chaudhuri does offer a rich selection (around 20) of work in translation for us to enjoy.
James Procter, 2008
Bibliography
2013
Calcutta: Two Years in the City
2008
Clearing a Space: Reflections on India, Literature, and Culture
2005
St. Cyril Road and Other Poems
2003
D. H. Lawrence and 'Difference': Postcoloniality and the Poetry of the Present
2001
The Picador Book of Modern Indian Literature
1991
A Strange and Sublime Address
Awards
2011
DSC Prize for South Asian Literature
2011
DSC Prize for South Asian Literature
2010
Commonwealth Writers Prize (South East and Europe Region, Best Book)
2003
Sahitya Akademi Award
2000
Los Angeles Times Book Prize (Fiction)
1993
K. Blundell Trust Award
1993
Southern Arts Literature Prize
1992
Commonwealth Writers Prize (Eurasia Region, Best First Book)
1991
Guardian Fiction Prize