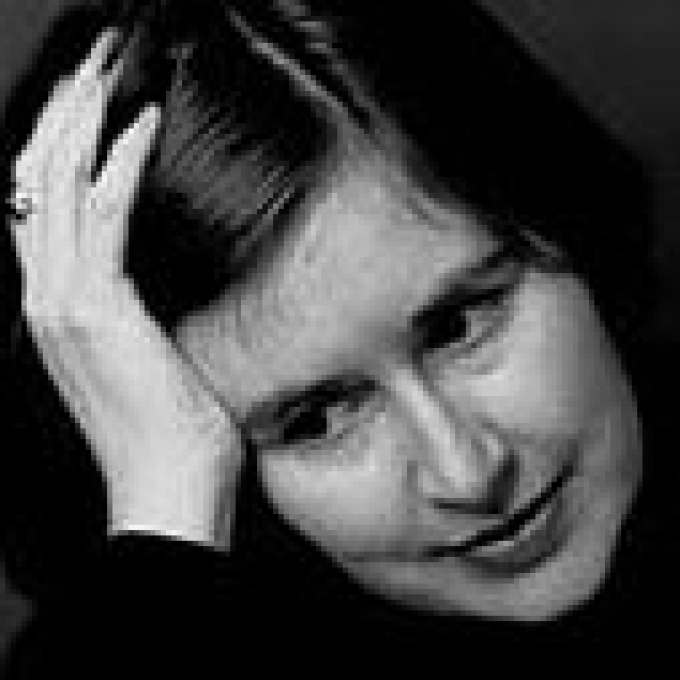 Alice Thompson
Publishers:
Agents:
Biography
Alice Thompson grew up in Edinburgh and read English at Oxford University.
She played keyboard with the band, The Woodentops, and is the author of several novels, including Justine (1996), winner of the James Tait Black Memorial Prize (for fiction); Pandora's Box (1998); Pharos (2002): and The Falconer (2008).

She was formerly Writer in Residence for Shetland and in 2000, won a Creative Scotland Award. She teaches creative writing at the Arvon Foundation.
Her latest books include The Existential Detective (2010), a literary detective story set in Edinburgh's Portobello; Burnt Island (2013), a dark satire about rival novelists; and The Book Collector (2015), a gothic thriller set in the Edwardian era.
Critical perspective
In the 1980s, Alice Thompson played keyboards with the almost, but not quite, famous band The Woodentops.
In 1991 she underwent a creative metamorphosis and began a writing career, publishing a novella called Killing Time. After receiving her Ph.D on Henry James she published Justine (1996), for which she was joint winner of the James Tait Black Memorial Prize (for fiction). Since then she has published two further novels and been described by Ali Smith as the 'intellectual future of British writing.' Unafraid to demonstrate her unfashionably intellectual intelligence, Thompson's work is marked by its elegant sensibility and off-centre, quirk-ridden nature. Whether she intends to adopt another guise in the future is at present unknown, but if she continues to produce novels of the standard of her first three then you can be assured that you will be hearing a lot more from her in the future.
Justine, Thompson's first novel, is a story of infatuation with one woman, or maybe two; it is difficult to tell. The unnamed narrator, aesthete and opium smoker, lives a life away from the world: 'my solipsistic universe could never stray from the strictures that I set it.' Shortly before his mother dies he becomes fascinated with a portrait of a woman in their home that he is able to look at "for the entire day until evening." When his mother dies a woman called Justine invades his regulated isolation and his life begins to take on new shapes: 'she was sheathed in beige silk, the colour of shadowed snow. Even from the back I could tell she would cost me much.' He falls hard, but then, upon discovering that Justine has a twin sister called Juliette, he begins to lose sight of just who it is that he desires. Like Arthur Schnitzler's Dream Novel, rewritten by Angela Carter with furnishings, general air of decadence and notions of beauty and its attendant withering courtesy of a Dorian Gray-era Wilde, Justine plays out in the gap between the illusory and the real, dangerous ground for any novelist, but even more so for one making her debut. Justine makes explicit allusion to the Marquis de Sade's Justine, or the Misfortunes of Virtue and Juliette or The Triumph of Vice. Sade's Justine is a girl who wants to live a life of virtue but suffers at every turn in true Sadean fashion, while her twin Juliette has scant regard for virtue and instead throws herself headlong into a picaresque life using her charms to exploit the lust of others and amass a considerable future. Thompson plays on this theme, making the differences between her twins far less explicit. Thompson sets up a dialogue with the literary works she references, inviting the reader to muse upon its significance to the tale. Justine, with its rich, sensuous, dreamy air, works as an unconventional tale of romantic fixation bordering on mania, an enigmatic puzzle, an inspired essay on the nature of masculine obsession and a sustained commentary on the angel/whore myth. As a first novel it is audacious and beautifully sustained; it is all the more impressive as, unlike many fictional debuts, it is not barely disguised autobiography.
Thompson's second novel, Pandora's Box (1998), is what might emerge if you crossed Paul Auster's Ghosts with David Lynch's Mulholland Drive. When a book begins with a woman on fire on a man's doorstep, you know you are about as far away from the novel's traditional concerns as it as possible to be. Dr Noah Close, a surgeon at the local hospital, rescues the flaming apparition and is grateful for this unexpected opportunity to create a perfect woman: 'her body was his project. It was a challenge for him to work with such raw material, to edit, to create, to build upon.' This woman has no name, no voice and no past. Noah heals her, calls her Pandora and takes her as his wife. When she vanishes, leaving behind a bloody mess, Noah goes on the run from the police. He travels far from his ordered clinical existence, on through the desperate unforgiving desert to the glimmer of Las Vegas, where he hopes to uncover the mystery of Pandora's disappearance. From Venus, the private eye whom Noah hires to help him, to Lazarus, a darkly charming casino personality, nothing in the novel is what it seems and much as you may think the clue is in the obviously allegorical names of the characters, it is not as simple as that. The reader very quickly learns to come to no conclusions as to who anyone is or, at times, just what is happening.
Thompson's most recent novel moves on from the overt surrealism of Pandora's Box. Pharos (2002) is a subtly unsettling ghost story, which slowly broods its way towards a meditative philosophical concluding third in which good is pitted against evil, gnosticism against animism and the reader's desire to understand against the author's masterly revelation of information. Washed up on the shores of a Scottish lighthouse island in the early 19th century, a young woman is nursed by the two lighthouse keepers. She has no idea who she is or how she got there. Is it amnesia? Is she hiding something? And who is the small girl on the island? Pharos is as unexpected as Thompson's first two novels. Whilst it may appear to be a ghost story, it does not follow any predictable pattern. Thompson takes the classic spooky lighthouse tale and fashions something entirely new.
Alice Thompson's work examines the notion of unfixed personality - amorphous, impossible to pin down. Her novels are as much about impressions and surface effects as they are about anything so conventional as plot and character. It is precisely because she eschews the mechanics of A to B plotting that she is able to produce something altogether more memorable than the average novel: free flowing and suggestive, Thompson sets up a play of resonance with a deft skill. Her novels are mood pieces, orchestrated by a writer who knows just how to control the authorial tricks at her disposal. And yet what is most extraordinary about her is the clarity and preciseness of her writing. She does not waste a word, nor does she believe that size equates with quality. Her spare books do not outstay their welcome, occupying that grey area between the novella and the short novel. Alice Thompson is that rare thing, a writer whose brilliantly constructed contrivances appear to have emerged fully formed out of the imagination, as if they have not been worked at all. Her work will win favour with anyone for whom the way something looks and feels and tastes is as important as what it does; with anyone interested in the gothic, the unusual, the surprising. This writer teases, displaying her originality with a phrase or a sudden shift in direction, the very unpredictability of her writing being one of its principal attractions. 
Garan Holcombe, 2005 
Bibliography
2010
The Existential Detective