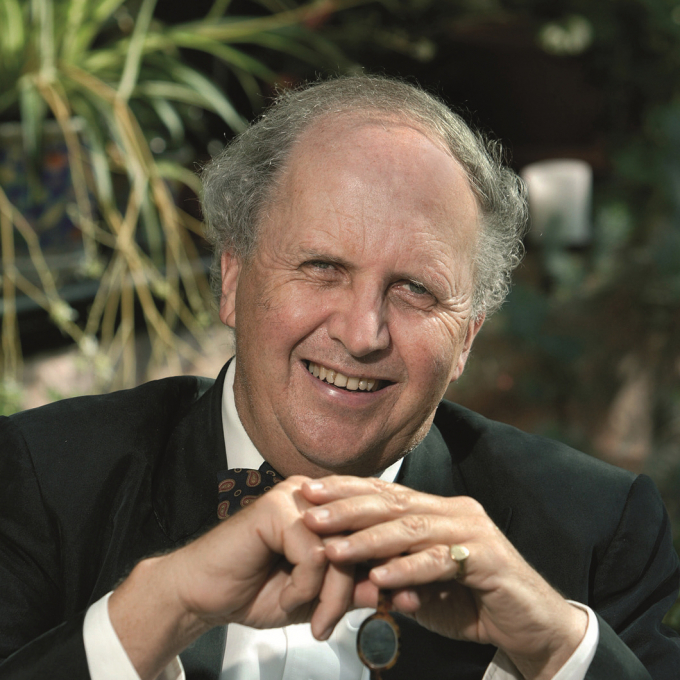 Alexander McCall Smith
Publishers:
Agents:
Biography
Alexander McCall Smith was born in Zimbabwe and educated both there and in Scotland. He worked as a Professor in Law in Scotland after graduating, also returning to the University of Botswana to work for several years in the Law Faculty he helped to set up there.
He retired from his post as Professor of Medical Law at the University of Edinburgh in 2005, in order to concentrate on his writing career. He has been a visiting Professor at various other universities including in Italy and the USA. He is an international authority on genetics and advisor to UNESCO and to the British government on bioethics.
His books include many specialist titles, for example, The Criminal Law of Botswana (1992), the only book on the subject, and Forensic Aspects of Sleep (1997), again the definitive title on this area of knowledge. He has written many popular children's novels and picture books, as well as collections of short stories such as The Girl Who Married a Lion: And Other Tales From Africa (2004), based on African stories handed down to him.
In 1998, he wrote The No. 1 Ladies Detective Agency, a novel about Precious Ramotswe, an amateur sleuth turned professional detective in Botswana. It became the first of a series of novels which have since become extremely popular worldwide, and have been translated into many languages. The No. 1 Ladies' Detective Agency gained two Booker Prize for Fiction Judges' Special Recommendations, made the New York Times Bestseller list and was voted one of the International Books of the Year and the Millennium by the Times Literary Supplement. It was adapted for television by Anthony Minghella and broadcast on BBC1 in 2008.
Tears of the Giraffe (2000), its sequel, was named one of The Guardian's top ten fiction books of 2000 and the fifth book in the series, The Full Cupboard of Life (2003) won the 2003 Saga Award for Wit. In 2004, Alexander McCall Smith also won the British Book Awards Author of the Year award. The latest book in the series is The Woman Who Walked in Sunshine (2015).
In 2004, the first of a new series of novels was published - The Sunday Philosophy Club - featuring Isabel Dalhousie, a Scottish-American Professor of moral philosophy. The latest in the series which now numbers 10 books, is The Novel Habits of Happiness (2015)
McCall Smith wrote a serial novel in daily episodes through the pages of The Scotsman newspaper entitled '44, Scotland Street'. 44 Scotland Street was published in book form in 2005, and has been followed by several other books in the same series, the latest being The Revolving Door of Life (2015).
He also wrote the Von Igelfeld series, consisting of At the Villa of Reduced Circumstances (2003), Portuguese Irregular Verbs (2003) and The Finer Points of Sausage Dogs (2003). His sixth series: The Corduroy Mansions Series, includes the books Corduroy Mansions (2010), The Dog Who Came In From The Cold (2011) and A Conspiracy of Friends (2012). In 2015 he also published Emma: A Modern Retelling, part of the Harper Collins series of Austen updates. 
Alexander McCall Smith lives in Edinburgh and plays in the Really Terrible Orchestra. 
Critical perspective
McCall Smith's output is prolific and incredibly diverse, including legal textbooks, picture books and African folk tales for children, and novels for adults, with titles ranging from Law and Medical Ethics (1983) to The Five Lost Aunts of Harriet Bean (1990) to The Girl Who Married a Lion: And Other Tales From Africa (2004).
However, he is most well-known for his series of novels about Botswanian private detective Precious Ramotswe, starting with The No. 1 Ladies' Detective Agency in 1998.
McCall Smith's fiction has been inspired by his geographical background and his academic work in law, medicine and ethics. He was born to a Scottish family in the country then known as Rhodesia (now Zimbabwe). He later taught law at the University of Botswana, then became a professor of medical law in Edinburgh. The No. 1 Ladies' Detective Agency, and the many sequels that followed, were inspired by life in Botswana, particularly a colourful character whom McCall Smith once observed catching a chicken: 'She had great style and panache and a wonderful smile […] Botswana is full of people like that, nice and admirable people' (The New York Times, 6 October 2004; article by Sarah Lyall). The novels are also informed by McCall Smith's legal expertise. This may imply that the series is dry and dull, but this is far from the case - in fiction, McCall Smith's interest in the law is depicted in a light and humorous context, with endearing characters, an uncluttered style and a laid-back pace.
The series' protagonist is Precious Ramotswe, a 'traditionally-built' Botswanian woman who sets up her own private detective agency and becomes the first female private detective in the country. Mma Ramotswe is a strong, vivacious, down-to-earth character, whose cases include straying husbands, missing people and con men. The local people are drawn to her intuitive wisdom, common sense and advocacy of old-fashioned values. McCall Smith's style, in the Detective series and subsequent novels, is deceptively simple. He writes in a clear, uncomplicated prose, yet his work is nonetheless insightful and perceptive. His humour is dry, charming and kind-hearted, revealing an author who is keenly observant without a trace of maliciousness.
McCall Smith also avoids melodrama and titillation, concentrating instead on the minutiae of everyday life. His style seems to derive in part from his close observations of the world around him, and his appreciation of the 'interestingness' of everyday existence: 'I believe that people are very interested in reading about the ordinary things of life. One can make a very simple situation seem interesting - often it is very simple matters that arouse most passions in people' (California Literary Review, 31 March 2007; article by Uma Girish). McCall Smith also comments on the way in which he entwines his depictions of ordinary life and African culture with humour. This is based on the humour he has observed in sub-Saharan African cultures: 'They have a strong sense of human values and they are frequently very empathetic. As a result, one finds a balance of humour and good nature in such societies' (California Literary Review, cited above). The series has been praised particularly for the way in which it captures African life positively without being sentimental or patronising - this is probably due primarily to McCall Smith's genuine interest in the environment in which he grew up and spent much of his early adulthood.
McCall Smith's next series, starting with The Sunday Philosophy Club in 2004, has some similarities with Mme Ramotswe's stories, but this time the location is Scotland. The series, which includes Friends, Lovers, Chocolate (2005), The Right Attitude to Rain (2006) and The Comfort of of Saturdays (2008), centres on Isabel Dalhousie, who lives a materially comfortable existence as the editor of The Review of Applied Ethics, host of 'The Sunday Philosophy Club' and amateur sleuth. Isabel's lifestyle is very different to that of Mme Ramotswe, but they share a similar sense of humour, along with a common-sense approach to right and wrong and a belief in manners and common decency.
Isabel is continually debating with her own conscience - for instance, she feels guilty for reading celebrity gossip - and it is through this character that McCall Smith explores his fascination with everyday moral dilemmas:
'I'm quite intrigued by how modern philosophers who are engaging with the world answer the question of how we should live. In my books I'm increasingly going to look at that question: how people resolve ordinary dilemmas and moral issues in their day-to-day life.' (McCall Smith in The New York Times, cited above) 
It is here that a clear link emerges between McCall Smith's fiction and his academic background in law and ethics. His fiction, particularly the Philosophy series, demonstrates his remarkable down-to-earth ability to articulate ethical discussion, not only in a manner that is accessible and relevant to everyday life, but also within the context of delightful and humorous fictional stories.
Alongside his two popular series on Mme Ramotswe and Isabel Dalhousie, this prolific author has also produced two more series: 44 Scotland Street and the Von Igelfeld series. 44 Scotland Street and its sequels - Espresso Tales (2005); Love Over Scotland (2006); The World According to Bertie (2007); and The Unbearable Lightness of Scones (2008) - which observe Edinburgh life with the same good-natured humour that is evident in the Botswanian stories, started out as a daily serial in The Scotsman newspaper. This has lead to comparisons with Dickens, whose literary career began in a similar fashion. A tight, pressured deadline which requires 1,000 words daily is something that would make most authors shudder with horror - so McCall Smith's ability to produce the daily episodes with ease is testimony to his self-discipline and exuberant energy.
The Von Igelfeld series consists of At the Villa of Reduced Circumstances (2003), Portuguese Irregular Verbs (2003) and The Finer Points of Sausage Dogs (2003), all of which were published together as The 2½ Pillars of Wisdom in 2004. The series' protagonist is Professor Doctor Moritz-Maria von Igelfeld, who is described in McCall Smith's official website as 'a memorable character whose insouciance is a sublime blend of the cultivated pomposity of Frasier Crane and the hapless gaucherie of Inspector Clouseau' (http://www.alexandermccallsmith.co.uk). The series affectionately mocks the academic world, and demonstrates McCall Smith's ability to combine familiar styles and archetypes with his own unique brand of wit and insight.
McCall Smith continues to add regularly to his No 1 Ladies' Detective Agency series, The Sunday Philosophy Club series and the 44 Scotland Street series. However, unusually for this author, he has also written a stand-alone novel, La's Orchestra Saves the World (2008). La (short for Lavender), emotionally wounded from a broken marriage, moves to a country village just as World War II breaks out. She forms a local orchestra, and as she heals her own broken heart, she helps others to stay uplifted and strong in the midst of a war-torn world. La's Orchestra is a poignant story of the strength of the human spirit and, as always, McCall Smith depicts love and friendship without sentimentality.
In 2008, McCall Smith began Corduroy Mansions, an online novel published in 100 episodes on the Telegraph website, followed by book publication in 2009. It is the first of its kind, and McCall Smith allowed readers to make suggestions about the storyline as it progressed. Having set many novels in Africa and Scotland, Corduroy Mansions takes place in Pimlico, London, and explores the lives of the residents of a mansion block. It features McCall Smith's usual warm-hearted wit and perceptive observations of human nature, along with a skilful episodic structure which has once again led to comparisons with the work of Dickens.
McCall Smith is essentially an optimist who celebrates life. He has faith in the goodness of human nature, and his fiction is uplifting and life-affirming. His depictions of Africa and Britain avoid nitty-gritty social realism and darkness, and this is something for which he has been criticised. Yet his images of life are not naïve or rose-tinted either - he simply prefers to take a humorous approach, and to focus on everyday dilemmas which are 'manageable', rather than addressing deep, dark questions which often lead only to despair:
'If we take a hard-nosed look at the world, we could say, "Well, it doesn't always work, and ultimately people will actually disappoint us". But the trouble with that is that it isn't a particularly useful philosophy to get us through life. We can't necessarily answer the great questions about meaning […] There is a role for books that say to people that life is potentially amusing and that there are possibilities of goodness and kindness - that kindness needn't be dull, that it can also be elevating and moving.' (McCall Smith in The New York Times, cited above)
The No. 1 Ladies' Detective Agency has been adapted into a popular television series, scripted by Richard Curtis. The pilot version was directed by the late Anthony Minghella.
Elizabeth O'Reilly, 2009   
Bibliography
2015
The Novel Habits of Happiness
2015
The Revolving Door of Life
2015
Emma: A Modern Retelling
2015
The Woman Who Walked in Sunshine
2014
Fatty O'Leary's Dinner Party
2014
The Handsome Man's De Luxe Cafe
2013
Precious and the Missing Lion
2013
The Minor Adjustment Beauty Salon
2013
Bertie's Guide to Life and Mothers
2012
The Great Cake Mystery
2012
Precious and the Mystery of Meerkat Hill
2012
Sunshine on Scotland Street
2012
The Limpopo Academy of Private Detection
2012
The Uncommon Appeal of Clouds
2011
Bertie Plays the Blues
2011
A Conspiracy of Friends
2011
The Saturday Big Tent Wedding Party
2011
The Forgotten Affairs of Youth
2010
Precious and the Puggies
2010
The Double Comfort Safari Club
2010
The Importance of Being Seven
2010
The Charming Quirks of Others
2009
Tea Time for the Traditionally Built
2009
The Lost Art of Gratitude
2008
The Miracle at Speedy Motors
2008
Akimbo and the Baboons
2008
The Comfort of Saturdays
2008
The Unbearable Light of Scones
2008
La's Orchestra Saves the World
2007
The World According to Bertie
2007
The Careful Use of Compleiments
2007
The Good Husband of Zebra Drive
2004
The 2½ Pillars of Wisdom
2003
Portuguese Irregular Verbs
2003
Collected Poems and Translations
2002
The Kalahari Typing School for Men
2000
Justice and the Prosecution of Old Crimes
1998
The No. 1 Ladies' Detective Agency
1997
Bursting Balloons Mystery
1997
Chocolate Money Mystery
1995
Heavenly Date and other stories
1994
Who Invented Peanut Butter?
1994
Paddy and the Ratcatcher
1992
Akimbo and the Lions
1992
Pike Fishing in Ireland: the Social Context
1991
Harriet Bean and The League of Cheats
1990
All about Drink and Drug Abuse
1990
The Ice-Cream Bicycle
1990
Jeffrey's Joke Machine
1983
Law and Medical Ethics
1978
Power and Manoeuvrability