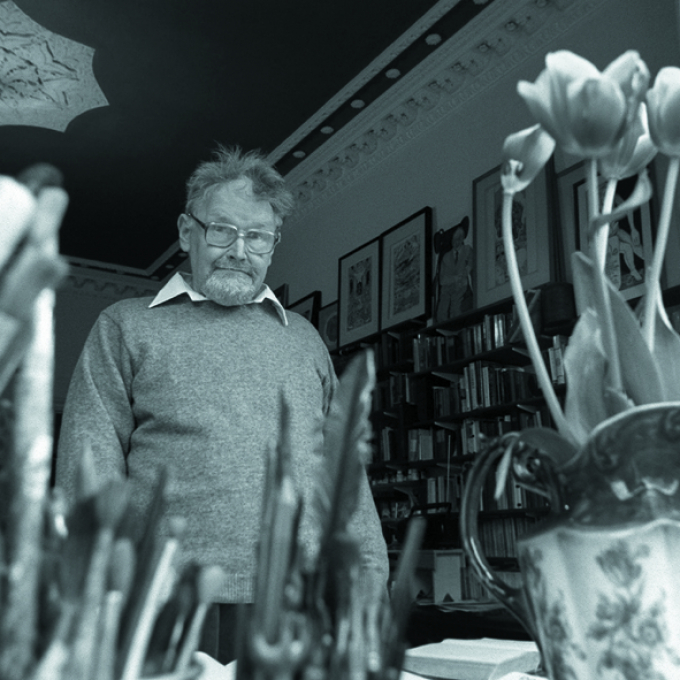 Alasdair Gray
Publishers:
Agents:
Biography
Alasdair Gray describes himself as a 'self-employed verbal and pictorial artist'.
He was born in Riddrie, Glasgow, on 28 December 1934, and trained as a painter at the Glasgow School of Art. He worked as a part-time art teacher, muralist and theatrical scene painter before becoming a full-time painter and playwright. Later he wrote fiction, illustrating many of his own books.
His highly-acclaimed first novel Lanark was published in 1981. It won a Scottish Arts Council Book Award and the Scottish Book of the Year award. A complex and at times surreal mix of fantasy, autobiography and social realism, the book provides a vision of contemporary society through the story of art student Duncan Thaw.
His other fiction includes 1982 Janine (1984), the tale of Jock McLeish, a depressed and divorced Scottish electrician; The Fall of Kelvin Walker: A Fable of the Sixties (1985), adapted by Gray from his own television script, the story of a young Scotsman who moves to London in the 1960s and becomes involved with the media world; Something Leather (1990), several short narratives exploring female sexuality; and McGrotty and Ludmilla (1990). Poor Things (1992), winner of the Whitbread Novel Award and the Guardian Fiction Prize, takes the form of a series of historical documents. His collections of short stories include Unlikely Stories, Mostly (1983), winner of the 1983 Cheltenham Prize, and Ten Tales Tall and True (1993), and he is the editor of The Book of Prefaces (2000).
He has also written for stage, radio and television, and between 1965 and 1976 had 17 TV and radio plays broadcast, as well as five further plays produced for the theatre, including Working Legs: A Play for Those Without Them (1997) and Fleck (2008). In 1977 he was Glasgow's official Artist-Recorder for the People's Palace local history museum, and from 1977 to 1979 was Writer in Residence at Glasgow University. Collections of his paintings are owned by Collins Gallery at Strathclyde University and the People's Palace local history museum, Glasgow Green. In 2001 he became, with Tom Leonard and James Kelman, joint Professor of the Creative Writing programme at Glasgow and Strathclyde University. Old Men in Love (2007), was shortlisted for the 2008 Catherine Maclean Prize. His Autobiography, Of Me & Others, was published in 2014.  
Critical perspective
Following the publication of Lanark in 1981, Gray has been acknowledged as one of the most innovative figures in contemporary literature and culture.
Painter, novelist, playwright, poet and editor, Gray often combines his diverse artistic talents within single works (paintings are composed of words and letters, novels are punctuated with paintings) to challenge existing forms. Blending satire and tragedy, realism and fantasy, his work has been credited with spurring a renaissance in Scottish literature (Gray's success anticipates that of James Kelman, Jeff Torrington and Irvine Welsh). At the same time, the publication of Lanark saw Gray canonised as a key postmodern artist on both sides of the Atlantic and he has been described by Stephen Bernstein as 'one of the most important living writers in English'.
Subtitled 'A Life in Four Books', Lanark is a deeply fragmented narrative in which the so-called 'books' are themselves jumbled so as to elude the coherence of chronology. Set partly in Glasgow in the forties and fifties, partly in the imagined world of Unthank, Lanark's content is as fissured as its form. Yet the challenges posed by this five hundred-page epic do not appear to have affected the popularity of Gray's literary debut, described by an early critic as 'one of the greatest of Scottish novels'.
The kind of postmodern experimentation that is associated with Gray's Lanark, and with his more recent fiction, does not do justice to the depth and range of his work as a whole. In mid-career novels such as The Fall of Kelvin Walker (1985), McGrotty and Ludmilla (1990) and Something Leather (1990) Gray all but abandons the abstract invention of the early novels, opting instead for a more conventional realism. In these books Gray is at his most overtly 'political'. The Fall of Kelvin Walker and McGrotty and Ludmilla, for instance, both describe the adventures of young Scots in London while commenting on questions of national identity, power and English/Scottish relations. Gray is a socially committed writer who (in Scotland at least) is also well known for non-fictional documents such as Why Scots should rule Scotland, published in 1992. As Christopher Harvie noted in 1991: 'Gray has become a political symbol. His phrase 'work as if you were living in the early days of a better nation' … has become a slogan for the distinctive Scottish resistance to Thatcherism'. More recently, Gray wrote How We Should Rule Ourselves (2005) with Adam Tompkin, a 57-page pamphlet published to coincide with the general election.
Poor Things (1992) represents a return to the more overt experimentation of Lanark and 1982 Janine (1984). For many it also represents a return to form and was the winner of both the Guardian Fiction Award and the Whitbread Prize for Best Novel. Poor Things (which carries the intriguing subtitle, 'Episodes from the Early Life of Archibald McCandless M. D., Scottish Public Health Officer, edited by Alasdair Gray'!) takes Mary Shelley's Frankenstein - a novel that is partly set in Scotland - as its starting point. Gray's scientist is called Godwin Bysshe Baxter, an allusion to both Shelley's father and her husband. Poor Things is a Frankenstein-like assemblage, comprising Gray's introduction; the narrative of Archibald McCandless; Victoria McCandless's letter and Gray's notes. Here is where the similarities end though. Even as it handles some of the key issues and themes of Mary Shelley's classic, Poor Things writes back to rather than imitates them. Where Scotland stands at the periphery of Shelley's novel, it inhabits the heart of Gray's. Moreover the colonial opposition between margin and centre that structures Frankenstein is deconstructed in Poor Things as it lingers on Scotland's problematic post-colonial status.
Gray's next two books, A History Maker (1994) and Mavis Belfrage (1996) are shorter works, free of the playful excesses of earlier novels such as Lanark. Although critics appear divided over the pros and cons of Gray's shrinking prose (dramatically performed in Mavis Belfrage, where the stories get shorter and shorter) the novelty of his most recent novels is beyond question. A History Maker is a work of science fiction. Set in the twenty-third century, but reflecting on the twentieth, it takes two of Gray's most familiar subjects – memory and history – in new and unexpected directions. Mavis Belfrage on the other hand is a bizarre collection of short (and shorter) stories structured mainly around the intimate relationships of a series of otherwise unremarkable teachers, lecturers and headmasters.
It was seven years before Gray's next fictional work was published. The Ends of Our Tethers (2003) is another collection of short stories with subjects ranging across the personal and the political. For example, we have the story of an obsessive father whose children died in the 9/11 bombings. Other pieces in the collection seem semi-autobiographical, such as the one about a creative writing teacher surpassed by the creativity of his student, while, the inclusion of a non-fictional essay on war on Iraq has been criticized for disrupting the overall coherence of the collection.
Gray's most recent work of fiction, Old Men in Love (2007), reveals a continued preoccupation with the war on Iraq, and with Scottish independence. The book is presented to the reader as the work of a retired Glaswegian schoolteacher, John Tunnock (think tea cakes), whose manuscript is discovered posthumously, and then tarted up for publication by Gray. Combining the high production values and original illustrations for which Gray is known, with deflating metafictional statements about its repetitious, plagiarized contents, Old Men in Love has divided the critics.
In 2000, Gray's much anticipated anthology, The Book of Prefaces, was published to broad critical approval. This quirky, clever collection is full of the idiosyncratic, typographic excesses of the early work; font styles and sizes mutate; drawings jostle with text; marginalia compete with the main text for the reader's attention. The Book of Prefaces is as notable for its visual as for its intellectual pleasures. The prefaces are all well prefaced with introductory material from a range of contributors and range historically from the seventh to the early twentieth century.
Dr James Procter, 2008
Bibliography
2014
Of Me & Others: An Autobiography
2012
Every Short Story by Alasdair Gray 1951-2012
2005
How We Should Rule Ourselves
2003
The Ends of Our Tethers: 13 Sorry Stories
2000
Sixteen Occasional Poems
2000
The Book of Prefaces
1997
Working Legs: A Play for Those Without Them
1993
Ten Tales Tall and True
1992
Why Scots Should Rule Scotland
1990
McGrotty and Ludmilla
1989
Old Negatives: Four Verse Sequences
1985
The Fall of Kelvin Walker: A Fable of the Sixties
1983
Unlikely Stories, Mostly