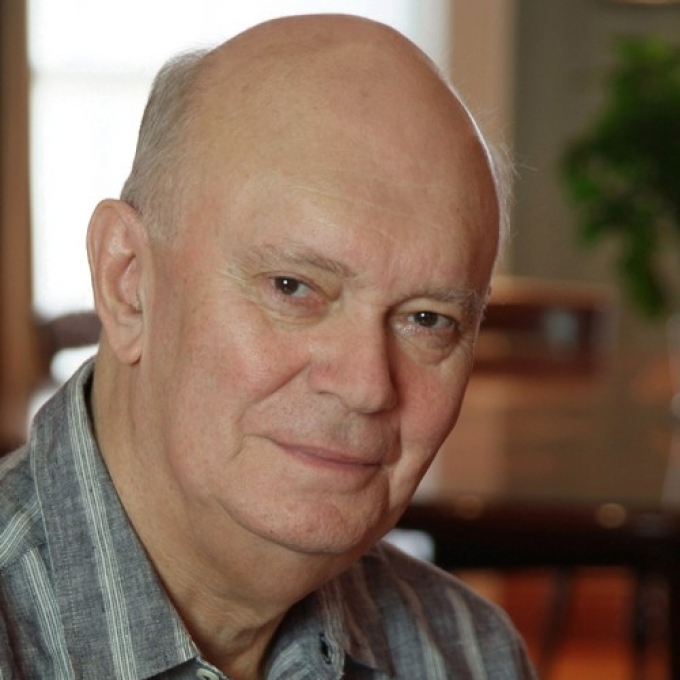 Sir Alan Ayckbourn
Publishers:
Biography
Sir Alan Ayckbourn was born in London in 1939, and has worked in theatre all his life.
He has undertaken various roles including actor, writer and director, encouraged by his mentor Stephen Joseph, who founded the Stephen Joseph Theatre in Scarborough.  Almost all of his plays written to date have been first performed at this theatre, of which he was Artistic Director until his retirement in 2009, and many subsequently produced in the West End or at the National Theatre.
A prolific writer of comedy plays satirising middle-class manners, he is considered one of the world's pre-eminent dramatists. His first West End hit, Relatively Speaking (1968), opened in 1967, and major plays since have included Absurd Person Singular (1974); The Norman Conquests (1975); Bedroom Farce (1977); Just Between Ourselves (1978); A Chorus Of Disapproval (1985); Woman In Mind (1986); A Small Family Business (1987); Man Of The Moment (1990); Things We Do For Love (1998); Comic Potential (1999); Private Fears in Public Places (2004) and Roundelay (2014). He has won numerous awards for his plays, which have been translated into 35 languages, and are performed worldwide on stage and television. Seven of his plays have been performed on Broadway.
Sir Alan Ayckbourn also writes plays for children and young people. These include Mr. A's Amazing Maze Plays (1989), Invisible Friends (1991) and The Boy Who Fell Into A Book (2000). Gizmo (1999) was written for the British Telecom National Connections project, organised by the Royal National Theatre involving young people nationwide.
Also an accomplished director of his own and other plays, works he has directed include A View From The Bridge, starring Michael Gambon, and the USA premiere of his and Andrew Lloyd Weber's musical, By Jeeves.
Sir Alan Ayckbourn has received many honorary degrees, is Freeman of the Borough of Scarborough, was appointed CBE in 1987 and knighted for his services to theatre in 1997. His most recent play is Anno Domino (2020)

Critical perspective
Alan Ayckbourn is a playwright of great prolificacy and facility. In 1974, when his play Absent Friends joined Absurd Person Singular (1974), Table Manners (1975), Living Together (1975) and Round And Round The Garden (1975) in the West End, he held the record for the most plays running there simultaneously. Since then, a further 27 of his plays have been produced either in the West End, at the Royal National Theatre, by the Royal Shakespeare Company or off-Broadway.
"Such facility is bound to stir critical suspicion," wrote the critic Eric Shorter (Daily Telegraph, 17 June 1975), but it is not only the quantity of his output that is so remarkable. He is a brilliant comic writer, "one of the most consistent… in the history of English letters" (Robin Thornber, The Guardian, September 1980), who over the years has continued to address important subjects and stage plays in the most inventive ways.
In Taking Steps (1981), for example, three floors of a house share the same level of the stage. Things We Do For Love (1998) features three actual floors, though on one only ankles are visible, and on another only heads. Sisterly Feelings (1981) and Intimate Exchanges (1985) employ the device of alternative versions, while Way Upstream (1983) famously presents a real waterway and a moving boat capable of holding the entire cast. "Having worked in theatre, as a theatre person all my life, I do like to make use of the medium," he has said.
The son of a violinist and a writer, who parted when he was still quite young, Ayckbourn joined Stephen Joseph's 'in the round' company in Scarborough, in 1957, as an acting assistant stage manager. Joseph became a mentor and encouraged him to write, producing seven of his plays. His audiences at this time were largely "people who had had their holidays spoilt by rain", a world away from the workshops and rehearsed readings of apprentice playwrights today.
Ayckbourn's breakthrough came with his seventh play, Relatively Speaking (1968). A comedy of misunderstandings and a peculiarly English politeness, with dialogue of beautiful simplicity and acute observation, it opened to critical acclaim in the West End in 1967 and ran for a year. How The Other Half Loves (1971) was an even bigger success, three years later; its setting, comprising half each of two identical apartments, an early example of his theatrical cleverness.
With Time and Time Again (1973), Ayckbourn began to dissect the fragility and unspoken sadness of the English middle-class home, "the everyday inhumanity of people to each other, especially within marriage and the family" (Benedict Nightingale, An Introduction to 50 Modern British Plays, 1982). An underrated play, it features a sustained misunderstanding, two failed relationships, and a central character whose destructiveness arises from his passivity.
All of these areas he has revisited, in particular the difficulties of relationships: "Mainly I want to say things about the fear and distrust people have for each other, the fact that men and women still don't seem to understand each other very well". In Henceforward (1987) and Comic Potential (1999), plays set in the future, the only happy relationships are between man and robot. As Jerome in Henceforward puts it: "If human beings behaved a bit less like human beings and a bit more like machines, we'd all be better off."
In 1973, Ayckbourn wrote a trilogy of plays, The Norman Conquests, which came to the West End the following year. In an extraordinary coup de theatre, he presented three plays with the same characters and the same events, each set in a different part of the home. In Norman, he created an enormously appealing antihero who was unafraid to kick against, even to demolish, the boundaries of polite society.
With Just Between Ourselves (1978), his achievement was equally sure. This play, a comedy, charts a woman's breakdown at the side of her utterly unaware husband. Vera spends the entire last act silent and motionless in her garden in winter, in a scene almost too painful to watch. Ten years later, Ayckbourn returned to the subject in Woman in Mind (1986), creating a world in which the audience views every part of the action through the deteriorating mind of its protagonist, a despairing vicar's wife.
In the mid eighties, he wrote a series of plays, starting with A Chorus Of Disapproval (1985), which showed the consequences of the failure of relationships within society at large. In A Small Family Business (1987), for example, petty thieving leads, seemingly inexorably, to murder, and a character can say, quite plausibly: "If you're going to be a criminal, you've got to have some sort of brain, haven't you? I mean, any fool can be honest, can't they?"
The theatre critic Michael Billington has written of Ayckbourn's "limitless capacity for surprise… Instead of repeating old formulas, he is constantly taking off in new directions" (Country Life, 7 June 1990). Since then, the playwright has written, amid a great deal else, two plays exploring time travel (Time Of My Life, 1993 and Communicating Doors, 1995); a ghost story (Haunting Julia, in Plays 3, 2005); musicals; more than a dozen children's plays; and two plays (House and Garden, both 2000) performed by the same cast playing the same characters in two auditoria simultaneously. He also wrote a play with 54 short scenes (Private Fears In Public Places, in Plays 3, 2005), which in 2005 became a cult hit off-Broadway.
Ayckbourn has won more than 40 awards, and was knighted in 1997. Despite everything he has achieved, he may be forgiven for feeling that, because he has chosen to write comedies, his talents are still underrated. "We're an odd nation," he wrote once. "Secretly I suspect we don't really believe we're seeing anything worthwhile unless we've had a really miserable time." Or, as Chandler Tate says in Comic Potential : "Tragedy? You can get that in the street being run over. If it makes you laugh, treasure it."
Rachel Thackray-Jones, 2008
For an in-depth critical overview see Alan Ayckbourn by Michael Holt (Northcote House, 1999: Writers and their Work Series).
Bibliography
2018
The Divide (Parts One and Two)
2013
Arrivals and Departures
2009
Bride of Ice/Marina Tsvetaeva
2003
Orvin - Champion Of Champions
2002
The Crafty Art Of Playmaking
2000
The Boy Who Fell Into A Book
1999
New Connections 99: Plays for Young People
1998
It Could Be Any One of Us
1998
The Champion Of Paribanou
1998
Things We Do For Love
1997
Dreams From A Summer House
1995
This Is Where We Came In
1991
The Revengers' Comedies
Awards
2013
Best New Play (Surprises) UK Theatre Awards
2010
Critics' Circle Award For Services To The Arts
2010
Special Tony Award for Lifetime Achievement in the Theatre
2009
Hall Of Fame For Achievements In American Theatre
2009
The Laurence Olivier Awards Special Award
2009
Outer Critics Circle Award For Outstanding Revival (The Norman Conquests)
2009
The Critics' Circle annual award for Distinguished Service to the Arts
2009
The New York Drama Critics' Circle Special Citation (The Norman Conquests)
2009
Drama Desk Award For Outstanding Revival (The Norman Conquests)
2009
Tony For Best Revival Of A Play (The Norman Conquests)
2005
Yorkshire Awards Arts And Entertainment Personality Award
2004
Variety Club of Great Britain (Yorkshire Region) Lifetime Achievement Award
2003
Laurence Olivier Award for Best Comedy
2003
Molière Award for Best Comedy (France)
2001
Sunday Times Award for Literary Excellence
2000
Drama Desk Award for Outstanding Play (USA)
2000
Laurence Olivier Award for Best Comedy
2000
Outer Critics Circle Award for Outstanding Off-Broadway Play (USA)
1998
Laurence Olivier Award for Best Comedy
1997
Lloyds Private Banking Playwright of the Year Award
1997
Molière Award for Best Comedy (France)
1996
Laurence Olivier Award for Best Comedy
1996
Laurence Olivier Award for Outstanding Musical Production
1996
TMA Regional Theatre Award for Best Musical
1996
Writers' Guild Award (Best West End Play)
1994
Laurence Olivier Award for Best Comedy
1994
Montblanc de la Culture Award for Europe
1994
Yorkshire Man of the Year
1993
Birmingham Press Club Personality of the Year Award
1993
John Ederyn Hughes Rural Wales Award for Literature
1993
TMA/Martini Regional Theatre Award for Best Show for Children and Young People
1993
Writers' Guild Award (Lifetime Achievement)
1991
Drama-Logue Critics Award (USA)
1990
Evening Standard Award for Best Comedy of the Year
1990
Laurence Olivier Award for Best Play
1989
Evening Standard Award for Best Comedy of the Year
1988
Laurence Olivier Award for Best Comedy
1988
Plays and Players Best Director Award
1987
Evening Standard Award for Best Play of the Year
1987
Laurence Olivier Award for Best Director
1985
DRAMA Best Comedy Award
1985
Evening Standard Award for Best Comedy of the Year
1985
Laurence Olivier Award for Best Comedy
1984
Laurence Olivier Award for Best Comedy
1979
Plays and Players Best Comedy Award
1978
Tony Award for Best Play (USA)
1978
Tony Award for Outstanding Direction of a Play (USA)
1977
Evening Standard Award for Best Play of the Year
1974
Evening Standard Award for Best Play of the Year
1974
Plays and Players Best Play Award
1974
Variety Club of Great Britain Award for Playwright of the Year
1973
Evening Standard Award for Best Comedy of the Year