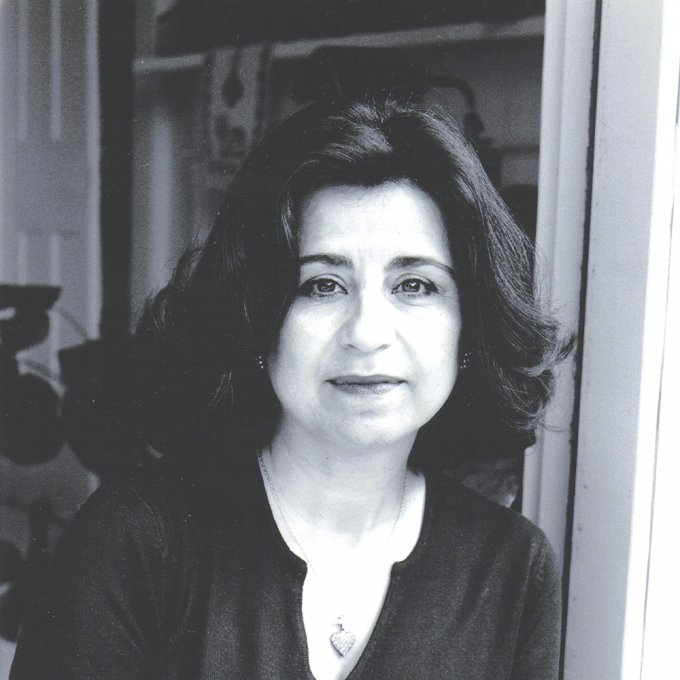 Ahdaf Soueif
Publishers:
Agents:
Biography
Novelist Ahdaf Soueif was born in Cairo and educated in Egypt and England, where she studied for a Ph.D. at the University of Lancaster.
She is the author of two collections of short stories, Aisha (1983) and Sandpiper (1996), and two novels. In the Eye of the Sun, about a young Egyptian woman's life in Egypt and England, where she goes to study as a postgraduate, set against key events in the history of modern Egypt, was published in 1992. The Map of Love (1999), is the story of a love affair between an Englishwoman and an Egyptian nationalist set in Cairo in 1900, as secrets are uncovered by the woman's great-granddaughter, herself in love with an Egyptian musician living in New York. The Map of Love was shortlisted for the Booker Prize for Fiction.
In 2004, her book of essays,  Mezzaterra, was published. Her most recent work is Cairo: My City, Our Revolution (2012), a personal account of the 2011 Egyptian Revolution.
Ahdaf Soueif lives in London and Cairo. She writes regularly for The Guardian and is a key political commentator on Egypt and Palestine. She is the founder of the Palestine Festival of Literature, Pal Fest.
Critical perspective
The story of Ahdaf Soueif's success is a fascinating one, and looking at her work and career we learn not simply about her passionate areas of concern – Egypt, British literature, sexual politics and the representation of the Arab world by the West – but about how the Booker Prize can put an arresting voice in the spotlight.
The Map of Love (1999) was shortlisted for the Prize and achieved thus high cultural and commercial visibility, meaning that the rest of Soeuif's fiction, and her political writing, has found a wider audience than would otherwise have been the case.
Soueif's position is both unusual and yet typical of much of modern humanity: born in Cairo, she completed her education in England and is married to an Englishman, writes in English for English publishers and newspapers, and yet retains a home in Cairo and is naturally committed to Egypt. Her first husband was Egyptian and she has continued to write for Egyptian journals.  Soueif, then, can be truly seen as a 'world' writer: labels such as English, Arab or even Anglo-Egyptian seem too restrictive. For the writer, in fact, borders should be broken down, and culture is something interchangeable, as she explains in the Preface to her collection of writings, Mezzaterra (2004): as a young woman, the idea of identity was not something she considered; Arab culture was 'Mezzaterran' and a positive experience, because
'The rewards of inhabiting the Mezzaterra are enormous. At its best it endows each thing, at the same moment, with the shine of the new, the patina of the old; the language, the people, the landscape, the food of one culture constantly reflected off the other. This is not a process of comparison, not a 'which is better than which' project but rather at once a distillation and an enrichment of each thing, each idea … you are both on the inside and the outside of language, that within each culture your stance cannot help but be both critical and emphatic.'
This duality, hybridity and concern with representation is prominent in The Map of Love, which tells the complex story of the love between Lady Anna Winterbourne, an upper-class Englishwoman, and Sharif, an Egyptian nationalist. This story is paralleled by the modern love affair between Anna's great-granddaughter Isabel and Omar; the latter characters learn of the events of the past when Anna's notebooks and journals are discovered by Isabel. As well as giving a narrative tension and symmetry, Soueif is clearly making positive points about the ability of cross-cultural love to recur: she is something of a joyous postcolonialist. Informative about Egyptian history, the novel is unashamedly romantic as well as political, which has greatly helped its success.
But it should not be forgotten that Soueif has written other fiction, too. In the Eye of the Sun (1992) was praised by Edward Said on publication; a long and ambitious novel, it is in fact a more satisfactory work than The Map of Love. Although it shares the later book's interest in love and family relationships, it makes intriguing parallels with the English canon (the lead character, Asya, is a modern version of Dorothea Brooke in George Eliot's Middlemarch) and has a greater seriousness and moral depth. It is not surprising that Said admired Soueif: both figures appear as postcolonialists who yet resist many of the term's definitions, and Soueif supports Said's belief in 'the great liberationist cultural movements that stood against Western culture' that wanted liberation 'within the same universe of discourse inhabited by Western culture'.
The Map of Love is the perfect introduction to Soeuif, and has been a worthy favourite with reading groups; but we should go beyond that, through In The Eye of the Sun to her political writing, which is as good as, if not better than, her fiction. Soueif's voice – clear, concise and emotive when required, unashamedly and rightly personal as well as political – is naturally suited to journalism. The seminal example of this is an important piece Soueif wrote for the London Review of Books, 'Passing Through', a commentary on William Golding's An Egyptian Journal (which is reprinted in Mezzaterra). Soueif tells us how she came to be convinced, by personal experience, that the great novelist's representation of her country was racist and untrue; we learn that her own family is now 'open to attack' for having 'opened doors and smoothed paths which have only led to our being made the subject of yet another wrong-headed and patronising account by a Western passer-through'.  This concern for truth, combined with an admitted love for her country of birth, has caused some to say Soueif romanticises Egypt; for the writer, a positive presentation is nonetheless vital when 'for a whole year my children were taught in religious studies that Egypt was evil. The popular media ties in the pagan splendour with cruelty and the sense of it being a place to be got out of. Now throw in a mad bearded fundamentalist and some oppressed women wearing the veil and having their clitorises chopped off and you have a fairly heavy image.'
The veil is, of course, a contentious issue; for Soueif, the wearing of it is empowering. In the 'The Language of the Veil' (in Mezzaterra) a woman in full niqab is not wearing something oppressive but a 'garb which says loud and clear: 'I am a political Islamist. I am in opposition to this government.' It takes guts to do this in these days of arbitrary detentions and torture. Guts, or desperation'. Of course, the matter is a different one in a different country, and Soueif is well aware of this.
As she has grown older, and with the recent upheavals in the Middle East and 9/11, Soueif has moved from a celebration to a defence of Mezzaterra in the face of imperialistic capitalism and the increasing portrayals of the Arab world as weak and passive. Her anxiety reflects a more anxious world; we are lucky to have her voice in it, sometimes romantic, sometimes pleading, but always burningly committed to truth and justice.
Dr Nick Turner, 2009.
Bibliography
2012
Cairo: My City, Our Revolution
2011
Reflections on Islamic Art
1992
In the Eye of the Sun