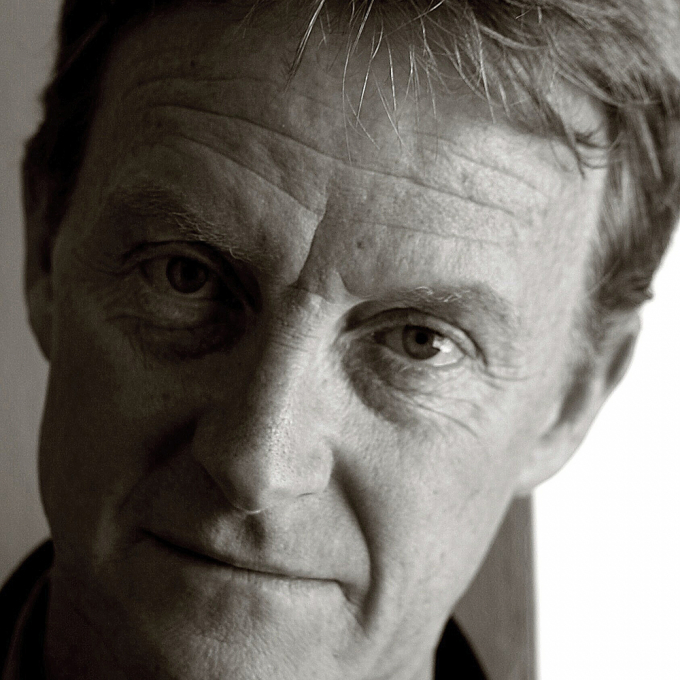 Adam Thorpe
Publishers:
Agents:
Biography
Poet, playwright and novelist Adam Thorpe was born in Paris in 1956 and grew up in India, Cameroon and England.
After graduating from Magdalen College, Oxford, in 1979, he started a theatre company and toured villages and schools before moving to London where he taught Drama and English Literature. His first collection of poetry, Mornings in the Baltic (1988), was shortlisted for the 1988 Whitbread Poetry Award. Further books of poetry are Meeting Montaigne (1990); From the Neanderthal (1999); and Nine Lessons From the Dark (2003). He was awarded an Eric Gregory Award in 1985.
Thorpe's first novel, Ulverton (1992), a panoramic portrait of English rural history, was published to great critical acclaim and prompted novelist John Fowles, reviewing the book in The Guardian (28 May 1992), to call it 'the most interesting first novel I have read these last years'. The book consists of 12 loosely-connected narrative episodes tracing 350 years in the history of a rural village and its inhabitants, employing various narrative forms from dense prose written in thick dialect to modern film script. The book won the Winifred Holtby Memorial Prize in 1992.His second novel, Still (1995), follows film director Ricky Thornby's ambitious plans to make an all-encompassing film about the twentieth century. Pieces of Light (1998) describes a young boy's childhood in West Africa and the mystery that develops when he is sent to live with an eccentric uncle in the English countryside on the eve of the Second World War. Shifts (2000), a collection of short stories, explores interconnected themes of work and labour. Nineteen Twenty-One (2001), set in that year, focuses on a young man intent on writing a novel about the First World War.  No Telling (2003), is set in 1968 and is narrated by a 12-year-old boy on the verge of First Communion and puberty, living amid a deeply dysfunctional family in a turbulent France, culminating in the 1968 Paris riots. His novel The Rules of Perspective (2005), is set at the end of the Second World War in a German museum.
He is also the author of five plays for BBC Radio, including The Fen Story (1991), Offa's Daughter (1993) and An Envied Place (2002), as well as a stage play, Couch Grass and Ribbon, first performed in 1996.
Adam Thorpe lives in France with his wife and three children. Recent books include a collection of short stories, Is This The Way You Said? (2006); a poetry collection, Birds with a Broken Wing (2007); and the novels The Standing Pool (2008), Hodd (2009) and Missing Fay (2017).
His latest books are the novel, Flight (2012) and a further collection of poetry, Voluntary (2012).
Critical perspective
Adam Thorpe is a cosmopolitan writer with a strong sense of 'Englishness', whose now prolific output of novels and poetry concerns itself with people, history and their landscapes, suggesting how these interact and evolve.
A long-time resident in southern France, he has also spent time in Estonia and Africa, locations that appear in his writing. But he is best known for fictional investigations into England and the English, pre-eminently in his first book Ulverton (1992), linked stories of an archetypal village depicted over the centuries, which was praised by John Fowles for its 'thorough grasp of the complex nature of our rural past', and became a bestseller. Using a variety of voices, taking us from the aftermath of the Civil War in 1650 to a film script in 1988, they are tragic and comic tales of ordinary lives shaped by the pressure of larger forces and the land. The book brought Thorpe comparisons with Thomas Hardy and D. H. Lawrence, but subsequently he has seemed more restlessly experimental.
Nevertheless, at least one subsequent novel, Nineteen Twenty-One (2001), can be seen as in that tradition of Hardy and Lawrence; or, perhaps, with a cast of haunted First World War survivors, in more contemporary company with Pat Barker and the Sebastian Faulks of Birdsong. The leading character Joseph Munrow is divided between the Chiltern village where he is attempting to write a book, and the Flanders battlefields that he revisits to come to terms with his war experiences. He is hardly coping with flashbacks, his feelings of rage, guilt, and blame, which are affecting would be relationships. He becomes infatuated with 'Stockport beauty' Tillie, then encounters a more sexually available German widow. Meanwhile, in the village, there is horrific evidence of wounded ex-soldiers, one crippled by venereal disease, others with shattered nerves. A poetic conclusion observes 'a splash of blood on the dead white stone of the cenotaph'.
Thorpe enjoys a reputation as a poet consistently sympathetic in his observation of human lives – particularly of his own family's history – as well as the rhythms of social change and the natural world. As Peter Porter observed, he has an ability to 'go beyond the recognisable into the mystical'. The title poem in From The Neanderthal (1999) envisions early mankind's survival struggle amidst the passing seasons: 'So frail, this summer, / I would like to plait it / like grass, and keep my place / In the book of my life / forever'. In 'Fossil', geological time puts the Nazi rallies at Nuremberg into perspective: they are long gone, but what remains is 'a small shell whorled into the stone / like a birthmark, / a sort of saving scar'. And 'Anniversary' notes how 'the candid criterion of children / holds us in thrall / to their love, their here-bound and tearful being'.   
Voluntary (2012), his latest collection, is similarly balancing the family and history, although it is more specifically elegiac in mourning losses of friends and neighbours, including a sequence about his late father. 'Half Century', however, doesn't lament the passing of the years but celebrate them: 'what's left is not to be weighed / but savoured, like love'. 'So we'll drink to us', it concludes, 'and braid each year with hugs like an old friend'. In 'Home Videos', 'everyone is still alive; / it's all a lie, death is'. They show 'the shock of the young, / although we did not feel young then'. Again, Thorpe finely registers the longer perspectives, as in 'Impression', seeing a dog's pawprint on a Roman tile that has somehow survived: 'I like the back of the tegula, too, those arrested // shadows of grass and grit: the earth's muddle / just as it was, two thousand years ago'. A Roman road leads to meditation on what connects, or differentiates, ancient and modern world views: 'a Brit, to get // to Rome, would need a good six weeks / of a nerve steadier than murrain, bandits, mud. // Distance was understood: and how it was controlled. / Now what keeps us checked is far less clear' ('Via'). Then the construction of a motorway summons up its antecedents: 'the Xhosa clicks of hooves on cobbles', and 'the fervent pressure of pilgrims / on the bleak ways between dangerous wastes'.Voluntary also gives a few verbal snapshots of Estonia ('the thunderous jet-sigh of coastal pines, / the midnight length of wolves').
This country, its recently post-Soviet society, is the setting of significant episodes in the novel Between Each Breath (2007). Composer Jack Middleton, suffering a creative crisis, is hopelessly caught between the comfortable Hampstead lifestyle afforded by his 'green' entrepreneur wife Milly, and Kaja, the young woman musician with whom he has an affair while visiting Estonia. Milly, as politically correct as she is desperate to conceive, comes from an aristocratic family, the du Cranes, 'stretching back to a mailed glove around the throat of a Saxon serf'. Despite some tragedy in the family, it is quite a funny book. There is a running joke about The Da Vinci Code, sex scenes with a nice touch of farce, and satirical opinions on contemporary music: compositions by Jack's ex-teacher 'sounded like a handsaw being inched over a vast submarine'. Five years later, Jack comes face-to-face with the consequences of his affair, when Kaja arrives in London with her son, a musical prodigy. She insists Jack is his father, and upheavals in the composer's life have only just begun. 
Hodd (2009) is a more overtly comic novel, the comedy in bawdy episodes, with marginal notes and comments by a translator-scholar reflecting on his own problems. This is First World War survivor Francis Belloes, writing in 1921 about a found medieval manuscript 'of quite extraordinary significance to the deep culture of England': this is no less than the true story of Robin Hood. The manuscript is by an aged monk at Whitby Abbey, North Yorkshire, writing about about events and personalities from 80 years ago: 'it was the year of Our Lord 1225'. The monk, then a youthful page to Brother Thomas, is ambushed in the forest by a band of outlaws led by the charismatic Robert Hode (also called Hodd). Forced to remain with the outlaws, he is obliged to play the harp and sing Hode's praises, but comes quickly to learn that 'a life following the way of a beast … makes the man beastly'.
Governed by unruly appetites for drink and women, Hode is revealed as a former monk, still 'fond of sermonising to the assembled felons'. Events take a more sinister turn after Hode is imprisoned then rescued from 'Notyngham' Castle, when a power struggle ensues between him and 'Little Johnne'. There's a nicely ironic coda, when the old monk sees a stained-glass window with 'the figure of a hunter winding his horn, his apparel … of a most startling green', realising this 'is Robben Hod, that they sing of in the ballads'. Adam Thorpe's own vision of England is equally startling - by turns comic or elegiac, always highly conscious of history and of unruly human appetites.  
Dr Jules Smith, 2012
Bibliography
2007
Birds with a Broken Wing
2006
Is This The Way You Said?
2005
The Rules of Perspective
2003
Nine Lessons From the Dark
1999
From the Neanderthal
1988
Mornings in the Baltic