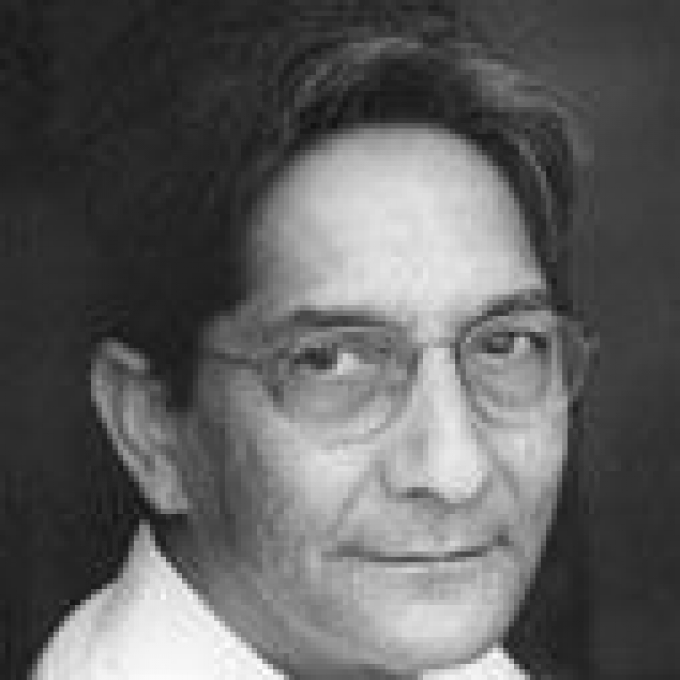 Achmat Dangor
Publishers:
Biography
Achmat Dangor was born in Johannesburg in 1948, and after high school, lived in several small rural South African towns.
He studied literature at Rhodes University, and has published two poetry collections: Bulldozer (1983) and Private Voices (1992). His first three novels were Waiting for Leila (1981), The Z Town Trilogy (1990), and Kafka's Curse (1997).
His novel Bitter Fruit (2003), was shortlisted for the 2003 International IMPAC Dublin Literary Award and the 2004 Man Booker Prize for Fiction. It tells the story of Silas and Lydia Ali, a couple of mixed-race ancestry, and their son, and is set in post-apartheid South Africa.
His latest book is Strange Pilgrimages (2013), a collection of short stories with 'the struggle years' in South Africa as their central theme. 
Critical perspective
'I am an African with Asian and Dutch blood in me, I don't know what race I am, and I don't care' – this is how South African poet and novelist Achmat Dangor, born into an Indian and Muslim family in Johannesburg, describes himself.
This description, together with Dangor's literary production, is a poignant reminder of the absurdity and arbitrariness of racial categories. The institutionalization of racial typologies can only give rise to racist regimes such as South Africa's apartheid. Thus, Dangor's fiction and poetry unsettle superficially-drawn racial divisions and challenge societies built on racial codes. His works, which span more than three decades of South African history, embracing both the apartheid and the post-apartheid era, explore the meaning of cultural heritage and the sense of roots. Yet, as the author states in an interview with Random House's online magazine Bold Type, his project is not to create a single and uniform monologue but to observe history 'from a compelling Babel's tower' where multiple, and, at times, contradictory viewpoints coexist within a single narrative. This technique informs Dangor's latest novels Kafka's Curse (1997) and Bitter Fruit (2003), where a permanent sense of transition rather than the certainty of belonging to a fixed cultural tradition seems to emerge. Dangor's style and language too seem in a state of permanent flux between Afrikaans, English and the street slangs of the characters.
For a politically active author like Dangor, in both pre- and post-apartheid South Africa, the adoption of multiple points of view also entails a reflection on the tension between literature and politics. A staunch opponent of the apartheid regime, the author was banned by the South African government from 1973 to 1978 and was active on several writers' bodies advocating the end of segregation such as Black Thoughts, the Writers' Forum and the Congress of South African Writers (COSAW). Since the end of the apartheid, Dangor has worked for a number of development agencies and authorities providing assistance to victims of the regime such as the Kagiso Trust and the Nelson Mandela's Children Trust. In spite of this active political involvement in the history of his country, Dangor has commented that he finds literature sacrificing storytelling for a political message unreadable. Storytelling, rather than the moral messages, is precisely what the author says he has retained from his religious education in the Islamic school which he attended in his youth in addition to state schools.
Dangor's imagination, however, has always pursued situations born out of the urgency to oppose the apartheid regime, and, after its fall, to heal its wounds. As the writer himself has stated, he has always been moved by the necessity to bring about change in South African society, although not necessarily to then be part of that changed society. His early writings, both the short-stories collected in Waiting for Leila (1981) and the poems in Bulldozer (1983) and Private Voices (1992), focus on the effects of racial segregation and the forced demolitions of black neighbourhoods and townships. They also centre on outsiders who are confined to the margins of society and prevented by racism to improve their condition. In the most repressive years of apartheid, Dangor's characters gave voice to the demands of people with Indian and Muslim background, but, more importantly, appealed to the larger white audience for a cross-racial alliance that could defeat the regime. In the context of anti-apartheid militancy, ethnic particularity was less urgent as a claim than bringing down the institutionalized segregation. Writing about Indo-South African writings in the 1980s, Pallavi Rastoji notes that the urgent need to dismantle the regime led Indians to 'defy the divisive categories of apartheid by absorbing themselves into alternative identities'.
Dangor's post-apartheid fiction is more concerned with how Nelson Mandela's promise of a 'rainbow nation' effectively translated into reality. Several Indo-South African characters in Dangor's fiction seem to come to the bitter realization that, in spite of the promise for a nation that would develop along non-racial lines, they are largely excluded from a post-apartheid society still largely based on the white/black opposition. The novella Kafka's Curse (1997) updates a traditional Arabic legend to the marginalization felt by Indo-South African Muslims in what they continued to perceive a predominantly Judeo-Christian society even after the fall of apartheid. The protagonist of the story is Oscar Kahn (born Omar Khan), a Muslim architect who passes for a Jew and is married to a white woman. As a result of his lie, he will undergo an incomprehensible physical transformation.
Kafka's Curse represented Dangor's international literary debut and his following novel Bitter Fruit reinforced the author's reputation, making it into the Man Booker Prize shortlist. Once again, the novel starts with stylistic and thematic transitions. The allegorical style of Kafka's Curse is replaced here by a realistic prose which does not spare the most unpalatable of details. The setting of the novel takes the reader back to the time when Nelson Mandela is stepping down from the South African Presidency, handing it over to Thabo Mbeki. At the same time, the report of the Truth and Reconciliation Committee is being finalized. Former African National Congress activist Silas Ali, the son of a white Afrikaans mother and a Muslim father, has to liaise between the Ministry of Justice and the TRC. Silas's family is shattered when the father meets François Du Boise, the white policeman who raped his wife Lydia 20 years earlier. As a result of the violent eruption of the past into the Alis' present, their only son Mikey, a talented university student, discovers that he is the fruit of that rape and embarks on a violent retribution. Like other post-apartheid South African novels such as J.M. Coetzee's Disgrace, Arthur Maimane's Hate No More and Zakes Mda's The Madonna of Excelsior, Bitter Fruit is haunted by interracial rape as a reproductive act. In the case of Dangor's novel, the child that is born out of the rape is a representative of the new South Africa. This scenario, together with several passages hinting at the disillusionment with the ANC government, may come as a surprise given the author's support for Mandela and the post-apartheid government. Yet, as Dangor has made clear, he does not want to produce simple political messages but to take his readers in an often unsafe and 'unending journey' through 'history's ambiguities'.
Luca Prono, 2010 
Bibliography
1982
Voices From Within: Black Poetry from Southern Africa