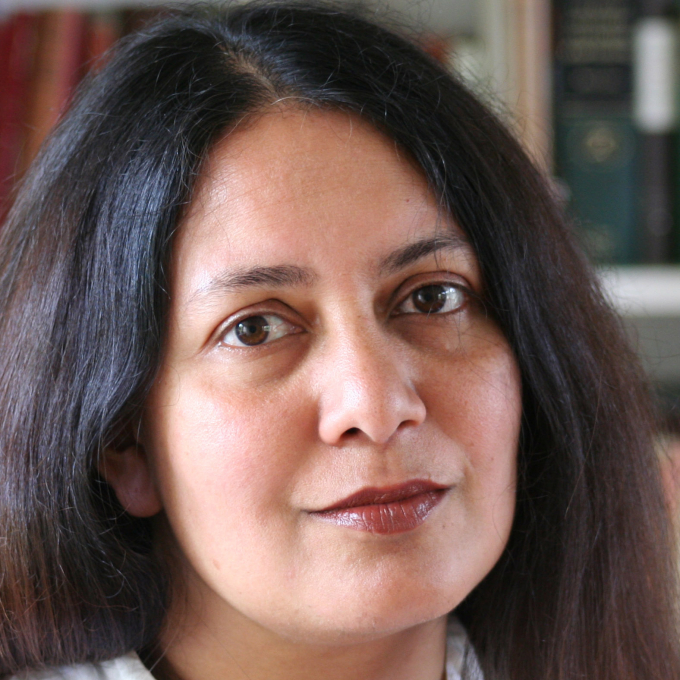 Biography
Sunetra Gupta was born in Calcutta, India, on 15 March 1965 and spent her childhood in Ethiopia and Zambia. She returned to Calcutta as a teenager and began writing, encouraged by her father who introduced her to the work of the Bengali poet Rabindranath Tagore. She studied biology at the University of Princeton and has a Ph.D. from the University of London. She is Professor of Theoretical Epidemiology at the University of Oxford.
She is the author of five novels, Memories of Rain (1992), originally inspired by Brendan Kenelly's adaptation of Medea; The Glassblower's Breath (1993), about a single day in the lives of a butcher, a baker and a candle maker and the women they all love, set in Calcutta, New York and London; Moonlight into Marzipan (1995), the story of a remarkable discovery made in a crumbling garage laboratory in Calcutta; A Sin of Colour (1999), which narrates the history of three generations of a wealthy Indian family from Calcutta and won the Southern Arts Literature Prize; and her most recent book, So Good in Black (2009), which was longlisted for the DSC Prize for South Asian Literature. 
Sunetra Gupta lives in Oxford with her husband and two daughters.
Critical perspective
Memories of Rain (1992) takes place over a single weekend, and this characteristically modernist condensation of chronology is echoed in the novel's accomplished use of interior monologue and its understated experiments with repetition, form and style.
Set in London and Calcutta, the novel's long, sumptuous sentences appeal to the reader's senses: as relentless as the torrential rain which saturates the novel, the text itself reads like an extended piece of stream of consciousness:
'Even he, the first time she ever set eyes upon him, had disgusted and fascinated her, the dark hairs plastered to his chalk-white legs, for this was in the flood of '78, and he had just waded through knee-deep water, he and her brother, all the way from the Academy of Fine Arts to their house in Ballygunge. He had rolled up his jeans revealing his alabaster calves which dripped the sewage of Calcutta onto the floor of their veranda, and that was what caused her to tremble in excitement and loathing as she pushed aside the curtain with a tray of tea and toast, his large, corpse-white, muck-rinded toes pushed against the bamboo table, soiling the mats she had crocheted in school.'
Just two sentences, but they speak volumes about the poetic prose of the novel which led to Sunetra Gupta being hailed the 'true heir to Virginia Woolf'. Memories of Rain tells the tragic story of Moni, a naive but intelligent Bengali woman and the confident and worldly Englishman, Anthony. The young pair fall in love, eventually marry and return to London. However the grey metropolis is not what Moni's dreams are made of and she quickly recoils from the alien city and its inhabitants. Anthony soon begins to tire of Moni's timidity and looks elsewhere for passion. Combining allusions to Mrs Dalloway and the songs and poetry of Tagore, this debut novel was a critical success and was listed in Lesher's The Best Novels of the Nineties. Celebrated Indian novelist Shashi Tharoor said of the novel that it 'marks the triumphant debut of a gifted and compelling voice'.
Set in Calcutta, New York and London, Gupta's next novel, The Glassblower's Breath (1993), also deals with the dubious desires of men for its central character, another intelligent young Indian woman (an unnamed protagonist referred to in the second person as 'you'). Gupta's growing artistic confidence shows here in the increasingly experimental and 'modernist' form of the text, the time frame of which is a single day. In the fragmented, deliberately disorienting narrative of The Glassblower's Breath the sentences of Memories of Rain feel telegraphic by comparison. The free-wheeling first line of the novel breaks all the accepted conventions of opening sentences: 'That night, you dreamt, that instead of dying fresh as a blade of grass, last year, one winter afternoon, your sister had lingered, until her flesh had blackened so that the moonstone on her finger stood a monstrous white against her charred skin, and the whitewashed walls beside her bed, where, in your dream, she fought grimly with death, the whitewashed walls, in your dream, spread with stains of old blood at the touch of her fingers, as death sliced into her gums like the sharp thread with which the two of you would floss your teeth after a meal of rubbery mutton.' The dream plays out the death of 'you's' sister, which preoccupies the consciousness of our protagonist throughout. The novel as whole has a surreal, fairy tale quality to it (the book's three male suitors are a butcher, baker and candle maker) which has bewildered some readers and made it (unfairly) her most critically neglected novel. As Gupta herself explains it: 'This book puzzled those who thought that I was their master of multiculturalism. It dawned on them that the "adriftness" they were seeking in my book was in fact an "adriftness" of the mind, rather than exile from culture and country. I like to think that all my novels are anchored in individual politics, day to day politics.'
In Moonlight into Marzipan (1995), a young chemist, Promothesh, discovers how to make life from inanimate substances (a copper ear bud), turning 'moonlight' into 'marzipan' in his ramshackle garage in Calcutta. He travels with his wife to London in search of fame and fortune, but the death of his wife turns his world up side down. Like her earlier novels Moonlight to Marzipan is rich in literary allusion, this time to the Romantic poet William Blake, the inspiration for Gupta's character Yuri Sen (the devil incarnate). Gupta's novel combines humour and dark materials to great effect.
In her latest novel, A Sin of Colour (1999), the plot revolves around the Roy's family home of Mandalay (think du Maurier's Rebecca) in Calcutta. Debendranath Roy is the first of his family to flee the house (Mandalay is where his father and elder brother married and settled down) for London. On the surface the novel is another Oxford-based murder mystery. When a man disappears on a punt, it is assumed Debendranth is dead. It is not for another twenty years that the truth emerges. Like all of her novels to date, A Sin of Colour is what The Spectator has called 'an elegy for Bengali culture and for the genre of romance itself'. A scientist by training, Sunetra Gupta's abiding interest is in the very intricacies and infidelities of literature and language itself: 'What words conceal is as important as what they reveal. Although the essence of raw communication may be clarity, in literature it is the inexact and the imprecise that allow us to push forward the boundaries of human experience and cognition.'
Dr James Procter, 2009
Bibliography
1995
Moonlight into Marzipan
1993
The Glassblower's Breath