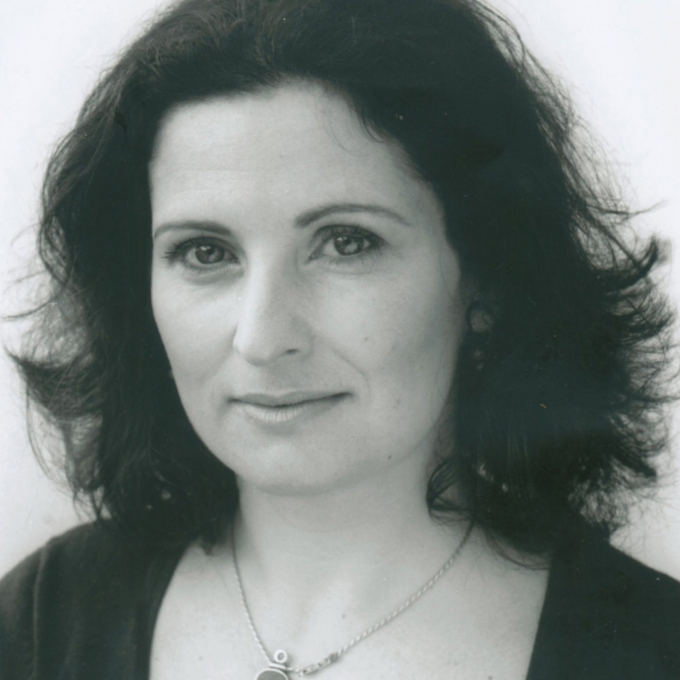 Simonetta Wenkert
Publishers:
Biography
Simonetta Wenkert was born in 1965 of Italian-Austrian parents.
She studied at Durham University and has lived in Athens, Rome and Jerusalem, working as a translator of film scripts and a teacher. She translated Carlo Mazzantini's A Cercar La Bella Morte in 1992, shortlisted for the Independent Foreign Fiction Prize, and has also translated Paola Jacobbi's I Want Those Shoes (2006), a non-fiction book about the history of women's shoes and their place in women's lives.  Her first novel, The Sunlit Stage, a love story set in 1970s Italy, was published in 2004 and was followed by The Half-Known Life (2008), a story spanning three generations, from 1970s Athens to present-day London.
Simonetta Wenkert lives in London, where she runs an Italian restaurant with her husband.
Critical perspective
Simonetta Wenkert is not yet a bestselling novelist, but her novels quietly assert themselves in the mind of readers.
What makes The Sunlit Stage (2004) and The Half-Known Life (2008) memorable is that they provide convincing inter-generational and cross-European intrigue which is both exciting and engaging. The Sunlit Stage was a brave and affecting debut, as Emma Hagestadt observed, 'Wenkert marries the personal and political in a family saga which is also an explosive portrait of post-Fascist Italy' (The Independent, 27 May 2005). The later work, The Half-Known Life, is yet more complex as an asylum seeker meets indirectly a love triangle in Greece generations before.
The Sunlit Stage is much more concise than The Half-Known Life as it focuses on one family. A shy student from England studying in Rome, Julia meets and falls in love with Ennio Caruso who soon becomes swept up in the terrorist atrocities of the 'famously unemotional' Sinistra Armata during the late 1970s. As a result he makes the difficult decision to protect Julia by leaving her. He next sees her during a tragic terrorist operation in a country cottage where Lotte is born and Julia dies. Jumping to the present day, Lotte lives with her English grandmother and is unaware that her father is serving a life sentence in an Italian jail. It becomes necessary for Lotte to learn about her father as he is relating his life story to Pietro Scala (editor of the current affairs weekly newspaper La Nazione) and following diagnonsis with terminal cancer, feels that his 'desire to see his daughter before he dies is overpowering: his life in prison holds few other consolations'. What follows is a maternal coming of age as Lotte and her two grandmothers explore their new relationships to their history, their respective cultures and the future that grows within Lotte.
The past life of one's family is also of importance to the plot of The Half-Known Life. This work is more ambitious than Wenkert's debut novel, taking even further the complexity of the unknown. Sappho lives in London and seems to all to be happy and content with her successful husband, large family home and contented and chatty young daughter. However, during her second pregnancy it seems that Sappho is losing grip on her perfect life as her parents' unusual relationship with an old friend and the genesis of her own marriage catch her up. This uncertainty is compounded with the arrival of the mysterious Laleh, an asylum seeker with a young daughter. In its scope, there seems little this novel does not attempt to incorporate; there is a brief flirtation with lesbianism, adultery, alcoholism, marital break up, underage pregnancy, domestic abuse and rape within marriage, suicidal feelings and sexual attraction. At times it seems all these themes only just seem to hang together on threads, just as the world of Sappho seems at risk of falling apart. The conclusion is more affirmative, but overall it seems that life is 'a thing of probabilities, a fragile construct to be tossed about to discover how deep the fault lines lay'.
In Search of a Glorious Death (1992) is Wenkert's highly praised translation of Carlo Mazzantini's Italian novel. Fiction is perhaps a veiling term for what is essentially a historical memoir. Mazzantini and his young protagonists joined the fascist guerillas following the Italian surrender in 1943. The book explores the idealistic patriotism of the boys and their painful experiences of war. What makes this tale so sensational is that it gives voice to less well-known history, exploring the betrayal felt by some Italians which drove schoolboys to take weapons against the Allies. In Search of a Glorious Death was shortlisted for The Independent Foreign Fiction Prize in 1992, and is certainly an important text because it does not seek to apologize for or ignore this difficult history.
Wenkert's second translation from Italian, I Want Those Shoes (2006), could not be more different from In Search of a Glorious Death. Paola Jacobbi's 'history' of shoes and women's relationship with them is light in style. There is advice that may horrify if you often commit sins such as 'wearing strappy shoes with trousers [... which] remains a cowardly, turncoat act'. This book is almost like an extended fashion feature from a glossy magazine, and quite how it fits with Wenkert's novels is not clear. However, even the least fashion-savvy reader will find some fact to amuse since even sports shoes get their own chapter.
Wenkert's novels demonstrate a more unique style than translation permits, although her talent for the elegance of literary translation ultimately shines through in her settings. The European farmhouses, city flats, cafés and town squares she creates are so richly exotic they are almost spectral, as if the protagonists themselves are struggling to hang on to the places they inhabit. London, by contrast, is often the ground from which the explorations of the land of your parents' histories, your history and your present set off.
A line from I Want Those Shoes muses on the possibilities of language and experience: '"Putting oneself in someone's shoes" would be "wearing someone's clothes" in Italian. As is often the case, the English language is more efficient than the Italian'. For Wenkert, English is the most efficient language for relating narratives which centre on human nature, forgiveness, guilt, passion and putting oneself in someone's shoes.
Alex Pryce, 2011
Bibliography
2006
I Want Those Shoes/Paola Jacobbi
1992
In Search of a Glorious Death