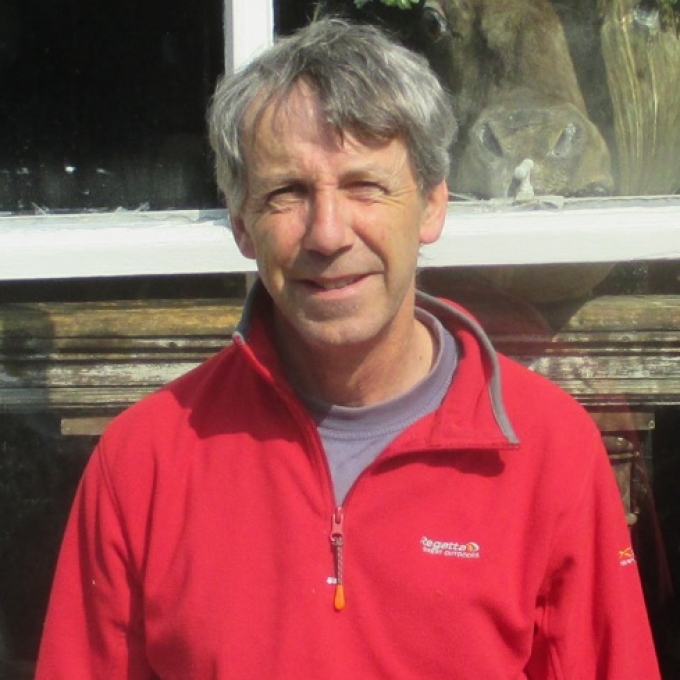 Richard Collins
Publishers:
Biography
Richard Collins lives near Aberystwyth and has worked as a farm labourer, gardener and estate worker.
He teaches at the Institute of Rural Sciences in Llanbadarn.
His first novel, The Land as Viewed from the Sea (2004) tells the story of two friends working on a smallholding. One reads the other's developing book, which bears the same title, and fiction and reality merge.  This novel was shortlisted for the 2004 Whitbread First Novel Award. Richard Collins' second novel, Overland, was published in 2006 followed by a third The Quality of Light in 2011. 
Critical perspective
Richard Collins, an instructor at the Institute of Rural Affairs, University of Aberystwyth, says that his life spent working on the land was an 'apprenticeship of daydreaming, reading, and staring into the far distance'. 
This apprenticeship certainly informs his two novels to date, both of which feature characters who work on the land and are, to a greater or lesser extent, shaped by a love, appreciation and intimate knowledge of it. It is depressing, but no surprise, that Richard Collins' debut novel, The Land as Viewed from the Sea (2004), had sold only a few hundred copies before it was shortlisted for the Whitbread First Novel Award. With book shop chains and supermarkets dominated by marketing managers seeking bestsellers and ghosted works by celebrities, attempting to attract the attention of the United Kingdom's London-centric media world is all but impossible. Prizes may be criticised for a variety of reasons, but if they are able to bring to our attention work of the quality of Collins's debut novel, then we should be grateful.    
The Land as Viewed from the Sea is a subtle and affecting tale of a love unable to sustain itself. John goes to work on Julian's smallholding, 'after a break of some years.' John is inclined to lose himself to daydreaming, while Julian is more interested in the factual and scientific. When John allows Julian to read the novel he is writing, The Land as Viewed from the Sea, the relationship between fiction and reality becomes less certain. Just how close to John's experiences are the events he describes in his story? How is Julian connected to it all? And why is John so sensitive to Julian's responses to his writing; why does he make so many changes to his work on the basis of the latter's feelings?
John's novel is chronologically fractured and narrated in the third person, while John's experiences on Julian's farm are told in the first person and move forward in time. The way Collins weaves these two strands together is impressive. He builds a slow, quiet, insistent, homoerotic tension, manufacturing a fiction that routinely suggests one idea before revealing another. There are innumerable and very subtle dead ends; hints at relationships between the characters; echoes of one fiction in the other. Collins teases the reader into knowledge.
The Land as Viewed from the Sea is many things: an examination of the nature of the writing process and the role of the reader in shaping a reading; an exploration of our relationship with the natural world; but, above all, a moving account of a relationship. The juxtaposition of the two stories is well handled, with the more matter of fact tone of John's daily life on the farm offering an effective counterpoint to the bipolar drama of the love affair in his own novel. The scenes between the lovers in the novel within the novel are beautifully written; they are funny, tender and powerfully real. The lovers are so 'oblivious to their surroundings [that] if the sea quietly drained away they wouldn't miss it.' Collins allows the reader room to breathe, and, in the spaces, we are able to find a depth of emotion that is at times breathtaking. These lovers truly live; we are with them as they discover one another and drift into a state of obsession. 'They were lovers in the way they spoke to each other, not just in the words but in their tone of voice. People who are not lovers don't speak like that. They were lovers in their body language even when not touching. They were lovers with their eyes.' Collins paints from a similar palette to the Terrence Mallick of Badlands and Days of Heaven: small, incidental detail; the primacy of the natural world; the evanescence of love; the role a jealous, restive mind plays in disrupting the status of a romance; the hallucinatory, oneiric state of sudden, overwhelming, desperate need; the idealisation of another human being; the lust for their presence. But it is the way that Collins undermines the easy sentimentality of the beginnings of a love that gives this novel its bite: he shows the victory of fantasy over reality.
Overland (2006), Collins' second novel, is quite a departure from his first. Although there are a number of scenes featuring people working in gardens and meadows, building bridges and paths, we are far from the poetry of passion here. Instead, we are in the mind of Daniel Brownlow, just out of school and mostly interested in himself. Daniel is travelling in an unnamed country with no particular set plan. He has a new Mohican and, as is the wont of an adolescent, spends much of his inner life trying to decide what he is doing and why he might be doing it. Daniel meets Oliver, a man desperate to find his wife and family to seek reconciliation. Oliver has a foot in plaster and cannot drive. As Daniel has nothing else to do and likes to be spontaneous, he agrees to help. So with Daniel as driver, the two men travel together through towns and villages, stopping in chalets and the gardens of grand country houses, looking all the while for the red car that Oliver's wife is travelling in. Daniel has a seeming gift for finding himself in awkward or unusual situations. After being arrested for driving a stolen car, he spends a few days in the company of a group of born-again Christians. 'I'm living in the moment and it's good but [Oliver's] always wrapped up in thoughts or memories. Nothing is new or fresh for him.' In some ways Overland captures the solipsistic imagination of adolescence very well: Daniel's fixations, his self-justifications and his growing need for the love of someone else who will understand the 'planet' he is on, are all painfully accurate for those of us who might not wish to remember that benighted hinterland between childhood and adulthood. However, there is a problem. The voice might be authentic in that it reminds the reader of the manner in which teenagers speak, but what Collins has not managed to do is render the tone of adolescence in any satisfyingly artistic sense. As a result, he is never quite able to draw the reader into this fiction, and his tendency to spell things out – a feature of his writing which occasionally crept into his debut – is something which often undermines the impact of his second novel. However, while Overland, a novel of memories and half-truths, of journeys inward and outward, of a teenager who learns that adults can also have a present, and an adult who sees that children might have pasts, never reaches the heights of its predecessor, it once again displays the author's affection for his characters, his fine descriptive power, and his ability to create a well-structured narrative.
Garan Holcombe, 2007