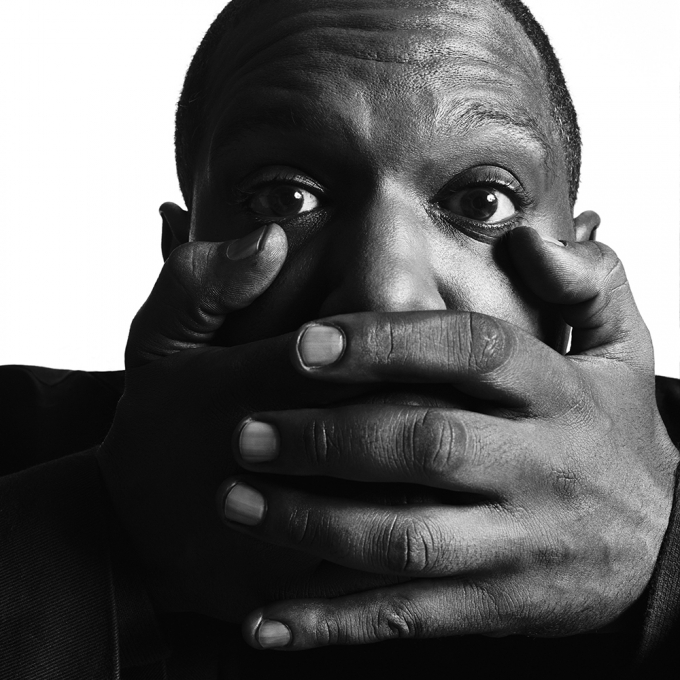 Lemn Sissay
Publishers:
Agents:
Lakin McCarthy Entertainment Ltd.
Biography
Lemn Sissay is the author of five poetry collections: Tender Fingers in a Clenched Fist (1988); Rebel Without Applause (1992); Morning Breaks in the Elevator (1999):The Emperor's Watchmaker (2000), and Listener (2008).
 He is also the editor of The Fire People: A Collection of Contemporary Black British Poets (1998), and his work has appeared in many anthologies. 
His stage plays are Chaos By Design, Storm, and Something Dark. Examples of his television explorations include a 6-part jazz series for BBC2, and in 2004 he presented the first National Poetry Slam and The New Brit for the BBC. His work has featured in various short films including the British Film Institute sponsored The Elevator, featuring Gary Lewis.
A documentary about Lemn's extraordinary life and search for his father, Internal Flight, was recently broadcast on BBC1. He has been commissioned to write poems by various bodies including the World Service, and his work has become public art, particularly in Manchester, where his poems appear on buildings and streets.
Lemn Sissay reads his work around the world and is featured on many albums, most notably Leftism by Leftfield. The Independent on Sunday says of his work: 'His poems are the songs of the street, declamatory, imaginative, hard-hitting ...'
Critical perspective
Lemn Sissay is a musician, a stand up comedian, radio and television producer, a playwright, and, lastly and firstly, a poet.
Of Ethiopian decent, Lemn Sissay was brought up by white parents in the North West of England. It is this painfully personal experience of growing up without knowing his parents that marks much of Sissay's poetry to date. His latest collection, Listener (2008), contains the following poem, 'Before We Get Into This':
'Before we get to know each other
And sing for tomorrow
And unearth yesterday
So that we can prepare our joint grave
You should know that I have no family,
Neither disowned nor distanced - none.
No birthdays nor Christmas,
No telephone calls. It's been that way
Since birth for what it's worth
No next of skin.
I am the guilty secret of an innocent woman
And a dead man - tell your parents, they'll want to know.'
In this short confessional poem, Sissay lays out the intimate details of his past in an unsentimental and semi-detached prose that seems numbed, left cold, by the trauma of adoption. Seemingly addressed to a new lover, the poem describes a loveless childhood without family contacts and celebrations. Moreover, it is a childhood with 'no next of skin', a play on words which alludes to his trans-racial adoption. As John McLeod has elaborated more broadly in relation to postcolonial writing, the 'legacy of adoption has been rarely acknowledged yet is often a major component in the negotiation of public and private life, where the operations of imperious state authority have structured the seemingly-private realm of the family. Indeed, in many different cultural contexts, the family has often been the site where public discourses of race and nation unhappily encounter loving and often brave human relations which reach subversively and threateningly across such homogenising divides.' The skin/kin of Sissay's poem is the point at which public and private intersect. This, within a poem which might be read more generally as the staging of a secret, the putting into public discourse the private parts of a past.
Ten years before this poem was first published in The Guardian, Sissay's debut collection, Tender Fingers in a Clenched Fist (1988) was first published by the radical publishers Bogle-L'Ouverture Press. It contained an introduction by the pioneering performance poet, Valerie Bloom. Even by the time of this debut, Sissay was an established performance poet/public artist. If Sissay has been prolific on the page during the past decade, penning three further collections (Rebel Without Applause, 1992; Morning Breaks in the Elevator, 1999; The Emperor's Watchmaker, 2000) before Listener, he remains perhaps best known for his seemingly tireless performances across the UK, and globally. It is no surprise then that so many of his book titles have oral and performance connotations (Listener, Rebel Without Applause). Meanwhile, poems such as 'The Actor's Voice' highlight the primacy of voice over print:
'This is a celebration of sound,Words said after the phone's put down,After the door's shut at the editor's cut –Thoughts held after the word 'but …';This is the sound before death;In the beginning it wasn't the word,It was breath.'
Here the spoken word seems excessive, in all the senses of that term: beyond the modern technologies of communication, beyond editorial erasure, beyond even death or biblical beginnings. A regular performer across Europe, as well as in Canada, North America, and South Africa, Sissay is also a powerfully local poet, who draws inspiration from his background in Manchester and the North of England. In fact, it is a testament to his great skill as a poet that Sissay has been able to turn this landscape, connected with the lovelessness of his youth in an all-white setting, into a resource rather than a simple site of alienation. The affection his writing displays for the region is mutual, and his poems have even been reproduced throughout the city, inscribed onto its walls and pavements. Take, for example, his beautiful concrete poem, 'Rain', which takes up an entire wall of the Gemini Take Away, on Oxford Road. The layout of this piece cannot be reproduced here but is anyway best witnessed in situ, or in one of the many photographs that capture it for the internet (see, for example, http://www.lemnsissay.com/publicArt/index.htm). In the original, the words run vertically rather than horizontally, black slashes of rain against a white background:
'When the rain fallsThey talk of ManchesterBut when the triumphant rain fallsWe think of rainbowsThat's the Mancunian Way'
Manchester is more than a poetic subject for Sissay, the city is also where he started out as a community activist and literature development worker with Cultureword, the collective black publishing project. Sissay continues to discover, gather, and promote the work of black British poets, as his influential anthology of new wave poems, The Fire People (1998) suggests. Sissay's poems move, often movingly, between the lyrical and political, the personal and the public, between tragedy and comedy. If we began with a world without birthdays and Christmas's then, it seems appropriate to end with piece of Sissay's lighter, comic verse, 'London (So good they named it once)'
'I always thought Covent GardenWas where nuns go for a picnicI always thought a TubeWas a cylindrical piece of plastic
Always thought Shepherds BushWas an illegal herbal viceAnd how the hell did PeckhamGet married to Posh Spice?'
'London (So good they named it once)' evokes both Sissay's affection for London, as well as playing on the poet's provincial roots beyond the capital, and the kinds of Selvon-esque mis-translations that can emerge as a result. As Sissay has written elsewhere, with tongue in the same cheek: 'As a northerner Lemn loves London! Many people in Manchester ask why. The simple answer is that in London there are more people who look like Lemn!'
Dr James Procter, 2009
Bibliography
2000
The Emperor's Watchmaker
1999
Morning Breaks in the Elevator
1998
The Fire People: A Collection of Contemporary Black British Poets
1992
Rebel Without Applause
1988
Tender Fingers in a Clenched Fist
Author statement
Poetry is the voice at the back of the mind. I write to express and interpret the world around me through that voice.  The need to do this and the circumstances that lead to such need are boosters for the early poet in myself. But now I write because I can't not write. The thrill I derived as an early poet writing is the same as now. My books are flags in the mountainside. They display the discoveries and describe the views from each part of my journey. It is these emotional, natural, political landscapes of which I write. In a way I am making sense of the view in all its strange beauty.   Besides writing poetry I have spent most of my adult life searching for my family: searching for my mother, father, sisters, brothers, aunts, uncles, brothers and sisters. In having no family since leaving the children's homes at 18 I had no proof of my own existence. Poetry and finding my family are my two journeys. Family is a constant acknowledgment that any of its members are alive. I am not saying families are all good or all bad. I am just saying you know you are alive by virtue of the fact that someone acknowledges your existence. There are walls to reflect your echo. Without this, how could I know I existed? Poetry was a conversation with family – a proof that I was alive at any given time. I write therefore I am.   I have been invited to read my poems in some beautiful places: on stage at Singapore Botanic Gardens and Emperor Haile Sellassie's Palace reception area in Ethiopia. In the bay of Loutros in Crete I read a poem to an audience while a rain cloud walked into the bay from the sea – it was as if the mini storm was part of the poem – and by the end of the poem the rain cloud returned to the sea. But the heart and soul of the writer is about being alone with a dark blood like liquid. The writer coaxes the liquid from a metal nib, resulting in a series of marks and scratches. I am therefore I write.