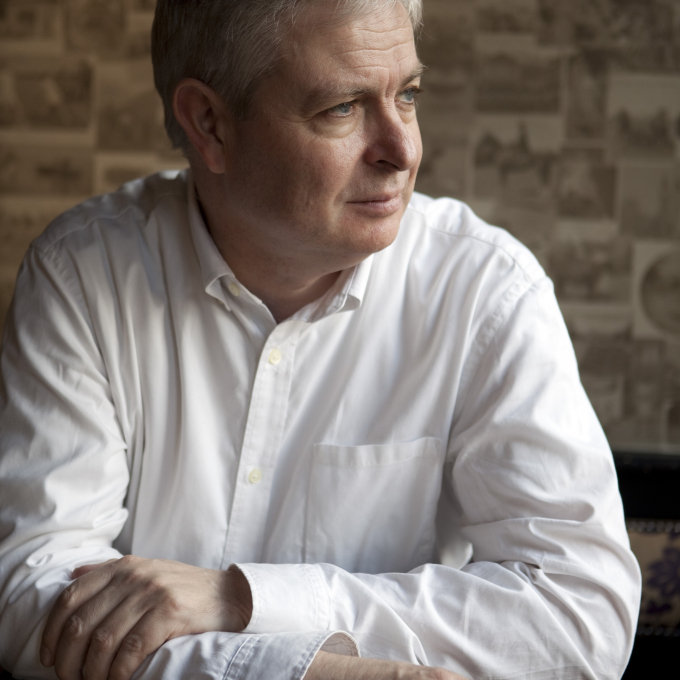 Jonathan Coe
Publishers:
Agents:
Biography
Novelist Jonathan Coe was born in Birmingham in 1961.
He was educated at Trinity College, Cambridge, and completed a Ph.D. on Henry Fielding's Tom Jones at Warwick University. He taught English Poetry at Warwick, subsequently working as a professional musician, writing music for jazz and cabaret. He also worked as a legal proofreader before becoming a freelance writer and journalist.
He is the author of several novels including The Dwarves of Death (1990), a cult murder story filmed as Five Seconds to Spare in 1999; the acclaimed What a Carve Up! (1994), a caustic satire of British life in the 1980s and winner of the Mail on Sunday/John Llewellyn Rhys Prize and the French Prix du Meilleur Livre Étranger (France); and The House of Sleep (1997), which won the Writers' Guild Award (Best Fiction) and the Prix Médicis Etranger (France) and recounts the adventures of a group of former university students, reunited at the mysterious cliff-top house where they used to live. The Rotters' Club (2001), is set in Birmingham during the 1970s and tells the story of a group of school friends working on the school magazine. It was adapted for BBC Television in 2005. A sequel, The Closed Circle, was published in 2004. This was followed by The Rain Before It Falls (2007), The Terrible Privacy of Maxwell Sim (2010) and Expo 58 (2013). 
Jonathan Coe is also the author of two biographies of film actors, Humphrey Bogart and James Stewart. His biography of the novelist B. S. Johnson was published in 2004 and won the Samuel Johnson Prize.  A collection of short fiction and non-fiction, 9th and 13th, was published in 2005.
Jonathan Coe lives in London. His latest book is Number 11 (2015).
Critical perspective
Jonathan Coe's six novels to date have measured a clear progression from experiment to accomplishment; and along this process, Coe has pulled off the remarkable feat of developing a confidence and a distinctive style without ever losing the playfulness and lively versatility so much in evidence in his early work.
His first two novels, The Accidental Woman (1987) and A Touch of Love (1989) are the most self-consciously experimental. A Touch of Love has texts within texts, as so often in Coe's works, and The Accidental Woman has a distinctive narrative voice that is knowing and teasing. In the third, The Dwarves of Death (1990), the formal experiment is far more ambitious than is immediately apparent; for Coe has structured his novel following the pattern of a popular song 'Intro', 'Theme One', 'Key Change', and so on. Artificial as it may seem when described here, this conceit rarely draws attention to itself, nor ever noticeably intrudes in the unfolding of the narrative.
The story of The Dwarves of Death concerns narrator William and his group of hapless musicians in South London dreaming dreams of musical (and occasionally romantic) glory; they don't get it, of course, and what is worse they become involved in the circumstances surrounding a rather gruesome murder. But as we have come to expect from Coe, there is humour to be found even here, in this often tense, occasionally disturbing thriller. Indeed, the sequence which closes the first half, in which William describes the experience of waiting for a bus he knows will never come (an 'act of faith' which will last the best part of a Sunday) is one of the funniest in Coe's writing. In-keeping with the pattern of the book as a whole, this sequence is tightly structured like a musical middle-eight, this too is more technically 'clever' than it appears on first reading, with none of the pejorative elements (self-indulgence, exclusivity) that often accompany that epithet.
As so often in Coe's work the funniest sequences are set-pieces which nothing else can quite match or follow, and so they tend to stand apart from their context - but their sheer inventiveness and overwhelming funniness allow him to get away with showing the odd seam, all forgiven and soon forgotten as the laughter starts to take hold...
Entertaining as these three experimental novels are, it is with his fourth, What a Carve up! (1994; US title The Winshaw Legacy) that Coe really begins to get into his stride. What a Carve up! is an extraordinary piece of social satire, which uses the story of a powerful, wealthy and ruthless family, the Winshaws, to expose the excesses and evils of all aspects of Thatcherite Britain. The Winshaws have fingers in many pies - politics, the National Health Service, the art trade and the arms trade, to name but a few. One by one, during the course of the novel, each member of the family (and his or her corrupt little world) is well and truly skewered, and Coe is merciless. He doesn't merely show up these people and their grotesquerie, he even (through a fantastic sort of deus ex machina in the final part of the novel) contrives to get terrible revenge on them too. If only this book had been published during the heyday of the society it describes, one can't help feeling that a lot of people would have wised up to a lot of corruption, ludicrous posturing and downright evil long before they actually did.
The title of What a Carve up! was taken from a 1961 film of the same name, a spoof horror film starring Sid James and Shirley Eaton, which features as a clever connecting thread at various points in the novel. Coe, who has written extensively about film (including biographies of James Stewart and Humphrey Bogart), uses the medium to even greater effect in his fifth novel, The House of Sleep (1997). It is probably his most ambitious and accomplished to date.
The House in question is a sleep clinic, which four people (who had once shared a house as students) visit for four different reasons. There is Terry, fascinated by film, of course, whose obsession helps to fill up the empty hours his insomnia has cursed him with; Sarah, a narcoleptic; Robert, confused and in love with Sarah; and Gregory, a sleep doctor.
Less grotesque than What a Carve up!, less obviously experimental than the early novels, The House of Sleep nonetheless shows the strengths of all four. It is intricate and brilliant, yet also more moving than anything Coe had written previously, or has since; despite the fact that the story in which they are drawn is multi-plotted, strikingly intelligent and technically impressive, the characters have greater reality and pathos than any in Coe's earlier work. He is not satisfied with mere detached cleverness here, and the book is emotional, intense and compelling. And to top it all Coe throws into the elegant mix a self-contained comic highlight that is simply dazzling. But for the fact that What a Carve up! contains a description of a failed novelist attempting unsuccessfully to write his first sex scene that is perhaps the most excruciatingly funny thing that I - for one - have ever read, this set-piece in The House of Sleep might have taken that prize.
Since The House of Sleep, Coe has returned to the familiar territory of social satire with The Rotters' Club (2001), a book that does for the seventies what What a Carve up! did for the eighties, though perhaps now with rather more tempered viciousness. There are 'plans' for a nineties novel too, apparently, to complete the great State of England trilogy; another neatly plotted gem, no doubt, glittering with wit and technique, but (like some of the most beautiful jewels) with dangerously sharp edges, for there's always bound to be something important to be said. And no doubt this forthcoming novel will have at least one sequence of overwhelming, numbing hilarity to ensure that the serious message doesn't sting too badly, or at least not at first.
Daniel Hahn, 2001
Bibliography
2010
The Terrible Privacy of Maxwell Sim
2007
The Rain Before It Falls
2004
Like a Fiery Elephant: The Story of B. S. Johnson
1994
James Stewart: Leading Man
1991
Humphrey Bogart: Take It and Like It
1990
The Dwarves of Death
1987
The Accidental Woman