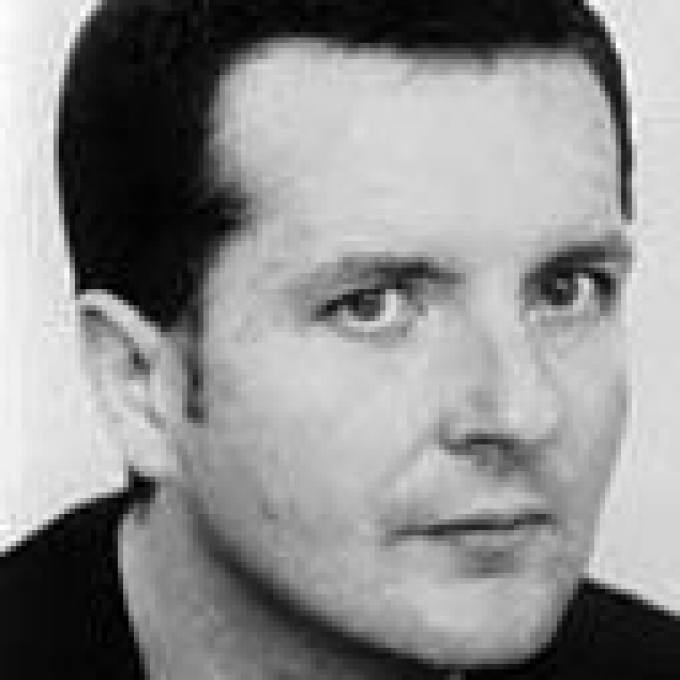 Biography
Gordon Legge was born in Falkirk and brought up in Grangemouth.
His first novel, The Shoe, was published in 1989. His collection of short stories, In Between Talking about the Football (1991), won a Scottish Arts Council Book Award.
From 1992-94, he was Writing Fellow at the Royal Edinburgh Hospital. He won the Robert Louis Stevenson Memorial Award in 2001, and his most recent book is the collection of short stories, Near Neighbours (1998).
Presently, Gordon works at the Royal Edinburgh Hospital as a nursing assistant, and does the odd piece of journalism.
Critical perspective
Certain authors, journalists and critics – V. S. Naipaul is one – decide, every so often, when the black mood takes them, that the novel is dead, that fiction is in its last death throes, that the culture is pallid, emaciated and enervated. Such wild pessimism not only feeds the idea of a great, shining past, of a time of true literary heroes, but it also helps negates any suggestion that there may something in contemporary fiction that's worth reading at all.
Well, such downbeat doommongers cannot deny, no matter how hard they may try, that something extraordinary has happened in Scottish fiction in the last 15 years or so. Writers as distinct as James Kelman, John Burnside, Niall Duthie, A.L. Kennedy, Janice Galloway, Ali Smith and Alice Thompson have all produced exceptional work, displaying in the process a verbal inventiveness and a frank intellectual and emotional engagement with the world. Black comedy, brutal realism, hallucinogenic surrealism - this group seems capable of anything. And of course, this is to say nothing of the writers brought together by Kevin Williamson for his Children of Albion Rovers (1999) collection of novellas; the list is a confirmation of the astonishing creative richness that Scotland can boast: Irvine Welsh, Laura Hird, James Meek, Alan Warner, Duncan McClean and Gordon Legge, all of whom have, to a greater or lesser extent, helped shape a generation, won prizes, critical acclaim and an enthusiastic readership.
Gordon Legge is among the least well known of this impressive roll call of names. A quick glance at his typical themes – the mundanity of life in one of Scotland's council estates, or schemes, escape and meaning in football and music, the painful pursuit of sexual gratification, drink, drugs, aimless, rootless desperation – and we would be forgiven for thinking of Mr Welsh, who is of course, synonymous with modern Scottish fiction and the writer most often invoked to describe that which serves the needs of cultural constituencies way beyond those of Highgate, Hampstead or Islington. I make this spectacularly obvious connection, not to draw attention to Legge's similarity to Welsh, but rather to point out how he differs from his more celebrated compatriot. Legge's work has a humanity and a tender wit, a quiet subtlety and an unmistakeable quirkiness: whatever other adjectives we may wish to employ to describe Welsh's fiction, we are unlikely to seize upon 'subtle' and 'quirky.' Legge's short stories – he has published two collections, In Between Talking About the Football (1991) and Near Neighbours (1998) – are full of space and questions unanswered. He leaves ends untied, suggests, teases, provokes, and, through fine, beautifully observed detail, honest, warmly humorous dialogue and characters as real as they are often strikingly unusual, offers us a world turned off its axis, almost imperceptibly, but a world, nevertheless, which resembles our own. Legge gives to, as Duncan McClean puts it, 'the drama of ordinary Scottish people going about their lives with empty pockets, sore heads and broken hearts.'
The Shoe, (1989) Legge's debut, is a novel which follows Archie and his friends, The Mental Kid, Davie, Richard and Dostoyevsky the dog, through three days of drinking and arguments about football and their record collections. Whilst The Shoe is a much slower novel than say Kelman's How Late it Was, How Late, or Welsh's Trainspotting, both of which are notable for their ferocious pace, it does, nonetheless, have the same interest in boredom, alienation and a life lived on the margins. Yet The Shoe is in no way didactic, nor is it a political manifesto. It presents attitudes and viewpoints, but all is mediated through the characters. Legge succeeds in taking us completely within their world. We feel as if we are with them in the street and the pub, by their sides, privy to the private thoughts, their moments of frustration, their rage at sectarianism in football, and their differences of musical opinion. The Shoe is about what it's like to be a fan, why passions matter, how obsession develops, how a song or a game can inform us, make us who we are, and take us away from our circumstances.
Archie's monologues represent the standout parts of The Shoe: 'Oh, God, I shouldn't be here. I should be at home listening to Al Green or reading Simenon. People never see me happy – that wonderful. I wish they would.' Legge allows us quick, direct access to the rush of Archie's thoughts and reveals himself to be a master of this kind of Talking Heads style of first person narration. It is also to be found in his short stories. 'Manners', which opens Near Neighbours, is a brilliant rant, a sustained act of verbal frustration: 'You can just never get rid of him, this new bloke. Never budges, just stands there. Hanging round waiting for God knows what. Never utters a word to it either, not a word, not a blooming word.' Legge has wonderful timing: he gets the pace just right, knowing when to pause, when to repeat, when to slow up the staccato delivery.
Legge is also a natural surrealist, but finds the absurd and the surreal in the everyday; he makes the unusual seem like something which could happen rather than offering up the outlandish as a means of being more interesting than an average writer of realist fiction. 'Question Number Ten', in which a man goes for a job interview, is a notable example: 'So I goes for the job interview and the boy says, "Right, name fifty singles by The Fall."'  From there, the interviewer proceeds to ask ever more ridiculous questions until the interviewee fails to answer one correctly and grasps his questioner by the lapels and 'starts shaking him'.  However we may wish to read this story – as comic fable, as inspired joke, as an attack on the artificiality of the whole process – it is nevertheless an illustration of Legge's talent with short fiction. The story has pace, it leaves room for a multiplicity of readings, and it captures a strange instant in rich colour. 
Legge has a fresh and striking use of simile. In 'Past Masters', a story about a lovesick home help, Mrs. Hanson is described as being 'as brittle as a biscuit with skin like a paper hankie.' It is the author's sensitivity to language which enriches the often subtle nature of his tales. A Legge short story can demand repeat readings, and after each one, we find something new, see it in a different way. There are certain stuffy critics who believe that if you write about drug taking, boredom and casual sex and set it far away from the concerns of the middle class then it follows that you will not be able to construct a sentence. This is, of course, nonsense. Each writer should be judged on the quality of their work, not dismissed out of hand because they use swear words or mention the working class. Gordon Legge not only gives voice to the ordinary, to the disenfranchised and disposessed, but gives them respect.
Although Legge's first collection of short stories, 'In Between Talking About the Football', is a success, the titles alone make the work, my particular favourite being, 'At Last, A Story About My Bike'. It is without the range and depth of Near Neighbours, his more recent collection, which is one of the most impressive written by a British writer in the last few years. His work has undoubtedly matured, it is more confident, assured and daring. The short story is a form ignored in Britain. It is only to be hoped that people like Gordon Legge can help bring it to the forefront of our attention.     
Garan Holcombe, 2006
Bibliography
1997
Children of Albion Rovers
1994
I Love Me (Who Do You Love?)
1991
In Between Talking About the Football