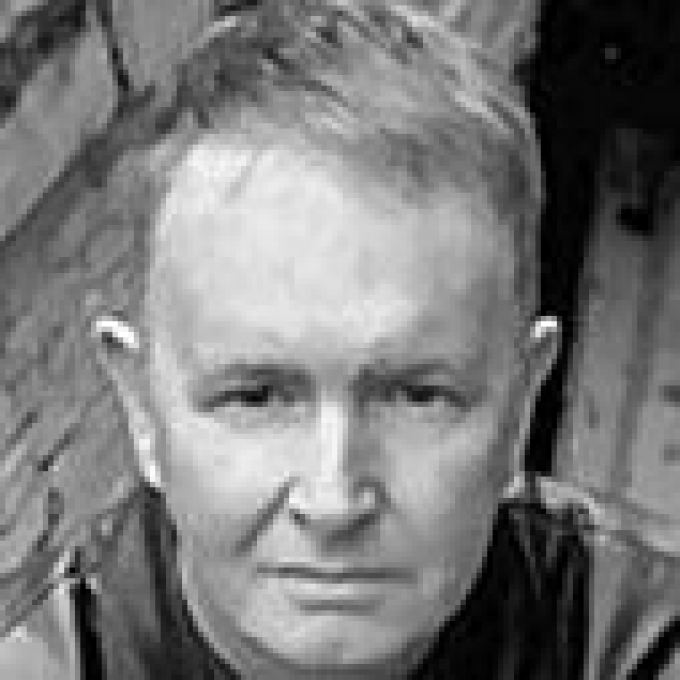 G. P. Taylor
Publishers:
Agents:
Biography
G.
P. Taylor was born and grew up in Scarborough, Yorkshire, moving to London as a teenager. He worked in the London record industry as promoter for CBS Records, returning north aged 22, where he joined the Yorkshire Police Force. Retiring in 1995, he was ordained by the Church of England and became a parish priest in Whitby.
He then wrote Shadowmancer (2003), a dark thriller set in Yorkshire, drawing on history and local folklore. He self-published this book, which became a great success and was republished by Faber and Faber.
He currently lives near Scarborough, and his further novels include: Wormwood (2004), a historical thriller set in 18th-century London; Tersias (2005); and The Curse of Salamander Street (2006).
His latest novels include The DoppleGanger Chronicles and the Maria Mundi series: Maria Mundi: The Midas Box (2007); Maria Mundi and the Ghost Diamonds (2007); and Maria Mundi and the Ship of Fools (2009).
Critical perspective
G.
P. Taylor is the author of several books for children and is known, sometimes controversially, as a Christian writer. He has also published a volume of autobiography, G P Taylor: Sin, Salvation and Shadowmancer (2006). As a priest and formerly a policeman, he came to writing fiction in his forties after giving a talk that mentioned the need for books showing how God is involved in people's lives. 'A woman came up to me at the end and said, "If you've got so many concerns, why don't you write a book yourself?" I thought, "Well, why don't I?"' (Yorkshire Post, 27 September 2006). Since 2003, he has produced approximately one novel each year.
A natural storyteller, Taylor employs a vivid and colourful style that is highly visual and frequently macabre. His early work depicts an 18th-century world in which supernatural forces are widespread and commonly encountered. Set in and around Whitby, his first novel, Shadowmancer (2003), tells the story of Thomas and Kate, two feisty young teenagers who challenge the power of a secret sorcerer, the Reverend Obadiah Demurral. The pair become friends with Raphah, a young African linked with the mysterious golden Keruvim. Together with the smuggler Jacob Crane, they enter an action-packed adventure that 'unfolds at a vivid and breathless pace' (Kit Spring, The Observer, 25 May 2003). At times, the book is brilliantly atmospheric. 'I use the landscape all the time in Shadowmancer – I saw some awful things in a lovely place when I was a policeman. You don't forget that combination of beauty and cruelty,' Taylor has said (The Guardian, 24 July 2003).
Wormwood (2004) is set in London at a similar time, 'a place of dreadful murky depths beneath a thin veneer of respectability' (Philip Ardagh, The Guardian, 10 July 2004). The title refers to a drink, absinthe, and also to a prophecy about a comet which has been predicted in the Nemorensis, an ancient book of secrets. Among those racing to possess this book are Yerzinia, the Queen of Darkness; the Cabalist academic Dr Sabian Blake; and his teenage servant, Agetta, who – accompanied by a freak-show angel struggling to overcome his fallen state – must discern and outwit the forces of evil. As in Shadowmancer, the action moves quickly with continually rising stakes. 'Here's a book that wears its research lightly … breathtaking in scope' (Ardagh).
Tersias (2005), Taylor's third and perhaps best novel, is also set in 18th-century London. In this story, the comet has just missed the earth, and supernatural presences include the Wretchkin, who brings the blind boy Tersias a questionable gift of clairvoyant vision. Once more, Taylor's protagonists are teenagers, the highwayman Jonah Ketch and his friend Tara; once again, everyone is after a powerful object – this time an alabaster box, the portal to another world. Villains in this book are presented more ambivalently than before: Magnus Malachi is a greedy old magician challenged to repent of his ways; Lord Malpas is trapped by his lupine past; and even creepy purple-clad Solomon, cult leader, is a romantic at heart.
The Curse of Salamander Street (2006), a follow-up to Shadowmancer, finds Thomas, Kate and Crane on a new adventure in London. Salamander Street is a frightening mini-universe governed by the brutal Galphus, in which the chances of escape diminish with every turn. Only Raphah, travelling separately to London with a coachful of untrustworthy companions, may be able to save them.
In 2007 and 2009, Taylor published three novels in a new series featuring another pair of teenage heroes: Mariah Mundi: The Midas Box (2007), Mariah Mundi and the Ghost Diamonds (2007), and Mariah Mundi and the Ship of Fools (2009). These are set in 19th-century northern England. The centre of action is an unnamed seaside resort whose grand Prince Regent Hotel becomes home to the supposedly orphaned 15-year-old Mariah, sent there from London to work. Taylor also brought out the first in a series of illustrated stories set in a boarding school: The DoppleGanger Chronicles: The First Escape (2008), which recounts the adventures of identical twins Sadie and Saskia Dopple and their friend Erik Ganger.
 
While his settings are historic, Taylor's heroes and heroines are unashamedly modern. He has spoken of a serious moral purpose to his books. 'Young people still have their minds open enough to look at and understand concepts to do with faith … I want my readers to think, "What if there's another force that lies beyond death?"' (interview with Bob Smietana, www.tersias.co.uk). His fiction has been labelled 'the Christian Harry Potter', with parallels drawn between settings and characters in his books and those of J. K. Rowling. Others have compared Taylor with C. S. Lewis, another adult convert to Christianity who began writing for children late in life and was an international success.
However, while Taylor's books are often allegorical, and are peppered with biblical concepts and verses (Jeremiah chapter 29 verse 11 is used more than once: 'for I know the plans I have for you … plans to prosper you and not to harm you'), his fiction is also preoccupied with dark and occult themes such as cannibalism, witchcraft and the special vulnerability of children. In Tersias, his Citadel is loosely sited at the Freemason's Hall in Covent Garden. 'Without a dark side you can't have a good story,' Taylor has said. 'If you are going to write about good, you need to have the counterpoint' (www.tersias.co.uk).
Although his plots move at breakneck speed, he describes events in grisly and disturbing detail: in Wormwood, for example, the man-made monster Sekaris terrorises its next victim by 'gnawing on [a] blood-red heart, which it held like a fresh apple'. The scene in Tersias in which Tara discovers she has company in her pitch-black cell has been described by critic Suzi Feay as 'one of the most scary and revolting I've ever come across in a children's book … Taylor's imagination is as ripe as a rotting corpse … [he] excels at metaphysical terror' (Independent on Sunday, 7 August 2005).
In a religious context, Taylor has come under fire both from non-Christians (for writing books that push biblical themes covertly) and from Christian groups, such as the US-based Focus on the Family, which have criticised the underpinning theology of his fiction. 'In Wormwood, angels are present, but God seems distant and uninformed of the comings and goings of demons. Souls are stolen from children and … forced to roam as poltergeists or annihilated' (www.pluggedinonline.com). Other readers have drawn attention to cliché, anomaly, thin characterisation, inconsistent viewpoint and repetitive sequences (frequently, characters are being chased through labyrinthine tunnels).
Nevertheless, Taylor is 'superb at creating atmosphere' (Feay) and incessantly inventive: his plots swarm with the fertility of his imagination, and like a child with a box of fireworks, he revels in letting off one idea after another. While not always followed through, many are fresh and compelling: the magical shoes used by Galphus to ensure his slaves cannot escape; the Azimuth, a murdered child whose soul is trapped in limbo to serve as a prophet of the future; an angelic pair of blue-tinted spectacles that enables the wearer to track a target; and a sea-witch who must bathe daily in seawater to keep from dissolving.
Clearly Taylor enjoys being mischievous, indulging schoolboy fantasies and occasional adult in-jokes. In Mariah Mundi: The Midas Box, he creates a James Bond-style underworld lair for his baddies, complete with corny dialogue, a Laurel-and-Hardy pair of detectives, and a vat of liquid nitrogen into which the sea witch is, appropriately, dropped. Elsewhere, he slyly makes reference to J. K. Rowling as writing 'ditties' in an Edinburgh restaurant, nods to C. S. Lewis with a wardrobe smelling of 'pine needles, snow and fur coats', and mingles quotes from Shakespeare's Hamlet and Anthony & Cleopatra. He even uses Simon & Garfunkel lyrics as dialogue.
Rachel Thackray Jones, 2009
Bibliography
2009
Maria Mundi and the Ship of Fools
2009
The DoppleGanger Chronicles: The Secret of Indigo Moon
2008
The DoppleGanger Chronicles: The First Escape
2007
Maria Mundi and the Ghost Diamonds
2007
Maria Mundi: The Midas Box
2006
The Curse of Salamander Street
2006
G P Taylor: Sin, Salvation and Shadowmancer