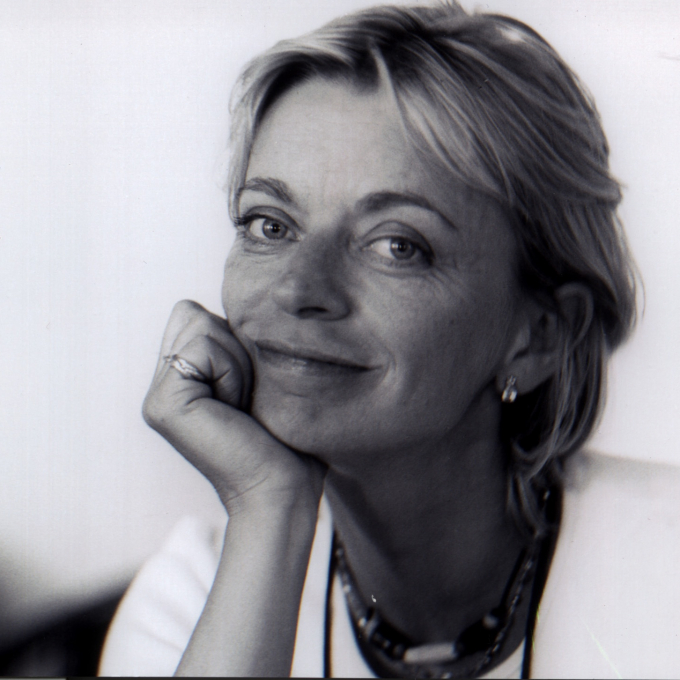 Emma Chichester Clark
Publishers:
Agents:
Biography
Emma Chichester Clark was born in 1955 and studied at Chelsea School of Art and the Royal College of Art, London, where she was taught by Quentin Blake.
She lived in Ireland until 1975. She has worked as a freelance illustrator for various magazines including Cosmopolitan and The Sunday Times and has illustrated numerous book jackets.
In 1988 she won the Mother Goose Award as the most exciting newcomer to children's book illustration for her illustration of Listen to This (1987), a collection of short stories edited by Laura Cecil. Since then she has written and illustrated many acclaimed picture books, including the Melrose and Croc series, and a series of Blue Kangaroo stories, the first of which, I Love You, Blue Kangaroo! (1998) was shortlisted for the 1998 Kate Greenaway medal. A new series of books, Humber and Plum. about a toddler bear, began in 2009.
Quentin Blake describes her books as 'funny, elegant and delicious'.
Critical perspective
Emma Chichester Clark has illustrated a vast number of children's books, and she has also written and illustrated many of her own stories, mainly for very young children.
Her illustrated stories, which feature both child and animal characters and often combine realistic and fantasy worlds, have been highly acclaimed: Chichester Clark has been described as 'one of England's most distinguished picture-book creators', and her work is often likened to that of Edward Ardizzone, Tony Ross and Quentin Blake, who was her teacher (Gale Biographies of Children's Authors: Something About the Author, 2006).
Chichester Clark has a remarkable ability to empathise with the child's point-of-view, supplementing her delightful prose with bold, colourful and exciting illustrations that both support the story and encourage the child's imagination to explore further. Consequently, her work is extremely popular with both children and their parents - a quick browse through Amazon's customer reviews, for example, reveals that almost every review awards Chichester Clark's stories five stars, often commenting that children love to read the stories again and again: 'The language is rich with a wonderful range of adjectives ... Gorgeous colours. A very tender tale'; ' ... an elegantly written story, as well as truly excellent illustration ... '; 'Engaging, bittersweet, heart-rending ... manages to captivate the imagination of children and adults alike'. In critical reviews, Chichester Clark's work is particularly noted for its ability to combine imagination and adventure with a recognisable and acutely observed domestic world: Nicolette Jones comments on the 'clarity and domestic observation of the illustrations - with their autumnal palette, and capacity to tell a story beyond the words' (Sunday Times, 30 April 2008), while Judith Graham acclaims Chichester Clark's 'adventurously coloured ink and crayon illustrations' that 'decorate, clarify and dramatise all at the same time' (Cambridge Guide to Children's Books in English, 2001).
Chichester Clark has written several series that have been particularly acclaimed, most notably Blue Kangaroo and Melrose and Croc. The stories in these series celebrate friendship and explore the wide range of emotions that are experienced by young children: the Melrose and Croc series features a friendship between two anthropomorphised animals, a dog and a crocodile, while the Blue Kangaroo stories feature a little girl, Lily, and her beloved toy, Blue Kangaroo, through whom the child is able to explore and enact her own feelings and experiences. Blue Kangaroo is brought to life and given his own 'voice' through Lily's imagination. In these two series, as in all Chichester Clark's books, the characters are endearing (to both child and adult readers), engaging and emotionally authentic, and the stories combine poignancy with humour. In the Blue Kangaroo stories, Lily's experiences reflect the everyday ups and downs of life for a small child, such as losing a favourite toy (Where Are You, Blue Kangaroo? 1999); accepting responsibility for one's behaviour (It Was You, Blue Kangaroo! 2001); and learning about the joy of giving (Just For You, Blue Kangaroo! 2004). The Melrose and Croc stories show the two characters on various adventures - visiting the city; a trip to the countryside; a day out at the beach - but the underlying theme is always the heart-warming way in which these two friends love and care for each other.
Blue Kangaroo's Lily, like most of Chichester Clark's protagonists, is a realistic mixture of good and bad - she is no saint, but she works through her negative emotions and learns to cope with her daily experiences, and thus provides a useful role model for child readers to identify with and learn from. For example, in I'll Show You, Blue Kangaroo! (2003), Lily has to face the consequences of showing off, while in It Was You, Blue Kangaroo!, her tendency to blame her misdemeanours on her favourite toy leads to Blue Kangaroo being taken away from her until she develops genuine regret.  A recent book, Minty and Tink (2008), introduces two new characters, but bears similarities to the Blue Kangaroo series. Minty and her mother choose - or, rather, are chosen by - Tink the teddy bear as a birthday gift for Minty's brother. Minty falls in love with the toy and wants to keep him for herself, but also understands that her brother needs a present and that she must consider his needs as well as her own. In both this book and the Blue Kangaroo stories, child readers therefore 'journey'  with Minty and Lily as they acknowledge their wants and desires and their less desirable behaviour, while simultaneously learning to face the consequences of their own actions and to consider the needs and wishes of others.Chichester Clark has also written stories about traumatic experiences that are common to many children's lives, such as the birth of a new sibling (Humber and Plum: My Baby Sister, 2009) and bereavement (Up in Heaven, 2003). As always, Chichester Clark is highly skilled at acknowledging negative emotions and showing them to be 'normal', while encouraging children to move towards a more positive point-of-view and to come to terms with what has happened. All this is conveyed through gentle and humorous stories which impart their ideas and sentiments subtly and do not 'preach' at readers. In My Baby Sister, Humber the bear, who first featured in Mummy and Me (2009), is not entirely overjoyed when his mother presents him with a new sibling. His mixed feelings, which are presented with affectionate humour, echo those of most toddlers facing this situation: he no longer receives his mother's undivided attention and wishes to 'send baby back where she came from', but gradually warms to his new sister. One of Chichester Clark's most poignant and heartfelt stories is Up in Heaven, which features the death of a beloved pet dog. The story shows Daisy the dog in heaven, looking down on the grieving child, Arthur, and sending him dreams to reassure him that she is happy, which gradually enables him to move on and get a new puppy. Chichester Clark's skill is in presenting a serious issue with a light and gentle touch, which makes it suitable even for very young children - the pain of grief is fully acknowledged, but is followed by hope that pain slowly heals and new experiences lie ahead.
Other stories celebrate everyday life: Eliza and the Moonchild (2007) is a delightful and inventive story in which a moonchild becomes bored with the whiteness of his moon home and decides to visit Earth, where he meets Eliza who shows him the beautiful colours of the planet. Though it is a fantasy story, it is rooted in the child's everyday reality - the excitement of the moonchild exploring Earth for the first time encourages readers to observe and appreciate the world we live in, and does in fact echo the excitement of a toddler's day-to-day explorations and discoveries.
Elizabeth O'Reilly, 2011
Bibliography
2011
Goldilocks and the Three Bears
2010
Humber and Plum: Plum and Rabbit and Me
2009
Humber and Plum: My Baby Sister
2009
Humber and Plum: Mummy and Me
2009
Little Miss Muffet Counts to Ten
2009
Melrose and Croc: Find a Smile
2008
Melrose and Croc: An Adventure to Remember
2008
Melrose and Croc: A Hero's Birthday
2007
Melrose and Croc: Go To Town
2007
Melrose and Croc: Beside the Sea
2007
Eliza and the Moonchild
2006
McElderry Book of Grimm's Fairy Tales
2006
Melrose and Croc: Friends for Life
2006
Happy Birthday to You, Blue Kangaroo!
2006
Melrose and Croc: A Christmas to Remember
2006
We Are Not Fond of Rat
2004
Little Red Riding Hood
2004
Merry Christmas to You, Blue Kangaroo!
2004
Orchard Book of Aesop's Fables
2004
My First Ballet Stories
2004
Just for You, Blue Kangaroo!
2003
Oxford First Illustrated Dictionary
2003
I'll Show You, Blue Kangaroo!
2002
Mimi's Book of Counting
2002
Mimi's Book of Opposites
2002
What Shall We Do, Blue Kangaroo?
2002
The Sleeping Princess and Other Fairy Tales from Grimm
2002
Where Are You, Blue Kangaroo?
2001
A Kingfisher Treasury of Shakespeare's Verse
2001
It Was You, Blue Kangaroo!